Specifications:
1,600 Sq Ft
3 Beds
2.5 Baths
1 Stories
Whoever said size doesn't matter clearly never had the pleasure of sprawling out on a wraparound porch of a rustic barndominium.
I'm here to chat about a charming 1,600 square foot slice of heaven that's got more personality than a cat video on the internet. Welcome to a little tale about a home that's part country swagger, part modern sanctuary, and fully ready to steal your heart.
Imagine a house that wraps you up in its arms the moment you step onto its 15-foot deep side porch.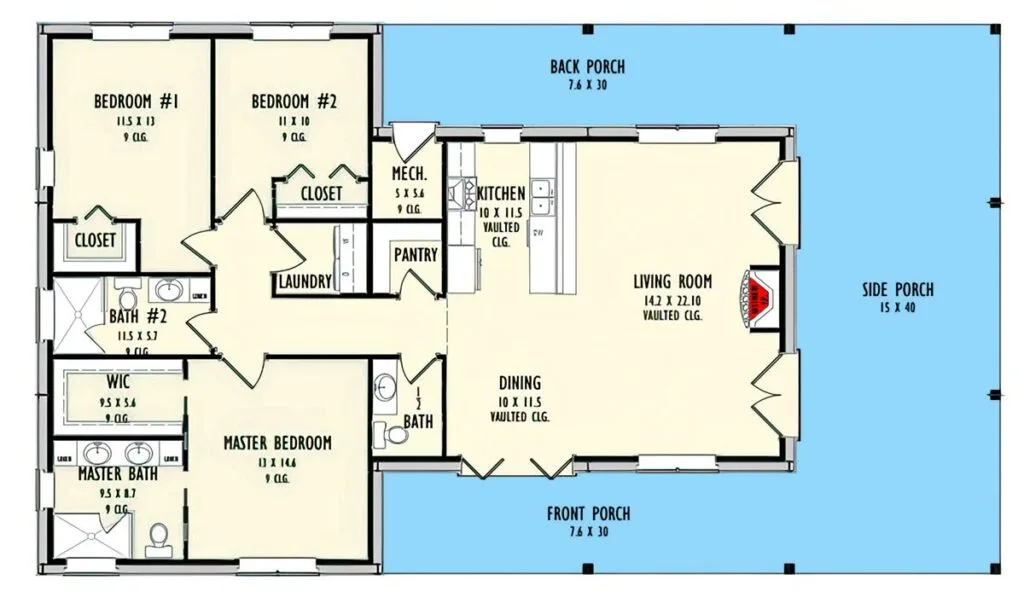 Kind that whispers sweet nothings as you swing lazily on a hammock, sipping lemonade, and judging the less fortunate who don't have a French door to saunter through beside their fireplace.
Yes, my friends, this rustic barndominium-style abode isn't just a structure; it's a lifestyle, complete with 3 beds, 2.5 baths, and 1 story of pure, unadulterated joy.
The first thing you should know about this metallic wonder is that it's not shy about showing off its good sides—all three of them, thanks to its open-concept design under a vaulted ceiling.
Like a well-rehearsed Broadway show, this place offers stunning views whether you're whipping up a family feast in the kitchen or lounging in the living area with a book you swear you'll finish someday.
Now, let's talk sleeping quarters. All bedrooms are nestled on the left side, keeping your nightly snoozefests away from the hustle and bustle of the day's activities.
Ever had the pleasure of a midnight sock-sliding journey to the laundry room? It's strategically positioned near all bedrooms, making those late-night laundry escapades less of a nightmare and more of a quirky adventure.
"Metal House Plan" might sound like a heavy metal band, but in reality, it's the blueprint of your future home.
Crafted with a Pre-Engineered Metal Building (PEMB) in mind, this is the architectural equivalent of a superhero—it's faster to erect than a teenager's tent at a music festival, and it's as sturdy as your grandma's unsolicited advice at family gatherings.
This PEMB has the added superpower of being engineered, fabricated, and shipped to any spot on this glorious globe, ready to withstand the whims of Mother Nature.
Let's get down to the nuts and bolts—literally. This metal house plan can be decked out with 2×6 exterior framing if you fancy an upgrade. It's like choosing between leather and fabric seats in your car; both will get you there, but one definitely feels fancier on your tush.
And before you ask, yes, the rustic charm of this barndominium is as authentic as your aunt's "secret" cookie recipe. It's got that weathered, been-here-a-century look, but with all the modern comforts your tech-savvy heart desires.
It's the architectural equivalent of wearing a vintage jacket with a brand-new outfit; you look cool without even trying.
Now, to address the porch, because let's be honest, that's why you're still here. This isn't just any porch; it's a wraparound beauty, a grand stage where you can perform the most riveting of life's scenes—from dramatic morning coffees to romantic sunset cuddles.
It's the ultimate hangout spot, perfect for those evenings when you want to feel fancy and pretend you're in an old-timey movie, complete with a dramatic exit through those French doors.
This rustic barndominium is more than a house; it's the starting point of every "One time, at my barndominium…" story you'll tell at parties.
It's where memories will be made, where laughter will echo through the open-concept living area, and where you'll wonder why it took you so long to live like you're starring in a country music video.
So whether you're a cowboy boot-wearing soul or someone who just appreciates a good porch, this 1,600 square foot barndominium is the stage for your next big adventure.
Put on your best flannel, and let's make this house a home, y'all. After all, in a world full of condos and cookie-cutter houses, be a barndominium.