Specifications:
2,693 Sq Ft
3 Beds
2.5+ Baths
1 – 2 Stories
4 Cars
If you're anything like me, the mere mention of "farmhouse-inspired barndominium" has you picturing yourself in a rocking chair, sipping sweet tea, and surveying your sprawling dominion with a content sigh.
It's not just a house; it's the sweet spot where rustic charm meets spacious modern living. Let's dive into the heart of what makes this 2,693-square-foot slice of heaven more than just a place to hang your hat.
Now, the garage of this beauty isn't just a garage. It's what car enthusiasts' dreams are made of—a whopping 2,548 square feet of space for your shiny chariots, complete with front and rear overhead doors.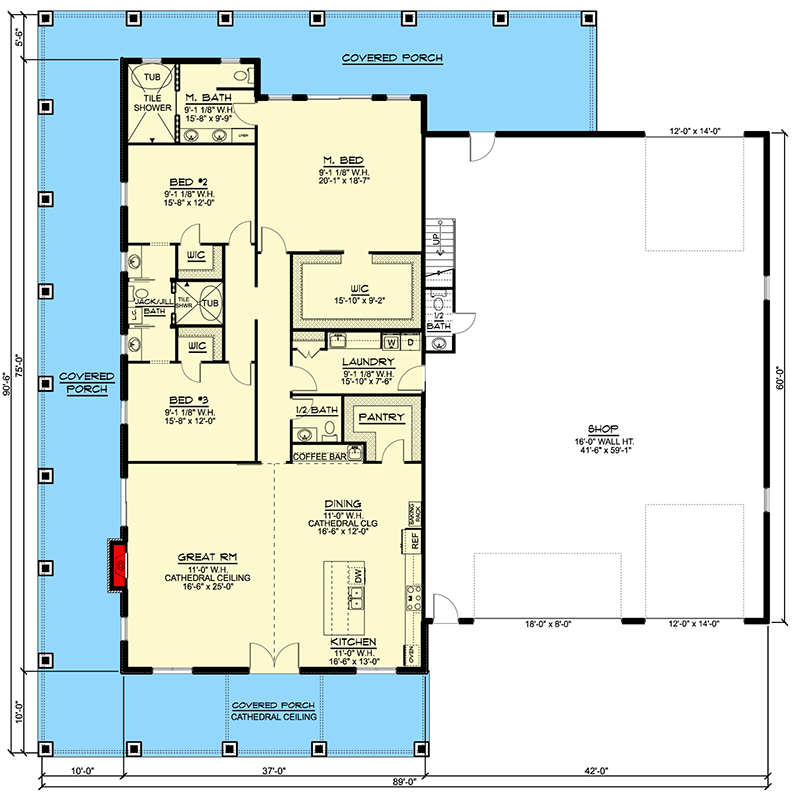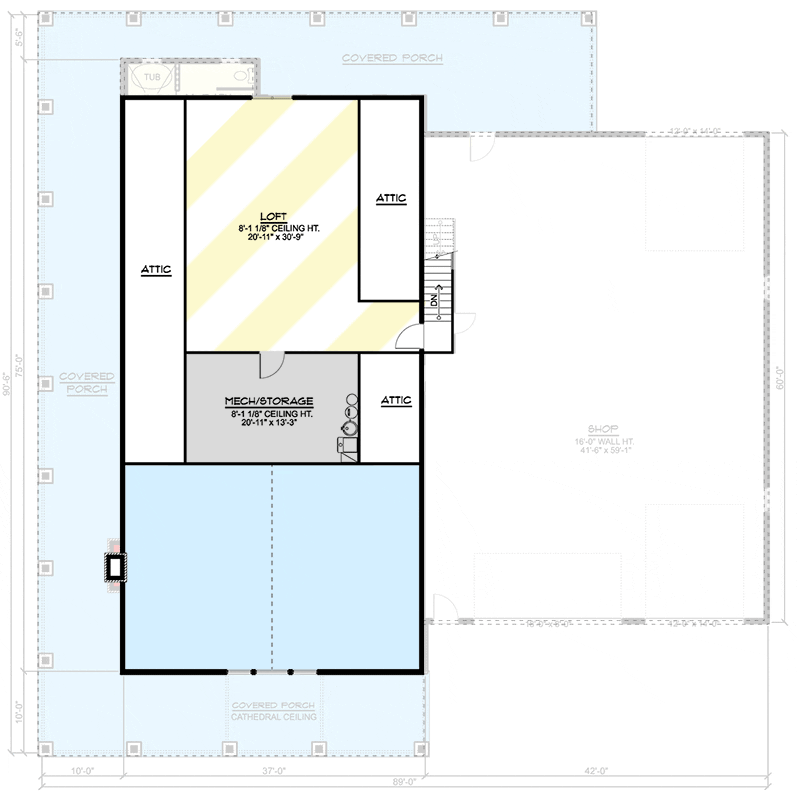 And for those of you who refuse to travel without your home comforts, there's even a drive-through RV bay. Gone are the days of playing Tetris with your vehicles; this is the vehicular Valhalla!
Above this gearhead paradise, a staircase coyly winds its way to a loft that whispers the sweet promise of endless possibilities. An office, a den of solitude, or the most organized storage space this side of the Mississippi—take your pick.
Now, wraparound porches have a way of wrapping around your heart, don't they? They beckon you to unwind, to breathe in the golden hours of dusk or dawn.
The French doors of this abode fling open from this soul-soothing porch into a combined great room that's begging for laughter, dance-offs, or the simple joy of sprawling on a plush couch as flames dance in the fireplace.
Glance upwards and the Cathedral ceiling offers a silent benediction to all your daily endeavors.
And let's talk about that kitchen island—this isn't just a kitchen feature; it's command central for meal prep, impromptu gatherings, and midnight snack raids.
And a coffee bar? Dear reader, let's pause and give thanks to the bean juice haven that'll fuel our sunrises.
The living quarters are a testament to thoughtful design. Two bedrooms snuggle on one side, linked by a Jack and Jill bath, because nothing says 'cozy' like a bathroom alliance.
The master suite, meanwhile, is a sanctum at the rear of the house. It comes with a 4-fixture bathroom—because four is always better than three—and a walk-in closet spacious enough to warrant its own zip code.
Let's not overlook the oversized laundry room, which doubles as a mudroom with garage access. This isn't just a laundry room; it's a sanctuary of cleanliness, a bastion against the chaos of muddy boots and the dreaded sock monster.
But perhaps the pièce de résistance is the corrugated metal siding. This isn't siding; it's a steel-ribbed coat of armor, giving your homestead a rugged, industrial flair that whispers, "Yeah, I can survive the apocalypse in style."
So, whether it's the wraparound porch calling you to linger a little longer in the twilight or the garage beckoning you to rev up your engines, this farmhouse-inspired barndominium isn't just a floor plan; it's a blueprint for bliss.