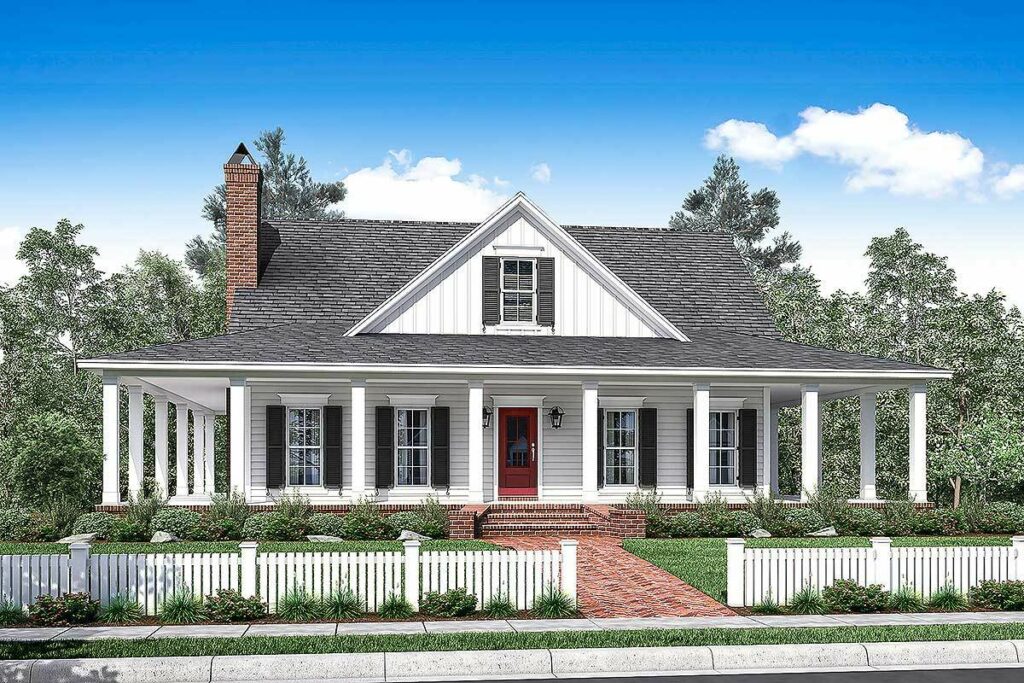 Specifications:
2,084 Sq Ft
3 Beds
2.5 Baths
2 Stories
Ah, the dream of country living – where the tea is sweet, the chickens are free-range, and the porches are wide enough to host a square dance.
If you've ever fantasized about sipping lemonade while watching the sunset from your wraparound porch, then buckle up, buttercup, because I'm about to walk you through a house plan that'll have you mentally hanging swing chairs and summoning the smell of freshly baked pies.
Picture this: 2,084 square feet of pure country bliss, with three bedrooms to tuck in your kin, 2.5 baths to scrub-a-dub-dub, and two stories to fill with laughter and memories.
This isn't just a house; it's a home with a capital "H," and it's got a porch that wraps around like a grandmother's hug – full and warm.
Let's start with that porch, shall we? It's not just a porch; it's the porch that other porches dream about becoming when they grow up. It's a full wraparound, which means you can chase the sun or shade as your heart desires. Got a hankering for some fresh air during a rainstorm?
Pull up a chair and watch nature's show with the comfort of a roof over your head. It's the perfect stage for your morning coffee, your evening cocktail, and if you're feeling fancy, a midnight mint julep under the stars.
Now, swing open that front door (I'm thinking a color that pops, like a cheerful red or a calming blue) and step into an open concept floor plan that says, "Come on in, the living's fine!"
The great room greets you with arms wide open, boasting a wood-burning fireplace that's just begging for stockings come December. And the views! Windows that offer a peek into the great outdoors, ensuring you never forget the slice of heaven you're living on.
If the kitchen is the heart of the home, then this one's beating strong with country charm. There's a large island with an eating bar where you can serve up pancakes faster than the kids can shout "More syrup!"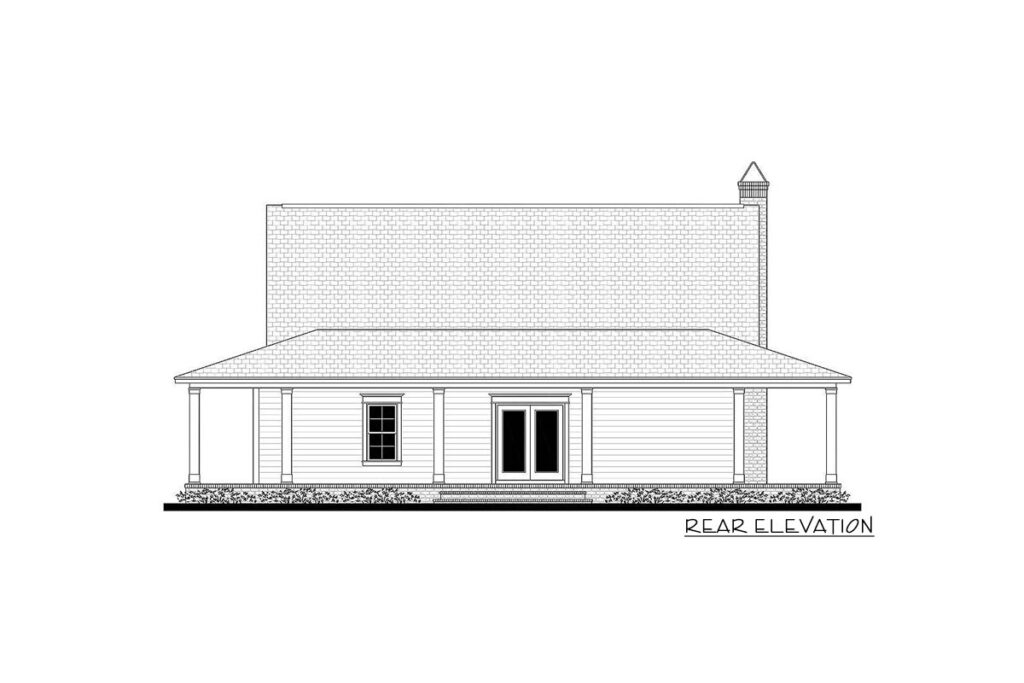 It's adjacent to the dining space, so you can chat about your day over a pot roast without missing a beat. And let's not forget the walk-in pantry, where you can stockpile enough snacks to survive a winter storm or a teenage boy – whichever hits harder.
The master suite is where this plan really sings a tune of convenience and luxury. It's on the main floor, which means you can slip from your bed to the porch for a spot of stargazing without tackling a single stair.
The suite features a large shower where you can wash off the day, dual vanities to avoid elbow jostles in the morning, and a walk-in closet that could double as a small boutique.
Mosey on up to the second floor, and you'll find two large bedrooms that are perfect for kids, guests, or that craft room you've been dreaming about since Pinterest was invented.
There's also a flex space that's as versatile as a Swiss Army knife – study, entertainment area, or if you're feeling indulgent, the ultimate walk-in closet. The choice is yours, and the possibilities are as endless as a country skyline.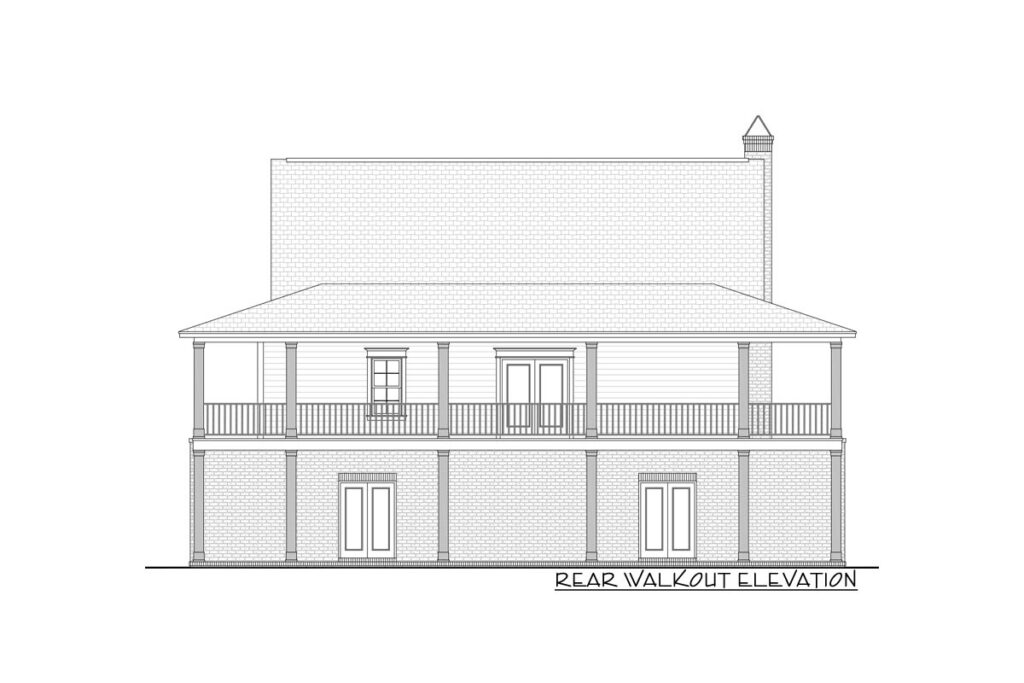 Now, let's circle back to that wood-burning fireplace. It's not just a source of heat; it's the heartthrob of the home. Imagine the crackle of logs on a chilly evening, the flicker of flames casting a warm glow on the faces of your loved ones.
It's not just about warmth; it's about creating memories around the fire, with stories as tall as the flames and laughter as bright.
This house plan isn't just a blueprint; it's a ticket to the life you've been yearning for. It's a blend of modern open spaces and the timeless charm of country aesthetics. It's a place where you can kick off your boots, hang your hat, and know you're exactly where you're meant to be.
So there you have it, a house plan that's as sweet as honey and as comfortable as a well-worn pair of jeans. It's a place where each corner is crafted with care and every square foot tells a story.
Whether you're a family looking to plant roots or a couple seeking a slice of serenity, this 3 bed, 2.5 bath country house with a full wraparound porch is more than a structure – it's the backdrop to your life's most beautiful moments.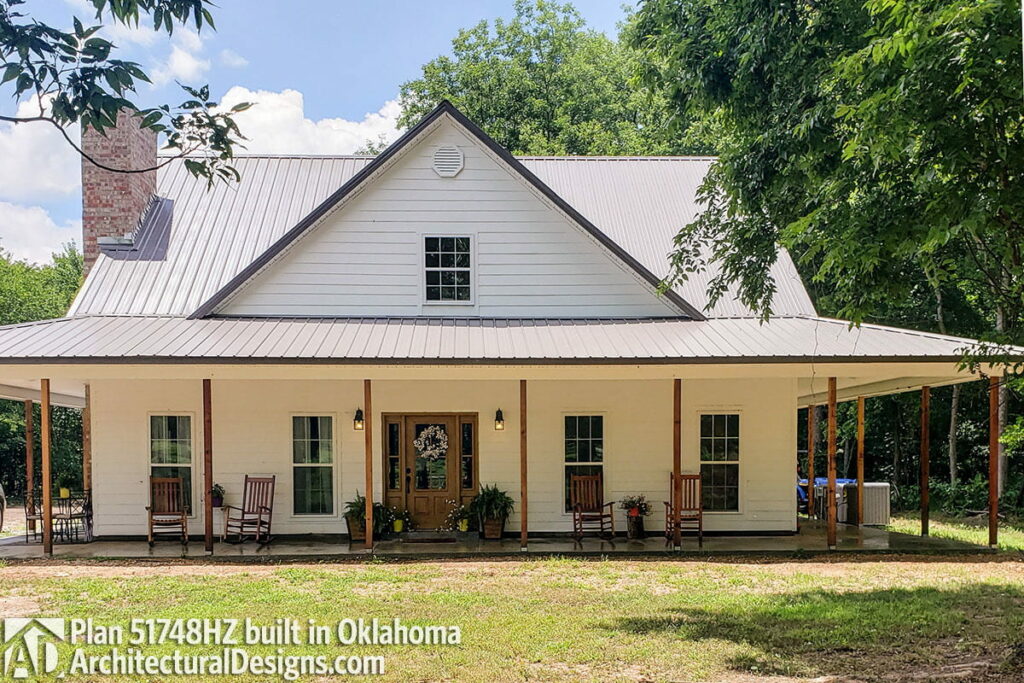 And remember, a home is what you make it. So fill those 2,084 square feet with love, laughter, and maybe a few too many throw pillows. After all, it's not just about the wraparound porch or the wood-burning fireplace; it's about the wraparound memories and the fire-burning hearts.
Now, if you'll excuse me, I've got to go daydream about my own country house – one where the WiFi is strong, but the call of the wild is stronger. Happy homemaking, y'all!