Specifications:
3,171 Sq Ft
2-5 Beds
2.5 – 3.5 Baths
1 Stories
3 Cars
When it comes to houses, size matters, right?
But wait! What if I told you there's more to it than just square footage?
Strap in, my friends, because I'm about to take you on a tour of a house plan that is not only expandable but comes with an optional finished lower level!
Sounds like something out of a sci-fi movie, huh? But it's real, folks. And it's stunning.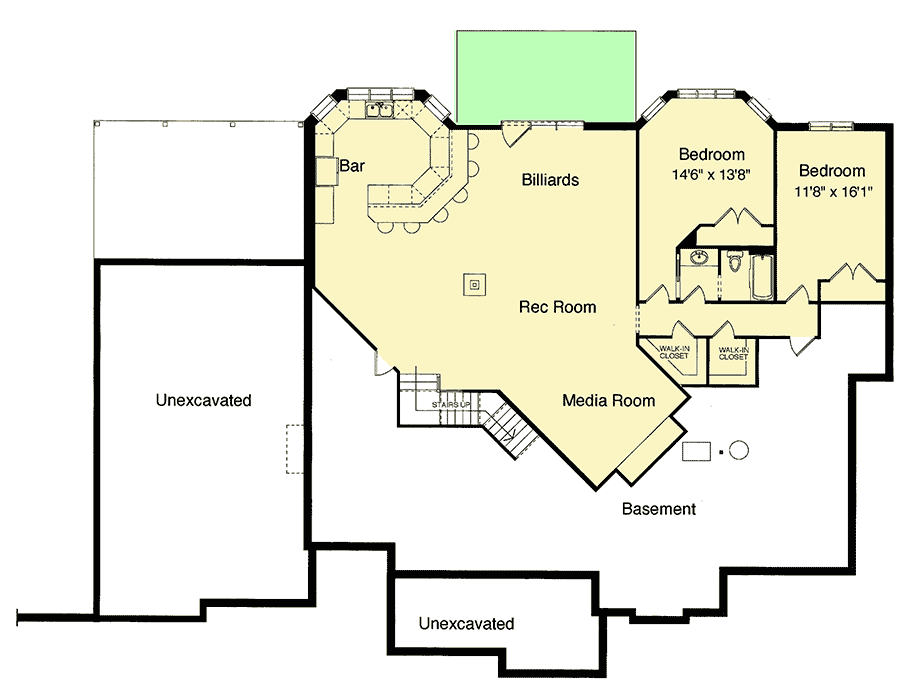 Enter the world of this 3,171 square foot domicile. I know, I know – that sounds like an ocean of space already, but stick with me. Picture 2 to 5 bedrooms, 2.5 to 3.5 bathrooms, and even a garage that can accommodate up to 3 cars! Yes, you read it right – your beloved '67 Mustang finally gets its own room!
Or maybe, just maybe, you could fit in that extra-large, turbo-charged lawn mower you've been eyeing. The possibilities are endless.
The first thing you'll notice is the exterior of this dream home. It's like the red carpet of the house world, setting the stage for what lies within.
This one-story wonder boasts a facade of brick, stone, and shakes, a look that's both rustic and regal – think Downton Abbey meets The Great Outdoors. The covered porch and multiple gables are just cherries on this beautiful architectural sundae.
As you step inside, prepare for the grandeur to continue. The home's heart is a spacious great room, breakfast area, and kitchen with an island and bar seating. This space screams Sunday brunches, late-night snacks, and everything in between.
If your kitchen skills are less Gordon Ramsay and more…well, just ramshackle, fear not. This inviting space is bound to turn even the most disastrous cook into a culinary maestro. Or at least, that's the dream!
I have to tell you about the columns, guys. They're not just there to make your friends jealous (though that is a bonus). These beauties separate the great room from the foyer, giving a touch of class and an illusion of added space. And don't even get me started on the 12-foot high ceilings.
It's like living in a cathedral, minus the long sermons and chilly stone floors. These majestic ceilings run across the great room, breakfast area, kitchen, dining room, and even the master bedroom. Yes, you'll finally be able to use that tall giraffe statue you inherited from Aunt Gertrude!
Now, let's talk about formal dining. Sure, it sounds a bit Downton Abbey (did I mention that already?), but it's perfect for those special occasions. Whether you're hosting a Thanksgiving feast or an impromptu takeout night because you burned the turkey, this is your go-to area.
For those who like their dining with a side of fresh air, there's a covered deck. And guess what, it's got a fireplace and a built-in grill area! I mean, who needs a TV when you've got the great outdoors, a roaring fire, and the tantalizing scent of grilling burgers?
But we're not done yet. Hold on to your socks, because here comes the cherry on top of the cherry: the angled stairs leading to an optional finished lower level. Here, you'll find a large party room that's perfect for your next game night. There's a bar, a billiards area, a rec room, and even a media room!
This isn't just a house – it's a haven of fun and relaxation! And if you have overnight guests (or kids who won't move out), there are additional bedrooms ready to accommodate them.
So there you have it. Thisexpandable house plan is more than just a home—it's a lifestyle, an experience, and a statement. A choice for the discerning, the enthusiastic, the ones not afraid to embrace both comfort and class.
When you live here, you're not just existing—you're hosting, you're cooking, you're playing, you're enjoying. And when it's time to call it a night, you've got bedrooms aplenty to choose from, each more inviting than the last.
In short, it's a house that has it all—dashing good looks, a generous heart, and the versatility to change and grow along with you. So dust off that grill, polish your pool cue, and warm up the popcorn machine. It's time to get ready for some good times in your brand-new home.
What's that? Oh, you're right. We've been chatting so long, I forgot to even offer you a cup of tea. But don't worry—I've got just the kitchen in mind for making it!
Plan 39192ST