Specifications:
2,970 Sq Ft
2-5 Beds
2.5 – 4.5 Baths
1 Stories
3 Cars
Hey, fellow home enthusiasts!
Ever dreamt of a house that screams "luxurious mountain retreat," but still manages to feel like, well, home?
Let's dive headfirst into the Modern Mountain House Plan – a contemporary beauty that's 2,970 Sq Ft of sheer architectural brilliance.
Spoiler: it might just be the home of your dreams!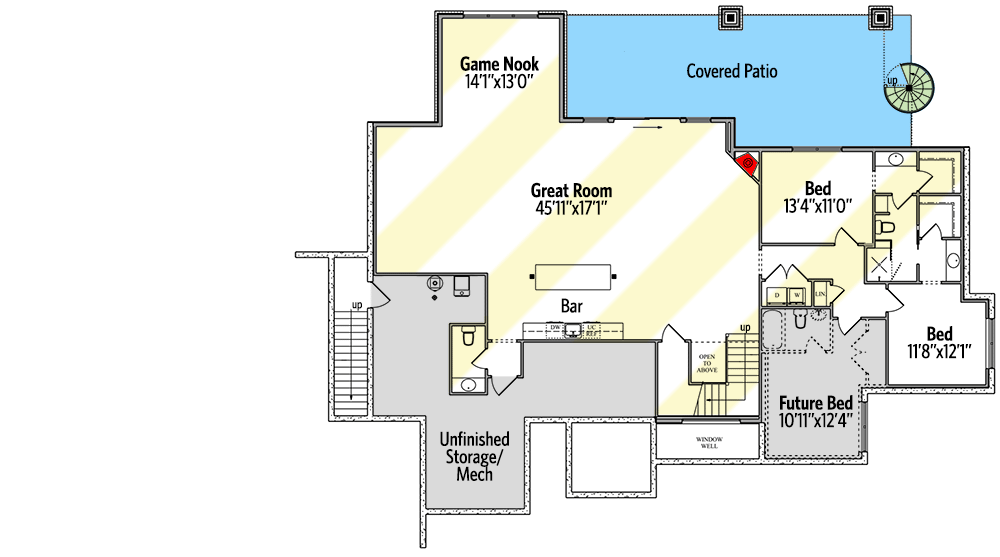 Picture this: You drive up a winding mountain road and there she stands, glowing in the golden-hour sunlight. This house is beauty personified, with elegant exterior lines that would make any architect's heart skip a beat.
Add to that a blend of stone and wood accents that makes you think "rustic meets modern," and we're off to a roaring start.
And, just when you thought it couldn't get better, there's the grand open-gable entry – the kind that makes you half-expect a royal trumpet welcome every time you walk in.
Once you recover from the heart-attack that the exquisite exterior gave you, the interior shouts "Hold my beer!"
The ornate great room welcomes you with a vaulted ceiling so high, you'd think it's reaching for the stars. Can you hear the fireplace crackling, promising cozy nights under a blanket with hot cocoa in hand? But the pièce de résistance?
An oversized sliding door that opens up to a back covered deck. Imagine sipping wine there, taking in the mountain view. Ah, bliss.
If you've ever thought of yourself as a bit of a Gordon Ramsay (minus the swearing, hopefully), this kitchen's for you!
Centered by a ginormous multi-purpose island (we're talking 5′ by 9'6″ here!), this space is designed for both making midnight snacks and hosting lavish dinners.
That 6-burner range? Perfect for when you're feeling ambitious and want to cook a five-course meal. And when you're preparing for the zombie apocalypse or just an average Tuesday, the expansive pantry has got your back.
Tucked away to the right of the foyer, the house understands when you need some 'me-time'.
Find yourself lost in a book or a deep daydream in the quiet study, which sits comfortably across from the master suite. And oh, the master suite!
Vaulted ceilings that mirror the greatness of the great room and an ensuite so lavish, it would make royals green with envy. His and hers closets? Check! Because we all know who needs that extra closet space. (Hint: It's always 'her').
Let's talk about that mud/laundry combo room that's strategically placed right after the 3-car garage.
Not only does it act as a buffer zone for muddy boots and wet raincoats, but it's also the unsung hero for spontaneous water fights and the occasional "I tried a Pinterest DIY and now there's glitter everywhere" mishaps.
Plus, for when the in-laws (or your best buddy) decide to crash, there's a cozy guest room complete with a full bath. Win-win!
Now, for those who believe in saving the best for last, let's descend to the lower level. Add two more bedrooms, making it a total of four.
A sprawling great room eagerly awaits your board game nights, Netflix binges, and the occasional (or frequent, we don't judge) dance-offs.
Add a wet bar for those cocktail nights and a corner fireplace for, well, ambiance! And if you're feeling fancy, take the spiral staircase from the lower patio to the deck above. Trust me, it's like your own mini-version of a castle tower.
The Modern Mountain House Plan is where luxury meets comfort, style kisses functionality, and every square foot feels like it's telling a story.
It's not just a house; it's a potential home, filled with memories waiting to be made. If walls could talk, these would probably say, "Are you ready for the best years of your life?"
So, whether you're a mountain lover, a luxury enthusiast, or someone who just really likes a good floor plan (join the club!), this house has something for everyone.
As for me? I'm just here, daydreaming of that pantry… See you at the next home tour!
Plan 95102RW