Specifications:
3,683 Sq Ft
3 Beds
2.5 Baths
1 Stories
3 Cars
Are you in the market for a home that exudes charm and character while providing ample space for all your needs?
Look no further than this delightful rustic ranch house plan! With its porte-cochere and angled 3-car garage, this home is as stylish as it is practical. So, grab a cup of coffee and join me as we explore the features of this captivating abode!
As I step inside this one-level split bedroom home, I'm immediately greeted by the grandeur of the vaulted great room. And guess what? There's even a sky window that allows natural light to cascade down from above, creating a warm and inviting atmosphere.
Talk about bringing the outdoors in! Plus, with French doors leading to a sunroom with windows on all three sides, you'll have the perfect spot to soak up the sun's rays or enjoy a cozy afternoon with a good book.
Now, let's talk about the heart of any home: the kitchen. This house plan doesn't disappoint in that department either! The large kitchen boasts an island eating bar, perfect for entertaining guests or simply grabbing a quick snack.
And if you love to channel your inner chef, you'll appreciate the convenience of a prep island and an adjacent dining room. From intimate family dinners to lively gatherings, this kitchen is designed to make your culinary adventures a breeze!
Moving on to the master suite, prepare to be wowed. Not only does it feature a fireplace that adds a touch of romance and warmth, but the vaulted ceiling creates an airy and spacious feel.
And the master bath? It's a haven of relaxation and luxury. Picture yourself unwinding in a whirlpool tub after a long day, or enjoying a refreshing shower in the corner glass shower with comfy seats.
And let's not forget about the enormous 22′-long walk-in closet! With plenty of space for all your wardrobe essentials, it's a fashionista's dream come true. On the other side of the home, you'll find bedrooms 2 and 3, which share a bathroom. Perfect for kids, guests, or even a home office if you prefer.
And here's a delightful surprise: there's an optional 4th bedroom that could easily transform into your personal exercise room. Fitness goals and relaxation all in one house? Sign me up!
Now, let's not overlook the practical aspects of this home. The 3-car garage is not only angled for added visual appeal, but it also offers a storm room and a storage room.
Safety and convenience combined! Whether you need a place to shelter during stormy weather or extra space to store your belongings, this garage has got you covered.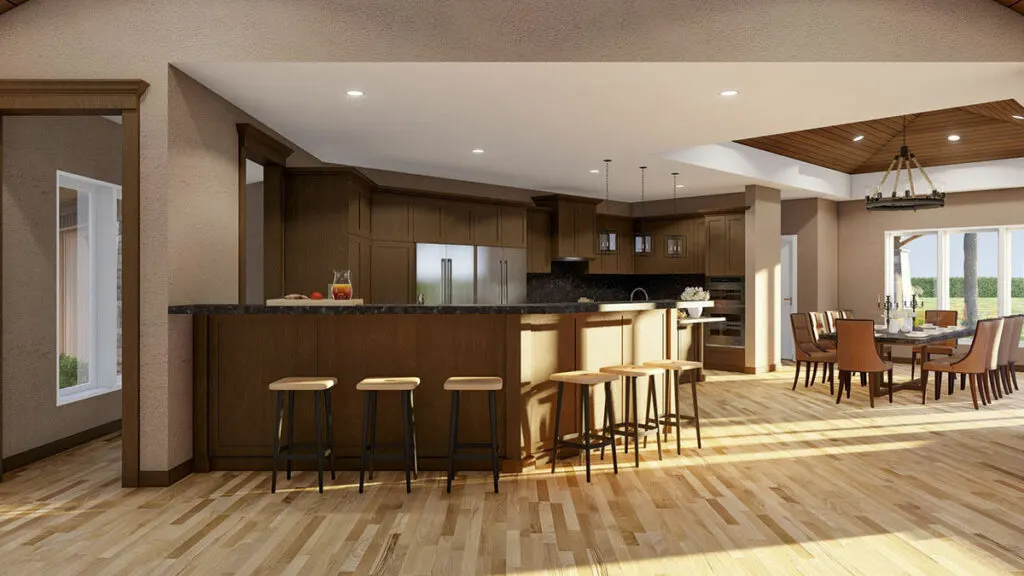 In summary, this rustic ranch house plan packs a punch with its stylish design and thoughtful features. From the vaulted great room to the sun-drenched sunroom, every corner of this home is designed to make you feel comfortable and at ease.
And with the spacious kitchen, luxurious master suite, and additional bedrooms that cater to your needs, it's a perfect fit for families of all sizes.
So, if you're on the hunt for a home that combines rustic charm, functionality, and a dash of elegance, this house plan might just be the one for you.
Say goodbye to cramped spaces and hello to a home that's tailored to your lifestyle. It's time to make your dream home a reality!
Plan 70840MK