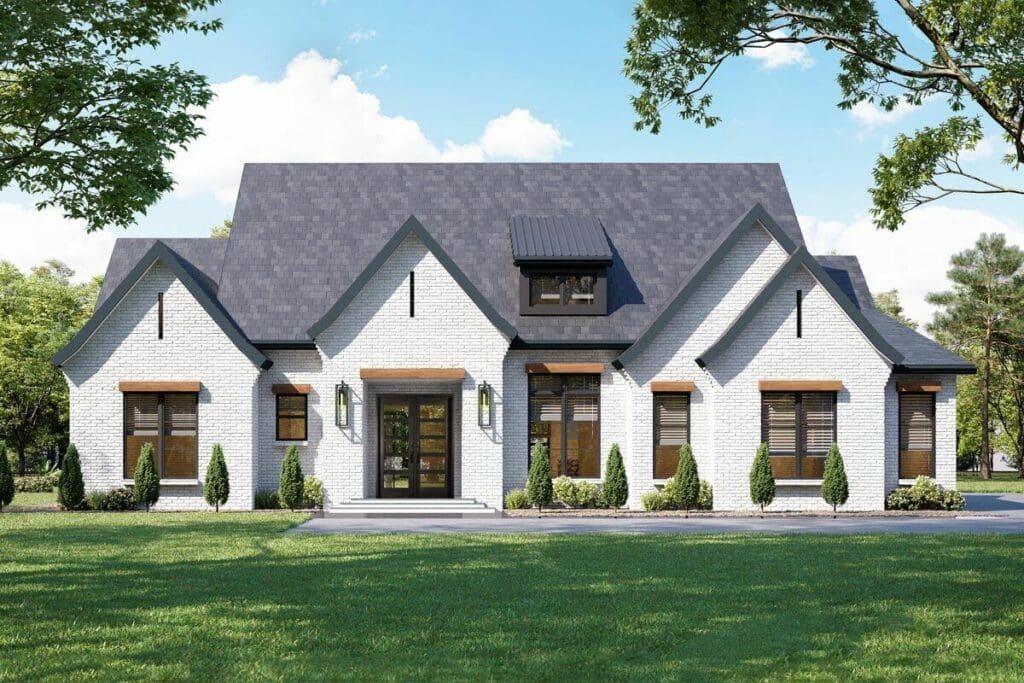 Specifications:
2,456 Sq Ft
3 – 4 Beds
3.5 – 4.5 Baths
1 Stories
2 Cars
Ever daydreamed about a home that feels like a warm hug, mixes the old with the new, and still fits in your pocket? Well, almost.
Enter the modern farmhouse plan under 2500 square feet – a beauty you didn't know you needed until now!
Now, I'm no architect, but give me a floor plan and I can daydream like a champ. This house, my friends, is where modern efficiency meets that good old country charm.
It's not just a house; it's a lifestyle. Imagine walking into 2,456 square feet of pure personality – this place isn't just showing off space, it's offering a vibe.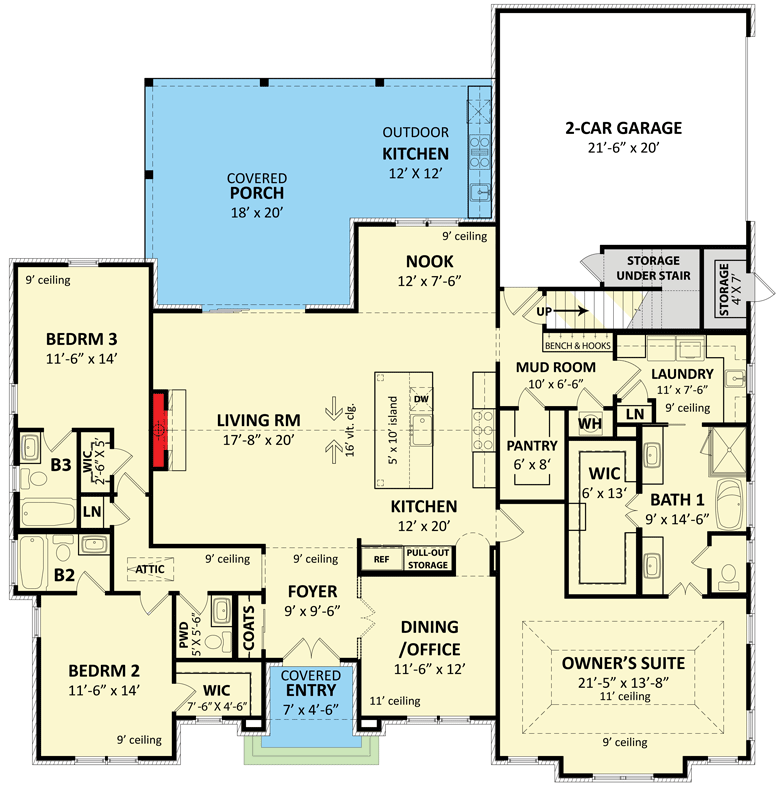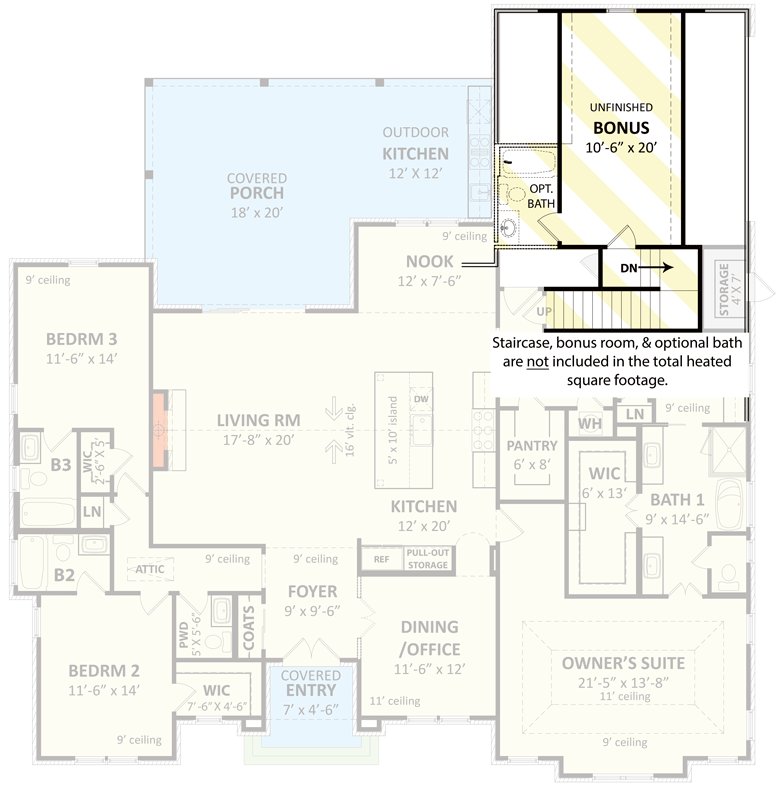 First, let's talk numbers: 3 to 4 bedrooms and 3.5 to 4.5 bathrooms. Yes, that's a bathroom for almost every room, folks. Gone are the days of waiting in line for your turn to shower. The kids, the guests, the dog – everyone can have their own!
But wait, it gets better: it's all on one story. That's right, everything's within reach – no more climbing stairs unless you want to (we'll get to that in a bit). Plus, a garage for two cars, so you don't have to play "Eeny, meeny, miny, moe" every night!
This beauty embraces the essence of transitional house plans, marrying the comfort of traditional design with the slick cleanliness of modern style. You won't find any identity crises here; this house knows exactly what it is—a classic in the making.
One of the jaw-dropping features is the living room with a soaring vaulted ceiling. It doesn't just stop there; it carries you into the kitchen with decorative wood beams that scream both elegance and fun.
It's like your home is saying, "I can be formal, but I know how to party too." This open, expansive area is just begging for you to entertain, to have those family get-togethers where everyone asks, "When can we come again?"
Now, privacy? Check! The split-bedroom design means your owner's suite is your castle. Seriously, you can escape there with a "Do not disturb" sign, and the world will wait. It's your personal haven away from the hustle and bustle of the rest of the house.
And let's have a moment of silence for the unsung hero of the home: the strategically placed laundry room. Close to the owner's walk-in closet, it's like having your cake and eating it too, but for clothes.
Laundry day just got a whole lot easier, and maybe, just maybe, a bit enjoyable? No, am I stretching it? Okay, maybe just easier then.
Step outside and there it is, a huge covered porch begging you to enjoy those lazy sunsets. But this isn't just any porch; it's a hosting paradise with an outdoor kitchen. Yes, you can flip those burgers and skewer those veggies while breathing in fresh air.
And the pool? While the design doesn't include one, there's plenty of space to fit your dream pool where you can host epic cookouts. Splish, splash, pass the ketchup, please!
But the cherry on the top? The unfinished bonus room above the garage. This space is like a blank canvas for your dreams.
It can morph into anything—a teen's bedroom (far enough to grant them their "freedom"), a man cave (because sometimes, grown-ups need a timeout too), a craft area, or whatever your heart desires. Plus, it comes with an optional full bathroom, so it's practically an oasis of possibility.
This house isn't just built with bricks and beams; it's built with layers of thoughtfulness, little conveniences, and a flow that just makes sense.
It's cozy yet spacious, private yet inviting, and best of all, it's yours to personalize. The modern farmhouse under 2500 square feet isn't just a place to live; it's a place to love living. So, are you ready to turn this daydream into your dream day-to-day?
Plan 12103JL