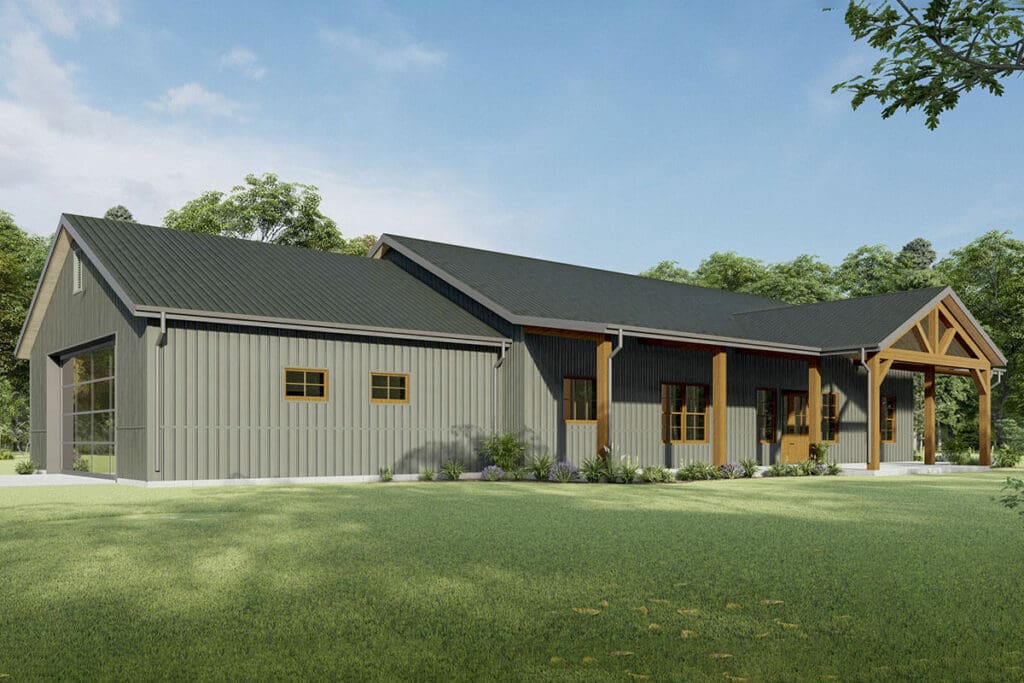 Specifications:
1,925 Sq Ft
3 Beds
2.5 Baths
1 Stories
2 Cars
If you've ever dreamt of owning a home that beautifully marries the rustic charm of a barn with the cozy comforts of a condominium, you might just be in for a treat with this under 2000 square feet Barndominium!
Picture this: A stunning home wrapped in the warm embrace of front and rear porches, with just enough space for you and your family to live comfortably and make a lifetime of memories.
And for those of us who have a thing for cars, the side-entry double garage is like the cherry on top. Now, let's dive in and explore all the nooks and crannies of this delightful abode, shall we?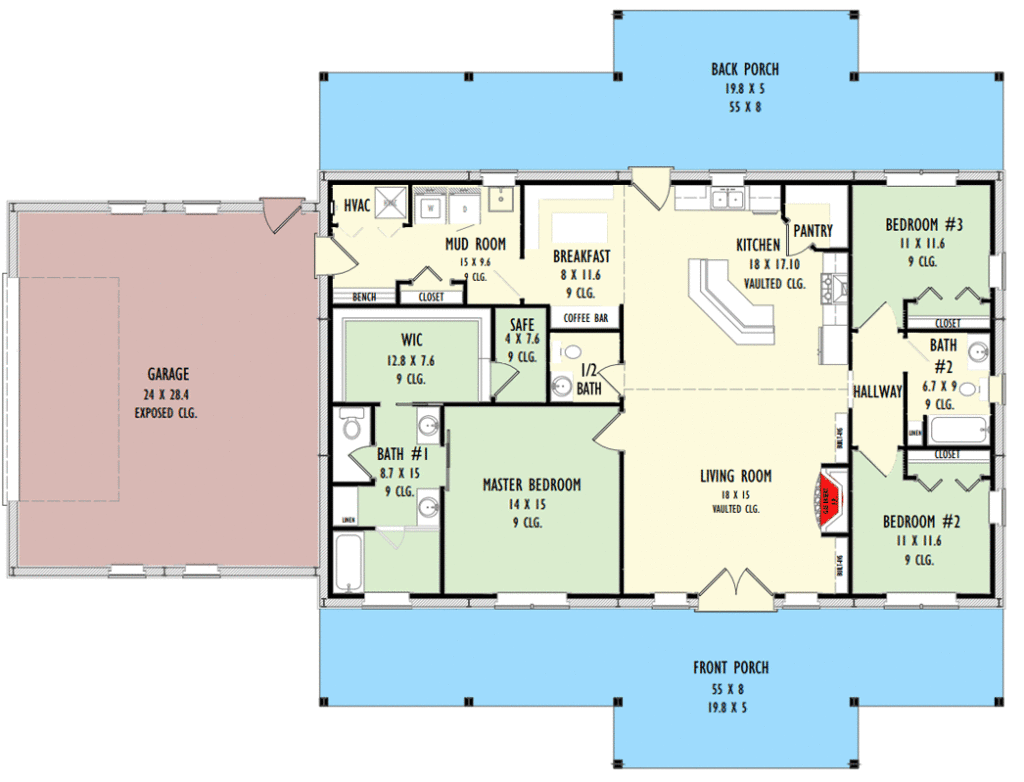 Clocking in at a comfortable 1,925 square feet, this Barndominium is like the Goldilocks of houses—not too big, not too small, just right!
With three bedrooms and 2.5 baths, it's the perfect size for a small family or anyone who wants a home that's easy to manage without sacrificing style and comfort.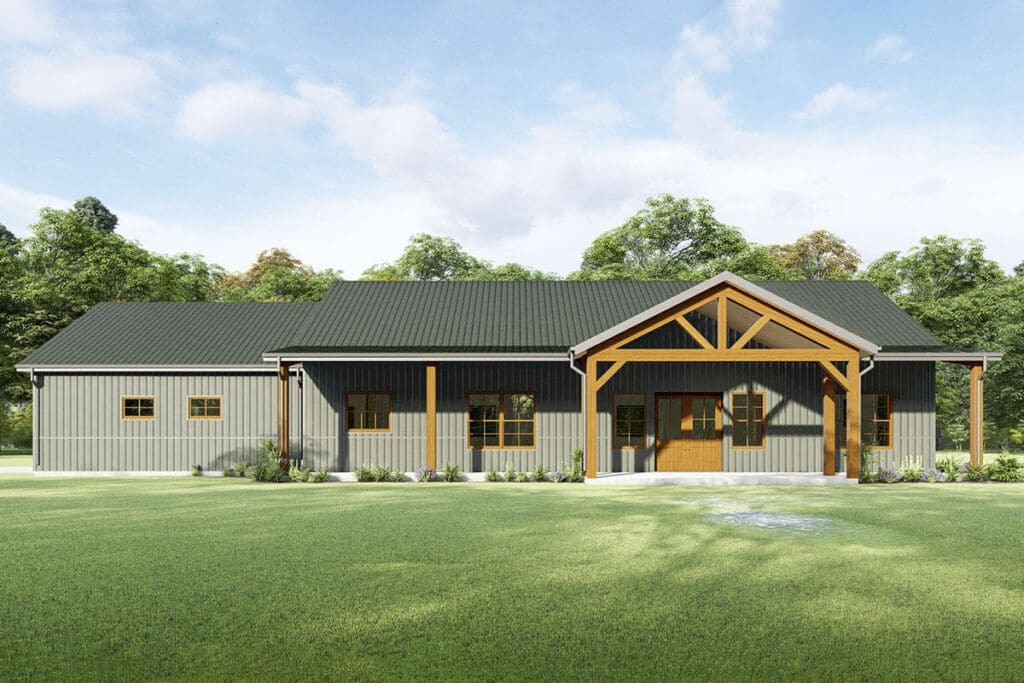 And with a single-story layout, you won't have to worry about trekking up and down the stairs every time you forget your glasses in the bedroom. (We've all been there, right?)
Now, let's talk about those porches. The open-gable design adds just the right amount of rustic appeal, creating a space that's perfect for sipping on a cold lemonade during hot summer days or cuddling up with a blanket and a book when the weather cools down.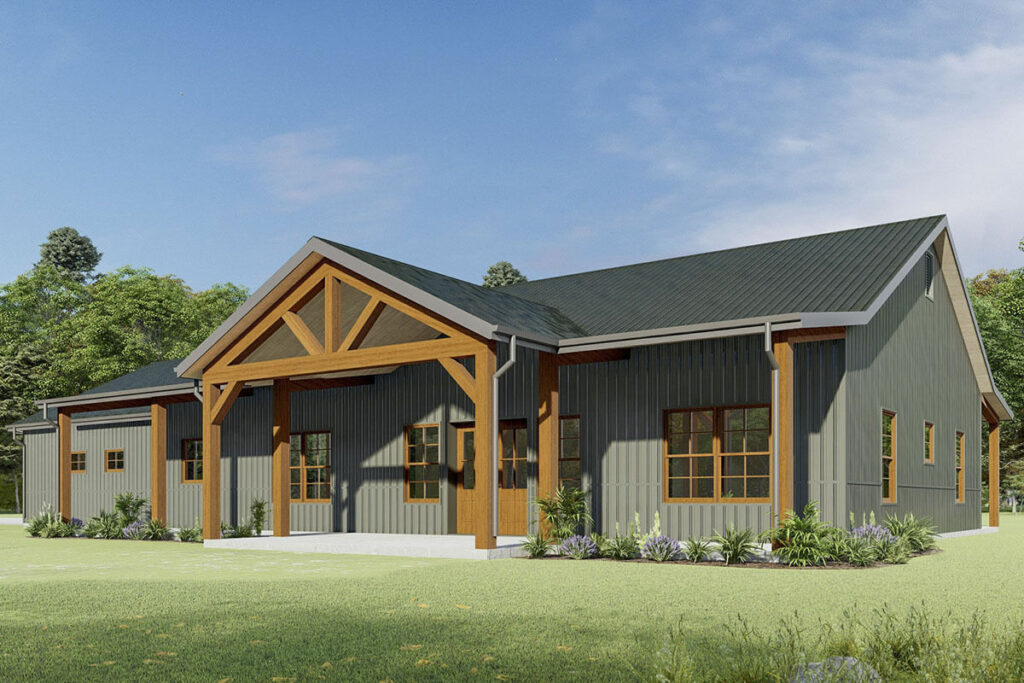 With matching front and rear porches, you have double the space to enjoy the outdoors and take in the beauty of the countryside. And since they're covered, you can enjoy them come rain or shine. Talk about a win-win!
Step inside, and you'll find yourself in a spacious living area that instantly feels like home. The fireplace adds a cozy vibe that's perfect for those chilly evenings when all you want to do is curl up with a good movie and a bowl of popcorn.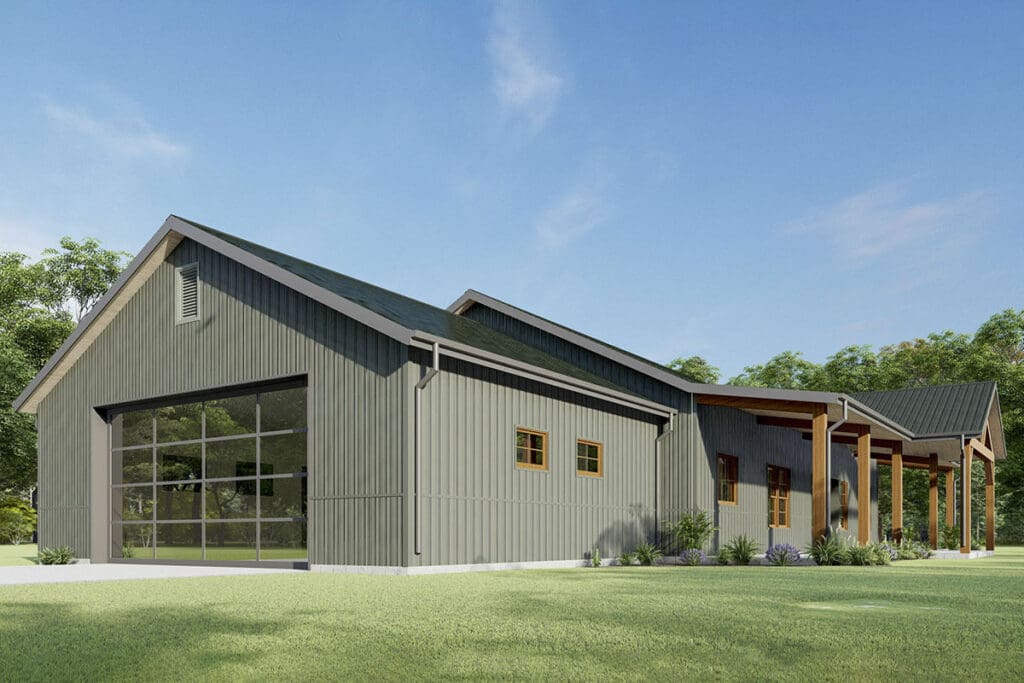 And for the chefs in the family, the sizable kitchen is a dream come true. With plenty of space for more than one person to cook, it's the perfect spot for whipping up family meals or entertaining friends.
Just off the kitchen, you'll find a charming breakfast nook with built-in benches, providing the perfect spot for morning coffees and pancake breakfasts.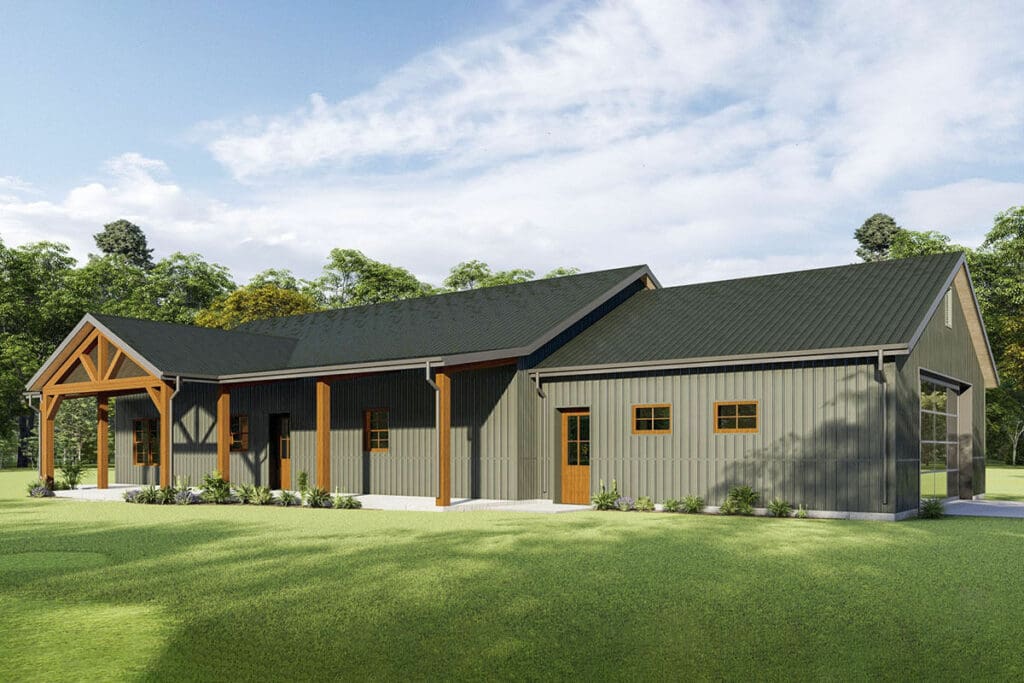 And with a coffee bar nearby, your mornings just got a whole lot better. Let's not forget the neighboring service areas, including a mud/laundry room combo that makes tackling the day's chores a breeze.
When it's time to retreat for the night, the master bedroom awaits, set apart from the secondary bedrooms to provide a private oasis just for you. With a 4-fixture bath, large closet, and safe room, it's got everything you need to relax and unwind.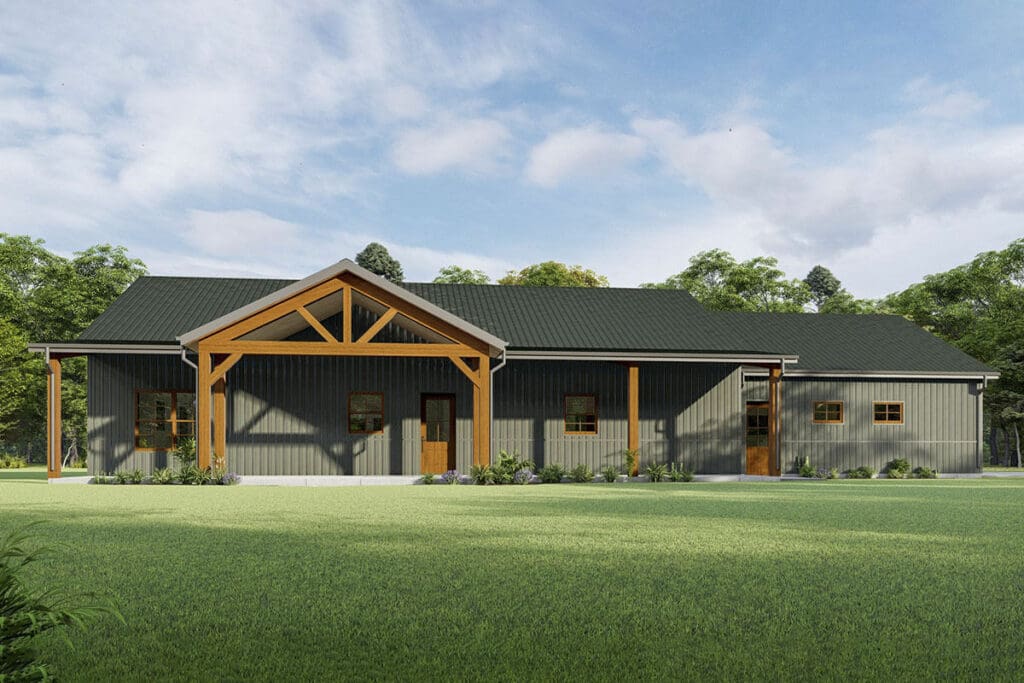 And for the kids or guests, bedrooms 2 and 3 are conveniently located on the other side of the home, sharing a hall bath.
Now, let's talk about what's holding all this up—the structure itself. This Barndominium was designed with a Pre-Engineered Metal Building (PEMB) in mind, which is the go-to choice for these types of homes.
Not only can a PEMB be engineered, fabricated, and shipped to any location in the world, but it also allows for a much quicker installation than a traditionally framed home. This means your dream home can become a reality in no time!
And with the ability to select 2×6 exterior framing from the options menu, you have the flexibility to make this home truly your own.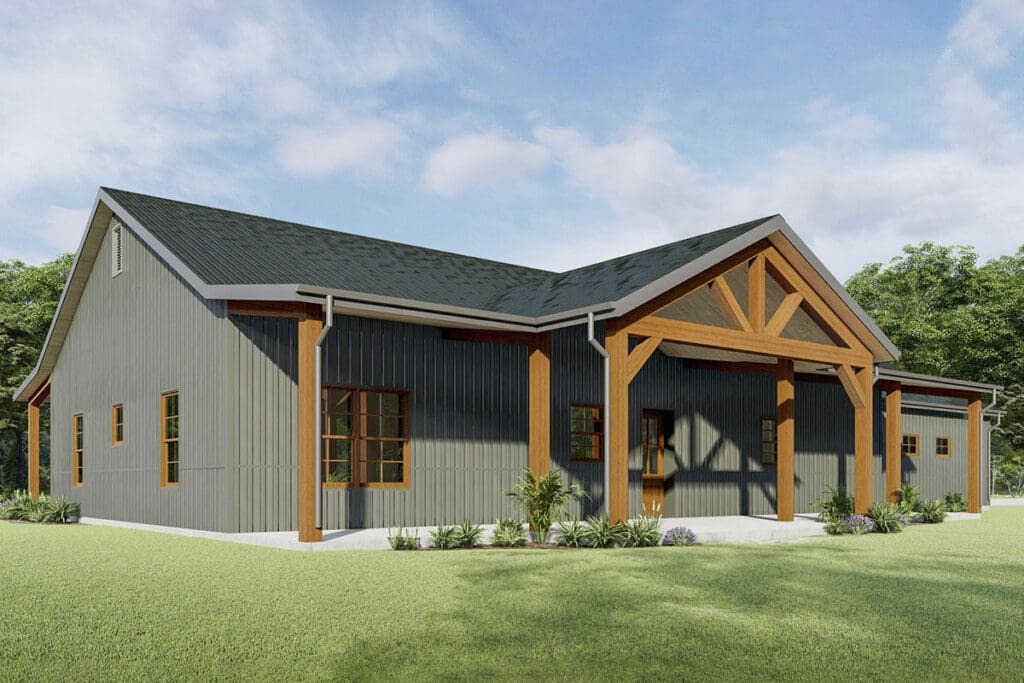 In the end, this under 2000 square feet Barndominium is more than just a house—it's a home that's ready to be filled with laughter, love, and a lifetime of memories.
From the rustic charm of the open-gable porches to the spacious and cozy living spaces inside, it's a home that checks all the boxes.
And with the durability and convenience of a Pre-Engineered Metal Building, it's a choice that you can feel good about for years to come. So, what are you waiting for? Your dream home is waiting, and it's just the right size.