Specifications:
1,706 Sq Ft
3 Beds
2.5 Baths
1 Stories
4 Cars
What happens when you blend country charm with a pinch of modern flair? You get a 1,706 sq ft modern barndominium-style house that's more refreshing than a cold lemonade on a hot day!
Picture this: 3 beds, 2.5 baths, single story, and enough garage space for a mini car festival. Let's dive into this farmhouse-chic-meets-contemporary-genius architectural marvel, shall we?
First off, let's talk about the exterior – because, honestly, it's like the universe looked down on this house and said, "Let there be fabulous!" Combining metal, wood, and stone, the façade screams sophistication with a rustic twist.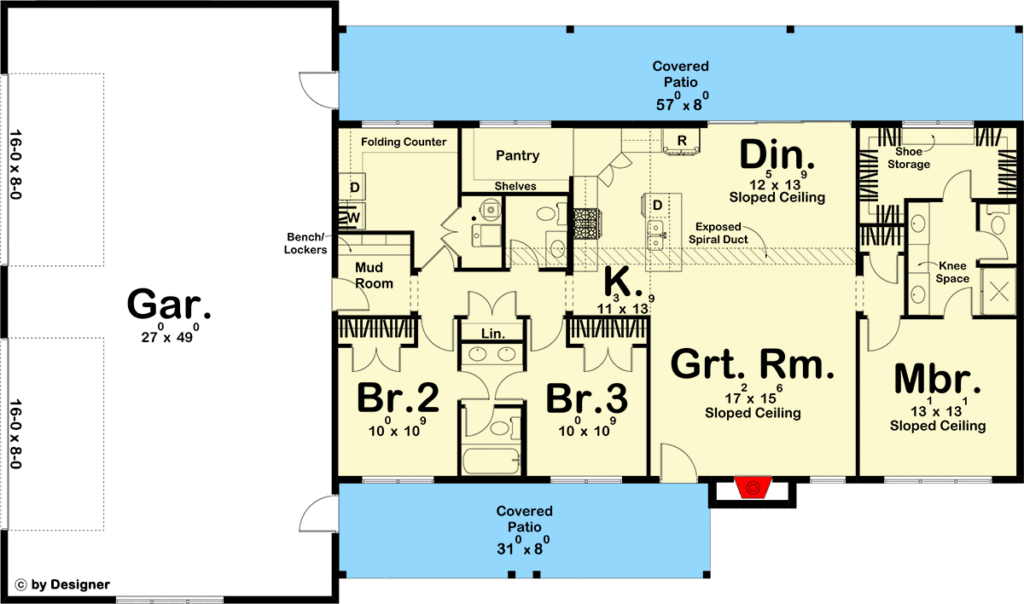 It's the architectural equivalent of wearing a tuxedo with cowboy boots – and totally pulling it off.
But the real jaw-dropper? The massive covered patios flanking both sides of the home. Whether you're a sunrise yoga enthusiast or a sunset wine connoisseur, these spaces offer the perfect setting.
And they're not just for show, either. Step through either entrance, and you're welcomed into a cavern of wonders, also known as the open-concept living area.
Now, this great room isn't just "great" in the name; it's like walking into a hug. Imagine cozying up next to the built-in fireplace.
Whether you're reading a book or guilt-watching reality TV, the warmth makes everything feel like a guilty pleasure. And the dining area? Let's just say you'll want to start hosting those family dinners you've been avoiding.
The kitchen is where this house plan really flexes its muscles. With a spacious walk-in pantry, you can finally buy those bulky wholesale snacks without worrying about storage.
The kitchen island is the real MVP, though. It's not just a kitchen island; it's a multitasking superhero. Casual breakfast bar, impromptu workspace, or a spot to spread out your takeout, this island handles it all with grace.
Saunter over to the right side of the home, and voilà, the master suite. This isn't just a bedroom; it's a sanctuary.
The bathroom whispers serenity with its double vanities (because who wants to jostle for mirror space at 7 AM?). The separate toilet and shower areas?
A godsend for the privacy-conscious. And the walk-in closet doesn't just have storage; it has built-in shoe storage. That's right, your footwear finally gets the VIP treatment it deserves!
"But what about the rest of the family or guests?" you ask. Fear not! Bedrooms 2 and 3 are nestled near the gargantuan four-car garage, which, by the way, is spacious enough to start your own band (garage band, get it?).
These rooms share a Jack and Jill bathroom, which is perfect for sibling bonding or the occasional feud over bathroom time.
And let's not forget the guest bathroom and laundry room strategically located across the hall. Because whether it's muddy kids or an unexpected visit from the in-laws, it's always best to be prepared.
In essence, this 1,706 square foot modern barndominium-style house isn't just a blend of elegance and functionality; it's a lifestyle statement. It tells the world, "I can mix comfort with style, throw in practicality, and make it all look effortless."
So, if you're in the market for a home that's as versatile as it is stunning, this house plan might just be your architectural soulmate.
Because, let's face it, who wouldn't want to live in a space that's as cozy as grandma's apple pie and as sleek as a runway model? Happy house hunting, future barndo-owners!