Kitchen faucets are an absolute necessity when it comes to kitchen fittings. Used for daily activities, more and more modern residential faucets are starting to have springs in them due to how handy they are.
Why do kitchen faucets have springs?
Recently kitchen faucets have springs in them due to the system offering high versatility in use and flexibility. Spring faucets make it easier to clean and use the sink while remaining stylish yet functional. It offers you more control as well as immediate washing with direct high power water flow.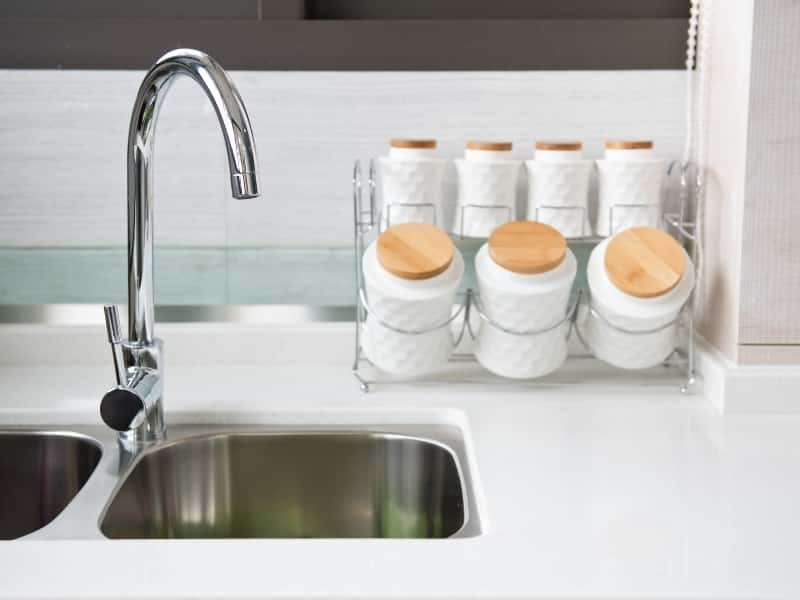 Spring faucets were most common in industrial workspaces, especially kitchen units where you need fast-paced instant and accurate washing.
However, seeing how functional and flexible spring faucets are, it did not take long for them to be released for regular households as well.
What is a spring faucet?
A spring faucet, also known as coil-spring or spring-spout faucet, is a faucet that has a tall, curved spring that will work as the spout itself while a highly flexible hose acts as the water pipeline within.
Spring faucets are more found in pull-out faucets than any other kitchen faucet type. They are highly regarded to be easy to use, stylish whilst remaining highly functional.
Previously seen in official restaurant kitchens, they are making their way into the residential home scene at the moment. Using one instantly transforms your everyday kitchen visuals into a high-profile flexible kitchen space.
Due to these reasons and more explained below, spring faucets are also known to be super-duty faucets.
Five benefits of why kitchen faucets have springs
Kitchen faucets come in all shapes and sizes, with trends following one style or the other. Spring faucets are becoming more common each day yet remain uncommon enough to be a showstopper.
Flexibility
It needs no further explanation, as it is obvious that the biggest benefit of spring faucets is their flexibility. We can easily detach the spout and pull it however and wherever we need it to be.
It is believed this type of faucets is one of, if not THE, most flexible facets available. This helps immensely as it clearly makes washing and cleaning faster and easier.
High pressure
Coil spring faucets work best in places that have high water pressure. This ensures that you get a strong flow of water whenever you need it.
So, when the need arises, you can quickly and efficiently clean something using the elastic pipe.
Aesthetics
It is safe to say spring faucets are unusual enough to immediately grab the attention of any and every guest coming into your kitchen space.
Sleek yet modern, this faucet will without a doubt be a talking point, enhancing the visuals of your sink area effortlessly.
High usage, high durability
Since it was first made for fast-paced industrial usage, spring faucets are essentially made to be durable, strong, and functional.
They offer immediate washings with super high intensity whilst staying durable and workable for years, if not decades.
Saves space
Spring faucets focus more on saving space for the area it is needed in usually is packed with other amenities.
So even if it is not in a high arc, spring faucets still manage to have multiple functionalities in a smaller space.
If made and fitted properly, a good spring faucet will last years with minor maintenance and repair. Add that with the benefits given above, a spring faucet might be on the list for the next update in your kitchen's renovation.
Spring faucet vs. pull down- Which one is better?
As explained before, spring faucets are coiled faucets that have detachable spouts, which help with extension and flexibility. They are also known as pull-out faucets since, as the name explains it, you have to pull them out.
Pull-down faucets, on the other hand, are "gooseneck" faucets with an industrial or rustic design where you can literally pull the spout down from the tap.
There are not many differences between pull-out and pull-down faucets. While both offer flexibility and high visual aesthetics, which one is better ultimately boil down to what you want in your kitchen in the end.
Space:
To start with, Spring faucets take less space than pull-down faucets.so if you have a sink area that has a cabinet attached to it on its head, a spring faucet might be a better option.
Sink size:
Spring faucets will also make it easy to avoid splashes which makes it easier to maneuver things in and around the sink, even if it is shallow. At the same time, the height of the pull-down faucet will make it easier to fill tall, long, or deep cookware and pots.
Aesthetics:
Aesthetic-wise, a spring faucet looks more traditional with its deck-mounted setup. Pull-down faucets will look more modern and sleeker if that is the vibe you are going for.
In the end, only you can determine which one is the better choice for you, seeing what requirements you need and want.
While pull-down faucets have more designs and styles, pull-out faucets will focus more on special awareness and function ability.
Do pull-out/spring faucets swivel?
By swivel, it means the spout can twist and turn 190 to 360 degrees. Pull-down faucets are well known to offer swivel support.
Pull-out or spring faucets, however, do not have swivel support. Since saving space is a priority for spring faucets, they do not have a high enough arc to fully support swiveling.
How long do spring faucets last?
Maintaining a spring or coil faucet is not a hard task. Same with other types of sinks and faucets, if looked after properly, a spring faucet can last up to 15 to 20 years.
How do I maintain the faucet, you ask?
The common advice is to just wipe it with a microfiber cloth, and it'll take care of the external markings. Anything internal can be dealt with by replacing parts, with or without the help of a professional plumber.
More and more kitchen faucets are starting to opt for springs, for they allow increased flexibility and functionality whilst remaining aesthetic.
With the added benefits of user-friendliness and needing little to no maintenance, it is understandable why one would prefer to go for one.
Frequently Asked Questions:
What is Kitchen Faucet Cartridge?
Are Kitchen Faucets Universal?
Match Kitchen Faucet with Sink & Cabinet Hardware
I am an architect with over 5 years of experience in the design and installation of interior and exterior design projects. I have also been a home improvement expert for many years, so I know how to improve your home's look and feel. I would love to help you build the perfect home for your family!
Read more about the author here.