Whether you are planning to remodel your old vanity or get a completely new one, the most important factor to consider when it comes to bathroom vanities is what material to use.
There are many options, but a few are ideal to last longer than others. After all, you don't want to be working on that vanity every other year.
What are bathroom vanities made of?
Bathroom vanities are most commonly made of two materials. They are plywood and solid wood. Medium-density fiberboard, which is commonly called MDF, is among other options like particleboard. Some of these materials are durable, some water-resistant, and all make pretty vanities.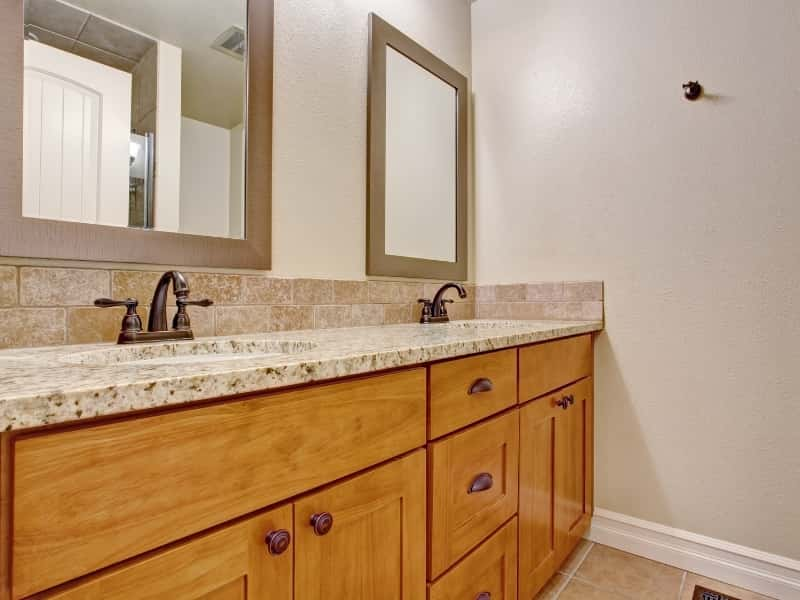 Like many parts of our home, the bathroom vanity is an important space where we groom ourselves and get dressed before heading out.
The vanities contain many compartments, including a sink, integrated soap dispensers, and cabinets. Bathroom vanities also have space for storing perfumes, makeup, and other skincare products.
For such an essential area of use, one must be vigilant when choosing the material of vanity. The material used to make bathroom vanity must be highly water-resistant, for one.
With the sink, water is always splattering around the vanity, and materials that cannot withstand moisture will have you change your vanity in a few days.
Moreover, the material must be sturdy and long-lasting. You can think of the visual appeal and aesthetics as well. Most importantly, some materials for vanity cost more, and others are more affordable.
5 materials bathroom vanities are made of:
Here is a few materials bathroom vanities are made of:
Plywood:
Similar to MDF and particleboard, plywood is also an engineered wood. As the name suggests, it is made of thin layers of wood finish piled up on one another using an adhesive.
When it comes to cost-effectiveness and smooth looking finish, plywood is the best of engineered material. In contrast to solid wood, plywood does not bulge or expand due to humidity or moisture and is also incredibly durable.
Plywood remains a popular material when it comes to building bathroom vanities, as it can withstand more moisture and is a great option for anyone who is looking for a budget-friendly material.
However, with time, plywood may also weaken if too much water is absorbed.
Solid Wood:
Solid wood is considered to be the most resilient and efficient material for making bathroom cabinets. Solid wood needs to be coated with paint for varnish for water resistance.
This material can withstand moisture to great levels but tends to expand if it absorbs too much water. Thus, humidity must be controlled wherever solid wood material is used. Exhaust fans or windows in the bathroom help with such issues.
Many people love the look of a solid wooden vanity, and the finish is always smooth and aesthetically pleasing.
However, solid wood is the most expensive material among all.
MDF:
MDF stands for Medium density fiberboard and is an engineered material using hardwood fibers compressed with wax and resin glue. MDF is said to contain 30 percent of solid wood.
The low wood percentage makes for the low cost of the material as well. Although MDF is used in bathroom vanities in many places for its low cost, it might not be the best option.
MDF is not water-resistant and is coated with a layer to withstand water. If it absorbs water, it bulges up and eventually becomes weak. Compared to other manufactured materials, MDF has a smoother finish and is suitable for other cabinets in the house.
Particleboard:
Particleboard is a material that is manufactured under high heat and pressure and is made of wood parts and a chemically formulated adhesive. For the finish, these boards are often covered with a more long-lasting coat-like veneer.
Although particle boards are inexpensive when compared to other materials, the reason for their falling popularity is mainly their weaker durability. It does not withstand too much weight on top very well and can crumble from becoming weak.
Vanities made with particle board look appealing and may cost less, but the other materials win the race when it comes to doing the job right.
Rubberwood:
Rubberwood is a new option that is said to be eco-friendly. This green material is made from rubber trees.
Although not too popular for its novelty, a lot of environmentally friendly people use this as their bathroom vanity material.
What kind of wood is used for bathroom vanity?
Douglas Fir: Fir is durable, easy to work with, and can be customized as wanted. It is also a widely available wood to be used in bathroom vanities.
Mahogany: This wood is durable and makes for the greatest looking vanities. Like walnut, they are costly but may be prone to staining.
Teak: Teak is a durable and expensive wood for vanity. It produces oils that make it naturally resistant to moisture.
White or red oak: Slightly less durable than other wood, this is a more affordable option.
Maple: Similar to birch, maple is cost-friendly. Vanities made with maple have varied smooth surfaces.
Birch: A popular choice is a birch which also has a close grain form and becomes water-resistant naturally.
What is the best material to use for bathroom vanity?
Solid wood is the best material to use for the bathroom vanity. If solid wood is accurately coated, painted, and sealed, you will never have to think about changing or redoing the bathroom vanity.
Solid wood is proven to be the most durable material for the bathroom environment.
The only downside of solid wood is its expense. Most people do not choose this material is because they cannot afford it. If humidity is controlled inside the bathroom using windows, a block of natural wood does not crack or bulge.
Moreover, the classic look is a popular demand, with all the different types to choose from.
If someone is looking for the best material that is affordable, they must consider plywood. Although not at resilient as solid wood, plywood is incredibly durable in bathroom surroundings.
What are bathroom vanity tops made of?
Bathroom vanity tops are made of several materials. Granite is the most common choice, with marble following the line. Granite comes in many grades, some more affordable than others. Granite and marble tops are usually costly, but they last a lifetime.
Solid surface is similarly priced to granite but is also a popular material for vanity tops. Laminate is common in vanity tups as well, as they are heat and stain-resistant. Laminate is also quite inexpensive. However, laminate is prime to denting over time.
Is MDF good for bathroom vanities?
MDF is a good option for bathroom vanities only if it is properly sealed and coated. Although MDF is an affordable engineered material used in many household constructions, plywood or solid wood is a comparatively better option.
MDF is made from a composite of wood chips, glued together using wax and resin. After which, it is treated with a layer of coating. Additionally, for its looks, MDF is often confused with plywood, although plywood is more lightweight.
For its low cost and excellent water resilience, MDF is often used in bathroom vanities now. Made of composite materials, MDF may become weak and bend if it is exposed to water.
Although it is very easy to pain MDF vanities, repairing on is not so simple.
Is rubberwood good for bathroom vanity?
Rubberwood is a good option for bathroom vanities. Rubberwood is made from rubber trees and is a no waste material. This environmentally friendly nature of the materials attracts many.
Rubberwood is durable against heat and moisture. It can also be stain-proof and gives a smooth finish. The stern material is also quite cost-effective.
Can I make my own bathroom vanity?
If you a restrained-on budget, or you can't find the style you are looking for, you can make your bathroom vanity. Here is a simple idea to get started on making your bathroom vanity:
Fit a long media cabinet in the area you want the vanity
Customize the front as you wish. Add wooden or glass sliding doors.
Install a granite, marble, or laminate vanity top.
Add a mirror, other racks on the vanity wall.
Install additional soap dispensers or towel holders if you like.
How much does it cost to build a bathroom vanity?
On average, the cost to build a bathroom vanity could be about $1500. However, depending on various factors, it can vary anywhere from $500 to $3500. Ready-made vanities that only need to be set into place and installed vary in price from $200 to $2500.
If you are planning to blend some of your own ideas and plan on a custom vanity, it can be priced from $500 to $3000.
If you are planning to build one on your own, you may avoid the hefty installation cost, which can be as low as $200 to $1200. This could depend on what area you reside in and how long the process takes.
The cost of building a vanity can vary tremendously depending on a few factors:
What kind of material is being used in the vanity cabinets?
What is the material of the vanity top?
How many additional compartments will be there?
Will it be custom-designed?
What is the quality of the faucet sets used?
What does the installation cost?
Why are bathroom vanities so expensive?
Bathroom vanities are so expensive because of the designs, material used for the vanity cabinet as well as vanity top. Many compartments need to be built. Many bathroom vanities already come with a sink. It can be another reason of the high price.
Moreover, installation costs for the vanity are a reason for the increased cost.
There is always so much water splashing and humidity in the bathroom; it is imperative that the material of the vanity is tough and of high quality. The vanity must be well-built, long-lasting, and appealing in looks. And all that will depend on the material of the bathroom vanity.
Frequently Asked Questions:
Are Bathroom Vanities Waterproof?
Do Bathroom Vanities Come in Different Depths?
Who Does Bathroom Vanity Installation?
Do Bathroom Vanities Need to be Flush or Attached to Wall?
I am an architect with over 5 years of experience in the design and installation of interior and exterior design projects. I have also been a home improvement expert for many years, so I know how to improve your home's look and feel. I would love to help you build the perfect home for your family!
Read more about the author here.