If you are living in your parents' house, which is a traditional or old-fashioned house, then it is most likely that your bathroom vanities are not waterproof.
Budget-friendly modern houses don't come with waterproof bathroom vanities as well. Now, if you need a waterproof bathroom vanity, you can always redecorate your old bathroom.
Are Bathroom Vanities Waterproof?
Bathroom vanities are not always waterproof. The materials used for Bathroom vanities, like; Plywood, Solid wood, MDF, Particleboard etc. are not 100% and more prone to water damage. Only PVC vanities are totally waterproof and lasts longer, though it may not bring the look of a real wood.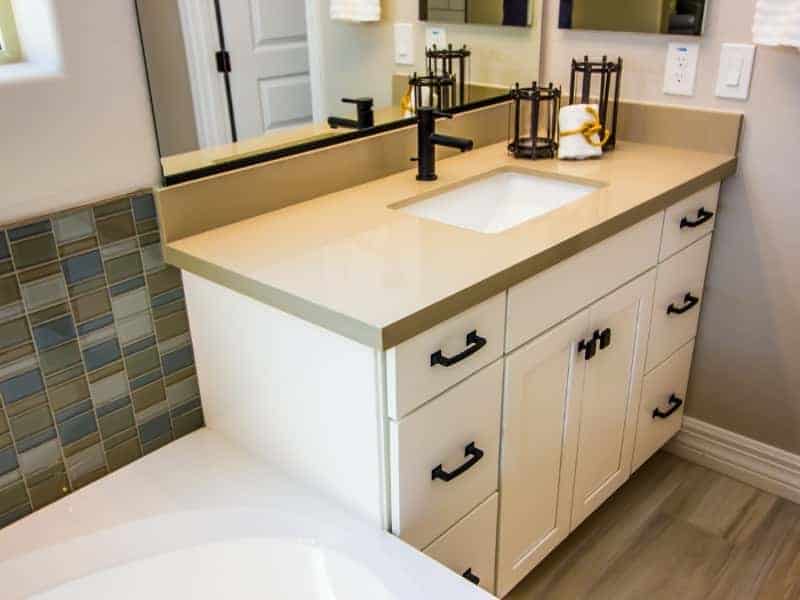 Waterproofing your bathroom vanity is not that big of a deal. It can be fun choosing the design, color, and materials that align with your personality and giving a whole new look to your old bathroom.
You can choose either the traditional, modern, French or country style. Not to mention, your need for waterproofing vanity is being met as well, as you will get a newly designed bathroom. That too on a low budget. You can renovate your bathroom anytime and make the vanities waterproof according to your preferences. It will not only make your cabinets water-resistant hence saving your products from being damaged but also enhance the beauty of your bathroom.
Why do I need Waterproof Bathroom Vanity?
6 reasons to waterproof your bathroom vanity:
To safeguard your vanity products:
Since water tends to run towards lower areas following the gravitational attraction, if there is any gap or space in the wall or cabinet or it is not water-resistant, water will flow through such areas, and it might find its way to your daily accessories.
Being in contact with water, those accessories might get damaged, which you will use later, causing harm to yourself. Not
To mention, if you store electronic devices like hair dryers or straighteners, then the last thing you would want in your bathroom is water leakage.
Prevents moisture and mold:
If your bathroom floor is continuously wet, it might penetrate the walls and doors of the cabinet, which will create dampness inside of the structures. The worst case is, this damage is not visible to your eyes. 
The damp and moist atmosphere breeds fungus and insects like centipedes and bugs, which will attack your products and accessories. That is both unhygienic and harmful. So there is no second option to waterproofing your bathroom vanities. 
Insulation:
Using hot water while showering, produces steam and increases the water vapor in the air which remains trapped in your bathroom for a considerable amount of time. As a result, it disrupts moisture control and causes mold growth.
Insulating your bathroom will keep the thermal balance intact both in summer and winter.  
Increases bathroom options:
While waterproofing your bathroom, you will install upgraded sinks and cabinets such as pedestal, floating, cabinet-style, under-mounted, framed, or vessel sink on top of the vanity. Which will give your bathroom a designer look and professional touch. You can turn it into a wet room as well. 
Adds property value:
A waterproofed bathroom vanity will give a classic quality and modern look to your bathroom. So when the time comes to sell your property, the professional finishing of your bathroom will immediately grab the attention of potential customers meaning increasing your property value. 
Prevents corrosion and concrete cancer:
Water leakage causes your plumbing pipes and steels inside the concrete to rust which may eventually deteriorate your building's foundation. Waterproofing around the sink and plumbing pipes will prevent such scenarios. 
How do I protect my bathroom vanity from water damage?
However, bathroom floors and vanity surroundings remain wet after you have taken a long shower or deep cleaned your bathroom. Make sure to dry the place up every time after you have finished. There is no alternative to remaining careful and aware.
Ensure airflow and ventilation:
Protecting your bathroom vanity beforehand is easier than repairing. Therefore, you have to ensure that there is an adequate amount of airflow and ventilation going on in your bathroom.
It will keep your bathroom dry and control the moisture. You can also attach an extractor exhaust fan.
Keep the vanity doors open:
You should keep the vanity doors open after a certain interval of time so that air flows inside. The airflow and sunlight will prevent any damage or mold from happening. It will also save the plumbing pipes under your sink from causing any accident like cracking or waterlogging.
Keep the faucet area dry:
Try to always keep the faucet area dry. And keep checking thoroughly your basin, pipes, and vanity area for leakage. Repair if needs be.
You can always save some bucks by going for replacements of your old washbasin, tap, and other bathroom accessories. And buy yourself that donut you were craving for last week! 
You can always back up water damage by temporary molding. But remember it is a temporary fix.
You can also call a furniture maker to see if the old cabinet can be fixed before crashing it down. Worth a try!
 How do you seal a bathroom vanity?
Well, you can seal the gap between your vanity and wall without the help of any professional by following these easy steps-
Make the area clean:
At first, clean your vanity and make it dry using a cloth or whatever you prefer. Make sure there is no soap residue anywhere in the sink or the wall.
Apply the silicone sealant:
Now, you take the silicone sealant tube. And cut the mouth of the tube coordinating with the width of the gap or crack between the vanity and wall.
At this point, you hold the tube firmly with your hands, or you can also use a mastic machine and exert force on the body of the tube. With every stroke, it will give a thick, even bubble of silicone sealant on the gap or crack. You should wipe away the excess.
Smoothing the silicone:
Now, you will make a solution of 50% washing liquid and 50%water. Dip your finger into the solution. Now you delicately run your finger over the thick silicone layer. It will give you a smooth and professional finish.
Do you need to waterproof around the vanity?
It is not compulsory to waterproof around your bathroom vanity. But you would want to waterproof the area as a precautionary measure.
Three reasons why you need to waterproof around the vanity-
It will help prevent any future mold.
Water will not go running into your bedroom or any cracks in the cabinet and bathroom walls.
The humidity and moisture level will remain intact.
How to waterproof the area around bathroom vanity?
If you already have a waterproof bathroom vanity, you would also want to waterproof around the vanity as well. It will help prevent any future mold.
Water will not go running into your bedroom or any cracks in the cabinet and bathroom walls. The humidity and moisture level will remain intact. 
Waterproofing around the vanity is quite simple. Here are some tips-
Waterproofing your bathroom floors and walls:
You can waterproof your bathroom floors and walls using ceramic tile, porcelain tile, vinyl tile, or manufactured marble or stone. 
Fill up all cracks or gaps:
You can use silicone sealant to caulk every crack or hole in your bathroom sinks, showers, and surrounding cabinet doors.
Installing waterproof building materials:
Use inorganic materials like metal, natural stone, plastic, ceramic, and porcelain instead of organic materials while redoing around your bathroom vanity. Since organic materials may decompose, crack or swell up when in contact with water. 
Using high-quality shimmer paint:
Always go for shimmer or glossy color instead of mattes for bathroom walls or surrounding your vanity area. They are more durable and easy to apply.
How do I protect my wood vanity from water? 
There are three easy ways to protect your wood vanity from rotting, cracking, or swelling –
Use Linseed, Walnut or Tung oil
Painting or brushing sealant
Combo use of stain-sealant
You can choose any three of the mentioned oil and apply them by following these simple steps-
Step 1- Sand the wood using grit (220) sandpaper thoroughly until the wood is completely free of paint, color, or some other burnishes. Take a clean cloth and wipe it off. Let the surface dry completely. 
Step 2- Take a brush or lint-free cloth such as an old t-shirt. Drip oil into the cloth and gently apply it to the wooden surface. Now let it dry for 24 hours or overnight. 
Step 3- After the surface has absorbed the oil, rub the surface with super-soft wool and re-apply the oil on the surface. 
Step 4- Now wipe it clean and remove if there is any bubble or dark spot. And let it dry for another 24 hours. 
Step 5- Again, sand the wood with steel wool and apply a final layer of oil. Let it soak for 30 minutes. Leave it overnight to dry. Now sand the surface once again until the wood looks clean and smooth. 
Sealants like Polyurethane, varnish, and lacquer are brushed or sprayed against the wood surface. Then you have to let it dry and softly sand the surface. 
You can use a combo of stain-sealant and coat it on the surface. It gives huge protection to wood vanity along with color pigmentation.  
What is the best material for bathroom vanities?
Solid wood is undoubtedly the best material for bathroom vanities. It beats every other material with its durability. Being a bit expensive, it is ready to offer you everything you are looking for in making a bathroom vanity.
Solid wood appears to be in a wide range of options such as oak, birch, poplar, maple, walnut, hickory, cherry, pine, etc. Due to such diversity, it gives you color options like reddish, brown, dark brown, black, orange, etc. You can also find different figures like stripe, ripple, broken stripe, rope, ripple, mottle, or blisters. 
Even though you can easily find many artificial material bathroom vanities from Ikea or amazon, but no other artificial material can compete with the durability of solid wood. Sometimes, it may be hard for you to afford it, but you will get the experience ever as it is the strongest material it builds your bathroom vanities.
By following these little tips and instructions, you can redo your old bathroom vanity with the best materials according to your preferences easily. You can also save yourselves some extra bucks by repairing your vanity cabinet by yourself!
Frequently Asked Questions:
Do Bathroom Vanities Come in Different Depths?
Who Does Bathroom Vanity Installation?
Do Bathroom Vanities Need to be Flush or Attached to Wall?