Tiles are one of the best flooring materials to use on bathroom floors. They are waterproof, durable, and come in a variety of colors and designs.
Before installing tiles on your bathrooms' floor, you must be wondering if they should match the wall tiles and how to match them. Let's find the answers to all your queries one by one.
Should bathroom wall tiles match floor tiles?
The bathroom wall tiles can be matched with the floor tiles; however, it is not mandatory. The matching should be done by either combining patterns with colors or mixing similar solid colors. Most importantly, they should create a vibrant look and enhance the aesthetics of the bathroom.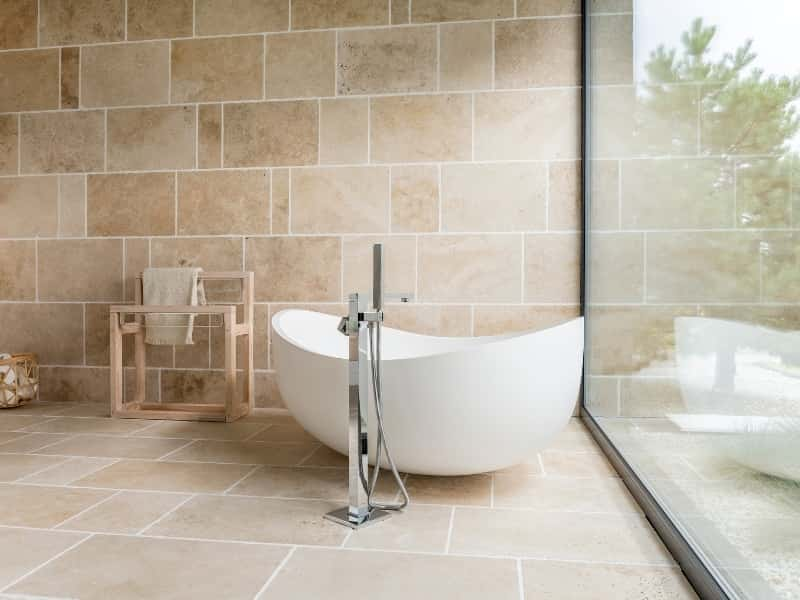 The bathroom wall tiles and floor tiles come in a wide variety of patterns, designs, and colors. So, you can combine them in various ways to produce a cohesive and elegant look in your bathroom.
How to match bathroom floor and wall tiles?
Matching the bathroom floor tiles and wall tiles is not as difficult as it may seem. You can effortlessly do it by keeping a few tips in mind. Let's have a look at how you will be able to match bathroom floor and wall tiles.
Maintain consistency of the pattern:
By using various colors and sizes while keeping the pattern similar, you can create a unified look. If you use rectangular tiles on your bathroom's floor, then you should also install rectangular tiles on the floor.
The use of the same tile pattern on each surface offers a visual link between the planes. It will enhance the overall look of your bath.
Balance dense patterns:
Rather than covering a whole room with tiles of rich and busy patterns, use small statement tiles to create a focal point on a small space. You can use small glass tiles of a particular design to produce a feature on a backsplash.
When the tiles with busy patterns are matched with large-scale plain tiles, you will prevent a design that will make you feel weird while taking a bath.
Mix patterned tiles with plain tiles:
If you are going to install patterned tiles, use them just on one surface. Use the patterned tiles either on the wall or the floor of your bathroom and apply plain tiles on the other surface.
By mixing the patterned and plain tiles, you can prevent your eyes from going funny when you enter the shower. It will help you maintain the elegance of the bathroom as well.
Go for a limited color palette:
You should choose a limited color palette for a bathroom with a lot of various surfaces to reduce pattern and color competition. Using similar color tiles on the floor and walls of the bathroom makes it look exquisite and coherent.
Mix matte finishes:
If you use matte finished tiles throughout your whole bathroom, it will look messier than being classy. To get a bathroom with an elegant and tactile look, install two types of matte tiles on two surfaces and different tiles on the remaining surfaces.
Should the bathroom floor and shower tile match?
There is no design rule that you will have to match the bathroom floor and shower tile. However, matching them will make the shower space look bigger and wider. It will make the shower open up, offering a comfortable and relaxing shower after a tiring day.
The shower tiles and bathroom floor should produce a harmonious effect by mixing monochromatic colors or matching solid colors.
By combining the tiles of the right color and shape in the bathrooms' floor and shower, you make it look elegant and aesthetic. You can dodge a design that makes your eyes go funny while showering with the perfect matching of the tiles.
Should wall and floor tiles be the same size?
The wall and floor tiles don't necessarily have to be of the same size. You can use large tiles on the bathroom floor and small ones on the walls.
Larger tiles will make your bathroom look bigger. The more tiles you will install, the more compact your floor will appear.
That being said, even if you use different-sized tiles on the floor and wall, you must be consistent with the pattern. A cohesive look and a visual link between the wall and floor can be created by using the same brick pattern on each surface.
How many different tiles should you use in a bathroom?
You shouldn't use more than three types of tiles in a bathroom. By keeping the types three or below three, you can enhance the aesthetics of the space.
Let's take a detailed look at the types of tiles you should use in a bathroom.
Two types of tiles:
Using two types of tiles in a bathroom is the most common choice as it keeps the space simple while ensuring a cozy environment. You can effortlessly and effectively color coordinate your bathroom by using any two types of tiles.
Three types of tiles:
While using three types of tiles, utilize your first color option to decide about the other tiles you'll use in your design. If your first choice is a one-of-a-kind tile that will be the main point of your design, then use two plain tiles for the remaining surface.
Which Colour is best for bathroom tiles?
The best color for bathroom tiles is the one that has a cool tone and maintains the aesthetic of the bathroom. The color you choose should also be a part of a neutral color palette. Here are the finest colors for bathroom tiles:
White:
White color tiles enhance the brightness of the bathroom, making the interior look fantastic. It makes the bathroom space look larger than normal by providing mirror reflection, ensuring a comfortable showering experience. So, it is amongst the most commonly chosen colors for bathroom tiles.
Light gray:
By using light gray tiles, you can make your bathroom look clean and simple. This color also gives the freedom of choosing any color for interior items.
Sand:
If you want to create an exquisite look for your bathroom, you should use sand color tiles. It will make the bathroom look bright and yellowish, making the interior design more shiny and eye-catching.
Should bathroom floor tiles be darker than walls?
The bathroom floor tiles should be darker than the walls. However, you don't have to do it if you have decided to use only one type of tile throughout your whole bathroom.
If you want to use two different types of tiles for the bathroom floor and wall, then you should choose a darker tile for the floor. By installing darker tiles on the floor and relatively light ones on the wall, you can visually make the room wider.
In addition to that, the darker surface shows dirt and stain faster. Since the floor can be cleaned easily, dark tiles should be used on the floor instead of walls.
Are big or small tiles better in a small bathroom?
By being a little creative while installing tiles, you can even make a small bathroom look bigger and roomier. The main trick is choosing the size of the tiles.
Small tiles require numerous grout lines while installing on the surfaces. These grout lines can create a grid-like effect on the bathroom walls, which makes the space look congested and can even make you feel boxed in.
So, the big tiles are always better in a small bathroom to produce the illusion of a larger space.
Should bathroom tile match throughout the house?
The bathroom tiles need to be more mold and mildew resistant than the tiles in the rest of the house. They also have to be more water-resistant so that water doesn't clog under the layer of the tiles.
As a result, the bathroom tiles don't have to match throughout the house.
That being said, you can use different types of tiles but of the same color in your bathroom like the rest of your house. It will surely enhance the aesthetic look of your shower space.
Should all bathroom floors match?
There is no interior designing rule that all bathroom floors in a house have to be matched. Most homeowners install different tiles on different bathroom floors of their houses to make them look unique and elegant.
If you want a consistent design throughout the house, then only you should match all bathroom floors. In case you decide to match all the bathroom floors, you should use a classic tile design that will look great in any bathroom.
What color bathroom or shower tile is easiest to keep clean?
The dark-colored bathroom and shower tiles are the hardest to keep clean because the stain and dirt become visible quicker on them. As a result, the light-colored bathroom tile is easier to keep clean.
White color bathroom and shower tiles are the easiest to keep clean. You can use any bathroom cleaner to make the floor clean and prevent the formation of mold and mildew.
Avoid super white tiles because they will get dirty very easily and quickly while choosing while tiles. So, you should go for off-white color to keep your shower and bathroom floor clean effortlessly.
By matching the bathroom floor and wall tiles, you can lighten it up and make the space look elegant. You can match the tiles by combining monochromatic colors and patterns.
Frequently Asked Questions:
Do Bathroom Walls Need to Be Waterproofed?
Do Bathroom Walls Need a Vapor Barrier?
How High Should Tile Be on A Bathroom Wall?
Do You Insulate Bathroom Walls? How to Insulate Walls?