Are you planning to buy some bar stools but wondering whether they are going to look well with the dining chairs?
Then you should definitely read this article to know how to combine the bar stools with your dining chairs before buying them.
This is because having suitable bar stools and dining chairs will help your house look more delightful and compelling. But make sure they shouldn't look the same as each other.
Do Bar Stools Have To Match Dining Chairs?
You don't need to match bar stools with dining chairs entirely. Usually, people don't them. While choosing both the furniture, make sure they have similar material, color, texture, and shape so that it looks combined together. Proper suitability will make them look divine and appealing to the eyes.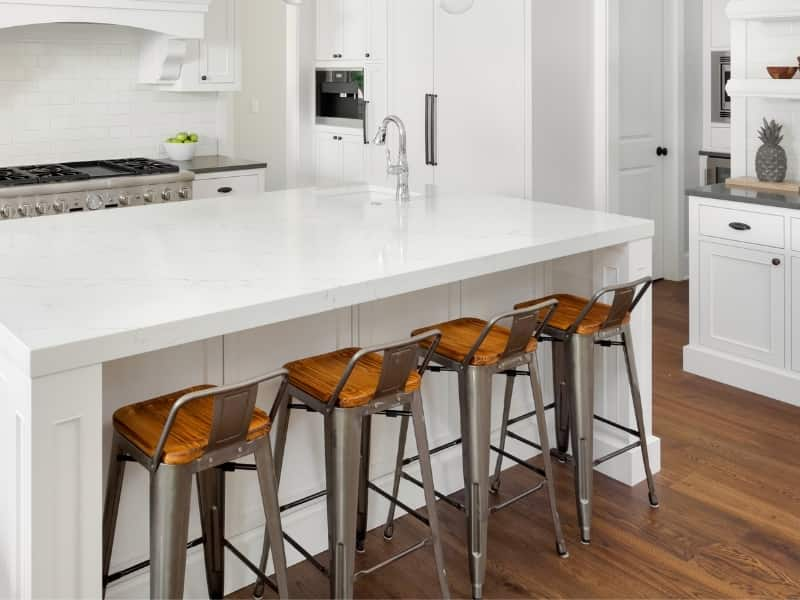 Matching bar stools with dining chairs totally vary on your choice. But you can try to choose colors that go nicely with each other, say, black and white or maroon and peach to make the area look nice yet different.
Another example would be, if the dining chair is armless you can have bar stools that are armless as well. This will make a perfect combination of the two pieces of furniture.
Should your bar stools match your dining chairs?
The bar stools and dining chairs shouldn't match each other totally. There must be some difference between the chair and the stool to create an effect of compelling variations in the house.
You can choose the same theme for both of them with different designs or colors. You can also play around with the pattern of the bar stools while leaving the dining chairs simple.
This is just an example to give you the idea of how creative you can be while making them combine perfectly yet a bit differently.
As they are placed in two different spaces of the house, it would look more layered if there were two different designs of furniture in each space, giving each room its own different character.
Do all bar stools have to match?
No, there is no such rule that all bar stools have to match. You can try any color you want that matches the room.
Say, the stools have wooden legs and different kinds of designs and patterns in each of the seats. This is a subtle way of having various stools without matching each other.
Another thing can be done, using 2-3 different blocks of colors for the seats will also make them look pretty elegant to you and your guests as well.
But, you have to take care of one thing. Make sure the height of all the bar stools is the same. This is because having different heights of bar stools will be really uncomfortable to sit on.
You can also buy the bar stools which have adjustable heights so that you can change the height of the stools according to your choice.
Should bar stools match cabinets?
Matching bar stools and cabinets totally depends on your preference.
If you prefer to have matching bar stools and cabinets then you should certainly go for it.
And if you are an innovative individual then having different bar stools and cabinets would be really exciting for you. You can also mess with the hardware of them and make it just the way you want.
However, it is recommended to choose colors from other places of the kitchen or the house rather than matching them with the cabinet as it will create monotonousness in the kitchen.
And we are really looking forward to having a fine-drawn kitchen.
Can you mix and match bar stools?
Undoubtedly, you can mix and match bar stools of your taste. In a lot of places, people experiment with the colors of the bar stools.
They have colors like blue and yellow in their house and this gives a fresh and lively look to the room without any extra effort.
There are different patterned bar stools as well. What you can do is, choose separate patterns like the straight-lined and criss-cross one and keep the color of both the stools the same.
This actually goes pretty well if you are looking forward to mix-matching the bar stools.
How to mix and match dining chairs and bar stools?
Mix-matching your chairs and stools will really give a fun and inspiring look to your house. And these are some steps that you can follow if you want to mix and match your dining chairs with your bar stools:
Pick A Theme
Picking a theme should be the very first thing that you should be sure of.
Nowadays, most people choose to give a minimalist theme to their furniture.
It will also be helpful for you to pick a theme by looking at the color of the room. This will give an instant idea of how you are going to follow that pattern.
For example, if the room is dark-colored then you can have light-themed bar stools and dining chairs to give brightness to the room.
Choose the type of chair and stool you want
There is a huge variation of dining chairs and stools in the market and you have to choose something that fits well together.
For example, if you chose a four-legged chair for your dining table then you can have something similar like the three-legged bar stools to have a slight difference.
Pick Material And Patterns
Material and pattern play an important role while mix-matching the furniture.
You can have the same material for both the bar stools and chairs but have dissimilar patterns to give an extra kick to its appearance.
Having ordinary dining chairs and mixing them with patterned bar stools also goes quite well. Or vice versa.
Choose different colors and shape
It is very trendy lately to have chairs and stools of contrasting colors.
You can literally choose your favorite color and add another suitable color to them for an exotic look.
Say, the dining chairs are beige color so you can have a brown color bar stool to make the combination stand out. It is that easy to create such a difference in the room.
It is necessary to choose the shape of the chairs as well. If the dining chairs are square in shape then getting a circle-shaped bar stool would be really nice.
That's all you have to do to mix and match your bar stool with the dining chairs.
However, if you don't have the time to mix and match your furniture properly, you can always ask for an interior designer to do the same job for you.
What should bar stools match?
You can match the bar stools with any furniture item that you desire but these pieces are recommended to match with the bar stools:
Some particular kitchen finishes like the wall color of it.
Dining tables or chairs (slight similarities)
The tile of the room.
What colors should my bar stools be?
You might want to have a color of the bar stool that complements the floor.
It can be a muted color or a loud color but both of the objects should have opposite colors.
It is advised to have a contrasting color of the bar stool and the floor, as having the same color of both of them can be really bland to watch.
For example, if your floor is off-white color then you can have wooden stools to have that contrasting look that we are wanting to have.
And if you want then you can have some more extra colors in the area because adding some extra color will not hurt anyone.
How do you pair dining chairs and bar stools?
In order to pair dining chairs and bar stools properly, make sure the mixture of color and texture is equally balanced and maintained because this is the key to having the desired paired dining chairs and bar stools.
Then by looking at your surrounding/room color, you have to set two separate designs for the dining chair and the bar stools so that both of them don't look the same.
The aesthetic of both the rooms should be a bit different so that it gets its own personality.
There are all shapes of bar stools and dining chairs available nowadays, so, you can choose from any one of them but do make sure they have a little bit of similarity so that it looks nice altogether.
In conclusion, you have the full independence to choose how your dining chair and bar stools will look as this is going to be in your house after all.
So, take full advantage of it and give different personalities to each side of the house with a variety of dining chairs and bar stools.
Frequently Asked Questions:
How to Keep Kitchen Chairs & Bar Stools from Tipping Over?
How Can I Make a Bar Stool Taller?
Why Are Bar Stools So Expensive?
I am an architect with over 5 years of experience in the design and installation of interior and exterior design projects. I have also been a home improvement expert for many years, so I know how to improve your home's look and feel. I would love to help you build the perfect home for your family!
Read more about the author here.