Are you wondering about changing your home or office outlook? Then you can give bar stools a try. If you're already considering bar stools, you must keep in mind that they cost more than the usual chairs.
Why are bar stools so expensive?
Bar stools are supposed to be expensive since they're made from quality materials like wood, leather, aluminum, hardwood, cotton, etc. To provide you with a comfortable sitting position ensuring the longevity of the product altogether makes barstool fancy and expensive furniture.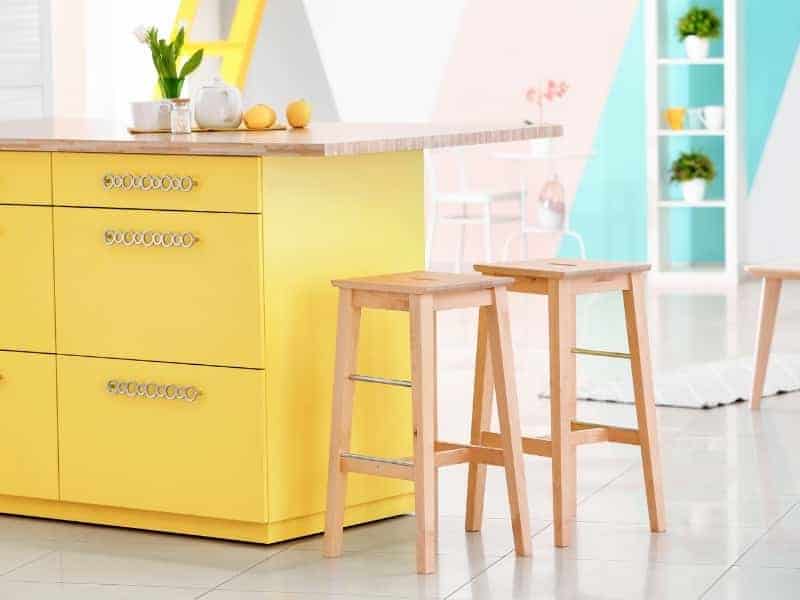 Four reasons that make a bar stool so expensive?
Quality materials:
Since barstools have to withstand huge weight, they're supposed to be made from quality wood. Good quality wood like hardwood, oak trees, and solid wood is expensive.
The same goes for the leather, cotton, and wool the manufacturers are using to build the bar stools.
Comfortable sitting position:
To provide you with the most comfortable sitting position in bars, counters, offices, and the kitchen, bar stools have much flexibility.
You can adjust its height according to your convenience. Thus, this stool is providing you with so many options which are meant to cost you quite some bucks.
Design and color:
Bar stools come in a range of designs, colors, and patterns. To coat the bar stool wood, you need to give it a top-notch finishing to complement the wood. Or else any average coating oil will not only lessen your barstool's life expectancy but also will make it look not so charming.
Exploring your options:
Besides wood, you can have customized or ready-made aluminum bar stools, that are too handcrafted, to add little aesthetic vibes to your backyard or bar. You can also have retro and traditional-looking bar stools.
These chairs have high durability and powder finishing. You can even have bar stools with UV-resistant fibers.
What is a good price for bar stools?
You can get bar stools within a price range of 50$-250$ depending on the design, quality, texture, and brand. If you want to go for long-time investments in bar stools, you won't be disappointed with their durability and quality.
Armless Bar Stools:
Armless bar stools are great for small apartments, offices, or kitchen spaces. Moreover, it is quite convenient to stand up or sit down on these chairs. These easy-going bar stools will cost you starting from 60$-120$ depending on the quality.
Extra Tall Bar Stools:
Extra tall bar stools are quite expensive on the list costing you from 100$-200$ each pair. For you, extra tall counter tables, kitchen, workplace, these chairs are a perfect fit. Extra tall bar stools usually are 34 inches to 40 inches high.
Adjustable Bar Stools:
Adjustable bar stools are much popular among consumers due to their adjustable height features. You can fit it to nearly any counter height tables by simply pressing the lever. These life hacking chairs will cost you from 60$ to 150$ per pair.
Swivel Bar Stools:
Swivel bar stools allow you to swivel in your seat and you can change places without having to get up from your chair.
Prices of these stools vary from 65$-120$ being quite cheaper than other stools. But you have to keep adequate space while placing these chairs for your convenience.
Stationary Bar Stools:
If you want traditional decor for your office, bar, or kitchen, then you should opt for stationary bar stools. These barstools have varieties of materials, sizes, and patterns. You can avail these stools at 60$-120$ from your preferred store any time.
Are expensive bar stools worth it?
Bar stools are beautiful and useful furniture to decorate your bar, office, kitchen, or yard. They will add more quality and aesthetic vibes to your indoor and outdoor areas. However, you may have to spend quite some bucks for those highly-priced bar stools to meet your choices. But it's worth it.
Good quality bar stools are made from worthy materials like wood and leather. Wooden bar stools padded with leather have a greater life expectancy than the usual bar stools. Therefore, you can buy expensive bar stools, if you decide not to change them any time soon.
To decorate your bar, office, or kitchen counters, you want top-notch quality stools to have a quality time with your guests coming cover, or to serve customers at bars. You can't afford to risk home gatherings or commercial meetings with low-quality bar stools.
What bar stools are in style?
Nine bar stools that are in style-
Traditional Style:
Traditional bar stools will give you the usual looks of a backless chair. If you want to give your home or workplace vintage decor, you should opt for these traditional bar stools.
Modern Style:
Modern bar stools come with adjustable sitting options with back and footrests. This modern style will change the view of your room or bar and give a touch of a contemporary look.
Rustic Style:
The rustic style of bar stools will bring a western outlook to your counter bar area, office, or kitchen. If you love wooden furniture, you should opt for Rustic style stools as they come with exposed wood.
Saddle Style:
The saddle-style bar stool also comes with wooden legs and padded seat coverings. If you want a basic panorama, a Saddle-style bar stool is for you.
Country Style:
For your country-style home and office, you can give a try to country-style bar stools to complement your home's outlook. These bar stools also come with ladder backs.
Tiki Style:
You should opt for a Tiki style bar stool if you prefer wooden furniture and entwined seats.
Mid-century Style:
You'll be surprised to know that Mid-century bar stools are still in style. These bar stools will give you classic interior decor.
Bar Style:
Barrel-style bar stools are built from wood and barrel-shaped with a square padded seat.
Scandinavian style:
Scandinavian-style bar stools are also made of wood and come with footrests.
What are the most comfortable bar stools?
The two most comfortable bar stools-
Adjustable Bar Stools with Back:
Adjustable bar stools with the back are the most comfortable according to consumers. Because you can fix the height at your convenience and relax leaning on the back. The leather padded covering also provides comfort to your body.
Adjustable Swivel Bar Stools:
Another comfortable bar stool is the Adjustable swivel one. You can turn at a 360-degree angle without getting up from your seat which is a big advantage. And can also de-stress leaning back on the chair.
What should I look for when buying bar stools?
Height:
Before buying a bar stool, you should consider the height, so that there remains a 6-10 inches gap between the counter and chair. If you have people of different ages in your home, you can opt for adjustable bar stools.
Style:
You must choose the bar stool that matches your home decor. If you have a traditional and country-style interior, a wooden bar stool will complement your home. On the contrary, metal or aluminum bar stools will look good on your modern-style home or office.
Materials:
For a traditional and contemporary outlook, you can opt for wood. Moreover, wooden furniture lasts longer than other materials. Leather materials will give you comfortable sitting arrangements with a luxurious look. But you must keep in mind the durability of the products.
How to make a wooden bar stool at home?
Make holes at both ends of the legs and support arms with a drilling machine.
Apply glue to the edges of the wooden bar and place all the components together. Ensure they're falling in the right place.
Adjust the support arms at one side of the stool aligning at a perfect square. Now insert screws.
Now attach the left part of the stool following the same procedure. This time use pilot holes to screw in.
Smooth the wooden frame using sandpaper. Now, you can either make the seat with three different wooden parts or a single square shaped wooden part.
Now paint and stain the wooden bar and the seat. Wait for a few hours and let them dry.
Place the seat on the floor, and put the wooden frame upside down on it aligning the corners.
Drill pocket holes in the seat and screw-in so that it attaches with the wooden frame tightly.
Can you turn a chair into a bar stool?
You can turn a chair into a bar stool very easily. You have to drill a few holes underneath the chair. Then screw it into the bar stool. Now take the bar stool seats that you want to use and attach them to the chair legs.
Make sure you've pre-drilled the seat and the legs. So you can easily screw in the pocket holes. For the finishing touch, paint the stool and leave it to dry.
Although bar stools are quite expensive and luxurious furniture, it surely makes your office room, bar, kitchen more convenient and attractive.
Frequently Asked Questions:
Bar Stool Won't Stay Up or Down?
Do Bar Stools Have to Match Dining Chairs
How Much Weight Can a Bar Stool Hold?
How to Keep Kitchen Chairs & Bar Stools from Tipping Over?
I am an architect with over 5 years of experience in the design and installation of interior and exterior design projects. I have also been a home improvement expert for many years, so I know how to improve your home's look and feel. I would love to help you build the perfect home for your family!
Read more about the author here.