Throw pillows, commonly known as toss pillows are soft and tiny-sized decorative pillows that come with both the zipper and no zipper options.
Well, it's quite apparent that toss pillows with a zipped-up cover are very easy to clean but what about the toss pillows with no zipper.
Thence, if you are someone who is using toss pillows with no zipper, you surely would like to know how to clean these throw pillows with no zipper.
Let's break into this topic to find out the answers.
How To Clean Throw Pillows (With No Zipper)?
To clean throw pillows with no zipper, first, it's a must to remove dirt, fur, or hair using a vacuum cleaner. After that, perform a spot cleaning if the material type is unsure. However, hand-washing throw pillows are the safest method of all to clean throw pillows if spot cleaning doesn't work.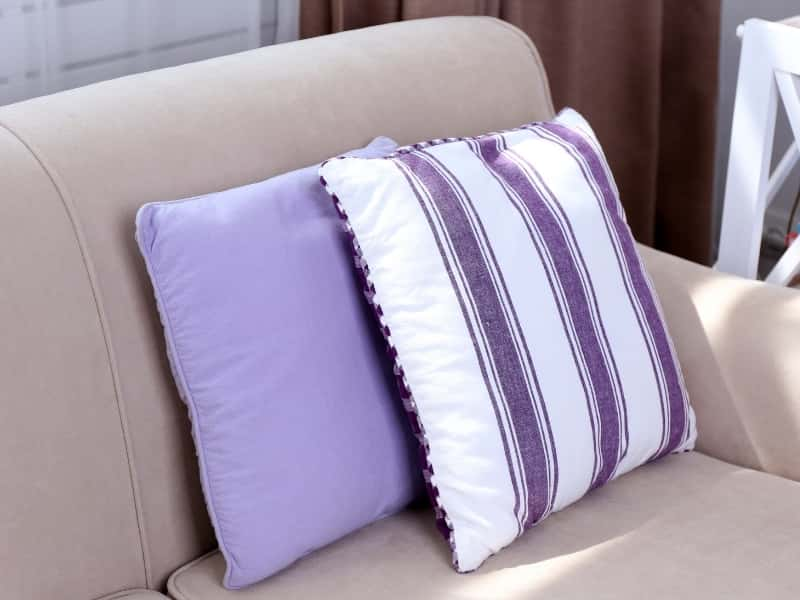 These throw pillows are used on a regular basis and are highly accessible for getting dirt, dust, hairs, molds, etc. Therefore, regularly cleaning them is essential and it becomes more essential if the throw pillows are the ones with no zipper.
Therefore, the step-by-step guide to clean these toss pillows with no zipper has been explained below for your convenience.
Get Rid Of Dirt, Dust, Fur, Hair:
The very first step while cleaning a non-removable throw pillow is getting rid of the dirt, dust, hair, fur that the pillow cover has accumulated over time. Also, cleaning the dirt, dust, etc. will prepare the throw pillows for further deep cleaning.
So regardless of the throw pillow fabric, use a vacuum cleaner to remove most of the dirt, dust, hair, dust mites from the pillows. After vacuuming, give the toss pillows a soft wipe with a damp sponge.
Do A Spot Test:
Kick-start the next step of cleaning with spot testing, especially when you are not sure about the material it's made of and if the pillow is made of leather.
Use water at the usual room temperature and mix some mild detergent in it. Then, choose a corner and pour some detergent mixture on it, and wait to see if the fabric reacts harshly or not.
If there is no harsh reaction or leftover stain, go on to the next step. But in the case of a harsh reaction, use another detergent.
Hand-Wash The Pillows:
Among all of the cleaning methods for throw pillows without zippers, the safest and strongly recommended method is hand-washing the throw pillows because it won't damage the pillows in any way.
While hand-washing, take a bucket or use a bathtub/basin and fill it with enough lukewarm water that will suit the pillows. Then mix 1 tablespoon of gentle detergent or upholstery cleaner/shampoo wearing gloves.
After that dip, the pillows in the water scrub precisely like the way you wash clothes.
When the pillows are clean enough, rinse them with cold water until they are soap-free.
Dry The Pillows:
After rinsing the pillows well, dry them under a warn sheltered place until they are completely dry. But never dry throw pillows under direct sunlight.
Sanitize and Deodorize:
Sanitize and deodorize the washed throw pillows is an optional option but it makes the pillows fresh and thoroughly cleaned.
Use a steam cleaner to sanitize and deodorize the toss pillows and after cleaning dry under a shade or in front of a fan.
Can You Wash Throw Pillows Without A RemovableCover?
You surely can wash throw pillows easily without a removable cover and hand-washing toss pillows is the most effective and safest method of cleaning non-removable throw pillows.
Sponge cleaning is the other way of cleaning toss pillows without a zipper, it greatly works for removing stains from this type of non-removable toss pillows.
Also, if the cleaning instruction allows, you can wash toss pillows without a removable cover using a washing machine. But you must use warm water, a delicate cycle, a very mild detergent, and a washing machine with an agitator.
How To Clean Throw Pillows?
The cleaning methods of throw pillows depend on whether the pillows are removable or non-removable.
If the throw pillows are removable ones, you can machine wash them anytime you want. But you have to wash the pillows and covers separately. And before washing the pillows, a pretreatment for removing any stains using a sponge cleaning method is necessary.
And then you can wash the pillows in a front loading washer using a delicate cycle and mild detergent. And lastly, dry them in a warm shaded area and fluff using a dryer with no heat.
However, if the toss pillows are non-removable, either hand-wash them or perform a sponge cleaning to clean the pillows. And dry them also under a warm shaded area.
How To Clean Decorative Throw Pillows That Can't Be Washed?
There are two ways of cleaning the throw pillows that come with non-removable covers or simply to say throw pillows that can't be washed.
Both the cleaning processes of this type of toss pillows have been described in short below for your better understanding.
Sponge Cleaning:
First, you got to get a suitable and mild upholstery shampoo and have to make sure that the shampoo is favorable for hand shampooing using a sponge.
Then mix the shampoo with water stirring with a sponge and make a sudsy thick foam. Take the sponge out and wring it leaving no drips. Then use the sponge to scoop out a generous amount of foam and apply it to the cushion in a circular motion.
Gently rub in a circular motion into every fissure of the pillow, particularly by side of the piping.
After ensuring that the pillow is all clean, blot the remaining suds and moisture from the pillow by using a clean towel. And lastly, dry the pillow by placing it on another clean dry towel.
Dry Cleaning:
For the dry cleaning method, pour dry cleaning solution in a bucket and dip a dry, cleaning sponge in the solution, then squeezes it out.
After that, use the sponge damped in the dry cleaning solution and rub very gently in a circular motion. Thoroughly clean around the folds, contours, and piping of the pillow.
When the pillow is all cleaned, blot the pillow with a dry and clean towel. And dry the pillow until the dry cleaning solution is evaporated fully.
Always use a white microfiber towel for wiping and do a spot test before using any cleaning method
Can You Wash Couch Pillows That Say Spot Clean Only?
You can not wash couch pillows that say spot clean only. Because pillows with a "spot clean" tag refer to clean any visible stain or dirt only by a suitable spot cleaner.
And any kind of dry cleaning, hand-washing, the restoration process, or wet cleaning can't be performed on the pillows as these cleaning methods can ruin the pillows.
Is It OK To Dry Pillows Without Wash?
Drying throw pillows or dry cleaning throw pillows are fine as long as the dry cleaning is done by a professional dry cleaner or by maintaining the dry cleaning methods very strictly at home.
Besides, there should be a tag saying "Don't wash/Dry clean only". So check for the tag/instruction first before you decide to dry pillows without a wash.
Can I Put Throw Pillows In The Washing Machine?
You certainly can put throw pillows in the washing machine if the throw pillows have a removable cover. Also, only by using a washing machine with a front-loading system and delicate cycle, you can put throw pillows in the washing machine to clean them.
Can I Dry Clean A Throw Pillow?
You can use the dry cleaning method to clean a throw cushion made from delicate materials such as wool and silk, also pillows made from down feathers. Because these are the materials that need to be dry cleaned only.
Except for these materials, the other ones such as foam, etc. necessarily don't require dry-cleaning as you can wash them by hands/machine.
How Much Does It Cost To Dry Clean Throw Pillows?
It will cost about $8.75-$12.25 to clean a throw pillow made from feathers and pillows made from down feathers will cost around $10.15-$14.21. If you want to clean only the removable toss pillowcases then it will take about $1.90-$2.66.
Can Dry Cleaners Clean Throw Pillows?
Professional dry cleaners obviously can clean throw pillows. They are experts and it is their job to do dry cleaning on various non-removable bedding items or bedding items with "dry clean only" tags. So trust a dry cleaner to clean the toss pillows.
Final Thoughts:
Throw pillows with no zipper can be washed by either hand-washing method (the safest one) or by sponge cleaning method. And both the dry cleaning and sponge cleaning processes can be used for cleaning decorative toss pillows. If the instruction allows, some toss pillows can be machine washed too.
Frequently Asked Questions:
What Are Throw Pillows Stuffed With?
Are Throw Pillows Machine Washable?
Can Throw Pillows Go in the Dryer?
Do Throw Pillows Need to Match?
I am an architect with over 5 years of experience in the design and installation of interior and exterior design projects. I have also been a home improvement expert for many years, so I know how to improve your home's look and feel. I would love to help you build the perfect home for your family!
Read more about the author here.