If you are planning to build a swing at your home, you must be considering all the required measurements for a strong yet convenient to-build structure. So that the joy rides you're planning, don't fall in the ground as a failure.
But we all know how crucial it is to have the exact numbers for a well-built structure. That's why to make it easier for you we will be exploring some specific measurements for building a swing below.
How high should a swing beam be?
A swing beam should be located according to the height and age of the children. In most cases, people tend to choose a height between 5 feet to 8 feet for their swing sets. Generally, a standard swing beam must be at 6 feet height as it gives more convenient clearance and structural support.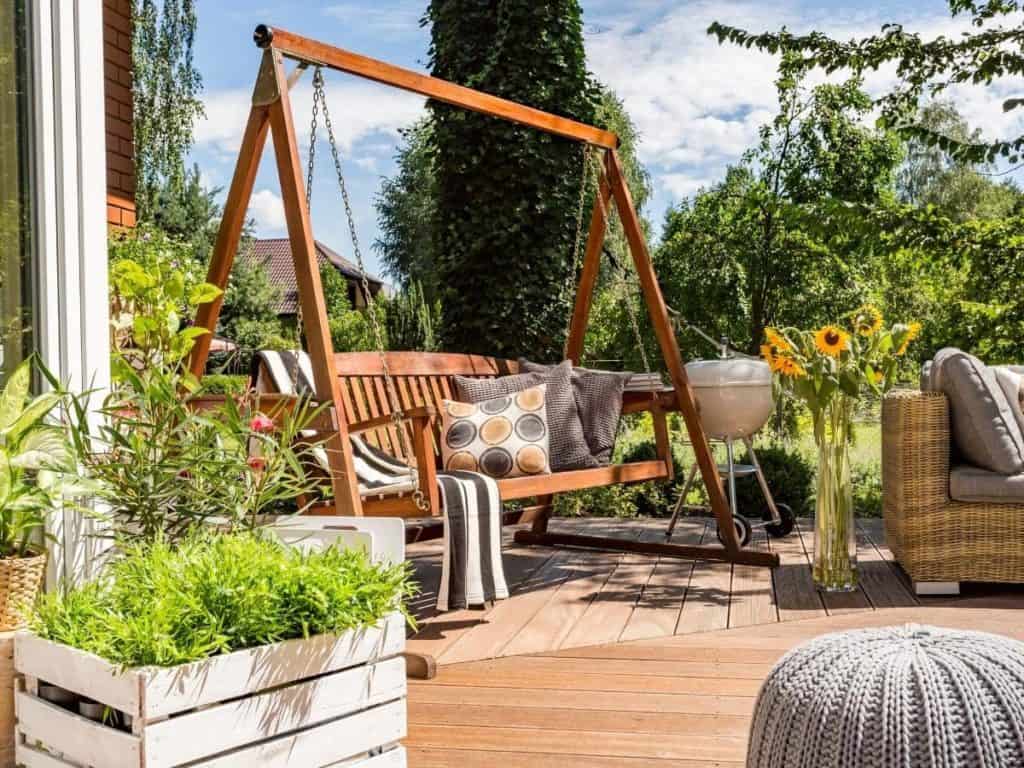 The height of a swing determines the age of the user and vice versa. That means the swing beam's height should be related to the user.
If you have younger children, you should go for a smaller swing, and a bigger swing would be appropriate for older persons. A standard swing is around 5 feet high to 8 feet and beyond.
Swings are made of many materials such as wood, iron, stainless steel! Besides, traditional swings are made along large tree branches. However, modern swings are not as complicated and can be built easily. 
Swings made with wood are more common these days because of the availability of sourcing material, price, convenience to work with and, most importantly, durability.
The swing beam is the top horizontal bar that is used for swings to hang from. It is located on the top of the A-frames, used for vertical support of the swing and works primarily as the horizontal support for the structure. 
Materials such as eye hook, swing strap, swing hanger, rope etc., are the secondary materials required in a swing. These are for hanging the swing.
The horizontal bar should be located at a height that allows a clearance easily accessible by its user and accommodates enough space for the users' convenience.
For most cases, these swing bars are located at 6 feet right from the ground. It allows a space suitable for most children, and it is also a size that doesn't negotiate with the structural strength of the swing.
How tall should a swing frame be?
A swing frame must be tall enough to accommodate a safe space for your children. That means you should allow them adequate space, but also not too much of it as it will increase the cost and the risk of getting injured.
A standard swing set for children should be 6 feet long. Depending on the children's age, this height can go up.
In this way, supporting vertical bars do not lose their strength, and your children can fully experience the swing without going through the risk of getting injured.
For an ideal 60° angular bar setup, if you want to provide a 6 ft height, the swing frame must be 6.7 ft tall. Altering for the desired height length will change.
However, strong redwood or pine wood is advised on an excellent quality wing frame. Besides, the horizontal span must be strong enough to take the load as well.
How far can a 4×6 beam span for a swing set?
A beam plays the most crucial role in a swing set, as it goes through a lot of tension and bears most of the loads. A beam's strength depends on its wood, thickness and length.
4×6 beams are an ideal preference for standard beams for swing sets. Generally, beams can span from 12 ft to 20 ft depending on the frame's requirement and the number of swings.
Although the strength is enough, you must observe how much load is going to be tolerated by the beam. Too much distance between two poles will make the middle part of the beam vulnerable.
Beams form the strongest when their length of it is shorter. That means 12 ft beams are most commonly practiced. But you should know that a 16 ft beam even, a 20 ft beam is also capable of holding loads of multiple swings at a time.
How long should a beam be for 3 swings?
Between two swings, you have to ensure enough space so that the two aren't left capable to collide with each other. Generally, you have to provide at least an 18-inch to 20-inch gap between two swings to ensure proper safety.
A 12 ft beam will leave enough room for obstacle-free movement for a swing set of three swings. But, the length of the beam is not limited to 12 ft. People tend to use longer, even shorter beams for three wings.
But structurally speaking, 12 ft provides higher support with loads and will save some money with investing in the right length.
Moreover, a 12 ft beam will also be strong enough to provide higher strength support and space required for a fully functional three swing set.
How do you attach a wood beam to a swing?
Many of us wish to have a cozy swing in our backyard and so some of us even build one. But while attempting many people get confused that how should they attach a wood beam to the swing.
Honestly, building a swing set is not as difficult as it seems. With these following simple steps, you can build your own swing yourself.
Build the structure:
Creating the A-shaped vertical support would be your first step in action. 4×4 legs are perfect for standard swing builds.
A strong steel frame to keep the bars together is needed. Then the horizontal beam has to be attached to the top of the A-frames. For the horizontal shaft, 4×6 redwood and pinewoods are highly preferred.
Set in the ground:
The most commonly used technique to set the swing frame in the ground is to make concrete bases beneath each leg and attach them with 2″ anchor brackets.
But before that, you have to choose an ideal location that has a horizontal clearance thrice the height of the swing set. 
Choosing the material:
How you will set the swing with the beam will depend on what materials are available or what you prefer to attach the beam and swing together. There are many choices between eye hook, swing strap, swing hanger and rope.
Choosing one among many entirely depends on what materials you have chosen. Whatever you pick you have to consider the fact that they have enough endurance.
What is the best height for a swing set?
A spacious swing set is highly preferred among young children. It also reduces the risk of getting injured.
The best height for a swing set depends on the age and height of the children. That means, with younger children, swing sets can be smaller in size, and older children should access a bigger one.
The size of the swing should be determined to fix the materials, height, angle and techniques to build on. And depending on these, a well- built swing will be enjoyed by all and will keep your children safe as well. 
Ideally, a standard swing set should be 6 feet in height. It is more proportional to children's height, provides stronger support and leaves enough clearance for a well-functioning swing.
In a 6 feet, high swing set up to three swings can be accommodated if the beam length is kept 12 feet in length.
How high should a swing be from the ground?
A swing must be high enough so that there's a clear gap between the swing and the ground. The only thing that will be located between these would be the legs of your children; you must consider to design the height that will protect the legs from injury.
Moreover, you have to consider the higher the swing will be from the ground; it will be difficult for children to ride on. Apart from this, the higher swing comes with the risk of fatal injuries. 
There should be gaps more than 8 inches above the ground in a standard swing for children. It's unlikely to get your children injured in this height measurement. 
The length of a swing also needs to be considered because the more significant the length, the more tension it will create in the beam and eventually the more distance it will cover while swinging.
Final thoughts
The swing set should be 6 feet tall, as a well-thought swing can last long and save your children from injuries. As a structure, it must be strong, have enough clearance and room for legs. As a swing set will keep your children happy, a strong structure will keep them safe.