A duvet is a kind of bedding that is also termed as a comforter in the United States. It is a soft flat sack filled with plumes or wool. The duvet is covered with a removable cover called the duvet cover; because of its role as a heat insulator, it was made from feathers in Europe.
The duvet cover and the insert that goes inside the cover can elevate your bedroom ambience. But to maintain it you must wash the items. Now the question is can you wash the duvet cover with the insert in it? Let's find out.
Can you wash the duvet cover with an insert?
You can't wash a duvet cover with the insert still in it if the insert isn't machine washable. Although certain inserts may be cleaned in a machine, it will last longer if you properly laundry once or twice a year. Washing the duvet cover after separating from the insert will increase its longevity.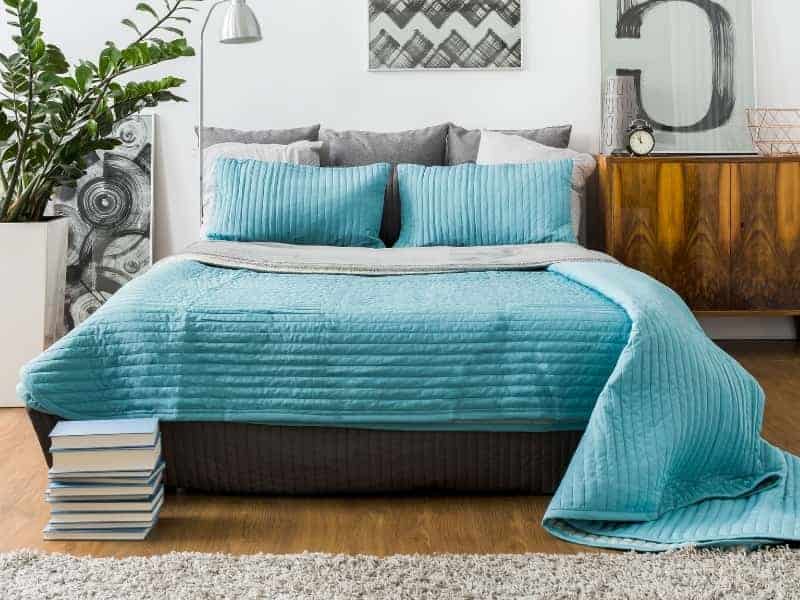 If you use a duvet cover to keep the duvet clean, you'll only have to wash the duvet cover every few months. You should launder the cover on a regular basis, just as you would your bedding.
When it comes to cleaning your duvet, it is generally suggested that you use a big industrial washing machine whenever possible.
Chemicals used in dry cleaning may cause the fibers of the fill to break down. The duvet covers are made of fabric typically from cotton and sometimes from silk. You should wash these covers by following their respective methods as instructed on the tags.
The inserts of the duvet are made from feather, wool and other synthetic materials which may be prone to water and washing. So even if you decide to wash the inserts you will have to identify first whether they are washable or not.
Can duvet covers be washed?
While it is recommended that you wash your duvet cover at least once or twice a year, it's OK to wash it at home as often as once a week. Before putting it into a washing machine, read the care directions on the cover of the duvet cover.
Many coverings are constructed of materials that are delicate and may be damaged by in-home washing machines. If you can wash your duvet in your house, you should wash it with cold water and low-heat, in a gentle cycle. You can also line dry cotton and silk duvet covers.
Experts also suggest that you shake the duvet cover after it has been dry. This gives it its original "fluffy" stature.
Do you have to wash the duvet insert?
If you use a duvet cover with your insert then there's no need to wash the duvet insert. You also have to keep in mind that some inserts are susceptible to either water or machine-wash.
However, if the insert is washable you can wash it once or twice a month by following the instructions.
The ideal use of the duvet insert is with the cover. However, in certain cases, people have used only the insert. Evidently it would get dirty with time. Your sweat, dust and outdoor molecules would slowly start to gather on the insert surface.
If something similar happens to your duvet, there's nothing else you can do but to wash the duvet insert. To protect the insert, it's advised that you use a duvet cover with the insert.
How to wash a duvet cover and insert?
Washing the duvet cover and insert needs some instructions to be followed. So make sure you do them properly to give your duvet a longer life.
Identifying the material:
You always should check the label on your duvet before washing, since certain duvet stuffed with feathers or downs will need to be dry-cleaned.
You also have to make sure that the duvet you want to wash fits into your home washing machine.
Cleaning the stains:
It is a smart option to pre-treat spots before washing to make your duvet appear as fresh as it may be. Inspect your duvet cover for minor or major stains that require a bit extra care.
This is also an excellent time to look for tiny rips or tears, since machine washing the duvet cover and the insert can cause the rips to increase.
Setting the temperature:
It is advisable to wash the duvet in warmer (but not boiling) water (30°C) and in a gentle environment. Anything warmer than that can damage the material so you'll have to keep an eye out for that.
Applying the detergent:
It's recommended to opt for something mild when selecting your detergent, unless your duvet is filthy.
If you want to get rid of any persistent stains, your normal washing stain remover should be able to complete the task. But, again, read the label of your duvet and insert to guarantee it does not do any harm.
Washing cycles:
Because the duvets are large and fluffy, if they get the opportunity, they can create plenty of soapy water.
To avoid this, it is recommended to pass two rinse cycles instead of just the one. An additional spin cycle also helps to speed up the drying process.
Look for residues:
After you're done washing the duvet cover and the insert, look for soap residues on the surface. Leaving the soap residues while drying will cause the stains to become permanent until the next wash.
Drying:
With the assistance of a tumble dryer, you will be able to eliminate all the moisture in your couch. Then air it out before you put it on your bed. You can also use a dryer for this task.
Fluffing and drying:
While your duvet cover and insert is in the dryer, check often for uniform distribution of the fluff. You may also pull it out and fluff it with your fingers, but make sure you don't hurt yourself.
How often do you wash duvet cover?
If the duvet doesn't have any specific stains on it, you won't have to wash it over once or twice a year. However, the duvet cover must be cleaned regularly. Most duvet covers can be washed in the washing machine
On the other hand, if the cover does not exist separately, you might have to wash the whole duvet anytime there is a spill or stain. If your machine cannot manage the size, you may need to wash your duvet in an industrial sized washing machine.
Should duvet covers be washed inside out?
Wash your duvet cover in warm water. It is suggested to wash your duvet cover inside out and all openings closed.
Cleaning the duvet covers inside out allows the cycle to properly prompt the stains and dirt to come out without damaging the upholstery.
When washing the duvet covers use cool or cold temperature water to keep it safe. Using a detergent that has bleach in it will damage your duvet covers so you must avoid such detergents at all cost.
Should duvet cover be washed before use?
You probably can't wait to get your new duvet cover on the bed. While your desire is understandable, experts highly advise washing the duvet cover before using it for the first time.
Because some duvet covers are pre-treated with chemicals, washing it removes the required preservatives. Washing also eliminates bacteria, grime, and package scent and adds your own aroma to your bedding.
What temperature and setting should you wash the duvet cover?
A duvet should be washed in 30°C warm (not hot) water on a gentle cycle. Unless your duvet cover is discolored, use a light detergent. You can also run to rinse cycles according to the washing needs.
To remove stubborn stains, use your regular laundry stain remover. Again, check your duvet's care label to guarantee this won't harm it.
Can you machine wash duvet inserts?
Although certain inserts may be cleaned in a machine wash, it will last longer if you get it properly laundry once or twice a year by a professional launderer.
Duvet inserts are filled with feathers, wool, fibers or synthetic fibers which may get damaged if you're not careful. That's why you should get a professional to do it.
Can duvet covers go in the dryer?
Most duvet covers dry well on low or medium heat in the dryer, but you may also line dry them if you want.
A clothesline may help minimize creases. After drying, iron any wrinkles or creases. You can turn it inside out for optimum results.
How often do you change the duvet cover?
Experts suggest to change the duvet cover once every week or at the latest once after two weeks. Taking the cover out and cleaning it will keep your room's environment fresh and lively.
How long does a duvet cover take to dry?
It takes roughly 24 hours for the duvet to air dry under optimal conditions.
Hanging your duvet outdoors enables any remaining moisture to evaporate, preventing musty odors and mildew growth.
Why does my duvet cover smell?
Because the duvet covers over time absorb debris including saliva, which may leave a foul odor, even after washing your bedsheets.
As you sleep, your body continues to work, so surplus oils remain produced and then embedded in your duvet cover. The duvet cover is the most in contact with your body. As a result, bodily odor rubs onto the duvet cover.
Why does my duvet cover feel damp?
Warm air quickly condenses on cold air, causing condensation on bedsheets and duvet cover. The resultant water is what makes your duvet cover feel damp.
How much does it cost to dry clean a duvet cover?
Dry cleaning a duvet cover can cost $15-$40. The cost varies according to your location, cover material, and size.
Repairing tiny holes, tears, loose seams, or stains may be more expensive.
Final Thoughts:
If the insert isn't machine washable, you can't wash the duvet cover. Although certain inserts may be machine washed, it is best to get it done by a professional every once or twice a year. Washing the duvet cover after removing the insert extends its life and is fairly simple.
Frequently Asked Questions:
Which Way Does Duvet Cover Go?
Is a Duvet Cover the Same as a Comforter or Blanket?
Do Duvets and Comforters Need Duvet Covers?
Why Are Duvet Covers Expensive?
I am an architect with over 5 years of experience in the design and installation of interior and exterior design projects. I have also been a home improvement expert for many years, so I know how to improve your home's look and feel. I would love to help you build the perfect home for your family!
Read more about the author here.