When renovating your house it is normal to know all your options and have many questions regarding them. One of such questions may include if you can possibly use vinyl flooring on your walls amongst all the other options available.
Whether or not you can use vinyl flooring on them, it is important to do extensive research before you decide to bring out your wallet. 
Can vinyl flooring be used on walls?
You can definitely install vinyl flooring on walls. It is considered to be one of the most desired amongst consumers due to its beautiful finish and the personality it adds to any room. It is easy to install along with minimum maintenance due to it being highly water-resistant.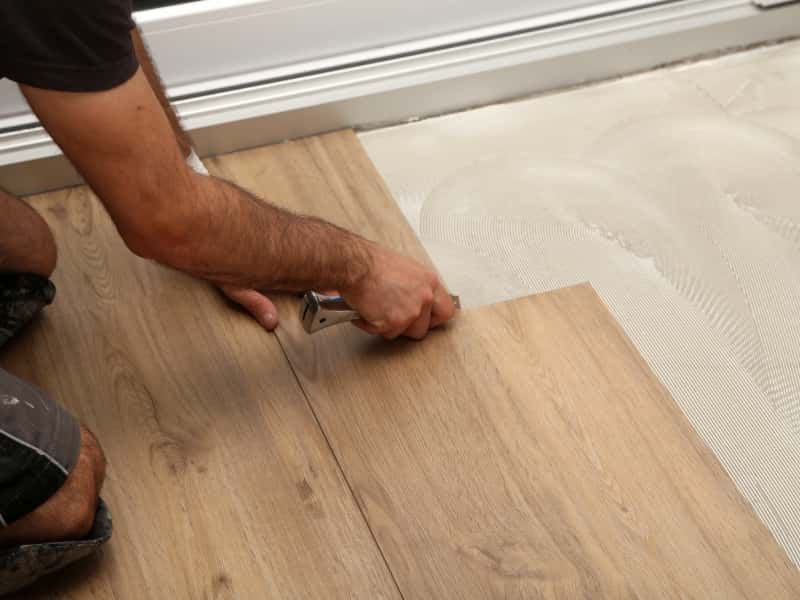 Can you put luxury vinyl on the wall?
Vinyl tiles have always been used on floors. However, in recent years there has been an increase in trends amongst designers to use luxury vinyl tiles on walls.
It has been a common flooring product to use on the walls due to its longevity as well as versatility when it comes to design options. 
Luxury vinyl tiles are highly resistant to water, scratches, and stains which make them extremely appealing for consumers. It is also very simple to install as well as maintain, and if ever needed, can easily be replaced as well.
The selling point for most designers and consumers, however, is the fact that there is a wide range of colour and texture options available. In other words, it can easily resemble the rest of the house and you won't ever have to worry about mismatching! 
Can peel and stick vinyl flooring be used on walls? 
If you are looking for a more uncommon and easier approach, it is possible to use peel and stick vinyl flooring on walls. If you are not willing to take the tiling plunge, peel and stick are much more appealing and affordable.
It is especially great for tenants as it's extremely cost and time-effective while at the same time enhancing the overall look of the room. 
However, it is important to keep in mind that it cannot measure up to actual flooring. The joints in between the self-stick tiles aren't waterproof thus making it prone to moisture. It is not very durable and needs to be handled with extreme care.
You must also note that the surface you put it on should be flat or else the finished product will be uneven and curl up in a few weeks' time. 
What do you need to install vinyl flooring on walls?
It is important to plan and layout according to your needs against the capability of the product. To avoid any problems be sure to collect all the materials listed below. 
Vinyl Tiles: Choose a good quality tile of your choice that has a smooth backing.
Adhesive: It is extremely important for you to use an appropriate adhesive that does not end up damaging the cladding. 
Utility Knife: You must use a sharp knife that can cut through the vinyl tiles according to the measurements. 
Tape measure: For measurement purposes. 
Rubber Roller: To adhere the tiles to the wall. 
3/16" Spacers: This is to keep a perimeter around the walls and to allow the tiles to expand. 
Carpenter's Level: To use as a straight edge 
Jigsaw: For more intricate cuts. 
How do you hang vinyl flooring on the wall?
It is necessary to follow all the steps and advice properly in order to avoid common pitfalls when installing vinyl flooring vertically. 
Prep the surface:
You must ensure that the wall where you're putting on the tiles is smooth and free of any void, dirt, bump, grease, or existing adhesive. 
Take proper measurements:
Measure the surface of the wall and trace the horizontal and vertical sections of the wall.
Take note that the horizontal line is level by using a carpenter's level and take your time to plan out the layout. Cover the nearby areas so that you can avoid any adhesive spills. 
Pre-fit the tiles:
According to the measurements, you should use the level and utility knife to cut your tiles accordingly. For more delicate cuts, use the jigsaw and make sure to wear goggles for safety measures. 
Install the vinyl:
Layout the adhesive on the walls and let it get tacky before you put your vinyls on top. Surround the surface of the vinyl with the rubber roller, including all the edges, so that it sticks to the wall properly.
Protect the installation:
Check that all the pieces and rows are evenly spread out from the edges of the wall. And at the top row trim the tiles by the scoring-and-snapping method.
Ensure to keep the 3/16" space between the ceiling and the tiles. You can use a damp sponge to clear up any adhesive residue. 
Install quarter round:
If you want to hide the spacing you left for the expansion of the tiles, it is recommended for you to install a quarter round. Likewise, you can also use crown moldings and baseboards to cover up the gaps. 
How much does it cost to put vinyl flooring on walls?
The cost depends solely on the quality and the brand you are aiming for. Average material cost can range between 2-10 dollars per square foot.
For labour cost, you can expect to pay anywhere between 1.50-6 dollars per square foot on average. Professional laborers tend to charge a higher amount. 
Can vinyl flooring be used on shower walls?
If installed correctly, vinyl flooring can definitely be used on shower walls. For troubling areas like bathrooms, it is important to use the right adhesive that is not prone to moisture. Waterproof vinyl will hold up to countless different showers and maintain its high-quality look over the years.
What do you put under vinyl flooring on a bathroom wall?
It is very important to note that you must properly install vinyl on shower walls for a more lasting impact. 
You must ensure that you use high-quality vinyl adhesives. This includes waterproof adhesives or industrial grade VOC-filled adhesives.
However, it is worth noting that such adhesives are expensive and a bit more complicated to work with. It is also recommended to use vinyl planks or sheet vinyl for shower walls as they are waterproof. 
You should also use a tapping block when working with click-lock planks so that all the pieces are sealed and secured. This will ensure that moisture does not get between the tiles, which might cause mold to grow later on. 
Will vinyl flooring stick to walls?
With correct installment methods, vinyl flooring will undoubtedly stick properly to walls. You have to keep in mind to properly clear the surface you are sticking the vinyl on. If you apply tiles to the unpainted drywall directly, then the adhesive will not stick that well. 
It is also important for you to determine the layout and plan properly to avoid any removal of tiles to fix possible errors.
Otherwise, this might cause the adhesive to not adhere properly a second time. And ensure to use a roller and press it firmly on the entire surface and especially the edges or else the sides might end up rising later on. 
Can you use vinyl flooring on the ceiling? 
Though this is not a very common choice, if done correctly then it will look amazing on ceilings. Some people sought after it for coffered or tray ceilings.
However, it is important to note that for humid areas it is extremely important to use a moisture-resistant adhesive to avoid the flooring from coming off. 
Vinyl flooring is an affordable way to upgrade the look of your house. Many homeowners opt for this and are satisfied with the outcome. Make sure that you do your research and follow all the advice accordingly for the project to work conveniently!
Frequently Asked Questions:
Does Vinyl Flooring Come in Rolls?
Does Vinyl Flooring Need to be Acclimated?
Can You Use a Vacuum on Vinyl Plank Flooring?
Can You Wax Vinyl Plank Flooring?
How Can I Make My Vinyl Floor Shine?