Well, this is a kind of decision that entirely varies from person to person, which is why it completely depends on one's own personal choice.
But some people always remain in the dilemma of whether they should go for the same design or a different design. Therefore, those who are confused with it can follow this article to rush out from their confusion.
Do bathroom vanities need to match kitchen cabinets?
No, bathroom vanities don't need to match kitchen cabinets. Instead, you can choose a set of vanity and cabinet that can complement each other. It ultimately depends on your choice and home layout. Choosing a similar color, material or going just the opposite can make your home look welcoming.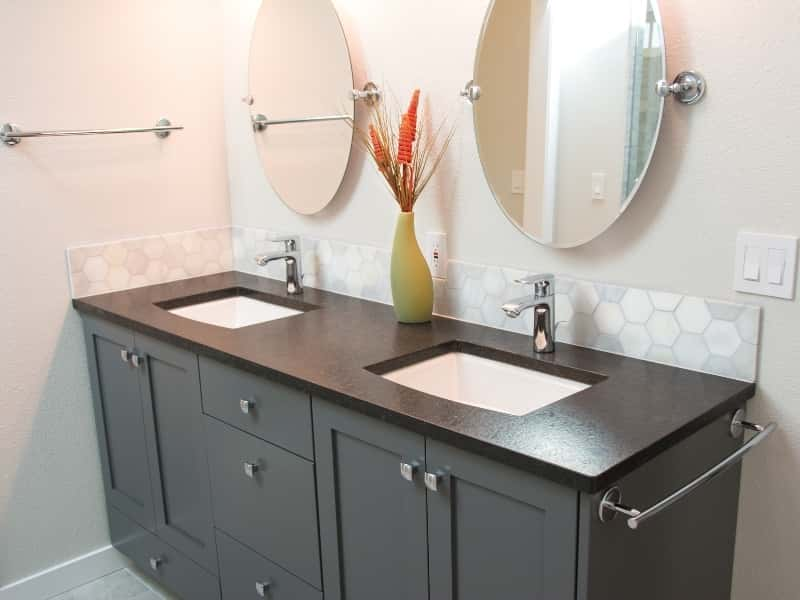 Before going for a renovation, you should take into consideration a pinpoint question, are you going to stay in this house forever or not for a long time?
If you are not, then you should do some real estate research on which layout will increase the resale value of your home. Sounds funny, but you should seriously note this point as it will be valuable at the time of selling your house.
If you are planning to live for more than ten years, then you should go for a personal choice of design that satisfies your eyes. If you have a plan for a wild layout, then you can completely go for it without any hesitation.
But keep in mind that the continuity of designs from space to space makes it more pleasing to your eyes and makes you feel more aesthetic.
No, you are not bound to match your bathroom vanities with your kitchen cabinets.
In fact, you can go for any designs you want for your bathroom and kitchen vanities.
But most importantly, your first priority would be to tie it all together by choosing the right color that looks complementary and has that flow of layouts that goes from room to room.
It is your bathroom that every guest wants to take a look at. Though it depends entirely on your personal choice, it is really necessary to choose the right and complement your bathroom layout.
What color bathroom vanities are in style?
If you are thinking of renovating your bathroom's layout, then you can certainly go for the bathroom vanities that will surely make huge differences to your bathroom design.
The bathroom vanity can change the look of the bathroom and will make it more appealing to your eyes.
Indeed, the design for the bathroom vanities totally depends on your personal choice, but you can choose from the below listings, which have all kinds of kitchen vanities for people with different taste:
White and Gray vanities:
This is the most famous and most decent color, and it also enhances the look of your bathroom a lot more. This style goes with every bathroom makeover and makes it more pleasing to your eyes.
If you have very little space, then white, ebony, or gray color can be the perfect option because it will increase the area. There are some specific and more vibrant colors under the white and gray division. They are discussed below:
White dove: It is one of the favorite colors for many people as it has that warm look and not that much creaminess.
Pure white & Super white: Pure white has the most intense pure white color combination, and super white has the high-quality white color mixture.
High Reflective white: It is the same as the super white color but has some extra reflective capability than super white.
Baltic gray: It has a deep and intense warm gray color combination with a purple tone.
Dorian gray: It is slightly warmer than the baltic gray, but you need to be careful because it can pick up a faded tone of green.
Green:
Green might not be the best choice for some people, but it is quite a famous color in case of choosing bathroom vanities.
Isle of Pines: This color has an eye-catching color combination that attracts your interest very much.
Hunt club: This color is more of a traditional look.
Dark/Navy Blue:
This color is almost everybody's favorite color. It has a classic texture and more soothing to your eyes. A combination of dark or navy blue can give your bathroom vanity a completely changed design.
Cyberspace: It is one of the best color combinations and has a navy blue shade. It has a little bit of light gray shades.
Hale navy: Hale navy is one of the high-quality colors. It doesn't have that grayed shadow which makes it more gorgeous.
Now you are ready to upgrade your bathroom vanity by choosing your best color, which suits your bathroom and also makes it more eye-pleasing.
How to mix and match bathroom vanities?
You can mix and match your bathroom vanities in many ways.
You can certainly go for the simple wood details, light wood cabinets, white tiles, under-mounted sink, pure white countertops, etc., if you have an oversized master bedroom.
Or,
You can have a mixture of white vanity tops with blue cabinets, with an under-mount sink, white tiles, etc., in your bathroom.
There are millions of color combination options available for your bathroom vanity, which will take bathroom makeovers to a whole new level.
Are kitchen and bathroom cabinets the same?
Yes, the cabinets of the bathroom and kitchen are almost the same except in height and size.
The main difference remains in the depth and size of the cabinets. Bathroom cabinets tend to be 21 inches deep, while kitchen cabinets are 24 inches deep.
The reason why kitchen cabinets are so deep is because of available space for storing different types of appliances, pans, pots, groceries, and other kitchen essentials.
Also, there is a difference in the height of both bathroom vanity cabinets and kitchen cabinets. The bathroom cabinet is certainly much smaller than the kitchen cabinet.
Still, companies are starting to build more extended bathroom cabinets as most of the people aren't likely to lean on to get things from the vanities.
Difference between kitchen cabinet and bathroom vanity
There is no such difference between kitchen cabinets and bathroom vanity except in color combination and in sizes.
In the case of color choices, it entirely depends on you, or you can choose from different colorful bathroom vanities which are available in the market.
The main difference is in the size and depth of the bathroom vanity and the kitchen cabinet. The kitchen cabinet has a depth of 24 inches as the kitchen cabinet holds more appliances and kitchen essentials.
The bathroom vanity is slightly short in case of depth which is 21 inches.
But size doesn't matter as long as you are comfortable and satisfied with your kitchen cabinet and obviously with a bathroom vanity.
Are bathroom vanities the same height as kitchen cabinets?
No, bathroom vanities are not the same height as the kitchen cabinets.
The kitchen cabinet tends to be a bit longer in height than the bathroom vanity.
The height of bathroom cabinets is 31 inches, while the height of kitchen cabinets tends to be 34 inches.
The height of the bathroom vanity is made lower because of the comfortable use of the sink by all ages.
Why are bathroom vanities lower than kitchen cabinets?
There is no actual reason why bathroom vanities are lower than kitchen cabinets except one, which is the comfort in height.
Well, the kitchen cabinets were made to be at the hip part of an average adult body so that they can do kitchen works a bit easier.
On the other hand, the bathroom sink was lowered because of accessibility for the children. Keeping this in mind, most of the manufacturer's company designs most of their bathroom vanity a bit lower than kitchen cabinets.
Though it is not the case that the children cannot wash their hands on a high sink, it is a little bit difficult for them.
Therefore, it is best to install the standard height vanities for children in the washroom.
Can kitchen cabinets be used as a bathroom vanity?
Yes, it can be, but it needs a lot of work while installing kitchen cabinets as bathroom vanity.
Firstly, you will need to change the wood quality because the wood of kitchen cabinets is most vulnerable to water moisture as the water will fester the wood more quickly.
Secondly, you have to remove all the drawers and bathroom essentials to make room for the installment of the under-mount sink.
Finally, it would be best to be careful that your kitchen cabinet parts don't block any of your doors or walking paths. As the kitchen cabinets are often taller and deep in size, so these problems will be more likely to occur.
The best solution is to hire a bathroom cabinet manufacturer whose design will complement your bathroom and the space that you have in your bathroom.
If you are ready for a new complete makeover for your house, then you should also take the bathroom and kitchen upgrade seriously.
The kitchen and the bathroom design will entirely change your house's look, making it more gorgeous and soothing to your eyes.
You should also choose the right color combination carefully and look for the colors that complement each other, and maintain that space flow in your house.
Thus, you can have a great renovated makeover house which will let you feel more homely and give you peace of mind.
Frequently Asked Questions:
Do Bathroom Vanities come in Different Heights?
Do Bathroom Vanities Come with Faucets?
Do Bathroom Vanities Come with Sinks?
Why are Bathroom Vanities so Expensive?
I am an architect with over 5 years of experience in the design and installation of interior and exterior design projects. I have also been a home improvement expert for many years, so I know how to improve your home's look and feel. I would love to help you build the perfect home for your family!
Read more about the author here.