Picnic tables are recreational outdoor furniture that provides a resting and gathering area. Considering the optimum functionality and space for easy movement, standard measurement is suggested for picnic tables.
Standard picnic table height:
A standard picnic table should be at least 28 to 34 inches above the ground. Bench height should be 17 to 18 inches. It leaves 10 to 14 inches of space between the table and bench for easy movement. Commonly, the length and width of a rectangular table are 6 to 8 feet and 28 to 30 inches.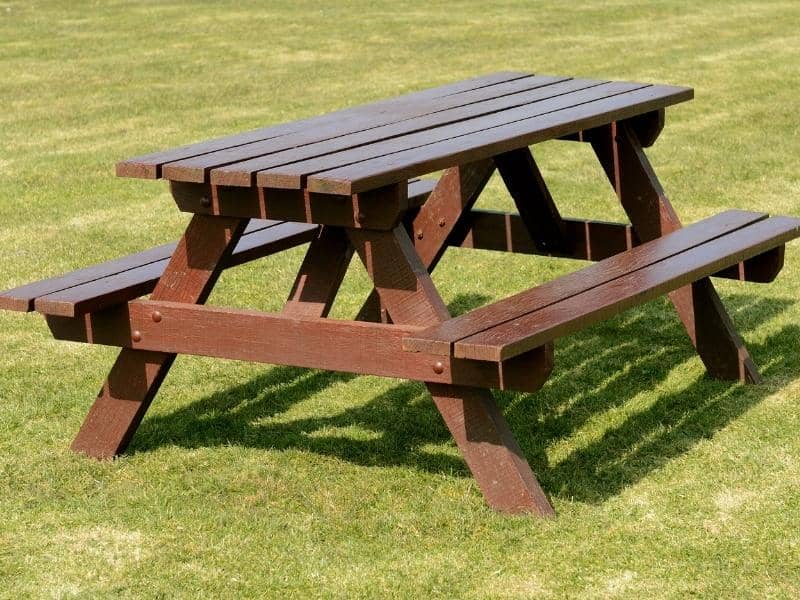 There might be different types of picnic tables available. But a standard size and shape are suggested considering the optimum functionality and comfort.
A minimum of 24 inches of personal space is required for easy movement. It is also essential for the capacity of food and drinks storage on the table.
Besides, substantial legroom is essential for easy leg movement. For this purpose, 11 inches is spared space between the top surface of the table and the bench surface. The height of the tabletop and benches are adjusted considering this issue.
Both high and low picnic tables should maintain this standard measurement for better functioning.
The number of seats determines the length and width of a picnic table. For 6 people a picnic table should be at least 72 inches long. It will give at least 24 inches of the perimeter for individuals. Thus, the table length would be comfortable to move.
The diameter of the table changes according to the shape. Oval, round and octagonal table has different diameter compared to square and rectangular. The circular tables are usually 82 by 82 inches and can accommodate 8 to 10 people altogether.
All tables might not meet the standard required but a few characteristics match such as height, legroom, seating area, etc.
Standard picnic table height:
Picnic tables can possess different heights. There are some tables available that are installed at 17 to 18 inches above the ground. They are called low picnic tables.
In some cultures, sitting on the ground while meals are considered healthy. People believing in this tradition tend to install low picnic tables.
However, a standard picnic table is commonly installed at least 28 to 34 inches off the ground. This height is suitable to easily access the tabletop by sitting on benches.
Standard picnic table bench height:
The seats are usually benches and installed at 17 to 18 heights from the ground.
It gives space between tabletop and benches and promotes enough legroom. This space is required for easy movement of individuals.
Hence, a perfect height for a picnic table is important because the main purpose of these tables is to enable people to spend their leisure time well. So, comfort is the prime concern here along with the functionality.
A table with an unusual height may discourage people to use it and even the lack of a resting area might reduce the park activity. So, a suitable height of the picnic table is essential to address perfectly.
What is a picnic table? What is the purpose of a picnic table?
Picnic tables are basically the recreational outdoor furniture found in a park, playground, or community space with an attached bench for sitting. They can accommodate more than 6 people together depending on the size.
Picnic tables are basically used for public gatherings. People who visit parks or playgrounds for their children or themselves can rest on picnic tables for a while. It creates social cohesion. Parents can gossip and spend their leisure together.
Old-aged people often visit parks or community spaces for exercise or jogging. They often bring their grandchildren to play and enjoy friends.
They can use picnic tables whenever they get tired of doing exercise or jogging and can rest there to make themselves active again.
On weekends, people can arrange a picnic to sit together, enjoy nature, have a feast, and play games. Picnic tables can serve the purpose of these activities to be held smoothly. There will be no need for additional sitting arrangements.
These tables are often used for meetings, held to discuss community problems or any initiatives for social change. They can discuss any programs to organize there such as fairs, festivals, sports activities, fundraisers, etc.
Any annual program can also be held in a community park. Such a program would require arrangements like decoration, food, sound system, etc. Like other arrangements, sitting arrangements are required in such programs where picnic tables can serve this purpose.
Picnic tables also add aesthetic beauty to the park. Well-designed sitting arrangements in a park attract more people to visit and spend their valuable time there.
But it should complement the nature of public space. The materials used should be durable as well as comfortable. However, picnic tables provide several benefits to the community.
What is the common dimension of a picnic table?
The measurement of a picnic table depends on the number of people to be accommodated.
A standard picnic table is commonly dimensioned at 28 to 34 inches in height, 28 to 30 inches in width, and 72 to 96 inches in length. Such a picnic table can accommodate 6 to 8 individuals.
However, different dimensions of picnic tables for different numbers of people are explained as follows-
Two people:
A rectangular picnic table for two people may require at least 30 inches in width and 40 to 42 inches in length. It would leave about 20 inches of space at the front and the whole width for each person.
For a square table, 30 inches for both is sufficient. The height of the table might be similar to the standard size, 28 to 34 inches off the ground.
Four people:
To accommodate four people, a minimum length of 60 inches is required. The width can be similar to the previous one. This dimension is applicable to rectangular picnic tables.
For square tables, each side should be at least 36 inches to leave enough space for everyone. Table height can be as like a standard picnic table.
Six people:
A standard picnic table can accommodate 6 to 8 people together. So, for 6 people, a rectangular picnic table can be 28 inches wide, 72 inches long, and 28 to 34 inches high.
On the other hand, a square table for 6 people can be dimensioned as 60 inches on all sides.
Eight people:
Last but not the least, a 96 inches long table with 30 inches width can easily accommodate 8 individuals with a spared perimeter of 30 inches for each. The square one requires 72 inches on each side for 8 individuals.
Things to consider for choosing the right type of picnic table:
The picnic table types depend on several factors such as required seats, shape, materials, and style. However, you should consider the following criteria for choosing the right picnic table for your purpose.
The number of seats:
The first concern should be how many people you want to accommodate at a picnic table. According to people, the length and width of the table change.
If for two people, the minimum length requirement is 30 to 40 inches, for 8 people it increases up to 72 to 96 inches depending on the shape. So, the number of seats is important to choose the right type of picnic table.
The shape of the table:
Another concerning factor is the size of the table. You can use rectangular, square, oval, octagon, and round-shaped tables in the public space. The different shape has different measurement keeping in mind the number of seats.
Styles of the table:
There are so many options available of different sizes, shapes, and styles of picnic tables.
You can choose an A-frame table that constitutes five to seven lengths of timber of standard size for the tabletop, and two to three lengths of timber for seating benches.
The table top stands at 30 inches above the ground and the benches are at 16 to 18 inches off so that there is at least a 12-14 inches gap between the top and sitting area.
The children's tables are as like the A-frame one but on a smaller scale. They have only 4 timber lengths on top and two on the bench.
The in-ground tables are installed underground as a permanent structure. The overall height is 47-48 inches with 18 inches inside the ground. The bench is installed 12 inches deep in the ground.
Final thoughts
There might be tables of different heights but some things should always be kept in mind to ensure maximum comfort. Whether the tables are high or low, enough legroom should be provided. Low tables are not always comfortable for everyone. So, a standard height 28-34 inches should be maintained.
I am an architect with over 5 years of experience in the design and installation of interior and exterior design projects. I have also been a home improvement expert for many years, so I know how to improve your home's look and feel. I would love to help you build the perfect home for your family!
Read more about the author here.