There are no doubts about the efficiency and goodness of a Kitchenaid mixer. Kitchenaid, being best at what they do, makes sure you get a mixer that lasts years to come.
As we keep kitchen mixers in cupboards and shelves, moving them around can be a bit of a challenge if the appliance is too heavy.
This is why it is important to know how much a Kitchenaid mixer actually weighs.
How much does a KitchenAid mixer weigh?
The weight of KitchenAid mixers varies from 18 lbs to 30 lbs. The lightest kitchen aid mixers are from the artisan line while the heaviest is from the professional models. The weight would depend on the constriction material, mixer bowl, total capacity as well as power of the motor used.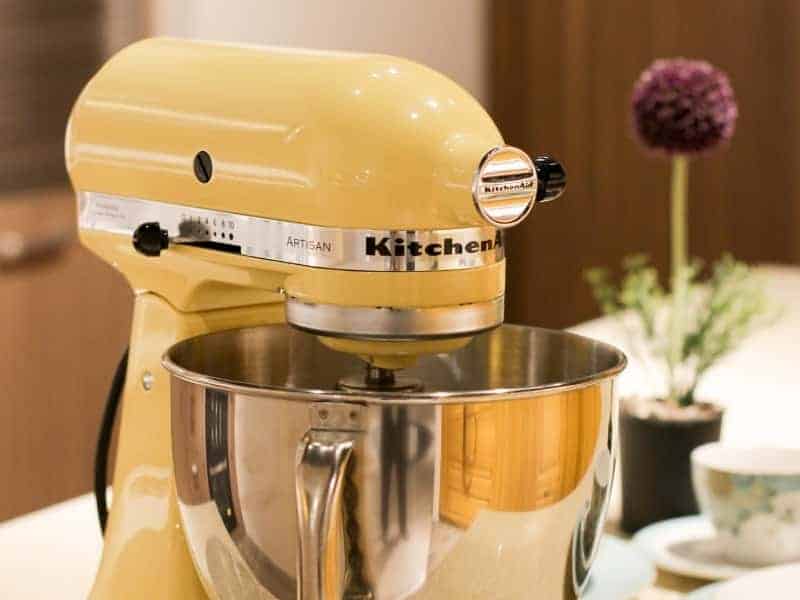 How heavy is a KitchenAid mixer?
Kitchenaid mixers are moderately bulky and depending on the model, can be heavier than some other mixers. Because the minimum weight of these mixers is at least 22lbs.
Here is an idea of how heavy any KitchenAid mixer may be depending on the model and size of the appliance:
Model:
KitchenAid classic stand mixer:
Kitchenaid's classic stand mixer weighs 25 lbs. With stainless steel built and a height of about 14 inches, you may say that the KitchenAid classic stand mixer is among the lighter ones if you consider other models.
The classic mixer also comes in a similar model version that is the KitchenAid classic plus mixer, both of which weigh 25 lbs, with the same height.
KitchenAid Artisan mixer:
The KitchenAid artisan model mixers are the lightest among the 3 models and weigh just about 22 lbs.
Thanks to its 16 x 16 x 11 inches dimension, the 120 volts mixer makes it easy for people who don't have a designated space to keep the mixer at all times.
So if you are willing to invest in one Kitchenaid mixer that is more portable and mobile, artisan is the model to go for.
KitchenAid professional mixer:
The professional models come in two sizes. The 5 plus series Kitchenaid professional mixer is slightly less heavy and weighs 25 lbs.
Size:
Kitchenaid 3.5 mixer:
The KitchenAid 3.5 mixer is one of the models of the artisan series, and being just 18 lbs, is the lightest of all Kitchenaid mixers. The tilt-head stand mixer is popular for its petit size and weight but same power.
4.5 quart KitchenAid:
The 4.5-quart kitchen mixer is 14 inches. With a net weight of 22 lbs, and a gross weight of 25 lbs, you can say that this size is portable enough for occasional use, but you cannot move it around every day.
Kitchenaid 6-quart mixer:
The pro 600 quarts mixer on the professional line is the heaviest of all, weighing 30 lbs.
While 25 lbs. or fewer mixers are more movable, the 30 lbs. are considerably heavy for portability.
7 quart KitchenAid mixer:
The largest of the lot incapacity is the 7-quart kitchen aid mixer and is also the heaviest.
This model size weighs about 32 lbs. and stands tall and wide, occupying a lot of counter space.
How much does a KitchenAid mixer bowl weigh?
Some people have stated that they have measured the weight of the mixer bowl and noticed that these bowls make up a significant portion of the total weight.
However, it is worth noting that the KitchenAid mixer bowls have varying weights, depending on which model or size mixer the bowl comes with.
The bowl can weigh anywhere from 1 lb to 7 lbs. Here is a list of kitchen air mixer bowl weights based on different models:
| Model | Weight in lbs |
| --- | --- |
| 5-Qt. Tilt-Head Ceramic Bowl | 6.6 |
| Stainless Steel Bowl 4.5-Quart | 1 |
| 5-Qt. Tilt-Head Glass Bowl | 2.89 |
| Polished Stainless Steel Bowl with Handle | 1.2 |
Why does a KitchenAid mixer weigh so much?
As KitchenAid mixers wight at least 22 lbs., it means that all the other mixers, whichever model or size it may be, would be rather difficult to move around. Of course, if you only use it occasionally, or once or twice a week, you can always ignore the mobility.
However, for every day or more regular use, it is recommended that kitchens aid mixers are kept at a fixed spot. They also take a considerable amount of counter space. Here are reasons why KitchenAid mixers weigh so much:
Bigger Mixing Bowls:
If you are a professional baker or own a small bakery business, certainly you would need to make bigger bread doughs and more cookies than an average home chef.
In that case, KitchenAid brings its customers a large range of mixing bowls. If you have ever baked, you would know that the bigger the mixing bowl, the better it is. Hence all of the kitchen aid's weight is increased due to bigger mixing bowls.
Motor power and size:
Another reason Kitchenaid mixers are hefty even when they are smaller in size is owing to the powerful motor that each of the mixers comes with.
The artisan mixers that are smaller in dimension become even heavier for the powerful motor. You may imagine how a 7 quart, 500 watts Kitchenaid would weigh more, compared to other smaller powered mixers.
Construction materials:
One of the reasons that make Kitchenaid mixers particularly long-lasting, sturdy, and heavy is their construction and what it made of.
Mostly, kitchen aid mixers, the parts, and bowls are made of stainless steel. The all-stainless steel makes the mixers all the heavier, compared to the construction of plastic, and steel, or other materials.
Multiple parts:
Whether it's a bowl-lift design or a tilt-head design, KitchenAid mixers do not just come in one piece.
The several parts of the mixers, whichever the model may be and whatever the size may be, increases the weight of the mixer even further. The bowl for example is one part that adds significant weight.
How can I tell how big my KitchenAid mixer is?
A lot of people are concerned about the size of their KitchenAid mixer that they are about to splash some case on. If you are one of them, lucky for you there is a pretty simple way to tell how big your Kitchenaid mixer is.
The first step towards that is to check the label that comes with the mixer. After checking, you'd have to note which series your mixer is a design of. Whether it is a classic, artisan, or professional is an important price of information.
The classics are 4.5 quarts, commercials are 5 quarts and professionals will be more. Based on that you'd be able to tell how to bug your Kitchenaid mixer is.
You may also simply check the bottom of your mixer's bowl where you would find a number or code starting with the letter K. The number following the K is the size or capacity of your Kitchenaid Mixer.
Is the Mini KitchenAid mixer worth it?
If you are a home cook who only needs to mix up small batches of dough, the mini KitchenAid mixer is quite worth it. When compared to the classic mixer of the company, it is a quarter of the size. The weight of the mixer is also decreased by 4 times.
While the size is small, the power is still good enough for efficient mixing. The compact mixer with a small capacity comes with a 250-watt power motor. The capacity of the Kitchenaid mixer, however, is only 3.5 quarts.
Is a 3.5-quart mixer big enough?
Like the Kitchenaid artisan mini, 3.5-quart mixers are appliances that are small in size but big in power. The only limitation that such a mixer has is how much you can mix at one time.
Although the 250- or 300-watts power is good enough to make doughs without breaking internal parts, there is no way a professional baker with large mixing needs can find the bowl big enough.
Will a 4.5-quart bowl fit a 5 quart KitchenAid mixer?
If you are wondering if your 4.5-quart bowl would fit into a larger, say 5 quart KitchenAid mixer, we should tell you that today is your lucky day. That is because smaller bowls can fit slightly bigger mixers just fine.
You may want to test out the size fix before you decide to turn on the mixer.
Final Thoughts:
Since a KitchenAid mixer would vary in weight, with the lightest one weighing about 18 lbs and the heaviest weighing about 30 lbs. In that case, it is safe to say that KitchenAid mixers are not the most portable and movable appliance. These mixers have a height of at least 14 inches.
I am an architect with over 5 years of experience in the design and installation of interior and exterior design projects. I have also been a home improvement expert for many years, so I know how to improve your home's look and feel. I would love to help you build the perfect home for your family!
Read more about the author here.