If you are familiar with kitchen islands, then you must know the importance of a sink there.
The heart of any home resides in the kitchen. And kitchen islands are becoming very common at homes.
Not to mention, but a sink is the most used element in a kitchen island. So, it tells us the necessity of it.
Recently, customized home builders are noticing people's increasing interest into sinks. So, what the hype is about, and why do you need them? Let us discover it.
Why do kitchen islands have sinks?
Kitchen island is a place where you socialize with your family, friends, and guests while working. It helps to make it easier for you to work without breaking the flow of the conversation. Besides, the sink makes it easy for people to do the preparation for their meals and do lightweight cleaning.
With kitchen sinks, say goodbye to those dirty dishes who used to humiliate you before guests and do multitasking in a tiny location.
Top 7 reasons why kitchen islands need sinks
As we have previously discussed the effectiveness of kitchen sinks, now we will share some more details about their importance:
Get more family time
Kitchen island is the best place to spend time with family members. The majority do their daily chores and have conversations with family here. Kids also get enough time with their parents.
Now, forget about the days where your entire family is chatting and having fun on the kitchen island, but you are putting up with the dirty dishes alone somewhere else.
After adding a kitchen sink, you will never miss spending quality time with family. That's why this is a great add on.
Ensures more social engagement
Imagine your friends and guests are having fun and enjoying each other's' company in the kitchen section. Suddenly, you leave to prepare the dishes or to clean or peel the veggies.
Won't that be embarrassing for you? But you can solve this situation with a kitchen sink.
Not only you can save your image, but you can get extra help from others. It is a fun and enjoyable experience for everyone.
Good for multitasking
With a kitchen sink at your disposal, you can do various works in a tiny location.
You have the flexibility to do dishwashing, peeling, cleaning, and many more. Also, here you will get an instant water supply which helps you in cooking.
As a tiny kitchen sink has so much value, don't you think it is a great upgrade for your kitchen?
Helps to maintain hygiene
A kitchen is a place where you not only socialize but live, cook, eat, and have fun. So, this place needs to be clean and hygienic. Here comes the role of a sink.
It helps to clean your kitchen platform easily and makes it better looking and hygienic. So, settle down with a sink and get rid of all the germs.
Saves you from embarrassment
It creates an embarrassing scenario when you have so many dirty dishes piled up on your kitchen platform.
Not only it looks bad, but it damages your image before people. So, to keep everything organized and clean, upgrade your kitchen Island.
Provides a unique look
With the increasing interest in kitchen sinks, home decors are coming up with beautiful, customizable sinks.
You can customize your one with a unique design just by spending some extra money. Just go for extending your kitchen island a bit, and give it a trendy and versatile look.
Customizable location
A kitchen island is movable if not fixed in the ground. That means you can easily move the sink location if needed. If you have small toddlers, you can select the location of your kitchen sink close to their room. When you are working in the kitchen, you can keep track of what they are doing.
You can also help them immediately if they need anything while playing, studying, or doing anything. As a parent, it is a prerequisite for your children's safety.
So, forget about those fussy traditional sinks and customize your one.
When to skip a sink in your kitchen island?
Though the idea of installing a kitchen sink is alluring, there are instances where you have to avoid them too. Let us discuss them:
Space issues
If you have spacing issues, you can skip the idea of installing one. People have awkwardly shaped kitchens and very little space available at their disposal.
So, don't get obsessed with installing a sink; it will be a ridiculous idea. An additional sink can consume most of your space, and you will not be able to function efficiently.
Instead, organize your washing tools, dishwashers, fridge, and stove in a way that it comes in handy and does not take a long to clean.
Obsession of cleaning
If you are obsessed with cleaning, then drop this idea of attaching an additional sink. Or after every use, you will try to clean it up.
Wonderful outdoor view
Few people have sinks that are not installed in their kitchen island but have an outstanding outdoor view. Avoid the idea of installing one then. Save your money, and do your dishes while enjoying the pretty view.
Cleaning as a normal routine
If you are not concerned with the temporary mess after every meal and consider cleaning is a normal part of your routine. Then kitchen sinks are not for you. Enjoy the free space and cook more meals.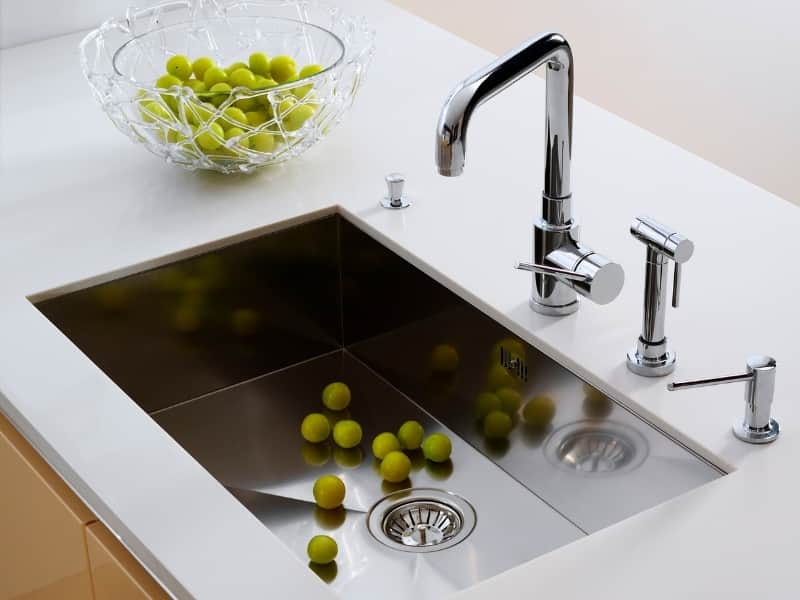 Personal needs
There are people who throw their plates in the dishwasher right after every meal and do not cook items that require a sink to prep.
Also, it is possible that you are a cake person, or mostly bake your food, or only work with oven, fridge, cupboard, and so on. Then, it is rather useful to skip a kitchen sink as it will eat up your space.
The more important part is that you can also skip the sink if you love to cook your delicious recipes alone without any interruption.
Use dishwasher
Are you a person who has to deal with a ton of dishes every day? Then, even if you install a kitchen sink, things will be messy. It is better to use a dishwasher to clean the dishes rather than hoping that a sink will keep things clear like a magic wand.
Consistent water splashes
When you use the sink, your kitchen island can get wet every time with the water splashes. So, before installing one, remember that you have to work double.
Consider the look
If looks matter to you the most and you are pretty sure that your kitchen will look horrible after attaching a sink in it, then please skip the idea.
After looking at all the points, it is recommended that be more practical while making a decision. Otherwise, you will regret it.
How much does a kitchen island with a sink cost?
If you are looking forward to installing a kitchen sink, then remember that the price actually varies depending on your needs.
On average, a kitchen island with a dishwasher and a sink cost around $3000 to $5000 with the designer fees.
One thing to notice is that the prefabricated units don't have dedicated slots to install sinks, dishwashers, stoves, or any other amenities.
It will surely cost more if you are expecting to buy a ready-made one.
The cost of an island actually varies according to factors such as size, material, features, parts, and counters.
The cheapest ones will cost you $100 less than the above-mentioned price.
The custom made and the readymade ones with a sink can cost up to $6000 to $10000 with the designer rates.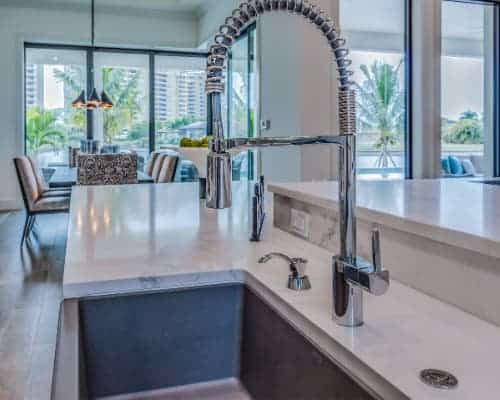 How much does it cost to install a kitchen island with the sink?
It depends on the type of product you are searching for. It can cost you around $400 to install a sink with the designer rates. This estimate is purely based on average rates.
The cheapest sink can cost you around $250, but it can raise up to $2,000 based on its material, feature, and quality.
Typically to install a sink, a technician charges $250 to $500, but it can differ based on the area.
Visit here to see this Undermount Kitchen Sink on Amazon.
Visit here to see this Kraus Kitchen Single Bowl on Amazon.
Visit here to see this Ruvati Single Bowl Kitchen Sink on Amazon.
Visit here to see this Black Stainless Steel Kitchen Sink on Amazon.
How big should a kitchen island be with a sink?
You should be very careful about the size of your kitchen island.
It is possible that you have a decent size kitchen. But if you try to make your kitchen Island too big, you will run out of open space. So, be very careful about the design.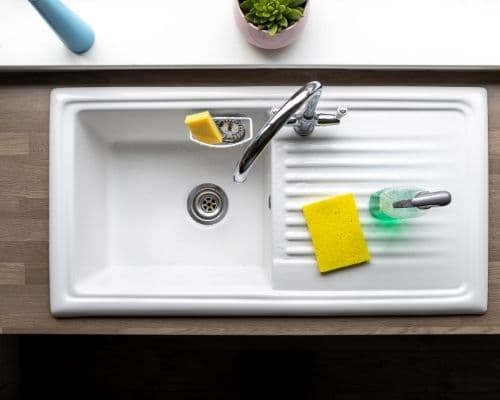 The average rule is that with the sink and the kitchen island you need to have 44 to 48 inches of free space at your disposal. You can also consider including some storage space for your dish cleaning supplies inside you kitchen island cabinet. It saves you space above the island even if it includes a sink.
And remember, do not ever go for a kitchen island if you have less than 13 feet width.
If you have a kitchen that is like a gallery or U shape, then at least make sure that the opening of the kitchen is 10 feet wide.
Having said that, 36 to 42 inches is actually the standard height of a kitchen island that is used for dining purposes and contains a sink. But depending on your needs, this thing can be totally different.
If you are looking forward to go for a kitchen Island, then you need to pre-plan everything so that your island can offer maximum facilities and less discomfort.
Planning will save your time and money here. In this way, you will know whether you really need a kitchen island or not. Before coming to any conclusion, think about the space first.
Frequently Asked Questions:
Store soap and sponges on kitchen island?
Can kitchen island be too big?
I am an architect with over 5 years of experience in the design and installation of interior and exterior design projects. I have also been a home improvement expert for many years, so I know how to improve your home's look and feel. I would love to help you build the perfect home for your family!
Read more about the author here.