Accent chairs are such a piece of decorative furniture that compliments an area by adding a visual point that offers a pause to the visitor's eyes.
Generally, you, I, and others place one accent chair as the last detail to fill up an empty space but when you have placed two accent chairs together, those can have a half-finished look. So to fulfill that half-finished look, surely you would think about what to put between two accent chairs.
Therefore, this article is here to provide you with the exact answer you are wanting to know to have a finished look with two accent chairs together.
What To Put Between Two Accent Chairs?
To complete the space between two accent chairs and to create a finished look, contemplate putting these pieces of furniture or decorative items such as: a large ottoman, coffee table, small accent table, storage credenza, floor lamp, bookcase, entryway table, or a walkway leaving empty floor space.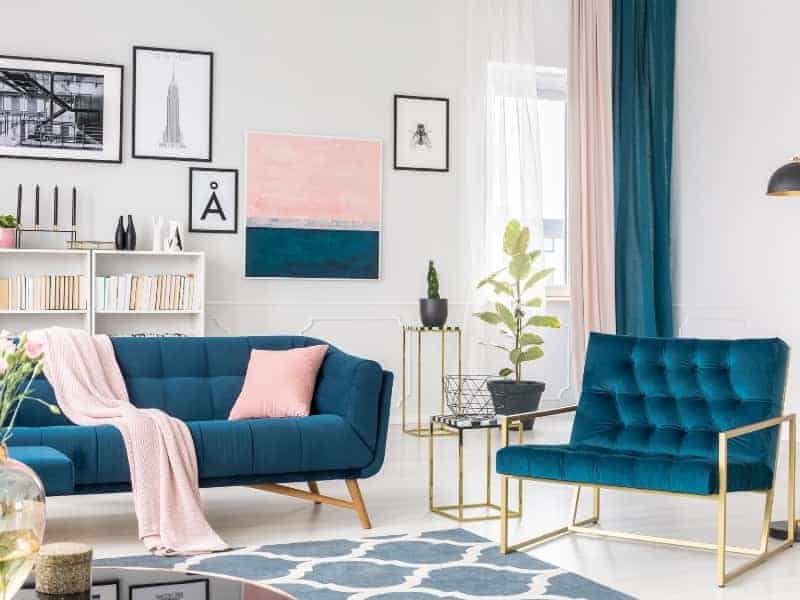 It's understandable that it would be a little difficult for you to determine what item to put in between two accent chairs. So that the item doesn't look like it's just floating haphazardly in the room.
Therefore, to make the deciding process simpler for you, here with the items mentioned above how can you create the best look have been explained.
Large Ottoman:
Placing a large-sized ottoman between two accent chairs is one of the best choices as it will work both like a table and a footrest. Also, a large ottoman will pair up really well with accent chairs as it will catch the attention of your visitors towards the accent chairs.
And if you want to add a little bit of extra flair to your room's decor, choose a velvety large ottoman for a luxurious vibe.
Small Accent Table:
Small accent tables go the most perfectly in between two accent chairs. By putting a small accent table a lamp or vase with fresh flowers on top of it between two accent chairs, you will create a cozy area for people to have a deep conversation.
For creating conversational space, you can use a small pedestal accent table between the accent chairs.
Coffee Table:
If you have placed two accent chairs confronting each other in an awkward area in your room then place a coffee table between them. As it will create a balanced and symmetrical look by giving that decorated area a purpose.
Also, your friends and family will get a cozy place to chatter with each other drinking coffee.
Storage Credenza Or Chest:
You can place a set of two accent chairs around your home's storage credenza or a small chest. Instead of keeping just a storage credenza or chest against a lonely wall, placing two accent chairs around it is a very good idea.
Because it a storage credenza or chest between two accent chair will fulfill the lonely area. Also, you still will have an easy access to the store while getting stored things out.
Bookcase:
Another great idea would be putting a bookcase at arms reaches between a pair of accent chairs. As effortlessly it will create a reading corner with your favorite books as well as it will more look like a small home library. You can display your beloved collected items on the shelf to draw attention.
Floor Lamp:
A floor lamp would a tremendous way of creating a warm and welcoming ambiance by putting it between two accent chairs. Floor lamps don't take up much space so it would be the best idea for a small or crowdy room as it will not make that space look more crowded.
How To Decorate With Two Accent Chairs?
Accent chairs play a key role in changing a room's entire look by drawing full attention towards them. So here's the rundown on some great ways to decorate a room/space with them.
Two statement accent chairs with a large ottoman between them would the perfect piece to decorate your living room if you want to create a spotlight in it. As it will add a little bit of a dramatic look to the room.
If you just want to get comfortable in motion, you can use two swivel accent chairs with a floor lamp between them to decorate the areas like a nook for having conversations or in front of TV set.
You can decorate a tight place or an area where you can get fresh air with two slipper accent chair and a small coffee table or accent table between them.
If you want natural decor for your bedroom, you can use two barrel accent chairs with a floor lamp between them and can place them where there is a corner with a window. It will create a little cozy reading space inside your bedroom while keeping the decor quotient.
What Kind Of Table Goes Between Two Accent Chairs?
Usually, three types of tables go between two accent chairs and they are small accent chairs, an end table(with/without storage), and a small coffee table. Below a short explanation has given regarding how or why they go between two accent chairs.
Small Accent Table:
A small accent table between two accent chairs pairs up in the best way because naturally accent table with accent chairs creates the best statement look for your room. It will just complete the entire look of your room by making the accent chairs the spotlight.
Also, if you want you can put a fresh flower vase or a table lamp on it to make a more cozy area.
Coffee Table:
A small coffee table between two accent chairs will elevate the look of an awkward space by turning it into a warm and inviting area for having a conversation. A small coffee table will decorate an odd corner by adding a symmetrical and balanced look.
End Table:
End tables or side tables are another items of furniture that give a finished look to a seating area. So you can put an end table between two accent chairs. If you want to create a reading or deep conversation space for your friend and family you can choose an end table with storage to keep some magazines or books in them.
What Do You Call A Table That Goes Between Two Chairs?
Tables that go between two chairs are known as accent tables, end tables, and coffee tables(because people are using coffee tables too now).
Accent tables which are also known as console tables are in a long and thin shape. And has been manufactured to fit between a pair of chairs. They are put between chairs to create a finished and elevated home decor look you can use them to keep decorative pieces like vases, small table lamp on it.
End tables are small-sized tables that are at the high of arms of the chairs. And they are placed beside big pieces of furniture or larger chairs. People place end tables between. Two chairs so that they can get items within arms reach.
Coffee tables serve dual purposes by sitting between two chairs. It works like decorative pieces of furniture as well as it's used for serving coffee/snacks on it.
How Tall Should A Table Be Between Two Chairs?
The standard size of a table between two chairs is about 18-24 inches. If you can't seem to find the standard size, go for the shorter size rather than choosing the taller one. And the size of a shorter table than the standard size is under 18 inches.
But remember that no matter what table size you choose, it must be no taller than the arm height of a chair. And it would be always best if you choose a table 3 inches shorter than the arms of chairs.
What To Put On A Small Accent Table?
Items you can put on a small accent table are listed below.
A standard-sized flower vase with fresh flower
A shallow basket where items like remote, etc. are organized
Small showpieces
Small table lamps
Books or magazines
What Can I Put On End Tables Instead Of Lamps?
You can put a flower vase with fresh flowers, a picture frame, small plants, a small showpiece, books, magazines, and coasters instead of lamps.
Any of them would go nicely along with an end table. As a flower vase or small pants will offer a fresh or greenery vibe. A picture frame will add a little bit of personal touch. The small showpiece will display your collecting sense and obviously, books or magazines will create a nook of reading space.
Can You Put A Coffee Table In Front Of Two Chairs?
You certainly can put a coffee table in front of two chairs. If the pair of the chairs are placed facing each other then putting a coffee table in front of them will create a cozy, warming, and inviting space.
And there your friends and family members will get a welcoming vibe as well as they will get a small space in your home for talking with each other or spending some "me time" by taking sips of coffee or tea.
How Do You Place A Floor Lamp Next To An Accent Chair?
Placing a floor lamp next to an accent chair is very easy. Just make sure that you are keeping the om of the lampshade at the eye level so that light doesn't directly fall onto the eyes causing eye strains.
There are numerous decorative and fictional items and furniture to put between a pair of accent chairs like ottomans, accent/end/coffee tables, floor lamps, etc. Choose the one that suits the best your home decor.
Frequently Asked Questions:
What Accent Chairs Go with Black Sofa?
What Accent Chairs Go with Blue Sofa?
What Accent Chairs Go with Brown Sofa?
What Accent Chairs Go with Gray Sofa?
What Accent Chairs Go with a Leather Sofa?
I am an architect with over 5 years of experience in the design and installation of interior and exterior design projects. I have also been a home improvement expert for many years, so I know how to improve your home's look and feel. I would love to help you build the perfect home for your family!
Read more about the author here.