Choosing the correct size for a sideboard can be difficult. They tend to be long and low but picking the right size is important. Always check the measurements according to your room before purchasing a sideboard. Otherwise, it can ruin the entire setting of your room.
What size sideboard for the dining room?
Determining the appropriate size for a sideboard is essential. It should fit your dining room and appear well-balanced with your dining room table. It should not overpower the dining room table or be too small. The height of your sideboard should be more or equal to the dining room table.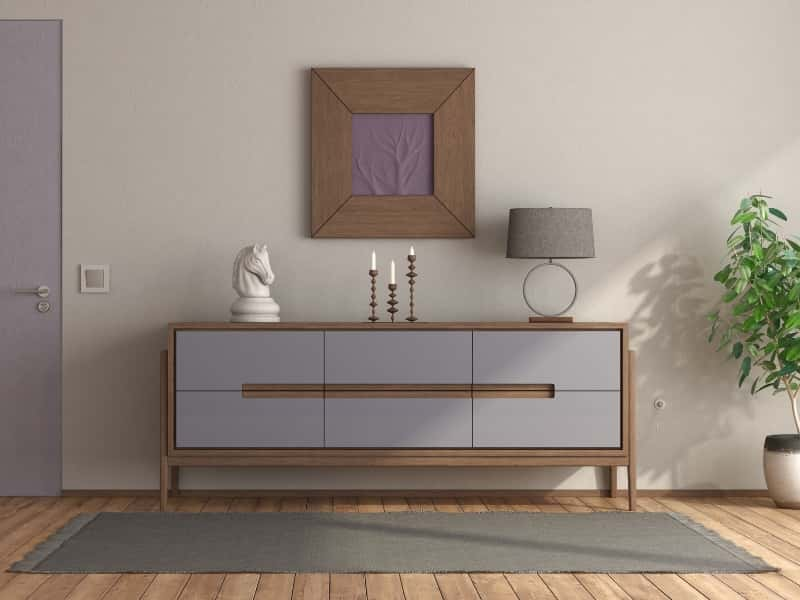 It's better to take measurements of your dining room and the other furniture in the room before purchasing your sideboard. If you have a small dining room or too much furniture in the dining room then do not opt for a large sideboard. This is to avoid making it look cramped.
Find out the height, width, and depth of the area you will be keeping your sideboard on. Check if there is enough space between the bottom of the window and the top of the sideboard.
What is a dining room sideboard?
A dining room sideboard is a common piece of furniture placed in a dining room to be used as a server, display items, and storage.
It was first introduced in England during the 18th century. A sideboard is also referred to as a buffet. There are different types of sideboards with various styles.
They often come with drawers and cabinets to store dining items such as cutlery, tablecloths, napkins, glassware, and many more. The top surface of the sideboard is used to showcase decorative items or to place dishes for hosting and guests.
Sideboards that are used as a decorative element, typically have short legs and include a hutch for display. But sideboards meant to be used as a buffet have high legs and usually do not include a hutch.
How long should a sideboard be in a dining room?
This is based on the size of your dining room and the other furniture in it. They are usually 60 inches long.
A long sideboard goes well with a long dining table and vice versa. Traditional sideboards are usually very long and have a lot of space on the top surface. Many people prefer long sideboards for storage.
However, times are changing and narrower sideboards are available. This is because narrow sideboards allow you to save space in your dining room. If you have a small dining room then you should go for a narrow sideboard.
If you have a lot of furniture then you should go for a narrow sideboard as well. Long sideboards take up more space which can make the room appear cluttered.
How high should a dining room sideboard be?
Your dining room sideboard should be the same height or taller than your dining table. This is for accessibility so that you can easily reach the sideboard from your dining table. Dining room tables are usually 30 inches tall and sideboards also have a height of around 36 inches.
If you're confused about the height, measure the height of your kitchen counter. Your sideboard should be as tall as that. Make sure it's not too long or else it can make your dining room table small.
The dining room table is the most important element and should be the prime focus. A sideboard that is 40 inches in height will definitely look odd next to a 28-inch dining table.
How deep should a dining room sideboard be?
The average front-to-back depth of a dining room sideboard is around 20 inches to 22 inches. It should not be too deep so that you don't bump into other furniture. There should be enough space between the sideboard and the dining room table for comfortable circulation.
Do you need a sideboard in the dining room?
A sideboard is a stylish and storage-friendly addition. However, it is not mandatory to buy a sideboard for the dining room. Most dining tables have one but you can go without purchasing one. This goes for any furniture. Furniture makes our life easier but it's not essential.
If you need a sideboard in the dining room or not depends on a range of factors. If you're someone who loves decorating then a sideboard is perfect for you. You can display showpieces and treasured items on the top surface.
It is a stylish and elegant feature that can transform your dining room. Even better if you have an open concept home because the dining room holds most of the activities in the house and a sideboard can be used according to those activities.
If you're running out of storage on your dining table and don't want to run to the kitchen often, then you could use a sideboard. You can place your dishes and cutlery and use it as a server when you have people over.
A sideboard can help you stay organized. Due to its many features, you can use it for a variety of things such as leaving your keys, showcasing artwork, and not just as a server. This way you can make the most of your space.
What are sideboards used for?
Sideboards have various uses. They can be used for storage, as decorative items, and as tables to serve dishes. They are not only limited to the dining area. They can be placed in living rooms, hallways, bedrooms, and offices as well. They are used differently in different places.
In the living room, they can be used as a shelf to place books or media equipment. In the bedroom, they can be used to store clothes, lamps, and as a replacement for bedside tables. A tall lamp over the sideboard always creates a chic look out of the space. In the dining room, they are kept to hold dining accessories or to display belongings.
Sometimes they are placed in hallways too. Sideboard in a hallway is a chic addition because it will be the first thing that catches the eye of your guests when they enter your home. It can be used to keep keys and baskets.
How do you style a sideboard in a dining room?
There are many style options. You can match your sideboard completely with the dining table and furniture or spice it up by being different. Most people play safe by matching the style with the present furniture in the room. It makes the room appear elegant and professional. Similar undertones are suggested if you can't find a complete match.
Here are some styling tips that you can try.
Match the material and color:
Match the material of the dining room table with your sideboard. Wood material brings out a natural setting. Or you can paint both the dining table and the sideboard the same color.
Hang decorative items over:
Hang something on the top of your sideboard. It can be a painting. Hanging a big mirror above your sideboard can also make space look bigger and elegant. This can enhance the beauty of your sideboard.
Mix match antique and modern style:
Buy vintage or antique sideboards combining with the modern furniture in the room. This is a unique combination as you'll have both a vintage and modern look.
Mismatch furniture:
Mismatch the furniture. Buy a bright contrasting sideboard if you have dull colors in your room. Mismatching furniture is very trendy. If you mismatch correctly, you can transform the room completely.
Should dining table and buffet match?
Not necessarily. Mismatched furniture is now a popular trend followed by many homeowners and designers. It is a great way to redecorate your dining room. Matching buffets or dining tables are not always available and searching for matching ones can be time-consuming.
You don't have to match your dining table and buffet but you need to coordinate it properly. They don't have to match as long as they have a common ground between them. It could be the texture, material, or style. This will balance it out and make them look proportional.
You can also save costs by buying your dining table and buffet separately because matching sets can be costly.
How much space should be between the dining table and buffet?
There should be enough space between the dining table and buffet for circulation in the room. This goes for every furniture so that people can easily walk around in the room. And to avoid bumping into objects.
The ideal distance between the dining table and buffet would be around 36 inches. It should be at least 30 inches but it mostly depends on the dimensions of your room.
However, make sure that the buffet is not too far otherwise you won't be able to use it as a server for your guests. It should be reachable. If you are only keeping the buffet as a decorative item then it's okay if it's far from reach.
The best way to figure out the appropriate distance for your room is by mapping it out in your head or taping the buffet to the floor. This will allow you to measure out the space required.
What looks good on a sideboard?
There are many ways to accessorize and decorate your sideboard. You can place a pair of lamps with one centerpiece in between. It makes your sideboard appear symmetrical and simple. Or you can mix it up by putting a lamp on one end and a plant on the other.
Tip: Use trays. Trays can make your life easier. Instead of putting many small objects to display on your sideboard, use a tray to make it look organized. Fancy trays are in fashion too.
Another thing you could do is place items and group them by color. A color-coordinated fashion brings all the attention to your sideboard. It will improve the overall appeal of your room.
Important note: Make sure that your sideboard does not cover any heating or cooling vents and at least 30 inches of room between the edge of any furniture and the front of the sideboard. If you have a smaller room, between 18 to 24 inches should work as well.
Frequently Asked Questions:
How to Shabby Chic a Sideboard?
Do Sideboard, Buffet or Credenza Have to Match Dining Table?
How Tall, Long, and Deep Should a Sideboard Be?
I am an architect with over 5 years of experience in the design and installation of interior and exterior design projects. I have also been a home improvement expert for many years, so I know how to improve your home's look and feel. I would love to help you build the perfect home for your family!
Read more about the author here.