Couches are a great way to fill up spaces in any room and are also a necessary piece of furniture in your living room. Basic gray couches are easy on the eyes which is why it is necessary to pair with vibrant pillows to accentuate your room even more.
What color throw pillows go with a gray couch?
Bright or patterned throw pillows might look the best with gray couches as it helps to accentuate the features of the couch and make it pop more. You can also follow the color theme of your particular room and add colors complimenting it on your couch to tie it all together.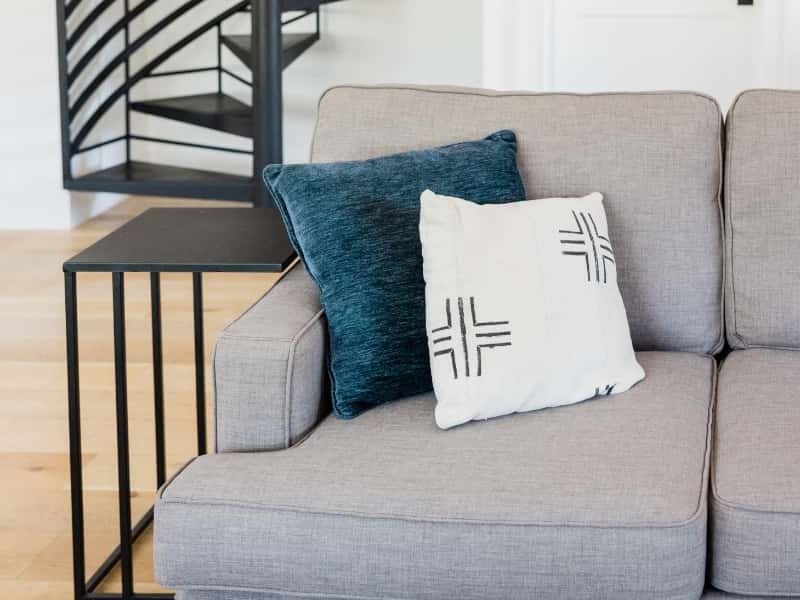 Gray couches are amazing as they can work as a canvas where you can add bright or even minimal throw pillows according to the color theme of the rest of your room. It, therefore, helps to add a lot more personality.
Bright yellow pillows:
Yellow is a very bright color that can not only lighten up your couch's dull shade but can also help add personality to your living space. Just ensure to not go for neon yellows and instead opt for bright yellow or dull mustard throw pillows.
Basic white pillows:
One thing you can never go wrong with is white throw pillows. Keeping your couch and the throw pillows basic means you can invest in other colorful decorations in your room without having to worry about the colors clashing.
You can always amp up the look of white pillows by using textured pillows to add more dimension to your room.
Deep Purple:
Purple color might sound quite clashing with gray couches but this distinct color helps to add a much deeper feel to the room.
You will, however, need to ensure to use velvet for this particular color as it helps to add lush and richness to the color and thus make it stand out against your couch even more. Purple accents in your room might help to stand out the couch and pillows even more.
Turquoise throw pillows:
The color turquoise is quite soft on the eyes which makes it a very subtle yet soothing combination with a gray sofa. It is a very calm color that can give off a peaceful vibe paired with your gray sofa.
It can remind you of the beautiful sea. Furthermore, you can also pair it alongside black throw pillows to help pop the turquoise color even more.
Soft pink:
Blush pink or soft pink throw pillows go well with gray couches. It is quite ladylike yet modern and modest. Adding textured pink pillows can make your sofa pop even more and give off a serene atmosphere.
Navy blue:
Navy blue pairs particularly well if your sofa is a light gray color. It will not look good with a dark gray sofa as there will not be any contrast. With light gray sofas, navy blue throw pillows can really help add a contemporary and sophisticated touch to your room.
Light gray and dark gray:
This might sound quite off but this is a very popular combination. If your sofa is a light gray color then you can add dark gray throw pillows. If your sofa is of dark gray color then you can use light gray throw pillows.
This will help give your room a very neutral look and thus you will be free to decorate your room with any color without having to worry about it matching your couch.
You can also add in white throw pillows alongside the gray ones to make the pillows pop out even more against your couch.
What color throw pillows for dark gray couch?
There are a variety of colors that will go well with a dark gray couch. The most common combination is white.
White is a good way to make your gray pillow pop more and not only that, it is quite a neutral combination that will allow you to focus on your interior decoration of the room without the colors clashing with each other. Another color you can go for is a soft baby pink.
If you can manage to add hints of pink in your decoration then this will tie in well with your gray couch and give it a modern yet feminine look.
What color throw pillows go with a charcoal grey couch?
When it comes to charcoal grey couches, textured throw pillows are the most important feature. Yellow or turquoise blue patterned and textured throw pillows work the best to help add more dimension to your couch and its neutral color more personality.
Other than that, you can also go for the combination of black and white patterned throw pillows. It gives a more chic and sophisticated vibe while keeping the color palette bright yet neutral.
How do you brighten up a gray couch?
A gray couch might seem like a great idea until it comes to decorating the room. You have to very carefully decorate the surrounding spaces so that your room does not end up being too neutral.
Bright colors:
The easiest way to brighten up a gray couch is to add bright-colored throw pillows on it. Such colors may include yellow, orange, pink, or even blue. These colors can help to add dimension to your couch as well as brighten up the whole look.
This is why gray is a great neutral shade as it can work as a great canvas for you to add any type of colored throw pillows. You can also mix and match the colors with white so that you can tone it down according to your preference.
Pattern or texture:
Another way in which you can brighten up the look of your gray couch is by adding patterned or textured throw pillows. It is a unique way to lighten up the look and add more to your room.
White patterned or textured throw pillows work the best in this case as not only is it neutral but it can help to add liveliness to your room.
Fun colored walls:
Gray couches are great because they are neutral. You are free to decorate your room the way you want without worrying about the clashing of colors.
One way to do so is by coloring the wall behind your couch a vibrant color which can in turn help brighten up the whole look of your couch. You can also add artwork or patterns on your wall to take it up a notch and help your couch to pop out even more.
Vibrant rugs:
If coloring your walls is too big of a commitment for you then another much simpler alternative is to use a vibrant rug under your couch instead. You can use any bright colors of your choice or you can go for a patterned rug instead.
You can mix and match colors which can create a lot of impacts to make your neutral couch look brighter.
Throw blankets:
This is a cozy way in which you can brighten up the look of your couch. You can simply opt for colorful or textured throw pillows to decorate on your couch and even put it to proper use.
What cushions go with a gray couch?
The most common choices are lighter colors such as blush pink or turquoise blue which you can pair up with more vibrant or colorful throw pillows. In that case, you should go for a cushion that is textured because it can help to elevate the look and add more to your couch.
You can also opt for bright cushions such as yellow or orange and pair them with light-colored throw pillows to contrast the look and make them look more casual.
However, the safest bet is to go for white cushions as they are casual yet they give a very sophisticated vibe. They are also easier to pair with other colors so you will not have to face any trouble.
How to mix and match decorative throw pillows with a gray couch?
The best way you can mix and match decorative throw pillows on your gray couch is by using different-sized pillows. You can use two large pillows, two medium-sized pillows, and two small pillows.
You can also use different textures for the pillows to make them look even more interesting on your couch.
You can also mix and match colors and one way of doing so is using white as the backdrop. And amongst the white, you can add in more fun colors such as yellow, pink, orange, or even blue. Make sure that your white pillows are patterned to add more elements to your couch.
Final Thoughts:
Bright colors go quite well with gray couches as long as you are able to coordinate it well as well as make it cooperate with the rest of your room. If that is an issue, do not hesitate to go for classic white textured throw pillows as they can also help lighten up your neutral couch.
Frequently Asked Questions:
How Much Does a Decorative Throw Pillow Weigh?
How Much Fabric Do I Need for a Throw Pillow?
Can Throw Pillows Be Donated? What to Do with Old Pillows?
Why Are Throw Pillows So Expensive?
How to Style Throw Pillows on a Bed, Couch, and Sectional?
I am an architect with over 5 years of experience in the design and installation of interior and exterior design projects. I have also been a home improvement expert for many years, so I know how to improve your home's look and feel. I would love to help you build the perfect home for your family!
Read more about the author here.