Having an elegant yet relaxed-looking bathroom is as important as any other room in the house. And to have such a bathroom, bathroom walls play a significant role. Because the color you will be choosing to paint the walls has to match along with the bathroom size, vanity, tile, cabinets, etc. to give a fresh vibe.
Therefore, in this complex situation, you will surely think about a complex question that exactly what color should you paint your bathroom walls. So, let's break down every aspect of this important topic and find out what are the best colors for bathroom walls.
What Color Should I Paint My Bathroom Walls?
Large bathroom walls should be painted in white color with a cool/warm undertone to look more spacious. And small bathroom walls should be painted in a clean white with no undertone to look open and neat. And bathrooms will all white fixtures should be painted in bold colors like dark gray or blue.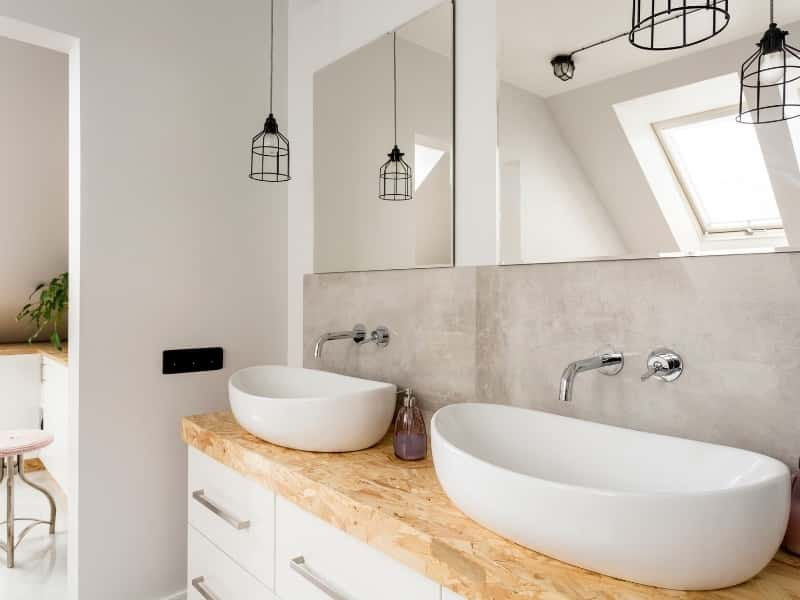 What Is The Most Popular Color For Bathroom Walls?
There is not only one most popular color for bathroom walls. Because the popularity of colors on bathroom walls depends on the bathroom size, bathroom appliances, and obviously a person's personal preference.
Therefore, most home interior designers have picked the 12 most popular colors for bathroom walls that are suitable for both larger and smaller bathrooms. And even maximum homeowners have liked these colors.
And the top 12 most popular colors are- bright white, soft gray, light blue, creamy white, brown, taupe, charcoal, pistachio, light green, aqua blue, blue gray, powder pink.
What Color Bathroom Walls Go With Your Bathroom Vanity?
While deciding on the color for the bathroom walls, you easily can get perplexed thinking what color will match your bathroom vanity.
So to make this difficult job easier, this section has picked some very popular bathroom vanity colors explained which colors will go with them.
Gray Bathroom Vanity:
Neutrals and soft pastel wall colors match the most perfectly with the gray bathroom vanity. Gray bathroom vanities already add a darker shade in bathroom, it's better to go with clean white, cream white, beige, powder blue /pink/green colors. As these colors will make the bathroom look spacious and organized.
White Bathroom Vanity:
Paint your bathroom walls in a dark accent color that would definitely compliment the white color bathroom vanity of yours. White color bathroom vanities give a bathroom a very elegant, fresh, and crisp look. So paint your bathroom walls in darker gray, moody blue, blue gray, aqua blue, etc.
Brown Bathroom Vanity:
Brown bathroom vanity always looks luxurious and neat with white color walls, so you can combine your brown bathroom vanity with clean white color walls.
Or if you want to add a trendy and sleek vibe then consider pairing your brown bathroom vanity up with blue color walls.
Blue Bathroom Vanity:
Blue bathroom vanity and clean white walls are such a winner color combination of all times. So, you can pick a crystal white bathroom backdrop and it will create a crisp contrast too.
Or else, choose chic powder blue walls with gray accents and to get a blue-on-blue fresh atmosphere in the bathroom.
Black Bathroom Vanity:
Black and white is an eternal color combination, and you know it right! So when it comes to choosing the color for bathroom walls for black bathroom vanity, undoubtedly you can select white color for walls.
Beige and light grey color walls also go well with black bathroom vanity.
Navy Bathroom Vanity:
To create a contrast, a beachy presence, and a focal point in your bathroom, you can paint the walls in white color with a cool undertone that will match your navy blue bathroom vanity. Sky blue, powder blue, gray, and bluish-gray are the other collar options for you to add a modern look or blue-on-blue look.
What Color Bathroom Walls Go With Bathroom Tile?
Here all the most prominent tile colors have been chosen to give you a better understanding of what color bathroom walls go with these bathroom tiles.
Beige Tiles:
If your bathroom tiles are in a cool beige tone then you can choose icy blue or white color with a cool undertone. And if you want a vigor decoration, go for indigo or violet color bathroom walls.
And if the tiles are in a more earthy warm beige tone then select another earthy neutral color like rusty reds, cactus green, or anything in bunt tone as the wall color.
Brown Tiles:
Since brown has an earthy tone and is known as a neutral color, so you can combine deep brown tiles with cream white. And for the light brown tiles, dark blue or dark gray calls will add a modern-sleek look.
Gray Bathroom Tile:
Pair gray tiles up with soft off-white color walls. As gray is another neutral color soft off-white color will match really well.
If the tiles are in a charcoal gray color, a cool-toned white color wall will be an excellent combination. You can choose the light gray color as well to create a symphony and gray-on-gray look.
White Tiles:
White and gray color on walls go the most flawlessly with white tiles. And black color on walls will look best if you want to create an accent tone in the bathroom.
Any shade of yellow will add a sunny vibe, and brown and beige will create a warm tone in the bathroom.
Black And White Tiles:
For classic checkerboard black and white tiles, choose bright white or soft gray to paint the walls.
Light greige and sage green colors would two other good options if you want to add warmth to your wall.
A bold sunflower yellow color matches with white & black tiles too.
Blue Tiles:
White color with a cool undertone on the bathroom walls and blue tiles will be a great combination.
If you want warmth on your bathroom walls, then choose beige or brown tanned colors for the bathroom walls.
Tan Tiles:
Tan tiles will look 100 times better and highly pleasing with a pale sage green color on the bathroom walls.
You can also choose greige paint on walls will create a contrast will tan tiles in the bathroom.
Cream Tiles:
Lavender paint will complement the cream tiles in the bathroom, so you can choose lavender colors for your bathroom walls.
Sea-foam green, turquoise, and sky blue will add a cool tone to the cream tiles, so these are good options too.
What Color Bathroom Walls Go With Bathroom Cabinets?
In this section, the colors you can select for your bathroom walls according to the most common and trendy bathroom cabinet colors have been clarified.
Brown Bathroom Cabinets:
The best complementary color to brown bathroom cabinets would be any shades of blue as it will not overshadow the rich and natural look of brown bathroom cabinets.
Light shades of brown, cream, white, pale green shades will look good on walls against brown cabinets.
White Bathroom Cabinets:
Dark blue and gray, light blue and gray, and bluish-gray paint on walls will create a balance with white bathroom cabinets.
Or else, choose stark white color for bathroom walls for a white-on-white look.
Oak Bathroom Cabinets:
Cream and green-gray color walls would be the perfect match for oak bathroom cabinets. Since oak cabinets have an orange color tone and these wall painting will add warmth.
Warm gray with bronze/green undertone will pair up well with oak cabinets too.
Gray Bathroom Cabinets:
Different shades of sky blue or cream white/white will complement your gray bathroom cabinets the most, so choose any of them.
Pastel blue or pink are the other two suitable colors.
Dark Brown Bathroom Cabinets:
Dark brown bathroom vanities will match the most with cream white/beige/taupe/white color bathroom walls.
Blue/gray/blue-gray paint will complement the rich dark brown bathroom cabinets too.
Navy Bathroom Cabinets:
White or white with a cool undertone will create the most exquisite look, a wonderful contrast, and a relaxed vibe with navy bathroom cabinets.
However, pastel shades of blue and sky blue will look great on walls too, and will create a blue-on-blue atmosphere with the navy blue cabinets.
Cherry Bathroom Cabinets:
Shades of blue and gray will add contrast to the reddish cherry bathroom cabinets. These two colors will make your cherry bathroom cabinet look more vibrant and pop up to the eyes.
Black Bathroom Cabinets:
Undoubtedly, the white color on walls will pair up in the best way possible with black bathroom cabinets.
Light grey paint will complement the back bathroom cabinets too.
Maple Bathroom Cabinet:
Aqua blue and dusty blue with a green undertone paint on bathroom walls will round off and will create a nice soft contrast with maple bathroom cabinets. So, you can select any of these two colors.
What Is The Best Wall Color For A Bathroom With No Windows?
Here are the 5 best wall color options for bathrooms with no window.
White:
White is a timeless that goes the most perfectly with a bathroom wall with no windows. Because white color will make the bathroom look spacious, tidy, and organized.
Baby Blue/Soft Green:
The next best colors for such bathroom walls are either baby blue or soft green. Because these two colors reflect on light and make the bathroom feel airy.
Pale Yellow:
Pale yellow is the other best color for bathroom walls with no windows. As pale yellow paint on the walls make the bathroom look bright and welcoming.
Taupe:
Taupe paint on bathroom walls with no windows will make the bathroom look sleek and placid. Tahoe color will add warmth inside such small bathrooms too.
Seafoam Green:
Seafoam green paint on walls will add a relaxing and minimalistic atmosphere in a bathroom with no windows.
Should I Paint My Bathroom Ceiling The Same Color As Walls?
If you don't want to take anymore hassle in choosing another color for your bathroom ceiling then you can paint the bathroom ceiling in the same color as walls, but it's not necessary.
However, the same paint on the bathroom ceiling as the walks will make the ceiling look higher and the bathroom look spacious.
What Is The Most Relaxing Color For A Bathroom?
The top picks of the most relaxing colors for a bathroom are listed below.
Soft blue
Mint
Light Gray
Pale Mint
Soft Pink
Light Lavender
Ivory
White
Cream
Pale Sage Green
Light Olive
Salt Gray
What Bathroom Wall Color Goes Well With Oak Wood Trim?
Blue-green and warm gray with a green/bronze undertone goes the most perfectly with oak wood trim in a bathroom. Cream color walls will look good too with oak wood trim in the bathroom.
You should paint your bathroom walls in such colors that would match your bathroom tiles and fixtures, and gives a sleek fresh look. However, always choose the color that you prefer because your preference matters the most.
Frequently Asked Questions:
Can Vinyl Wallpaper Be Used In a Bathroom?
Can Bathroom Wall Panels And Tiles Be Painted?
Can Bathroom Wall Panels Be Fitted Over Tiles?
Are Bathroom Wall Heaters Safe or Dangerous to Use?
Are Bathroom Wall Panels Waterproof?
I am an architect with over 5 years of experience in the design and installation of interior and exterior design projects. I have also been a home improvement expert for many years, so I know how to improve your home's look and feel. I would love to help you build the perfect home for your family!
Read more about the author here.