A Sideboards that people use for serving food or showcasing/storing serving dishes in the dining hall is such a convenient piece of furniture.
But in recent time the materials have changed quite a lot. Therefore if you are contemplating to purchase one for yourself, perhaps you don't know what is it exactly made of. And that might raise the question in your mind that what are sideboards made of.
What Are Sideboards Made Of?
Traditionally, the sideboards along with the cupboard doors are always made of wood. However, modern sideboards are being made of materials such as metal and plastic as well for convenience purposes. And some sideboards are even made of a combination of a wooden body and glass-made cupboard doors.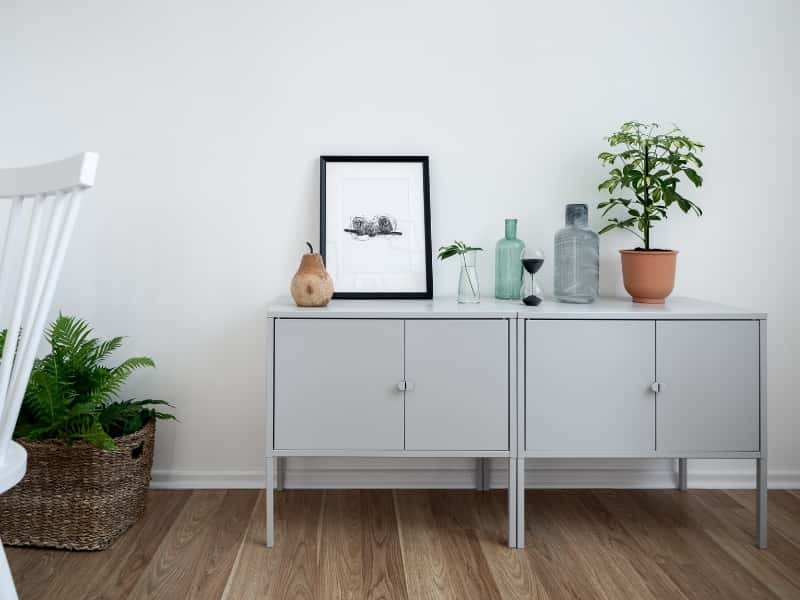 Sideboards are a useful piece of furniture with dual purposes. Typically it's made of wood. Traditional sideboards along with the cupboard doors were always made of only woods. Even, nowadays, people who want a sturdy and durable sideboard are making it with wood only.
However, to meet modern people's preferences, recently sideboards are even being made of other materials. Materials such as plastic and metal are widely being used.
Besides, people who want classy sideboards are making them with wooden and glass combinations. This means the body is made of wood and the cupboard doors are made of glass.
What Are Modern Sideboards Materials?
Sideboard's materials have changed a lot over time. So you can find them in many materials. Here is the detailed list of modern-day sideboard materials.
Wood
Wood is still considered as the main and modern material because wooden-made furniture never goes out of trend.
Wooden made sideboards are still popular because it's highly durable and sturdy so can last for decades. Hardwoods like Mahogany, Walnut, Oak, Mango, Cherry, Acacia are popular ones. And as softwood, Pinewood is the reasonable and most widely used one.
Metal
Metal-made sideboards are considered as the widely used modern material for making sideboards. Because metals are quite strong and enduring too.
Plus, it's handier than wooden sideboards. Iron-made sideboard is one of the popular ones as it's sturdy and long-lasting. Also, steel-made sideboards have earned popularity due to being easier to clean and enduring.
Plastic/ Acrylic
Plastic or acrylic-made sideboards are a hot item in the modern-day furniture market. Because these sideboards are lightweight and easier to move and clean.
These sideboards are also cheaper in price. The only problem is acrylic-made sideboards are sensitive to scratches so if you purchase one make sure to clean it with a microfiber cloth only.
Marble/Granite
These are the showstoppers of modern-day sideboards. Marble or granite sideboards are pricey than the others. If you are willing to pay extra to add elegance and classiness to your dining area marble or granite-made sideboards are the only ones. But remember that marbles are prone to get damaged easily.
Glass
Glass is directly not used to make sideboards. But it's used with another material, mostly with wood and sometimes metal to make the sideboard's doors. It adds extra charm to sideboards, so people are using glass to make only the cupboard doors.
What Is A Sideboard?
The sideboard is a piece of furniture that is traditionally seen in the dining area of a house and used for serving food like side dishes when there is no space on the dining table. The sideboard is also used as a storage for storing and displaying serving dishes.
Generally, it's consisted of a set of cabinets or cupboards and have drawers. Sideboards are long and built low to the ground having enough space inside it.
It features short legs and cabinets that probably can reach the floor. And it has wooden/metal, /plastic/marble surface for holding food conveniently.
The sideboard is similar to a buffet and a credenza. But they have slight differences like buffet has long legs and credenza has no legs at all.
A sideboard is an essential item and these days at modern homes they are also being used as an entertainment center.
Why Is It Called A Sideboard?
A sideboard is called a sideboard because it is low to the floor, has shorter legs and cabinets that can reach the floor, and mainly it stands against the sidewalls of a dining room.
Sideboards have an easily accessible surface where food, serving trays, bowls can be placed and can be taken easily.
Another feature that makes it call sideboard is, it is different from the cupboard where cups, plates that are not needed are stored.
Also, sideboards are more flexible as an item of furniture that can be used anywhere else except in the dining area, therefore, it's called a sideboard.
Also read, Does sideboard have to match dining table?
Different Types Of Sideboards
There are quite many types of sideboards found in the market. So you can be perplexed while purchasing one of you don't know which type of sideboard is that. Therefore, to make it easy for you here is a detailed list of different types of sideboards.
Mid-Century Sideboards
Mid-century sideboards are the traditional sideboards. These are mostly made of durable teak wood and have bold colors. Oakwood is also used for making these vintage sideboards.
You will instantly recognize a mid-century sideboard by seeing its unique storage-oriented design featuring mid-century silhouettes.
Modern & Contemporary Sideboards
Modern and contemporary style sideboards are widely used ones now. These are made of plastic or acrylic. Very different from the mid-century hefty ones with a heavy design.
These sideboards are lightweight and have a very sleek design that adds elegance to the dining area or wherever you keep.
Credenza
Credenza is similar to sideboards but not exactly sideboards, however, these are also considered as a type of sideboard. Credenza doesn't have legs and the base is low to the floor.
Typically these have sliding cabinet doors and the top surface is made with marble or other decorative materials. Although the body is usually made of wood.
Buffet
The buffet is highly similar to sideboards but has only one major difference. However, it's also considered as a sideboard.
Buffets have long legs than sideboards. And they can have glass-made cabinet doors. Unlike a side table, a buffet can be placed in other places except for the dining area. And it also showcases the serving dishes, cutlery set, serving tray, etc. through its glass door.
French Country Sideboards
As the name applies, French country sideboards are the luxurious ones. Made of hardwood( marbles and glass are also being used with wood) and have aesthetically pleasing royal designs.
And it mainly features French design, so you will immediately know it's a French country sideboard by seeing the structure, material, and design.
Can You Make A Sideboard From Pallets?
A sideboard can be made out of pallets. Here is a very simple step-by-step guide to making your own DIY sideboard from pallets.
Make A Box Frame
The first step is making a box frame of 34"-38" tall which is the standard height of a sideboard. Therefore, gather some good quality pallets and make a box shape frame between 34" to 38" tall.
Make Cabinet
The next step is to make cabinets of 36"×24". It's a standard cabinet width size.
Make Doors
Then make the doors of the cabinet and join them with the frame. You can use antique long hinges and metal handles to add the doors with the frame.
Polish The Entire Sideboard
Now, polish the entire sideboard to make the body and surface smooth as pallets are not really smooth.
Color It
It's completely an optional option, if you want you can color it otherwise the wooden tone sideboard made of pallets is good to go.
How Many Pallets Does It Take To Make A Sideboard?
Nearly 3 or 4 pallets of the standard size which is 48"×40" would be enough to make a sideboard out of pallets.
If you want to make a standard-sized sideboard then 3 or 4 wooden pallet is enough to do the job. All you need to do is, cut them and join them as per the correct measurement.
What Is A Sideboard Used For?
A sideboard is used in the household, especially in the dining area to serve side dishes when there is no place on the dining table. Except that, it is also used for storing serving dishes, tray, plates, cutlery set, and napkins. A sideboard also displays these items.
A sideboard is typically used in the dining room near the dining table. So that while having food, extra dishes can be kept there and people can take it easily. Also, the dishes and napkins for daily use also store there so that those can be used when needed.
However, in the modern-day, the sideboard is also being used in the living room for placing a TV on it, or in the hallway against the wall to keep stuff in it.
What Is Another Word For A Sideboard?
Another word for a sideboard is the buffet. Because buffet and sideboard are exceptionally similar to each other except that one difference in leg height.
Besides the buffet, a sideboard has other names like a credenza or a hutch. Those are also similar to a sideboard but have little differences.
Sideboards are such an important piece of furniture that makes life quite easier. And to add more convenience in life and to meet demands, they are being manufactured in numerous materials.
However, no matter what the material is, it will always have the traditional look with a modern-day sleek touch to add spark in your dining area.
Frequently Asked Questions:
Why are Sideboards so Expensive?
How Big and High Should a Mirror Be Above a Sideboard?
How Much Does a Sideboard Weigh?
I am an architect with over 5 years of experience in the design and installation of interior and exterior design projects. I have also been a home improvement expert for many years, so I know how to improve your home's look and feel. I would love to help you build the perfect home for your family!
Read more about the author here.