Bunk beds are quite popular due to their unique style and space-saving features. They are commonly seen in homes with many children and are perfect for small rooms.
A regular bed will take up most of the space in the room and do not allow privacy. Bunk beds are the opposite. However, they are not suitable for everyone. Is your child too small to use a bunk bed or are you too old to use one? Let's find out.
What age are bunk beds suitable for?
Bunk beds are typically suitable for teenagers in places such as shared rooms, hostels, dormitories, etc. They are not safe for children under the age of 6. Ages 12 to 16 are the best age to use bunk beds. Adults can also use bunk beds but they can start to feel uncomfortable.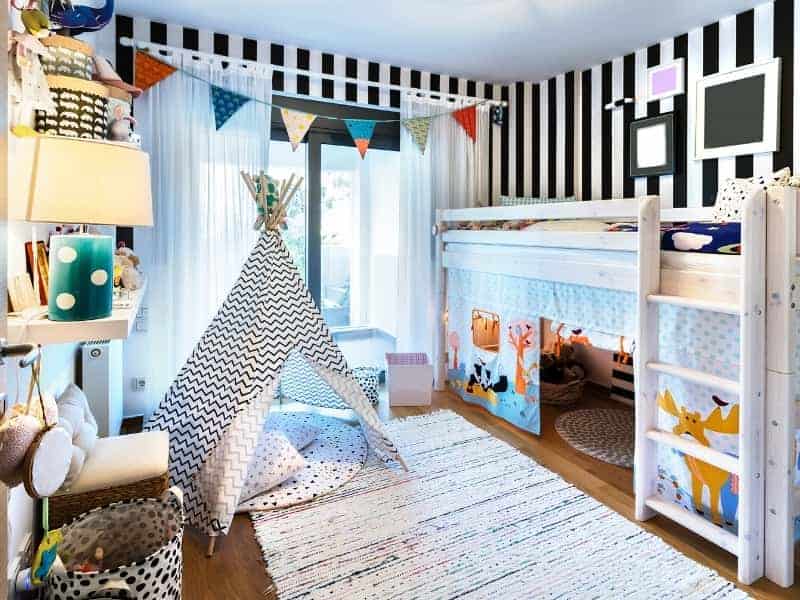 What age can a kid have a bunk bed?
The minimum age is 6 but the ideal age is 12 to 16. Bunk bed injuries are fairly common. It could happen while climbing the ladder, using the top bunk as a trampoline, playing games on the top bunk, or even during sleep.
Take safety precautions beforehand for it to be fit for children. Make sure your child understands the dangers involved. The lower bunk can be safe for 5 or 6-year-olds depending on their mental capacity.
The recommended age for your child to start sleeping on bunk beds is 10.
Are bunk beds safe?
Bunk beds are not designed for everyone, especially young children. Whether they are safe or not depends mostly on the age of the user.
3 year olds:
Bunk beds are not safe for toddlers and definitely not the top bunk bed. They can easily fall out of the top bunk and injure themselves. It could even lead to losing life.
4 year olds:
During that stage, they still don't have the mental capacity to understand what's safe and what's not. They could jump around the bed which could result in falling. The minimum age requirement for bunk beds is at least 6 years old.
5 year olds:
The top bunks of bunk beds are not safe for 5 years old kids. However, the lower bunk bed does not have any safety restrictions. If you feel that your child can safely use the lower bunk bed, then you can let them sleep on the lower bunk.
9 years old:
Research has shown that around 36,000 children who are under 15 have put up with bunk bed injuries every year. Most of these injuries happen while climbing the ladder to the top bunk or falling from the top bunk.
It is up to you to decide whether your 9-year-old is careful and responsible enough to sleep on the top bunk.
Toddlers:
Bunk beds are not safe for toddlers at all. Toddler beds are very different from bunk beds. Although your toddler could be perfectly fine to sleep alone, most bunk beds do not come with rails.
Adults:
Bunk beds are definitely safe for adults as long as they weigh under the weight limit of the bunk bed. The quality of your bunk bed plays a role. Verify that your bunk bed can support the weight of a full-grown person.
There are adult bunk beds available which can hold around 500 pounds.
How old is too old for bunk beds?
Most people don't prefer using bunk beds in their adult life. But as long as you have the right type of bunk bed, you can sleep on bunk beds even as an adult. In short there can be no too old age for a bunk bed.
Plenty of people use bunk beds in the military and hostels. These bunk beds are specially designed to be fit for adults.
If the height restrictions and weight limits are under the criteria of your body type, you are good to go. After a certain age, it can be tough to climb ladders to reach the top bunk. This is why bunk beds should only be used by adults as a temporary sleeping arrangement.
What age should you stop sleeping in a bunk bed?
There's no maximum age for bunk beds but the majority of people stop sleeping in bunk beds during their 20s. Adults can sleep on bunk beds as well as long as they have the right type of bunk bed. There are adult bunk beds in the market.
You should have enough room so that you can sit on the bed without hitting your head on the ceiling or the top bunk. Adults who are under 6 feet tall should be able to sit comfortably. The bed frame of twin-sized bunk beds can be too small for adults who are above 6 feet tall.
For this situation, purchase a Twin-XL or a full-sized bunk bed.
How can I make my bunk bed safer?
There's plenty of ways to make your bunk bed safer. Let's discuss some of them.
Attach guardrails:
Having guardrails on both sides of the bunk bed will make sure that your child does not fall from the bed. Many people roll around when they sleep, especially when they're young, resulting in injuries.
Bunk beds with stairs instead of ladders:
If your child is not used to climbing ladders, you can purchase bunk beds with stairs instead. Using other things such as chairs or other furniture can lead to accidents.
Place two sides against the wall:
This reduces the chances of falling from the top bunk as two sides will be blocked by the wall. You can do this by positioning the bunk bed in the corner of the room. The other two sides can be covered with a guardrail.
Correct mattress size with a good foundation:
The mattress should fit the bed frame properly so that your child does not slip or get stuck. Ensure there are crossties below the mattress foundation of the top bunk to prevent it from falling on the person on the lower bunk.
Try not to hang anything from the ceiling over the top of the bed:
If you place things such as a ceiling fan on top of the ceiling of the bunk bed, your child might not be able to sit comfortably and also get into accidents.
Is there a weight limit on bunk beds? – Bunk bed weight limit
Yes, all types of beds come with weight limits. The weight limit depends on the type of bunk bed you buy as well as its quality. Children's bunk beds can hold around 250 pounds but there are stronger ones that can hold over 500 pounds.
This can accommodate both the parent and child on the same bed.
There are heavy-duty bunk beds available that can support weight as high as 600 pounds. These heavy-duty bunk beds are sturdy and constructed well to hold up that amount of weight. Most adult bunk beds can hold around 500 pounds.
How dangerous are bunk beds?
Bunk beds are said to be more dangerous than regular beds. The top bunk poses the most threat. Cuts, bruises, and broken bones are common bunk bed-related injuries. 50% of these injuries happen to children who are younger than 6. Aside from falling from the top bunk, there are other risks involved.
Some bunk bed structures are defective which can cause a child to be trapped and lose their life from suffocation. Between 1990 and 2002, around 60 kids lost life after being trapped in bunk beds.
Parents should always talk about the dangers involved with their children and take safety precautions before purchasing a bunk bed.
Can a bunk bed break?
Bunk beds can break if you cross the weight limit. When it comes to children's bunk beds, on average the top bunk can only hold around 200 pounds and the lower bunk can hold 400 pounds. The lower bunk is less likely to break.
Your bunk bed has more chances to break if it has a metal frame. Although metal frames give out a modern vibe, good-quality wood is sturdier than metal. Check if there are any weld or metal cracks on the bed before buying it.
If the metal rails don't line up, then your bed could be unstable. Try to repair the welding occasionally.
Can a top bunk bed collapse?
Although very rare, the top bunk bed can collapse. This happens when the bunk bed has faulty components or if the weight restrictions were not followed.
Adult bunk beds should not have problems when it comes to weight but children's bunk beds do not have a large weight capacity.
This is why you should always check for cracks on all the support corners of the bunk bed. Poorly welded beds are common in the market. Check the quality properly. Not all types of wood are of good quality.
There should be enough thickness around the support fins. These fins connect to the side rails.
Is a bunk bed a good idea?
Bunk beds are a great addition if you buy the right one. They are stylish and can save you space. Children love bunk beds.
They do pose safety risks, but if you take precautions and buy a child-safe bunk bed, you don't have anything to worry about. Bunk beds are also perfect for sleepovers.
If you're short of space or have kids in your home, bunk beds are the perfect solution. Guests can make use of the space if you don't want to use it as a permanent bed.
They are affordable too. Bunk beds come in various styles. There are bunk beds that can function both as a sofa and a bed.
Age is a large factor when it comes to bunk beds. On your search for bunk beds, make safety and comfort a priority. Quality cannot be assured through a screen.
It's better if you check out bunk beds for yourself in any furniture store. Follow the safety guidelines and assemble the bunk bed with the help of a professional.
Frequently Asked Questions:
How Much Weight Can a Bunk Bed Hold?
How Wide Should a Bunk Bed Ladder Be?
How to Cover the Bottom of a Bunk Bed?
How Tall Should Ceilings be for Bunk Beds?
I am an architect with over 5 years of experience in the design and installation of interior and exterior design projects. I have also been a home improvement expert for many years, so I know how to improve your home's look and feel. I would love to help you build the perfect home for your family!
Read more about the author here.