Leather sofas make your home décor look classy and timeless. But you need accent chairs that compliment not only the sofa but your home décor as well. Accent chairs can elevate the entire vibe of your living room. But the question is, what accent chairs should you go for?
Should you play it safe and go for something basic or should you be adventurous? Let's find out.
What Accent Chairs Go with Leather Sofa?
The colors that truly compliment the leather sofa are beige, black, and brown as you can choose from a variety of shades. If you're looking for something unique you can go with white or blue accent chairs. Make sure you coordinate the chairs with your home décor to make everything work.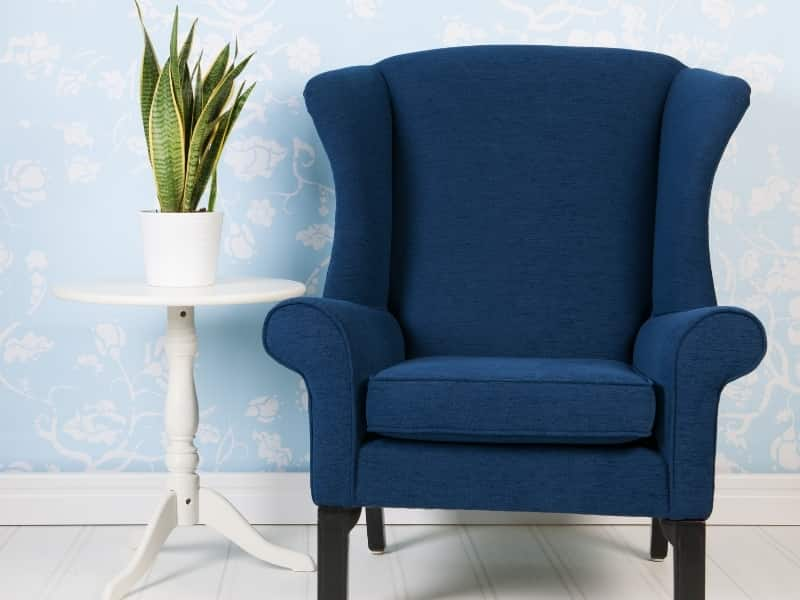 What Color Accent Chairs Go with Leather Sofa?
Beige:
Beige is a simple yet sophisticated color. You want your leather sofa to be the main attraction. Picking a beige-colored accent chair will do just that. It works as side furniture that won't grab too many eyes.
So if you're looking for something that's simple and not too bold then beige is the color for you.
Black:
Black furniture in general, oozes class and elegance. Especially if you have a black leather accent chair to go with your leather sofa, be sure that you will receive compliments after compliments.
There are different tones of blacks available for you to choose from. But the darkest black tone would look the best. Other tones may look a bit faded which is never nice.
Blue:
It's an uncommon choice that's for sure. Royal blue accent chairs require contrasting sofas to make the color palette work. If you have a warm toned sofa, you can pair with a blue fabric made accent chair.
White:
White accent chairs go well with almost every leather sofa. White accent chair will bring out the boldness while being minimalist. But because it gets dirty easily, you'll have to keep an eye out for strains.
Brown:
Brown accent chairs are typically made of leather. So, when you pair it with your leather couch, you can either match the color or contrast it. Even though your shade options are limited, the classic brown is a reliable color for accent chairs.
What accent chairs go with black leather sofa?
Almost any color scheme will go perfectly with a black leather sofa. You can even experiment with different textures, patterns, and materials. Earthy tones and subdued hues can enhance the contemporary look of your room.
While choosing accent chairs your priority should be to make the black leather sofa the focal point of the room.
You can always pick the safe option by buying a matching black accent chair. However, we would suggest you try a contrasting palette that can balance out the black tone. You can pair the black leather sofa with a chic fabric accent chair.
Earthy tones including gray, beige, and even blue tones go well with black leather sofas.
What accent chairs go with brown leather sofa?
Every one of us has either used or sat on a brown leather sofa once in our lifetime. It's a common choice among buyers because of its sleek outlook. To make it stand out, you need to combine it with cool-toned accent chairs.
Warm-toned brown meshes well with cool undertones like blue and even emerald green. If you have a plain sofa you can try to check patterned accent chairs. Patterned accent chairs are a statement in itself.
By repeating the brown color palette of the couch on the chair's accent, you'll bring out the aesthetic side of your living room.
What accent chairs go with a dark brown leather sofa?
Dark brown is the safest color option for people who have children or pets. You can hide every stain and mark in a dark brown leather sofa. But don't underestimate the boldness of a dark brown leather couch combined with a gray fabric accent chair.
The light-toned colors will bring out the best in your couch. So, you can pick any pale palette for your accent chairs. The richness of your dark brown leather chair needs something mellow to compliment it.
Wooden accent chairs with light undertones are another interesting pick. Dark brown is commonly associated with vintage décor. However, mixing it with contemporary side pieces will bolster your aesthetic persona among your peers.
What accent chairs for red leather sofa?
Red can be a tough color to handle. Apart from the accent chairs, your wall paint and side furniture are also very important to balance out the aggressiveness of the red.
You can pair your red leather couch with a beige multi-textured accent chair. Adding a red-toned pillow with the beige chair will create a connection between the two pieces.
If you have a red leather sofa, instead of being afraid you should embrace the boldness. What better way to do that other than getting a stripe or printed accent chair belonging to the same color palette?
Having said that, you can always go for a safer option. Black accent chairs with similar leather upholstery to your sofa are rather a timid choice in this context.
What accent chair to go with white leather sofa?
The options are endless when it comes to white leather sofas. Black and white is the epitome of minimalism and sleekness. Any black accent chair would exude style and elegance. But you can do one better by throwing a few matching pillows with the chairs.
Since wooden accent chairs are back in style, you can get blue and white checkered chairs made of fabric. Brown leather accent chairs are also in demand with white sofas. To top it all off, you can add matching paintings to your wall.
While picking accent chairs for white couches, take inspiration from the surroundings. Go with a color that's present in your décor as a secondary palette. And as for the material, you can never really go wrong, be it fabric, leather, or even the timeless wooden chairs.
What kind of accent chairs goes with a leather sofa?
Coordinated fabric accent chairs of the same color family are among the best options. You can also choose leather or wood accent chairs to create an urban look. But if you want something multi-purposeful you can pick a stainless steel accent chair that suits your leather sofa.
Fabric Accent Chair:
Fabric accent chairs have always been in fashion. For people who feel inclined to research their furniture, the straightforward choice is to go with a matching fabric. However, if you're detail-oriented like us then you'd want the perfect balance in your living room.
You can easily identify the color palette of your room and pick the secondary color for the accent chairs.
Leather Accent Chair with Wooden Trims:
In the recent decades, wooden trims are being incorporated with leather material. And we are all for it.
Accent chairs with a contemporary structure and leather seating are becoming popular in the minimalism segment. So when picking an accent chair for your leather sofa keep an eye out for the type of style you're trying to achieve.
Wooden Accent Chairs:
Wooden furniture went out of fashion for a while but its back now. Modern designs and minimal structures make the accent chairs a reliable side-piece to have.
Wooden accent chairs are ideal for small spaces. By combining leather sofa with wooden chairs you can get the much desired urban look.
Steel-made Accent Chairs:
Stainless steel chairs are lightweight and can be multi-purposed. The versatility of such chairs have earned them respect among certain crowds.
You can get them for cheap and even do a paint job according to your preference. That's a DIY project you can look forward to!
Should accent chairs match the sofa?
Matching accent chairs with the sofa is a safe option but that doesn't mean it's boring. If your sofa already looks striking then you can just stick with a similar color tone.
When you match your accent chair with the color of your sofa then you have to implement other colors into your home décor. You can do that by hanging a painting or getting a table of a different color. But make sure you coordinate the patterns.
Can you mix a leather sofa with fabric chairs?
Fabric chairs genuinely compliment a leather sofa. Leather couches are generally bold and have a certain bit of aggressiveness to them.
But when you pair it with fabric chairs of similar contemporary design, then the subdued nature of leather will balance out the features of leather. With fabric, you have the option to either match or contrast.
How to accent leather furniture?
To accent leather furniture perfectly you'll need to identify the path you want to walk. You can take the modern route and get contrasting accent chairs. Then add vintage paintings to the walls to add a twist.
There's also an option to keep it contemporary. Leather chairs with wooden trims coupled with a wooden side table will add an extra bit of layer to your living room.
If you want to be different from the crowd, you can go traditional. Getting all matching leather sofa and leather accent chairs is still in style. But then you should add different tones to your walls.
All things considered, when it comes to accent chairs there is no right or wrong. Everyone has a different taste. So, don't be afraid to experiment with colors, materials, and designs. In the end, you'll find what you are looking for.
Frequently Asked Questions:
What Accent Chairs Go with White Sofa?
Can Accent Chairs Be Used As Dining Chairs or Vice Versa?
Are Accent Chairs Comfortable to Sit On?
Can You Have Two Different Accent Chairs In a Living Room?
Do Accent Chairs Have to Match?
I am an architect with over 5 years of experience in the design and installation of interior and exterior design projects. I have also been a home improvement expert for many years, so I know how to improve your home's look and feel. I would love to help you build the perfect home for your family!
Read more about the author here.