Interior designing is something that a lot of people worry about a lot. Choosing the right colors for your sofa and other accessories takes a lot of thinking indeed. In most cases finding complementing colors may seem hard.
To find the right colored accent chair for your blue sofa set, play with the colors that complement the color blue. As a sofa takes a lot of space, try to ensure the color of the accent does not get overshadowed or muted.
What accent chairs go with a blue sofa?
If you want to compliment your blue sofa follow the color theory and see which color is the most fitting as an accent chair. Usually orange and yellow colors go best with the color blue. For softer ambience, you can choose a beige chair as well. Play around with the colors to find what suits best.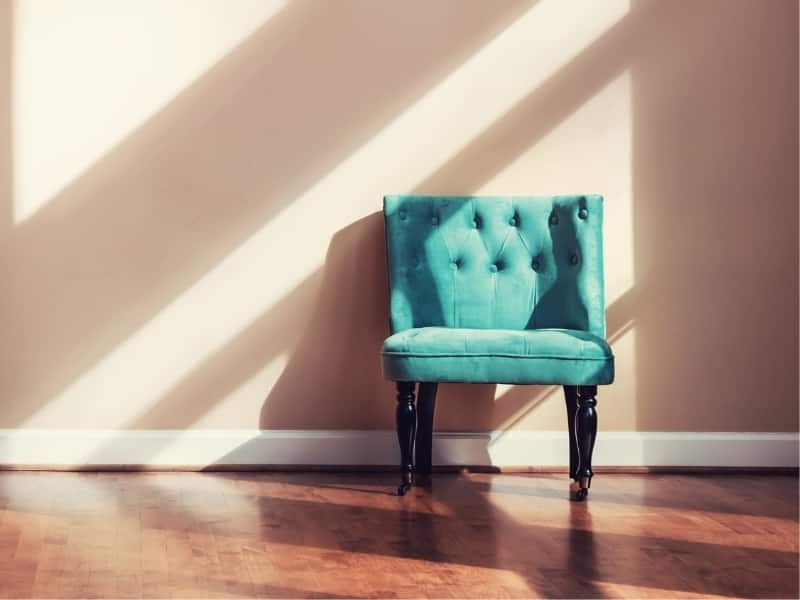 Blue is thought as one of the royal colors. It has a vibrant look to it and a hint of blue can make the entire room seem more bright. This is why it may seem hard to find a color that would complement the color, and not overshadow it.
Most decorators tend to lean towards bright colors like orange or yellow so the blue color sofa does not come off too strong or catch too much attention. There is a new trend of going for beige colored chairs to maintain the contrast. This combination looks very classy as well.
The color combination depends a lot on the theme of your interior. For a more elegant and soft look you can go for dark colors like dark green and gray. If you want a touch of pop and a vibrant them choose shades of orange or yellow. Go for whatever looks good and suits your taste.
What color accent chair goes with blue sofa?
Getting the right colors for your furniture and interior needs a lot of consideration. Many things matter when it comes to set the room to absolute perfection. You should take extra consideration while combining the colors.
Blue is a very bright and royal color for a sofa. Some might think of it as a very risky move, to place a blue sofa set in the room. It can be overpowering and can over shadow other lighter or muted colors. But there are some shades that complement the color very well-
Orange:
Orange are the perfect combination for the bright blue shade. It may sound like a very tacky combination, but it is very vibrant and ecstatic. Adds a hint of energy to the home and interior. But make sure to adjust the shades.
A bright orange complements royal or bright blue. Sky blue or a muted shade of blue will need a lighter shade of orange to adjust.
Dark Green:
For a royal shade of blue an equally regal shade of dark green. A brighter shade of green would be equally complementing but a dark, muted green will bring out beautiful vibrancy of the blue sofa.
Some people might think that dark green and royal blue are very much similar. But there are subtle difference in the colors. If you are still unsure about it, bets to choose a different shade of green, such as moss green or any other muted shade. The go equally well with blue.
Gray:
Gray and other grayish shades go perfectly well with blue. And the shades of gray are very much popular with accent chairs. You can find a variety of shades that would blend superbly with your blue sofa set.
The color gray tends to tone down the overall ambience of the interior. If you have a relatively brighter shade of blue for your sofa set, a set of gray accent chairs will help balance the color scheme.
Yellow:
The perfect combination of a pop and lively interior. Most of the bright and popping interiors are combined with these two shades. A blue sofa set with yellow accent chairs will make your room high spirited and keep your mood lifted.
This particular combination is not for everyone. make sure the entire room and interior is as vibrant as the blue sofa and yellow accent chair.
Beige:
If you do not feel like having too much color splashing in your room, contrast the blue sofa with a beige accent chair. The cool tone of the beige blends and complements the blue sofa set perfectly without being too much on the eyes.
It is a more sophisticated and classy combination. Make sure all the other interiors are reflective of the two colors. Otherwise the sofa and chair set might look dull in front of the other color combination.
Finding the right combination of color for the interior is fairly difficult and requires a lot of thought process. If you have a blue sofa set, consider the mentioned color for accent chairs. These colors are known to complement the different shades of blue.
What color accent chair goes with a light blue sofa?
Muted colors go perfectly well with lighter shades of blue. Pastel shades and muted shades of the brighter greens blend in nicely with the tone of light blue. Creamy or beige colors also tend to look good and bring out the bright vibes of the light blue.
A sofa set with a soft and light shade of blue might be difficult to place and match with a perfect color for an accent chair. Go for lighter shades for the accent chair as well. Any shade of beige is perfect for to complement a light blue sofa.
There are shades of pastel that you could consider as well. Soft lavender or baby pink shades go really well with the light shade of blue.
What color accent chair goes with navy blue?
For your navy blue sofa go for something in a contrasting color to match the vibe. Navy blue is a very strong and deep toned color. Finding the perfect match for a navy blue sofa may seem very difficult. Contrasting tones of cream or beige are a good match for such sofa sets.
For a cool and quiet ambience in your room, select the accent chair in soft creamy colors or light grays. The opposite colors will give the interior a cool vibe. And if you feel very brave and funky go for bright colors like yellow or terracotta reds. This will lift the rooms shine.
Should accent chairs match the sofa?
Having a well matched sofa set and accent chair is preferable to a lot of interiors as well as home designers. The matching of the sofa and accent chairs are not absolutely necessary however. As long as the setting looks good it is fine.
Mix and match your furniture as you want and find what suits your choice of interior best. Not all the pieces of the furniture in a set will bring out the best version of your desired outcome. Play around with your sofa and accent chair to find what suits best
What curtains go with a blue sofa?
Curtains play a huge role in setting and sealing the perfect ambience of the interior. This is why you must give a second thought before abruptly selecting the color of your curtain. Try to match it with the color of your sofa set.
To match with a blue sofa, select from lighter shades of the colors. Dusty pink, light gray, white or anything creamy will go perfectly with a blue sofa. The light shades will not overshadow the blue of sofa and create a soft look on the eyes.
How do you style a room with a blue couch?
Blue sofa adds a touch of royalty with a strong aura. Some interiors might find it overwhelming to match other accessories that will suit a blue couch. Some of the materials that would look great with a blue couch are-
Metal accessories;
Bronze colored candle holders;
Dark bronze metal items;
Vintage mirrors;
Rustic coffee tables;
Bronze paper weights;
Any rustic or antique accessory goes perfectly well with the blue sofa set.
What Color rug goes with blue sofa?
Even though most people do not care of rugs does not mean that rugs are any less important. Choose the color of the rug according to the shade of the blue.
For a dark blue sofa, choose earth tones or gray or any rustic shades. And for a lighter shade of blue, go for lavender or white. You can also choose blue in a lighter shade than the color of the sofa.
How do you decorate a navy blue sofa?
Accessories your blue sofa with simple things like some cushions or pillows. You can place doilies on the arms of the sofa as well. some other ideas are-
Paintings on the wall of soft shades life gray;
Rustic wood coffee tables;
White or other light colored doilies;
Contrasting cushions.
Decorating a navy blue sofa may seem like a tough decision. But play around with the accessories and choose what suits best for your entire interior.
Choosing the right colored accent chair and accessories to go with a blue sofa set is not too hard. Think about what you want your interior to feel like and go along with what suits best for your room. Play around with different accessories as long as it looks good.
Frequently Asked Questions:
What Accent Chairs Go with Brown Sofa?
What Accent Chairs Go with Gray Sofa?
What Accent Chairs Go with a Leather Sofa?
What Accent Chairs Go with White Sofa?
Can Accent Chairs Be Used As Dining Chairs or Vice Versa?
I am an architect with over 5 years of experience in the design and installation of interior and exterior design projects. I have also been a home improvement expert for many years, so I know how to improve your home's look and feel. I would love to help you build the perfect home for your family!
Read more about the author here.