So, you have jumped on the bandwagon and bought your living space a black sofa. Now, what do you do to style it so it doesn't look too dark?
Read on to find what color accent chairs work best with black sofas, what pillows to use and which curtain to drape.
What accent chairs go with black sofa?
If you want to add accent chairs that complement a black sofa, the safest color to choose would be white. Additionally, popular color picks for accent chairs to pair with black sofa include caramel, tawny or almond brown. Lighter shades of gray, pink, and yellow can also be a good choice.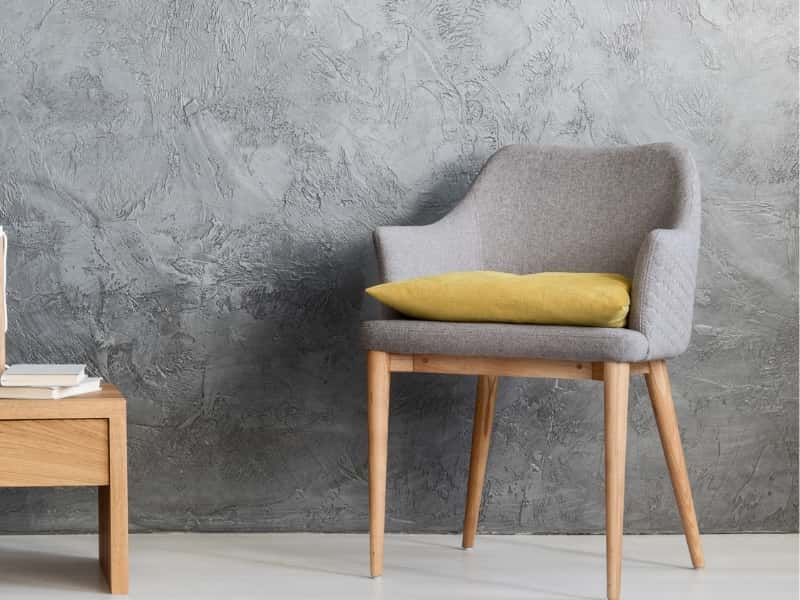 What color accent chair goes with black sofa?
White:
Whether it's a traditional accent chair or a contemporary glam one, white accent chairs pair best with a black sofa, no matter what cushion or curtains you might have.
This is a no-fail color, even if you decide to have prints on your chair.
Gray:
Gray accent chairs are a favorite for many when it comes to matching with black sofas. The lighter shades like cloudy or mushroom grays are a great choice.
Pink and Yellow:
Nothing works better than a yellow or pink accent chair to go with a black sofa. Whether it is lemon bright or soft pink, these colors on accent chairs add the missing pop of brightness and vivacity.
Brown:
Classy designers always suggest going for chestnuts or almond brown accent chairs with a black sofa. The look becomes a balance of modernity and tradition.
What color accent chair goes with black leather sofa?
Believe it or not, it is not a very difficult task to choose the right color of the accent chair to go with a black leather sofa. Black leather sofas are shiny and capture a lot of attention.
If you asked us to choose the best color for an accent chair to go with a black leathered sofa, we'd probably choose a copper brown or almond brown.
 In other shades of brown that would look great on accent chairs beside a black leathered sofa, you can consider warm tans and tawny beiges.
Other than brown shades, you can always go for white accent chairs to complement a black leather sofa. Whether it's a mid century modern chair with a white plush center or a streamlined design look, white is always a great pick.
Shades of foggy, cloud, or mushroom gray accent chairs can also be a great choice, in addition to powder pink accent chairs.
How can I make my black sofa look good?
A black sofa is a more daring move in terms of decorating your room compared to a gray or brown sofa.
The trick is to lighten everything else around the black sofa. Here are a few effective décor steps to make your black sofa look good:
Paint backdrop wall:
As we said, the trick to style a black sofa to make it look like it's part of a welcoming room is by having it as a centerpiece, but not letting it have all the attention.
However, remember black sofas do become the center of attention in the room, that's the first thing you'll notice.
For this, paint the backdrop wall and all the walls or windows around the sofa are either white or colors that are extremely light, like cream or light pink.
No dark rugs:
One major mistake made by many trying to style a black sofa is pairing it with a rug that is either black or considerably dark. That's a big no.
Whenever you want to add a rug that compliments the black sofa, make sure it takes away the darkness from the room. Light gray, fossil, coin, or cloud gray rugs make your black sofa look elegant.
White rugs, whether checkered, leopard printed, or Aztec patterned will always be the safest and best option for rug color to go with black sofa.
Add vibrant colors around:
When the sofa is black, it means the color is absent on the sofa. The simplest way to add color, life, and some vibrancy to the dullness is colored and decorated cushions. Add a blanket on the sofa to make it cozier.
Imagine a blood red blanket or cushion on your black sofa. That could do the trick as well.
Keeping the color scheme of the rest of the room in mind, you want to have fun with the cushions. Add pops of yellow, orange, and the safe white, pink, or gray all over. Have patterns make up for the bareness of your black sofa.
Add enough light:
Add enough lights. Whether they are spots or lamps, a room with a black sofa can look gloomy and depressing if the lights aren't there to lift the spirit of the room.
To add further vibrancy and color, you can place house plants beside the black sofa. Black and green are a great combination.
Should your living room chair match?
There are no bookish rules according to designers whether your living room chairs need to match. If you prefer the traditional cohesion in a room, you can match the accent chairs, with the sofa and with each other.
If you prefer mixing and matching, a contrasting set of chairs with similar designs can work well as well. The best arrangement, however, would be having a solid color sofa, with either a correlated or contrast color pair of accent chairs.
For example, for your black leather sofa, go for white accent chairs with metallic legs and fine fabric plush. You can also pick the color of your living room chairs based on the color of a painting in the room or the color of the cushions.
Keep in mind that if your main sofa and wall are of the same color, it is wise to add a different shade of chairs for the vibrancy, whether they are pastels, matte, or bright colors.
What color curtains go with black couch?
One thing is for sure, even if you are a newbie in interior decoration, you'd know that black or another very dark colored curtain in a room with a black sofa is a straight red flag. We strongly discourage it, and so do designers.
Instead, add curtains that are light in color. If you are in doubt about which tint to choose, always go for white or cream. With double parted curtains, you can also add another color for more vibrancy.
Further, you can try to match one of the cushion colors to the curtain. Suppose you have a yellow, or a blue cushion piece on the black sofa. Draping a similar shade of yellow or blue curtain will bring about consistency in the room.
Burnt orange, Lime yellow, dijon, or mustard yellow are quite the popular choices of colors in a living room that sports black sofas.
You can surely play with prints and patterns on the curtains, but remember to not overdo it, since the black sofa already makes the appearance of the room a little heavy.
What color rug goes best with black couch?
When you have a black couch in your room, the deal breaker and the deal maker could possibly be the color of the rug. It's easy to get carried away and add a rug that matches your couch, but when it's black, you'll have to think over it.
A no-risk color of rug when you are pairing it with a black couch is always white. White checkerboards or white leopard prints, whichever you may choose, you'll always get it right. Even if the rug is a plain white furry one, you would tick the right boxes.
Another safe and versatile option for rug color to go with a black sofa is gray. Whether it's harbor gray, cloudy, mushroom, or lava gray, you can trust your rug to complement your black sofa just perfectly.
What color do pillows look good on a black couch?
The simplest and most fun part about styling a black couch is adding cushions to the neutral color. With this, you can get as creative and experimental as you want, just remember the color scheme of your room.
From white to yellows, pinks, and shades of gray, any color you think of will complement a black sofa perfectly. The trick is to remain consistent with other furniture or curtains of the room.
If you have bright lemon yellow or brown accent chairs with your black sofa, add white, gray, and one or two brown cushions to the sofa.
How do you brighten a room with a dark couch?
To brighten a room with a dark couch, focus on the walls and the curtains. First, you'll have to make sure that the walls are white, or the lightest cream. Add to a light curtain or a bright color.
Further, you can add bright tinted pillows and a rug that brightens up the room naturally. In any room with a black sofa, adequate lighting is so important.
Black is increasingly becoming the new favorite neutral. Not just in dresses, people have been opting for black sofas everywhere.
While black can be a statement sofa, styling it and adding the right colored accent chairs can be quite tricky. Be careful not to choose the wrong shades, for they might turn your living room into a dark cave!
Frequently Asked Questions:
What Accent Chairs Go with Blue Sofa?
What Accent Chairs Go with Brown Sofa?
What Accent Chairs Go with Gray Sofa?
What Accent Chairs Go with a Leather Sofa?