The kitchen island is a vital part of the kitchen. It is mostly used and often the central part of the room. As the kitchen sink is always an undeniable object of the kitchen island, keeping the decor around it tidy and pleasing is barely optional. As we know, the obligatory tools used in the kitchen sink are soap and the sponge. They need to be organized well and carefully. Even the tiniest clutter around the sink can really impede the decor.
Where to Store Soap on Kitchen Island?
To maximize the beauty of the island and keep it clutter-free, you can either use a soap caddy in your island sink or install a soap dispenser. They will make sure that your soap is out of direct sight. You can also use the island's bottom cabinets to store the soaps within your reach.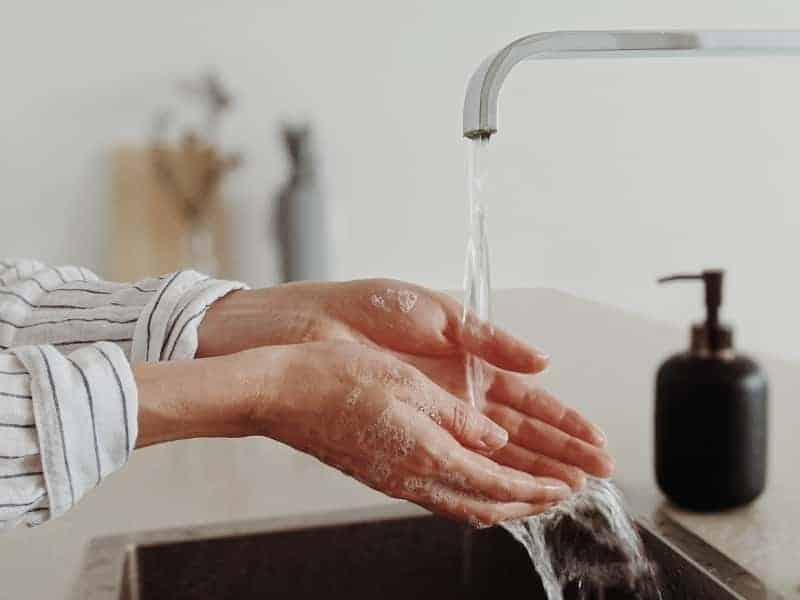 It's necessary to store the soap near the kitchen sink so that it's easily reachable. Also, the arrangement cannot damage the display of the kitchen island anyhow. So the planning has to be smart and pulled off well accordingly.
We have come up with 4 effective methods of where the liquid dish soap and the sponge can be kept.
Use Liquid Dish Soap and Springy Sponge
Instead of using soap bars, it is highly recommended to use liquid dish soap. It ensures cleanliness. You can easily use it with the sponge without creating any unnecessary mess and move it anywhere after its use.
Be careful while choosing the sponge you use. Make sure the sponge is springy and can be easily squeezed because you don't want any water to clog in the place where you'll be keeping your sponge.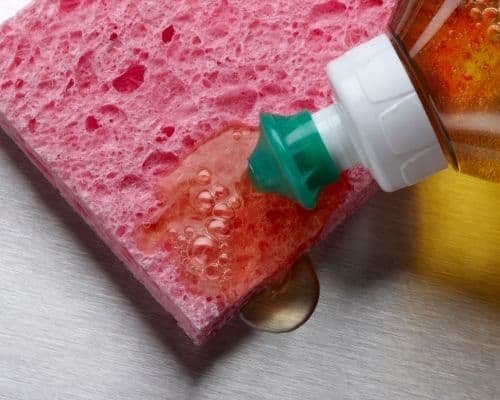 Keep the Soap Inside A Pull-out Tray or A Cabinet
You can customize your kitchen island and make a pull-out tray or a cabinet under the sink if you don't have it already. This pull-out tray will be helpful in case you don't want to keep your soap anywhere near the sink. You can also keep the sponge there. Remember to place a paper towel or just a paper under the soap and the sponge. This will soak any extra water dripping from the sponge or the soap case or dispenser. Change the paper regularly. And it's done! You just need to pull the tray out, use the tools and keep them back!
Visit here to see this Narrow Sliding Storage Organizer Rack on Amazon.
Visit here to see this Wall Mount Clamshell Bar Soap Holder on Amazon.
Visit here to see this Tip-Out Front Sink Tray Set on Amazon.
Customize A Built-in Soap Dispenser
A built-in soap dispenser comes as a default decor with the kitchen island. It takes just a tiny hole in the kitchen island to help the thin tube go into the liquid soap container. This container will be placed under the sink, inside a cabinet, and away from the human eyes. The pump, on the other hand, will be displayed on the kitchen island. You can place the pump just beside the faucet. It actually goes with any decor. Just make sure to use stainless steel for the pump. Otherwise, the steel may get rusty after a while.
If you are considering to build a dispenser, here is all about soap dispenser in your kitchen.
Visit here to see this Built in Sink Soap Dispenser on Amazon.
Visit here to see this Built in Sink Soap Dispenser on Amazon.
Visit here to see this Built in Sink Soap Dispenser on Amazon.
Use Decorative Tactics and Put The Soap On Display!
This is undoubtedly a very creative method. You can use bottles made of stainless steel or even glass with a pump on top and put the liquid soap in it. You can also use a clay bottle for the liquid soap and a clay pot to hold the sponge vertically with a hole in it. It will help the water drain and not clog. You can also use these aesthetic bottles to keep detergent and what not! Take a tray. Place these bottles with the sponge pot on that tray. Keep a paper towel within your reach. You can also add vases with flowers or whatever you want the decoration to be!
You can also find lots of dish soap caddies on market like thes.
Visit here to see this Dish Soap Dispenser for Kitchen on Amazon.
Visit here to see this Sponge & Brush Holder Sink Caddy on Amazon.
Visit here to see this Soap Holder with Drain Pan Tray on Amazon.
How to store cleaning supplies under kitchen sink?
The place under the kitchen sink is almost always cluttered. After the work in the sink is done, we barely take time to organize this area. With just a few modifications and creative strategies, this place can be made tidy. This will also help our cleaning to be easier and quicker. Following the steps mentioned below, you can easily organize your cleaning supplies.
Step 1: Empty the cupboard and clean the area neatly.
Step 2: Make some extra storage. For example, install racks inside the cupboard doors.
Step 3: Pick the organizers wisely.
Step 4: Line up the cleaning supplies according to size and place them inside the cupboard.
Step 5: Get rid of any extra packaging.
What should I keep near my kitchen sink?
There are plenty of things that are required to keep near your kitchen. They make your work easy, comfortable, and risk-free.
The Organising Tools
These are very useful regarding the tidiness that is required in every kitchen. These keep the kitchen clutter-free, breathable, and comfortable to work inside.
Absorbent Mats
These are other essential supplies for the kitchen. They soak any extra water on the surface and keep the kitchen dry. That's how no fungal or bacterial growth is provoked.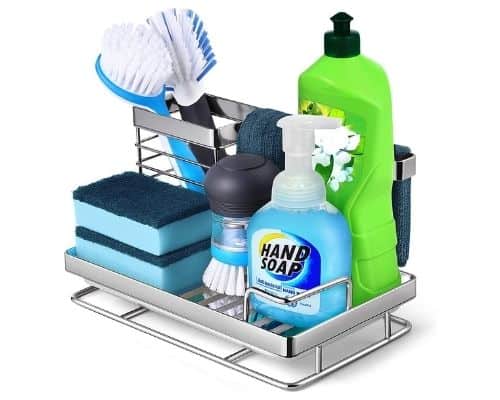 Cleaning Supplies
No kitchen is properly organized without having the cleaning tools included. These have to be kept near the sink. Otherwise, the work happening around the sink is easily disrupted and delayed.
A Fire Extinguisher
A fire extinguisher is not used regularly. However, when needed, it is a life savior.
What should I not keep near my kitchen sink?
We use a lot of things in our daily life. All of them are not kitchen friendly. These sometimes, if kept near the kitchen sink, can cause us much harm. So, these are better to be kept away.
Any Extra Tools
Unnecessary supplies kept near the kitchen sink create a mess and disturb the regular activity. So, these extra supplies should be eliminated from the kitchen. It's better to get rid of any extra crowd.
Rough Chemicals
These chemicals may be occasionally used. For example, bleach, potash. These are better be kept away from the kitchen and as well as away from the children's reach.
Flammable Materials
These products can burst and let unnecessary events happen if not kept in safety, such as thinners, polishes, some rough cleaners, paints, etc. These cannot anyway be kept inside your kitchen.
Cottons, Towels, or Papers
These things can easily catch fire. Any unpleasant situation may arise if these are inside your kitchen. So, better, keep these away from your kitchen.
How to keep island sink area dry?
Keeping the kitchen island dry is very important. Wet surface always leaves watermarks on it. Sometimes, this even stinks. Most importantly, it helps generate bacteria. So, it's best to keep the area dry right after the place is used.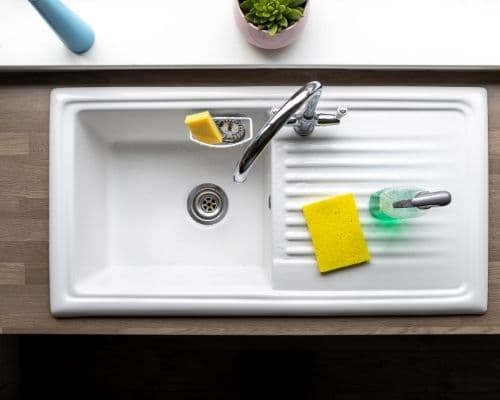 Wipe Off The Water From The Surface With A Wooden Fabric Dish Towel.
Wooden fabric dish towels soak any water from the surface as neatly as possible. Any hot area benefits the bacterial growth. Wiping off the island surface with this towel will minimize the possibilities for the bacterias to take form.
If this towel is not handy, any towel or cotton fabric can be used instead.
Keep The Sponge and The Soap Bar Dry
Damp sponge or soap can cause water clogging, even in a small area. There are a bunch of self-draining soap holders available in the market. These help drain any excess water alongside keeping the decorative look of the kitchen.
Use An Absorbent Mat
Right after washing the dishes, keep the dishes on an absorbent mat. Use a small rack if necessary for the arrangement. This dish drying mat absorbs any extra water dripping from the dishes.
How to keep island sink clutter-free?
Keeping the island sink clutter-free is important. But eliminating the probabilities of cluttering beforehand is more important.
Use the Storages Wisely
Ensuring the proper use of the cabinets as well as the drawers is necessary. Put things exactly where they are supposed to be. Places clutter only when there's a misplacement of things or when there's a shortage of storage.
Eliminate Unnecessary Tools
We often get things for our kitchen that we think might be useful, but later on, these stay unused. So, it's really essential that these unused tools are eliminated, and the kitchen island is crowd-free.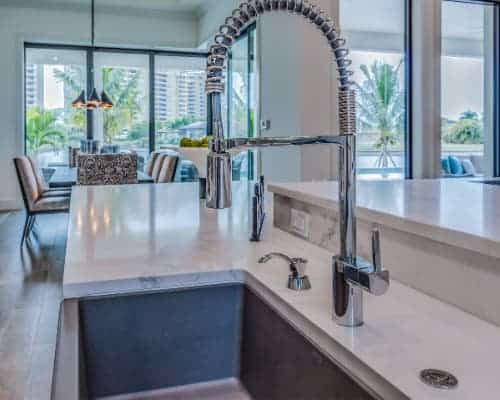 Tame the Paper Piles
Paper, paper towels are highly used inside the kitchen counter. So, the pare down papers or even the twisted ones give you a rough time decluttering your kitchen counter.
It's necessary to put the wasted papers in a bucket instead of putting these here and there.
Always Keep A Dustbin
A dustbin is a must for the kitchen. While working, a lot of food waste comes out, and these need to be put in the dustbin as soon as possible. If delayed, these wastes can make a pretty bad mess.
10 Simple Ways to Make More Space In The Kitchen
You can easily create more space in your kitchen by following these effective ways mentioned below.
Make foldable and rolling cabinets below the kitchen island and the sink.
Get rid of any extra gadgets or tools.
Keep the utensils and cutleries in segmented boxes or racks.
Decant the mass elements in jars. Thus, they can be easily stored.
Induct hooks in places to hold cups and glasses.
Mount racks in order to hang pots, big spoons, and colanders.
Place risers in the cabinets to increase storage.
Make a magnetic cabinet beside the fridge to add to the storage.
Place a magnetic knife bar in the kitchen.
Use baskets for the raw ingredients.
These easy cleaning stuff storage hacks in your kitchen can help you save a lot of spaces. Providing each necessity item it's one space also helps you to tidy up things very easily every time.
Frequently Asked Questions:
Can kitchen island be too big?
Does a kitchen island need a dedicated circuit?
I am an architect with over 5 years of experience in the design and installation of interior and exterior design projects. I have also been a home improvement expert for many years, so I know how to improve your home's look and feel. I would love to help you build the perfect home for your family!
Read more about the author here.