Specifications:
1,302 Sq Ft
3 Beds
2 Baths
2 Stories
1 Cars
Strap in, folks, because today we're going on a tantalizing tour of a gem in the architectural world.
Grab your imaginary hard hats as we dig into the delightful features of this 3-bedroom New American cottage house plan that screams comfort, elegance, and practicality.
Let's dig in!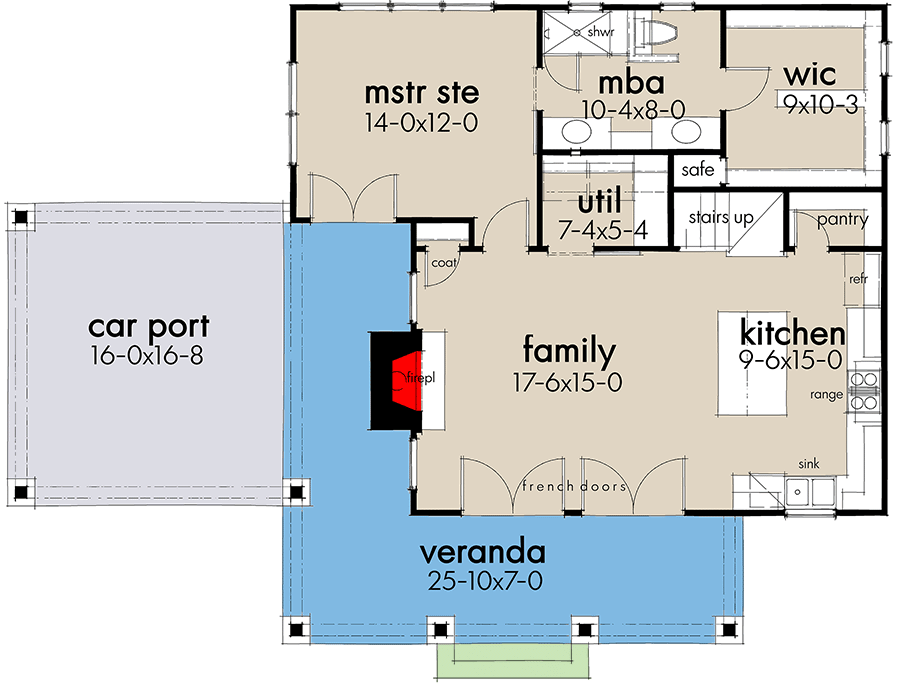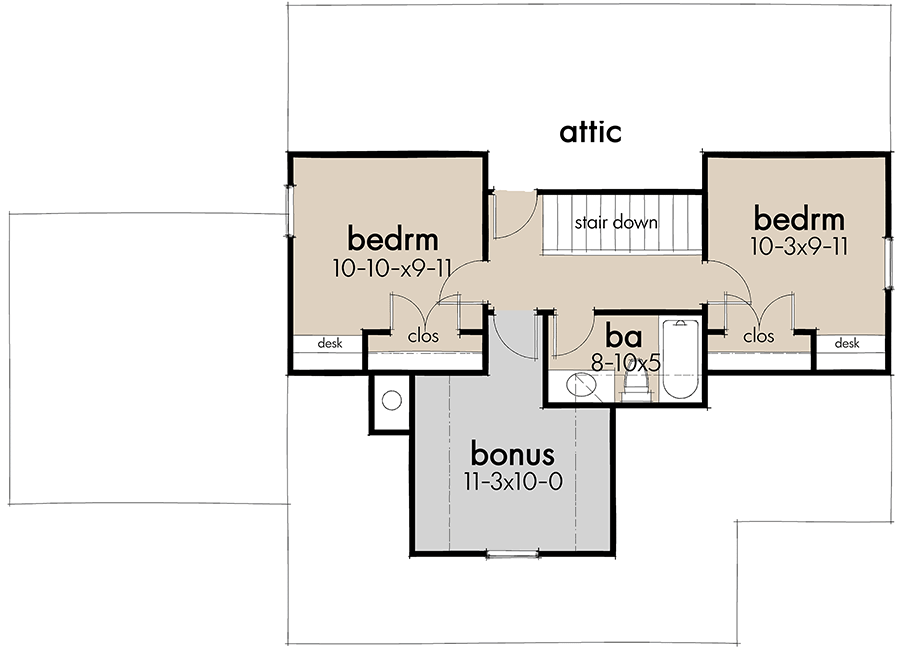 Ah, first things first. As we stand outside, the first thing that catches your eye is the tastefully designed exterior adorned with charming stone accents.
It's like Mother Nature herself decided to leave a personal touch on the house, making it a perfect blend of human ingenuity and natural aesthetics. And we're just getting started!
Next up is the wrap-around veranda, an essential feature that not only adds to the overall charm but also doubles as a convenient covered walkway leading from the carport to the French doors.
It's like having your very own VIP red carpet entrance every day (minus the paparazzi, thankfully). And with the attached carport, your beloved ride has its cozy spot to stay protected from the elements – no more frantically searching for an umbrella during unexpected downpours!
Inside, prepare to be floored by the open concept design, which binds the family room and kitchen together. This layout fosters warmth, intimacy, and lots of lively conversation.
Just imagine, you can stir up your grandma's secret spaghetti sauce while simultaneously laughing at Uncle Bob's jokes from the family room. Talk about multitasking!
Speaking of kitchens, this one comes with a large island in the center, offering ample space to whip up your culinary creations. The best part? A walk-in pantry within arm's reach. It's like having your personal grocery store right in the kitchen – no more sprints to the fridge in the middle of a recipe!
Now let's stroll over to the main-level master bedroom, a haven of comfort, luxury, and convenience. It includes a 4-fixture bath and a sizable walk-in closet.
The spacious closet means you finally have room for that shoe collection you've been secretly growing. And a 4-fixture bath? It's practically a mini spa right in your bedroom.
The central feature on this floor is the laundry room. Who knew laundry could be so convenient? It's like the architects knew how much you despise carrying laundry up and down the stairs. No more dropping socks on the stairway, folks!
Let's climb up to the second level, where the bedrooms are mirror images and include built-in desks. Now, these are not just your regular bedrooms. The built-in desks mean you finally have a dedicated workspace right where you wake up. Early morning productivity, here we come!
The second floor also houses a full bath located in the center, perfect for those busy mornings when everyone is in a rush to get ready. And guess what?
There's more! This floor plan sneakily includes a bonus room, adding an extra 126 square feet of living space. The possibilities for this space are endless: home office, gym, playroom, hobby corner, or simply a haven for your pets.
So there you have it, a charming, 1,302 square-foot, 3-bedroom, 2-story cottage house with a carport and a bonus. Every inch of this home, from the stone accents on the exterior to the built-in desks in the bedrooms, whispers (or maybe shouts) convenience, comfort, and charm.
Whether you're a family of three or a couple looking for some extra room, this plan is like a Swiss Army knife of house designs – compact, versatile, and packed with everything you need. Who knew architecture could be so exciting, right?
Happy house hunting!
Plan 16920WG