In the wooden board market, various manufacturers produce a wide range of different boards. Although they range in quality, design, and material, there is a common standard for their board size.
Now, you must be wondering what the standard width and thickness of deck boards are. Let's have a look and find ourselves.
How wide is the average deck board?
Deck boards come in different widths. The most popular ones have widths of 4 inches, 6 inches, and 8 inches. Furthermore, there are 12 inches wide boards also available. But the most standard width is the 6 inches board. This board is cost-effective and more structurally more efficient as well.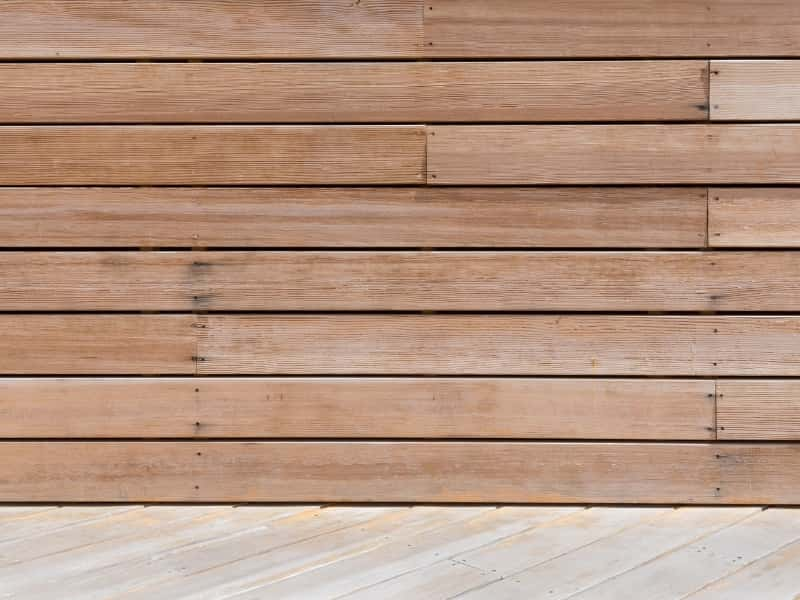 Deck boards, on average, are mostly 6-inches wide. They are, however, are also available in other widths like 4-inches, 8-inches, and 12-inches.
Different widths of deck boards:
Width is the vital dimension of deck boards. In many cases, the overall looks and the cost efficiency of a deck depends on the width of the deck boards used in it. And as such, deck boards come in different widths. Below is a list of different widths of deck boards.
4-inches board:
This is one of the three most common deck board widths. However, this is not very practical as these boards tend to have gaps between them.
6-inches board:
6-inches wide deck boards are the most commonly used boards for decking. These boards have just enough width, perfect for decking.
8-inches board:
8-inches boards are also used for decking. However, they are not the best option for decking as they tend to crack for being too wide.
How wide are these deck boards?
Deck board widths vary from the mentioned widths. There is a nominal width and a real width. In most cases, the actual width is a bit smaller than the nominal width.
6-inch deck board:
Although the name suggests that 6-inch deck boards are 6-inches wide, they are 5.5-inches wide.
1 x 6 deck board:
Just like 6-inch boards, 1 x 6 boards are also 5.5-inches wide.
2×6 deck board:
The width of a 2 x 6 deck board is 5.5-inches. Its actual dimension is 1.5 x 5.5 inches.
5/4 x 6 (5 quarter) deck board:
In the case of five quarter board, the width is 5.5-inches approximately.
How wide is a Trex deck board?
Trex deck planks are a form of composite decking. The Trex Company designed and manufactured them. In terms of quality, Trex deck boards are pretty nice.
A standard Trex deck board usually comes in two thicknesses between 1 and 2 inches, respectively. They have three different kinds of boards. Each of these boards has different varieties of sizes.
The Fascia Trex deck boards are usually around 11.375 inches wide. In contrast, their Grooved edge deck boards measure about 5.5 inches in width. Lastly, their Square edge deck boards come in two widths of either 3.5 or 5.5 inches.
In terms of quality, Trex boards come in three different categories. The select boards are good quality lines, while the Enhance boards are better in terms of quality. The Transcend boards are the best in quality.
All these boards follow the same measurements for width as earlier mentioned.
Are wider deck boards better?
When making a deck, the width of the boards is an essential dimension. They are essential both aesthetically and structurally. Now the question is whether wider deck boards are better or not.
Surprisingly, wider deck boards are not a better option to have. They look odd in terms of aesthetics and structurally are flawed as well. That is why too wide deck boards are not preferable.
The standard width for deck boards is 6 inches. Anything smaller than that is also not very suitable. Smaller boards like 4-in wide boards take longer to install, and still, there remains a gap sometimes.
On the other hand, bigger boards like 8-in boards tend to warp or crack in the middle.
However, medium-width boards like 6-in boards do not have the risk of cracking down. Thus, wider deck boards are not the best option; instead, the smaller or mediums ones are.
How thick are deck boards?
Deck boards come in various thicknesses. However, most standard deck boards have a thickness of 1-inch. These are also known as 'Five Quarter' boards. Furthermore, there are other thicknesses of deck boards, including 0.75-inches or 'Four Quarter' boards and 1.5-inches or 'Eight Quarter' boards.
When it comes to thickness, decking boards mainly have 3 variations. These are 0.75-inches. 1-inch and 1.5-inches. However, the most commonly used standard deck boards are 1-inch thick.
Different thicknesses of deck boards:
As we have already mentioned, deck boards have a variety of thicknesses. Based on these different thicknesses, deck boards can be classified into some types. Most commonly, there are three different types. These are discussed below:
Four Quarter:
These boards are often called four-quarter boards due to their nominal thickness of 3/4-inch. Their actual thickness is usually 0.75-inch. They are pretty thin, and they are not always the best option as deck board.
Five Quarter:
The nominal thickness of these boards is 5/4-inch. That is why they are called five-quarter boards. Their actual thickness is 1-inch. These boards are the most popularly used deck boards.
Due to their balanced thickness, they are quite strong and can bear a good amount of loads. Additionally, they require the standard 16-inch spaced joists.
Eight Quarter:
These boards' actual thickness is 1.5-inches. They are thick and quite heavy. Due to their extra thickness, they are very strong as well. They can span a lot more than five-quarter boards without joists.
They are often used in broad walkways.
How thick are these deck boards?
As there are different types of deck boards in the market, they have differences in them. They differ in terms of their quality, material, and dimensions. Below is a list of thicknesses of different types of deck boards:
Composite deck boards:
These deck boards are usually 1-inch thick. They are the standard five-quarter boards. Brands like Fiberon and Deckorators make 1-inch thick composite boards.
Trex deck boards:
Trex deck boards come in multiple thicknesses. However, the thickness of all their boards is between 0.75-inches to 2-inches.
Cedar deck boards:
Cedarwood decking boards mostly come in 1-inch thickness. They are firm are strong.
Treated deck boards:
Treated decking boards usually have a thickness between 1-inch to 1.5-inches.
Azek deck boards:
Decking boards from Azek are usually a bit thicker. They have a thickness of 1.5-inches.
What size boards are best for decking?
Like width, the thickness of a board plays a vital role in decking. That is why choosing the right thickness of the board is as important as choosing the correct width. However, this procedure is a bit confusing sometimes.
In terms of the width, 6-in wide boards are the best choice with an actual thickness of 1-in, often called 5/4-in thick boards. Boards that are 4-in wide take longer to install, and they also require more fasteners while the 8-in wide boards are prone to breaking.
While buying the boards for your deck, try to buy them according to the full length of your deck. It will help you to avoid problems like butting of boards end to end. Also, try to avoid boards that are 3/4-in thick. These will give a wimpy feeling while walking over them.
So, the best size boards for decking are 6-in wide, whose thickness is 5/4-in, and which run the full length of your deck.
Is thicker decking better?
Thickness is an important factor when it comes to deck boards. Generally speaking, the thicker a wooden board gets, the stronger it becomes. In that sense, thicker boards are, without a doubt, a better option for decking.
Although, as per the general rule of thumb, thicker deckings are better, there are some other factors that you should take into consideration while choosing the deck thickness. The most crucial factor here is the load. It would be best if you calculated the expected load on your deck before deciding the thickness.
Thicker deckings require fewer joists, or they can span longer without any support. Thus, thicker saves the cost of joists. Therefore thicker decking is better than usual. In addition to that, thicker decking can also bear more loads which is an essential factor for decks.
Final thoughts:
Deck boards, on average, are 6-inches wide, while the most common thicknesses that accompany this width is 1-inch. Furthermore, deck boards also have other thickness options that include 0.75-inch and 1.5-inches. Deck boards also come in 4-inches and 8-inches width options.
I am an architect with over 5 years of experience in the design and installation of interior and exterior design projects. I have also been a home improvement expert for many years, so I know how to improve your home's look and feel. I would love to help you build the perfect home for your family!
Read more about the author here.