Before buying a nightstand, you should decide on its width, height, depth, storage, and style. The line "One-size fits all" definitely does not apply to nightstands. This is why making sure your nightstand has the correct dimensions is crucial.
How wide should a nightstand be?
There is no fixed width. The width depends on the size of the bed. Nightstands have a width range from around 11 to 40 inches. Nightstands for small beds such as twin-sized beds are usually 18 to 22 inches wide whereas the ones for larger beds such as King are as wide as 25 to 27 inches.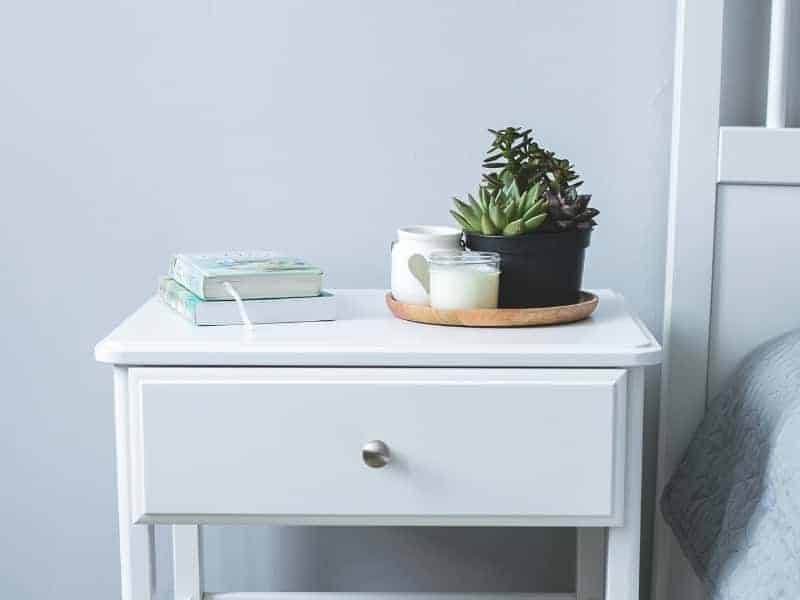 How wide is a standard nightstand?
Standard nightstands are 20 inches wide. They can be as wide as 40 inches for bigger bedrooms. Smaller nightstands should be used in bedrooms that are small and have smaller beds. These are the standard dimensions for a nightstand.
| | | |
| --- | --- | --- |
| Width | Height | Depth |
| 20 inches | 20 inches | 20 inches |
How wide should a nightstand be for a king bed?
A standard king-sized bed is 76 inches wide. This is why a wide nightstand is required for a king-sized bed to balance the room. A nightstand for a king bed can be around 25 inches to 40 inches wide.
The size of the room and space in the room available should be considered. Wider nightstands are better for larger bedrooms with large beds.
How wide should a nightstand be for a queen bed?
Queen sized beds are generally 60 inches wide which is why the nightstand should be at least 22 inches wide for the symmetry of the room. 23 inches to 27 inches is the ideal width for a nightstand next to a queen bed.
Moreover, a common mistake is buying a nightstand that looks too compact next to a queen bed. Your bedroom should at least be 10 by 10 feet in size for the furniture and queen bed to fit in nicely. If you have a larger bedroom then going for a wider nightstand is recommended.
What size should a nightstand be?
The size of your nightstand depends on the size of your bed, the size of your bedroom, the amount of space you have in your room, and the other furniture in your room.
| | | | |
| --- | --- | --- | --- |
| Type of Bed | Standard size of Bed | Suggested Nightstand Height | Suggested Nightstand Width |
| Cribs | 28 inches wide and 52 inches long | 17 inches | 25 inches |
| Bunk Beds | 30 inches wide and 75 inches long | 18 inches | 20 inches |
| Twin Beds | 39 inches wide and 75 inches long | 22 inches | 20 inches |
| Double Size Bed | 54 inches wide and 75 inches long | 25 inches | 22 inches |
| Queen Size Bed | 60 inches wide and 80 inches long | 32 inches | 22 to 25 inches |
| King Size Bed | 76 inches wide and 80 inches long | 35 inches | 25 to 27 inches |
| California King Bed | 72 inches wide and 84 inches long | 40 inches | 28 to 32 inches. |
These are just estimations and can vary depending on the height of your bed and the size of your room. If your bed has additional height or box springs, your nightstand should be higher.
The size of your nightstand can be smaller as long as it works well with the room.
Besides this, don't buy nightstands that have too much depth because you'll end up bruising yourself when you get in and out of bed.
Various sizes are available starting as low as 11 inches tall. If you still can't find the size you want then you can order a customized one according to the measurements of your bed and room. (Note: way more expensive than readymade nightstands). You can also adjust the height of your nightstand if it's short for your bed.
How do you know what size nightstand to buy?
Your nightstand should be around the same level as your bed. Most beds work well with nightstands that are 20 inches wide and 20 inches tall. But smaller sizes are required for small beds such as twin.
If your bed is very large, your nightstand should also be large in order to make it look proportionate next to each other. It should not overwhelm the space though.
Before committing to a nightstand, figure out which size is right for you. To find out, you will need the height from the floor to bed, the amount of space available in your room, your bed type, and what other furniture is in your room.
Your nightstand should be wide enough to fit your items. This is why check the surface area as well. Is it wide enough to support your lamp and accessories?
You should have enough space to walk around your bed, your nightstand should not block that. If you have too much furniture in your room, do not purchase a large nightstand.
If you don't buy the correct nightstand size, chances are that it can make your room look cramped, empty and unbalanced too.
To get an accurate height measurement, measure the height from the floor to the top of the mattress. You can do this easily using a measuring tape. Your nightstand should level with that.
How big should nightstands be for a king bed?
They can be as big as 40 inches in height and the width would be around 25 to 40 inches. The suggested height would be 36 inches. Generally, bigger nightstands are suited for king beds. Bigger sizes can be needed if you have a California king bed.
However, if your large bed takes up most of the space in your bedroom, you should go for a smaller nightstand.
This is why before purchasing a nightstand, think about how it will look next to your bed. Will it look too big? Too small? Picture it in your head.
How to choose a nightstand for a small bedroom?
Smaller nightstands are better for smaller bedrooms so that the nightstand doesn't take up too much space. Or else it will look vast next to the bed. Even if your room is very small, you can still find nightstands that are small enough to fit next to your bed.
The suggested height for small bedrooms is 17 to 18 inches and the width shouldn't be more than 25 inches. The height should be a few inches less or more than the measured height from the floor to the top of the mattress.
Depth more than 24 inches will make it hard for you to get in and out of your bed. Large nightstands in a small bedroom will make your bedroom look cramped. This is why go for vintage, stylish and compact nightstands.
If the nightstands are still too large for your bedroom, you can just use end tables instead. They tend to be smaller in size and have a lot of similar functions as a nightstand.
How many inches should a nightstand be from the bed?
Your nightstand should be close to your bed and not more than 6 inches. If it's too far, you won't be able to access your nightstand. The gap between the nightstand and bed will also look odd.
2 to 3 inches away from the bed would be the ideal distance for your nightstand.
However, make sure your nightstand is not brushing up with the bed or else your bed sheets will constantly get suck in between your nightstand and bed. And you might even bump into it while getting out of your bed if it's too close.
If your nightstand is only kept as a decorative item in your bedroom then the distance from the bed is not important. Just make sure it does not look too squeezed in with your bed and nor too far.
How to balance a bedroom with only one nightstand?
Most traditional nightstands come in pairs. A lot of designers have set the misconception in our heads that we need two nightstands for the symmetry and balance of the room. But don't worry because having only one nightstand is enough to transform your room.
For balancing your room with only one nightstand, you need to make sure that both sides of the bed look equal. Add a couch to the other side or something else to fill up the space of the other nightstand. You can also jazz it up with a plant!
By having only one nightstand, you are saving space in your room and won't look confined with too much furniture. You can change the vibe of your room by adding different furniture such as an end table or a hanging shelf.
You might be thinking of getting a second nightstand if you share your room with someone. This mostly happens because of the lack of storage. If you really need more space, just attach another drawer to your existing nightstand for your partner.
How to pair nightstands with the bed?
Plenty of nightstands come in pairs with the bed. If you're purchasing them individually, it's better to mix and match properly. Matching your bed and nightstand is so old-fashioned!
Try something new. Mix up the colors. If your bed frame is black then buy a white nightstand. You can find images of various combinations of nightstands paired with the bed. You can keep the texture the same for common ground and balance.
Although, the dimensions are very important. You should always check the height of the nightstand with your bed before buying it. It should not be too short or higher than your bed.
The rule is: the larger the bed, the larger the nightstand. (And vice versa)
Now you can know which size nightstand is right for YOU!
Frequently Asked Questions:
Are Mirrored Nightstands In Style?
What to Do if Your Nightstand is Too Low?
What is The Best Lamp Size for a Nightstand?
What Is The Best Nightstand Size for a King Bed?
Can Nightstands be Used as End Tables?
I am an architect with over 5 years of experience in the design and installation of interior and exterior design projects. I have also been a home improvement expert for many years, so I know how to improve your home's look and feel. I would love to help you build the perfect home for your family!
Read more about the author here.