If you have recently upgraded your mattress, your old nightstand might not sync well with your new bed size.
You are probably facing complications reaching your accessories down below your bed while laying down. And it also looks odd with your new bed size. Hence, you are willing to make your nightstand taller.
How to make a nightstand taller?
You can make a nightstand taller by adding an extra shelf on top of your nightstand. It requires you to remove the top, place an extra shelf, and then settle the original top. Or you can just simply add four wooden legs on the base of your nightstand with a screw and paint it with primer.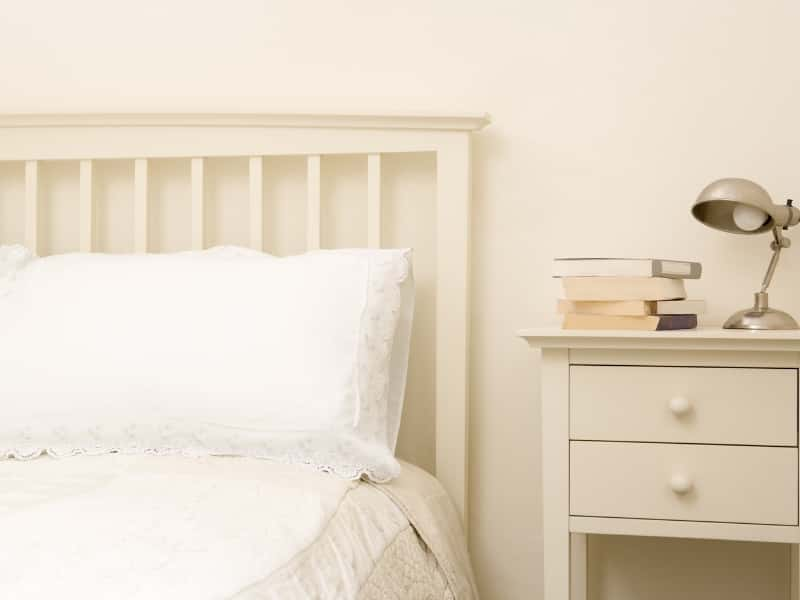 How do you raise the height of a nightstand?
You can raise the height of a nightstand by yourself at home by following simple guidelines.
Necessary materials-
Measuring tape
Hacksaw
Hammer
Electric drill machine
Wood glue
Paint
Primer
Nails
Contact paper
Seven easy steps to raise the height of a nightstand:
Measuring the size:
Measure exactly how much you want to raise your nightstand height to use comfortably or align it with your bed's size. A raise of 6-10 inches is considered okay for your DIY nightstand height raise. Take measurements of the length and width of your nightstand.
Removal of the top:
Unscrew the top of the nightstand and take it out. The top and front part of your furniture tend to be more furnished and polished. Hence, place it somewhere safe to reuse it on top after raising the height.
Construction of the top shelf:
Now, select a design of your own to shape the top shelf. You may design it as 'L' or 'U' or as usual square-shaped according to your preferences whether you use it to put laptops, books, lamps, or coffee. Drill the boards and attach them with wood glue.
You now have a three-sided box if you made it 'U' shaped or a vertically long box attaching to a small horizontal box in case of 'L' shaped shelf.
Nailing the shelves together:
Drill holes with the drilling machine on top of your nightstand and new shelf. Use wood glue beforehand on both so that they stick together. Now screw the new frame with nails on top of the nightstand.
Painting with primer:
It is a crucial part to seal the wood with a primer. Paint the whole shelf with primer to give it a polished look. It works as a protective shield to your furniture too.
If you wish, you may use the contact paper. But you will need to prime it as well.
Addition of the initial top:
Now take the original top. Apply wood glue on it and the shelf. Put the lid on the shelf with caution so that they coordinate with each other.
Apply steady pressure and let it dry. If you are good with screwing from angles, then drill the shelf and screw it off. Or you can drill and insert screws in an upright position.
Finishing paint:
Your new taller nightstand is almost ready. Paint it with your desired color that matches your bed or mattress to give it a professional, smooth look. Let it dry overnight.
How to make a MALM nightstand from IKEA taller?
You can make your MALM nightstand from IKEA taller by attaching four new wooden legs of your desired height in the four corners of your nightstand. You can avail of these legs from any local hardware shop.
Turn the nightstand upside down. Drill the corners where you will fix the legs. Make sure you drill in the centre. Take a pencil and mark the centre points on the legs. And drill holes with the electric drilling machine.
Insert tee nuts over the drilled holes on the nightstand. Gently tap it with a hammer to give it a tight fit.
Take screws that have bolts on both ends, such as hanger bolts. The measure of the drill holes should be half the length of the hanger bolts. Insert the hanger bolts into the wooden legs.
Now carefully tuck the hanger bolts into the tee nuts on each corner of the nightstand. Keep screwing the bolts until it is tight enough.
You can paint the legs with primer to match the color of your nightstand. Let it dry overnight.
Flip your nightstand. Your nightstand is now ready.
How to add legs to a nightstand?
Adding legs to a nightstand is pretty simple. You can add legs to your nightstand by following some easy steps.
Five simple steps to add legs to a nightstand:
Step 1:
Collect or buy wood pieces to add to your nightstand. You can find them in any hardware store or make them from large wooden amounts by yourself.
Step 2:
Pre-drill your wooden legs at the centre by measuring with a pencil. Ensure the depth aligns with the length of the screws.
Step 3:
Flip your nightstand upside down. Drill at the four corners of the nightstand. Adjust a mending plate or tee nut on the drilled spot. Knock it firmly with a hammer.
Step 4:
Place the screws with two ended bolts in the centre of the four legs. Tuck in the screw on the mending plates on the nightstand base.
Step 5:
Screw in the bolts and make it tight so that the legs are fixed and hold the weight of the nightstand. Now turn your nightstand upright. Ensure if the legs are even.
Why are nightstands so short?
Nightstands are meant to provide you with some useful functions as well as to maintain the style of your bedroom.
Traditional or old beds were not as tall as today's beds' cause of much thinner mattresses. So nightstands were made short of matching your bed's height so that they occupy a little space in your bedroom while supporting you in keeping your important things close to your bed.
With time, you've upgraded your bed with a thicker and comfortable mattress. Which eventually increased the height of your bed. So it would be best if you had a new nightstand or make it taller to match your bed's size.
What is the proper height for a nightstand?
The proper height for a nightstand is 24-28 inches, considering the average size of a bed or mattress, which is 25 inch.
It is best if your nightstand is of the same height as your mattress. This way you can reach up to your necessary things like books, laptop, spectacles, coffee at ease.
But it is also okay if your nightstand is 27″ in height and your mattress is 25 inch because it is much easier to reach for things above than below while lying down.
However, there is no exact height for a nightstand. Since its peak should match your mattress's size for easy access to your pieces of stuff, always measure your mattress's height from the floor before buying a nightstand. You can also mix and match the height of two or more nightstands and give it a fresh and modern look.
Should nightstands be taller than the bed or mattress?
Nightstands can be slightly taller than a bed or mattress. You will easily be able to grab your coffee or book if your nightstand is 2-4″ taller than your bed. However, you will face difficulties if your nightstand is more elevated than that height.
Nevertheless, the best height of your nightstand is the same height as your bed or mattress. You will be fine as long as your nightstand is 2-4 inch taller than your mattress, but nightstands shorter than your bed or mattress can be a hassle.
How tall should lamps be on a nightstand?
The ideal size of lamps is to be of the same height as the nightstand. It will still look fine if the lamp is a couple of inches taller than that.
Suppose your nightstand is 24 inches, then your lamp should be between 24-27 inches in height. That height should be enough to provide adequate light to read or work. This way, the light will not directly reflect in your eyes.
Try setting the switch of your lamp near your bed to avoid the hassle of getting out of bed whenever you want to switch it on or off. The most convenient length of the switch is around 21-28 inches, the same as the length of your arms.
Read more about What is The Best Lamp Size for a Nightstand?
Where to place the lamp on a nightstand?
Place the lamp against the wall on a nightstand leaving space for your small accessories in front. You can place it on the side adjacent to the bed if you want to read a book or work. Or you can leave it on the other side and set down your essential items nearer your bed.
Ensure that the size of your lamp is not too small or too big. A more oversized lamp will occupy most of the space and make it look stuffed. A medium-sized lamp will allow you to put the essential gadgets near you and organize your nightstand with style.
The nightstand is small but much-needed furniture in your bedroom. It will provide you with its excellent functionality and enhance the beauty if you can choose the right nightstand considering your bed's shape and size.
Frequently Asked Questions:
How Much Does a Nightstand Weigh?
Do Nightstands Need to Match The Bed?
Do Nightstands Have to Match the Dresser?
Does a Nightstand Have to Be Next to The Bed?
I am an architect with over 5 years of experience in the design and installation of interior and exterior design projects. I have also been a home improvement expert for many years, so I know how to improve your home's look and feel. I would love to help you build the perfect home for your family!
Read more about the author here.