Specifications:
4,274 Sq Ft
3 Beds
3.5 Baths
2 Stories
3 Cars
Hello there, fellow home enthusiasts!
I can't contain my excitement today, because I'm going to walk you through a house plan that screams modern luxury with a heartwarming farmhouse touch.
Hold onto your hats, because this isn't your grandma's farmhouse.
Let's dive in!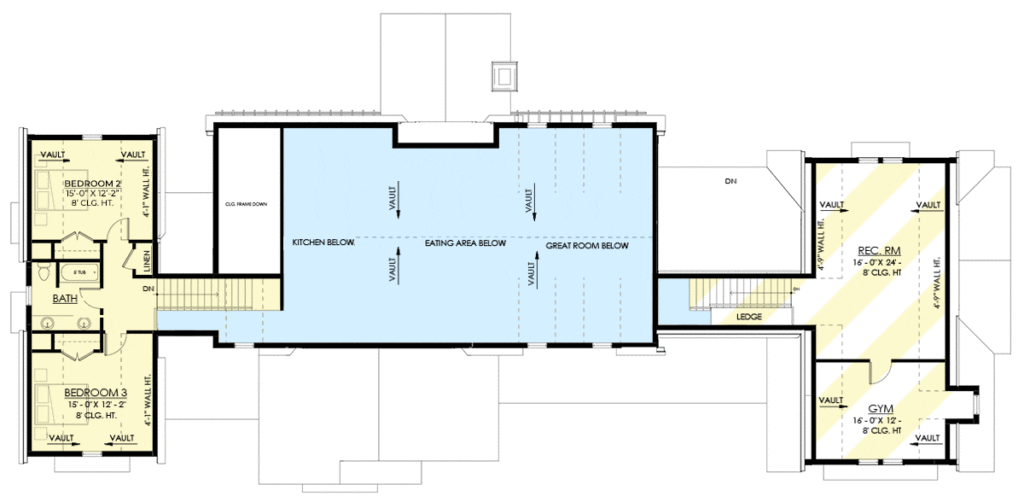 Welcome to a dream home that packs a generous 4,274 square feet into a thoughtfully designed two-story package. This house's motto? No room for boredom with 3 bedrooms, 3.5 bathrooms, a three-car garage, and oodles of extra features. Are you rubbing your eyes in disbelief? I was, too.
Right from the get-go, this house has a commanding exterior that blends rustic charm with sleek modern lines. Stone accents? Check. Board and batten siding? Check. A sign on the front lawn saying, "Yes, this is the coolest house on the block"? Well, that's not included, but trust me, you won't need it.
Inside, your jaw might just drop. The living area is graced by a cathedral ceiling that's so high you'd swear it's trying to reach the heavens.
Seriously, my neck hurts just thinking about looking up at it! As if this wasn't enough, there's a fireplace on the right wall that could make any winter night feel like a cozy dream.
And then there's the kitchen. Oh, the kitchen. It's so well-equipped you might start looking for a show on the Food Network.
There's a prep island with a bar sink, a pantry that can fit all your guilty snacks, a family computer area, and a large range that's ready to cater to your culinary experiments. Any foodie's fantasy, right?
On your way to the master bedroom, you'll pass a study, or flex space, perfect for that home office or craft room you've always wanted. The master bedroom itself is a paradise. French doors open to a private covered porch where morning coffees transform into serene rituals.
And let's talk about the barn doors opening to a 5-fixture master bath with a freestanding tub. If that's not the epitome of farmhouse luxury, I don't know what is.
But wait, there's more! Remember that triple garage? It's more than just a space for your cars. It opens up to a roomy mudroom, an adjacent powder bath, and laundry room.
There's even a staircase leading to a sizable recreation room and home gym above the garage. Who needs a fitness membership when you have this setup?
A second staircase (because one is too mainstream) near the kitchen takes you to bedrooms 2 and 3, separated by a 4-fixture bathroom. Did I say this place was generously equipped, or what?
This modern farmhouse plan doesn't just tick all the boxes—it creates new ones and ticks those too. It's a heady blend of design finesse and practicality, laid out with such elegance that it demands appreciation. And if you're anything like me, the appreciation is mixed with a healthy dose of house envy.
Well, a guy can dream, right? So, for now, let's keep dreaming about our dream homes, because, in the world of architecture, the sky (or should I say cathedral ceiling?) is truly the limit.
Plan 270038AF