Floor wax is a kind of liquid chemical that is used to make extra layers of coating on the floor. It gives the floor shine, glaze, extra hardness while ensuring resistance in slipping and scuffing. It even protects the floor from any kind of damage caused by liquid.
People back in 1940 started using wax on the floor vastly in desire of luxury and classy looking interiors while giving extra strength to the floors.
However, not all kinds of flooring work well with waxing. There are some floor kinds that don't require waxing also, it can sometimes even be harmful to their longevity.
It means waxing can even be contradictory to some particular floor kind. Such as vinyl flooring, vinyl plank flooring, laminate flooring etcetera.
Can You Wax Vinyl Plank Flooring?
You cannot wax vinyl plank flooring. The materials that the vinyl planks are made of such as synthetic material or even the print on the planks don't go well with the wax chemicals. This is why waxing can really cause damage to your vinyl plank flooring.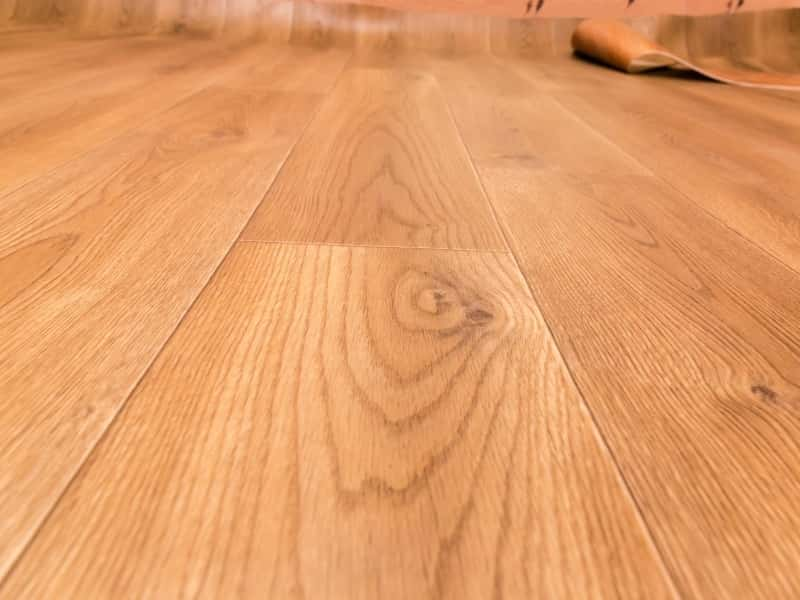 Waxing may be very easy and profitable in cases where you're having to renovate or in order to add to your home value because it does both. However, it's not for your home if your home has vinyl plank flooring.
To understand the reason the first thing you need to acknowledge is that the material your vinyl plank flooring is made of.
The vinyl plank flooring is made of synthetic stuff which is made by combining polyvinyl chloride resins, calcium carbonate, plasticizers, fungicide, white pigments and UV stabilizers.
The combining process is just heating these elements together and pressuring them to form into a synthetic structure.
Because of how the vinyl planks are structured, you shouldn't anticipate the initiative to wax your floor. Since-
Vinyl planks come with a subtle factory finish which is why they don't need any more layers of perfection aka wax.
Vinyl materials have a kind of liquid impermeable finish that won't allow the liquid wax to be absorbed which will lead to unevenness.
Sometimes, the wax chemicals can be relative to the synthetic element of the vinyl planks and it can really spoil the print on it and make it look dull.
How To Strip And Wax Vinyl Floors?
Stripping the floors is a necessity after years of use when there is dust, debris, old wax, or soil found on the floor. Stripping is the initial process and then it usually leads to waxing as well as putting layers on the floors.
However, as you cannot really use wax on the vinyl floors, you'll need to use thin liquid kinds of waxes or the liquid acrylic floor polishes that aren't harmful to your vinyl flooring.
Also, stripping requires professional help because it isn't easy to get rid of old polish or wax. The chemicals that are used in such, needs to be rightly proportioned. So, it's better if you get help from cleaning agents.
Steps to how to strip and wax vinyl floors-
Clear out the room by removing every piece of furniture and anything extra.
Mop the room using ammonia-free light cleaner and keep mopping smoothly till the old wax or any visible substance starts coming out.
Now, use stripping pads to wipe off the extra liquid on the floor and wipe it smooth.
Use an auto-scrubber or a stripping machine at low speed to scrub the floor gently and perfectly.
Use a razor scraper or a doodlebug with a dominator pad for the stubborn areas.
If need be, reapply the stripper and repeat mopping.
Now, using a vacuum motor, pick up all the liquid with the help of an auto-scrubber.
Let the floor completely dry.
Now apply the liquid acrylic polish or a thin coat of wax with a microfiber finish application pad so that it doesn't leave any area to be coated.
That's it! Now leave it to dry naturally and you're good to go! 
What Is No-Wax Vinyl Flooring?
No-wax vinyl flooring is the kind of process where the liquid acrylic polish or the urethane finish is applied.
These work just the same as the wax in case of shining and glazing but the only difference is that the acrylic polish or the urethane finish is not thick and not harmful to the vinyl material. It's only used to give the floor extra shine and that's it!
What Happens If You Wax A No-Wax Floor?
A no-wax floor is a floor on which you cannot put wax. This is so because the wax doesn't go well with the no-wax floors as it starts reacting otherwise.
So, if you however put wax on your no-wax floor, you'll get streaks and there's a huge possibility that you cannot get rid of this.
In such a case, you may need to change the entire flooring which will cost you more. So, be cautious and never wax a no-wax floor.
How Can I Shine My Vinyl Floor Without Waxing?
Vinyl floors don't need waxing. Rather, it's better if you don't wax your vinyl floor. However, if you don't want to add any chemicals but still want it to shine, all you need is oil.
So, follow these steps and learn how to shine your vinyl floor without waxing and with home remedies.
Take a bucket half-filled with water because the water never messes with the vinyl materials.
Add a few drops of dishwashing soap with the water and mix these well.
Now take a mop and dip it into the soap-water mixture and wipe off the dust and the dirt from the floor.
After cleaning, now take a gallon of hot water.
Take a cup full of apple cider vinegar and mix it with the hot water to disinfect the floor.
To add shine, add a few drops of baby oil with the vinegar-water solution.
Wipe your floor twice or thrice a week with this oil-vinegar-water mixture regularly.
Following these steps will help you have a shiny vinyl floor without having to apply any harmful chemicals. To keep the shine on your floor, you'll need to do this process regularly.
What Should You Not Use On Vinyl Plank Flooring?
Vinyl plank flooring is sensitive to a lot of cleaning products out there in the market. These can really harm the quality of the vinyl material and make it unusable in the long run. So, here are the things you should not use on vinyl plank flooring-
Never Use Ammonia-Based Solutions To Clean
Ammonia is a harsh chemical used in floor cleaning liquids. As vinyl flooring is sensitive to harsh chemicals, it'll get spoiled just at one touch of ammonia.
Don't Use Abrasive Brushes
Your vinyl floor may get stained. Never ever try to get the stain off with any abrasive brush because it'll only spoil the particular space instead of removing the stain.
Never Use A Rug Beater
There are stick-types that are used to hit on rugs and get off the dirt. These are called the rug beaters. Never use them on the vinyl floors.
Don't Use Rough Detergents
Rough detergents are used for tough stains. However, as the vinyl flooring is really sensitive to particular elements, remember never to use direct detergent on them.
Always try to use products that are either ph-neutral. Like water. You can also use vinegar although this is an acid.
But as only a small amount of vinegar is being mixed with a large amount of water before use, the pH is balanced and therefore it doesn't harm the vinyl materials. However, never use vinegar directly!
Is There A Clear Coat For Vinyl Flooring?
The urethane coat and even the thin acrylic liquid polish are the clear coats that can be used in vinyl flooring.
These only give off extra shine without adding any visible layer on the floor. These are easy to apply and extremely affordable to get.
Can Vinyl Flooring Be Coated?
Although vinyl flooring doesn't need to be coated, you can still coat your vinyl flooring with thin acrylic polish or urethane, or polyurethane. This helps seal off any pores or holes on the vinyl rug.
Can You Remove Scratches From Vinyl Plank Flooring?
You can remove scratches from vinyl plank flooring. You can hide it and this is a more likely statement. There are a bunch of steps aka techniques you need to follow if you want to get rid of the scratches from your vinyl floor.
Swipe off any dust from the designated scratched area.
Take p800 super fine sandpaper and slightly sand on the defective place. (p800 is a sup fine sandpaper that is used to buffer. So, it'll not harm much the other areas of the rag)
Now, take a little bit of car wax and wipe off any extra wax on any outer side. (A little bit of car wax will do your floor no harm)
Let the wax dry well and that's it!
The coating on vinyl floors requires a lot of study. So, it's better if you don't choose it yourself without knowing much because it can mess up the beauty of your home.
Frequently Asked Questions:
Can Vinyl Flooring be Used on Walls and Shower Walls?
Can Vinyl Flooring be Used Outdoors?
Can Vinyl Floors Be Refinished?
Can Vinyl Floors Be Steam Cleaned?