Rocking chairs are an excellent asset for homes with babies and older people. Irrespective of age, you can always enjoy a bit of rocking when you get bored or tired. Plus, rocking chairs are known for having decent health benefits, including burning calories.
Depending on what your rocking chair is made of, you will have to provide your attention in maintaining the rocking chair. So, naturally, the question comes up, can you wash rocking chair cushions? Today all your confusion will be sorted.
Can you wash rocking chair cushions?
Depending on the material, you should be able to wash your rocking chair cushions in various ways. Cushions can be washed using hands or the washing machine. If your rocking chair cushion has cover on it, washing just the cover or vacuuming is enough to clean it completely.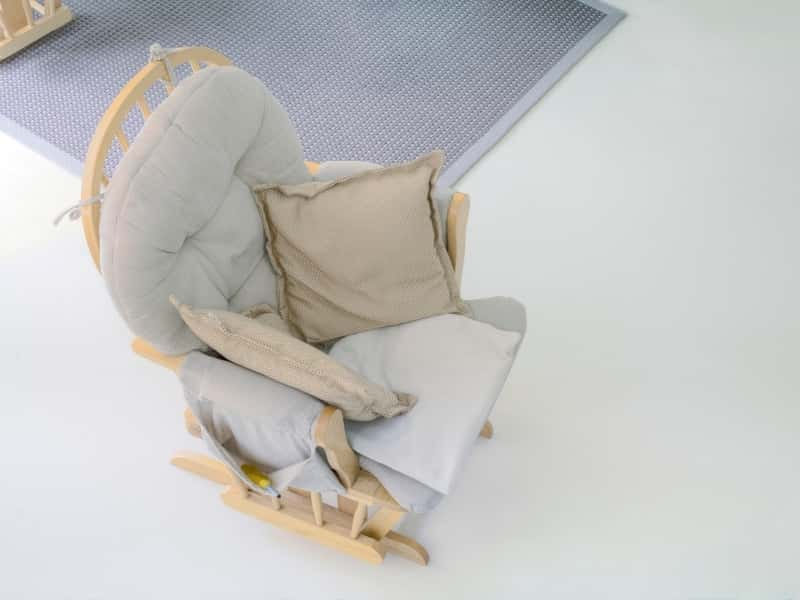 You simply need to spray your chair with a detachable cover with a removable stain remover and then put that into the washer. Your non-removable cushion coverings may be washed in your front-load washing machine without an agitator.
Every manufacturer provides the washing detail on the tag of the product. So, by inspecting the instructions, you'll be able to understand better how you should wash your rocking chair cushions.
Does washing damage rocking chair cushions?
Washing the rocking chair cushions doesn't damage it unless they are made of unique fabric and have exceptional upholstery. However, not every type of cushion is washable using a washing machine. In some instances, you are better off washing using your hands.
Until the coil fits into your washer and provides space to spin and stir, washing the rocking chair cushion in a washer is no issue. You may wish to avoid bleach but add a few cups of white vinegar to clean and destroy bacteria and germs.
Most pillows, including feathers, cotton-filled ones,  bottom, and fiber fills, can be washed using warm water on a gentle cycle in a washing machine.
Although reading the label for washing instructions is always a good idea. Your rocking chair cushions may require one of the uncommon types of cleaning.
How to clean cushions on rocking chairs?
Cleaning the cushions on the rocking chair isn't that complicated, but you will have to follow a few steps in order to get the best result. So let's take a look at how you can clean the cushions on your rocking chair.
Vacuum them:
Vacuum the cushions and move as far as possible into any cracks with the attachments to remove grains, dust, and other collected dirt. Make sure you thoroughly vacuum all cushion parts and don't leave any debris or crumbs out.
Wipe off the cushions using baby wipes:
Wipe off the seat covers of the rocking chair with baby wipes. They provide appropriate quantities of water and soap, but the wipe is soft, and moisture is quickly evaporated.
Although this is an unorthodox step, it helps get the best result from your cleaning process.
Mix cleaning elements:
Create a solution using a one-part dishwashing detergent with two-part hydrogen peroxide liquid in a spray container. Combine the solution without shaking too violently. By now, it should be ready for use.
Saturate the spots:
Saturate the stained spots on the glider and let the cleanser stay 5-10 minutes. Remove any surplus solution that may remain with a clean, moist towel on the cushion area.
Steam clean:
Steam clean the seat cushion upholstery using a steam cleaner. Steam cleaning removes dirt and grime apparent while the cloth is also sanitized, and allergens removed.
Following the entire process will keep the lifespan of your rocking chair cushions intact.
How do you clean rocking chair cushions that don't come off?
Rocking chair cushions that don't come off need to be cleaned by wiping. But you can't just wipe it with water and cloth as the stains won't come off that easily. To get the best results, you will have to create a solution first.
An easy method for eliminating unpleasant odors from a cushion cover is to prepare a solution consisting of equal parts water and baking soda.
Using a wet towel, wipe the paste off the affected region for 5-10 minutes, then repeat the process until the paste is completely gone from the area.
If you find it too confusing, you can get a similar solution from the store. But you will have to match your fabric with the cleaner. Otherwise, your rocking chair cushion may get damaged.
How do you get stains out of a rocking chair?
Maintaining a rocking chair isn't as difficult as it may seem. Having a brief idea about what products to use and how to use them is more than enough to get the stains out of a rocking chair. Here's a list of ways that you can follow to get the stains out.
Vacuuming the surface:
There may be corners on the chair, where more dirt and grime tend to accumulate depending on how it is designed.
When vacuuming, pay close attention to these areas since this is the sole step intended to remove the accumulation of dust and debris. When vacuuming fabric chairs, use an upholstered attachment to get the job done quickly and effectively.
If you don't have access to it, a clean, small brush attachment is the next best thing to have. Vacuuming the surface will enable you to get the stains out thoroughly.
Figuring out the stain type:
It is essential to determine the kind of stain(s) you have to deal with before you try to clean stains from your chairs.
Most light stains, using a mixture of white vinegar, baking soda, and water, can be removed, and persistent stains need the use of a specifically designed solution suitable for the fabrication.
If you still have colored-stains by the end of the cleaning procedure, you need to use a more robust solution.
Homemade mixture:
Combine water and white vinegar in equal parts (2 cups each), add baking soda (1tbs) and whisk thoroughly.
Shake the spray container vigorously to ensure that the contents are well mixed. A damp microfiber cloth should be used to remove stains from upholstery.
The stain/discoloration should be lifting off the fabric. Before moving on to the next step, use this technique to spot clean any parts of your upholstered chairs.
Scrubbing (if required):
If your stains are still there, you will have to scrub the chair using other mixtures. To clean and refresh your rocking chair cushions, use an environmentally friendly detergents cleaning solution.
One teaspoon of liquid laundry detergent in 1-liter water makes a reasonable cleaning solution.
To prevent soaking the fabric while thoroughly cleaning your rocking chair, you should use a wet and wrung microfibre cloth. Gently rub the stained surface until it comes off and rinse off the dirt in between.
Rinsing:
Take a clean wet towel and wipe over the tapestry to clear the cleaning solution. Rinse the cloth every now and again, and wipe the material till you no longer feel a soapy trace on the area. 
Touching up the wood:
For the wooden parts of your rocking chair, you can repaint the parts of the chair where there's a stain.
Spray painting, burnishing are some of the options you have. Usually, the wood stains are easily removable using dish soap, but you can always repaint the rocking chair for heavier stains.
Can you machine wash rocking chair cushions?
It is not a problem to wash a rocking chair cushion in a washing machine as long as the cushion slots in your washer, and there is enough space for it to agitate and spin out.
By washing your rocking chair cushions in the washing machine, you can be sure that the water and detergent will be distributed evenly all through the cushion and that it will be clean on both the outside and the inside.
You may want to avoid using bleach, but you can use a few cups of vinegar to clean the area more thoroughly and to kill mold and mildew at the same time.
Before using the washing machine, always remember to check the tag of your rocking chair cushions.
How to wash rocking chair cushions in the washer?
Use a mild detergent and a gentle cycle in cool water to clean it. To avoid tangles, make sure the lid is closed before putting it in the washer. However, many folks tend to put the cover back on the cushions while it's still wet rather than drying them on a clothesline.
This is because certain textiles will shrink even if they are not dried. You may get a tight fit if you let the cushion cover dry on the cushion. Before putting the cushions on the rocking chair, make sure it is fully dry.
How to clean outdoor rocking chairs?
Any furniture needs to be regularly cleaned to eliminate dirt, dust and blemishes, and other deposits, such as pollen, tree sap, or bird droppings.
Start by cleaning the furnishings with a cloth or broom, then use a gentle bristle brush with water and a light soap solution to usually clear lingering residues.
What makes a rocking chair comfortable?
A hardwood seat and backrest may start feeling somewhat challenging if you sit long enough on the chair. Add the cushioned padding to the seat and back to make your rocking chair more comfortable.
Rocking chair cushions are available in many colors and designs, making it simple to choose an option that matches your chair's color. You may buy separate seat and back coverings or a long pad covering both regions.
Final Thoughts:
To sum it all up, you should be able to wash your rocking chair cushions in various methods depending on the material. Cushions can be cleaned by hands or by a washing machine. If your rocking chair has coverings, cleaning the cover or vacuuming is sufficient to clean it thoroughly.
Frequently Asked Questions:
Are Rocking Chairs Good or Bad for Your Back?
Can a Rocking Chair Rock on the Carpet?
Do Rocking Chairs Burn Calories?