Some vinyl floors look better than hardwood and ceramic. But what's important for bathroom floors is whether vinyl floors are waterproof and can be used in bathrooms at all?
Can vinyl floors be used in bathrooms & showers?
Vinyl plank flooring can be used in bathrooms and showers as it is durable and water-resistant. Some vinyl floorings, like the WPC, SPC, or LVT, are completely waterproof and make for the best bathroom floors. These floorings are made in layers, with the top layer having vinyl and wear cover.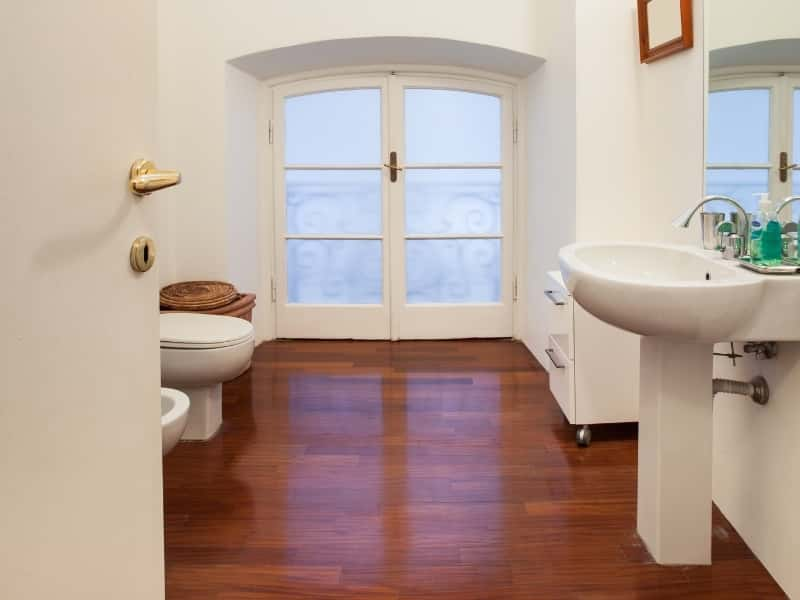 Vinyl floors can be used in environments that are humid and have moisture. Due to the upper protective wear layer and the rigid core of the flooring material, most plank flooring made of vinyl is extremely long lasting and does not bulge, warp, or crap from water absorption.
What are the advantages and disadvantages of using Vinyl flooring in the bathroom?
It is always wise to get familiar with the kind of flooring you intend to get and one way of doing so is by knowing its pros and cons. Here are the advantages and disadvantages of having vinyl flooring:
Advantages:
Moisture resistant:
As we know vinyl flooring, at its core, is made with polyvinyl chloride or PVC, which is a synthetic plastic polymer that has a range of rigidity variations, from very rigid to flexible.
One of the biggest benefits of using vinyl in the bathroom, kitchen, or even laundry flooring is its water-resistant properties. Unlike hardwood flooring, your vinyl floor does not warm or crack for water absorption.
Stain resistant:
Some vinyl floors like tiles and vinyl sheet flooring are designed in such a way that the flooring will have an upper layer of protective film. This makes the floor become immune to permanent spill marks.
Even if you get stains on the floor, it is quite easy to clean off the marks. However, the same is not true for solid vinyl, for which you'd have to consider polishing the floor instead.
Long lasting:
If you live in an active home full of kids and pets, your flooring would have to take a lot of abuse. In a bathroom, the same is true as it is constants subjected to heat and moisture. 
For that, vinyl flooring has been proven to last years if maintained and installed properly. What makes it even better is how vinyl flooring requires little to no maintenance at all, just occasional mopping always suffice.
Design variations:
One of the reasons why vinyl flooring is so popular is the range of styles, textures, and colors one is able to choose from if they want it for their bathrooms.
With better technology of manufacturing, vinyl floorings can match just about any bathroom, having both clarity and quality. 
Budget friendly:
Some vinyl flooring options like sheet floors are one of the most affordable quality options available in the market. 
One of the reasons why vinyl sheets are so cheap is due to their wide availability and production style. These sheets are manufactured in bulks, making them more affordable than other floor materials.
Disadvantages:
Colour Loss:
If your bathroom receives a lot of sunlight, your vinyl floor might get discolored in the long run. Sometimes, the vinyl flooring in the area where heat and moisture are high, turn yellowish. 
Although the upper film of protection can delay the discoloration, you might have to go for higher end vinyl flooring to avoid this. 
Challenge to repair:
In case of some hard damage like a deep crack of long scratch, it can become difficult to renew the flooring of the part. 
Cracks and scratches also make the vinyl flooring susceptible to further water damages in the bathroom. Even if you repair it, the look of the seamless flooring might get ruined.
Is waterproof vinyl flooring good for bathrooms?
Waterproof vinyl flooring such as WPC or SPC is one of the best options for flooring in bathrooms. Such vinyl flooring has a stone polymer base, with surface protection on top.
They can also replace hardwood because they range on the more rigid floor option and is both scratch and moisture resilient. This makes waterproof vinyl flooring more durable.
Is luxury vinyl good for the bathroom?
Luxury vinyl or LVT is a great option to be used in hot and humid bathrooms as they are 100% waterproof. Other than being extremely easy to cut, move and install, luxury vinyl flooring retains some heat, and remains close to room temperature.
Luxury vinyl is more expensive in the range of other vinyl-based flooring but its variation in style options and comfort exceeds expectations, even in the most humid of bathrooms.
What type of vinyl flooring is best for the bathroom?
From the selections of vinyl floorings, rigid core, waterproof WPC or SPC are the best options for bathroom floors. WPC stands for Wood-Plastic Composite while SPC stands for Stone-Polymer Core.
Such vinyl floorings are both resilient to humidity, moisture and are comfortable to walk on. Thanks to the plank composition that includes 2 layers. The base is often made of foam or cork that enhances comfort while walking.
The core, being the next layer, is made with stone, wood composites that are damage resistant and durable. The top layers include a vinyl layer and a protective film layer.
If you are thinking of going high end and want to spend a little, luxury vinyl is also great for bathrooms due to its high-water hardness properties.
Commonly referred to as LVP, or Luxury vinyl plank, is also a composition of layers, with the base layer being made with a backer board which is completely pinned to the ground using resin.
While the core is more rigid, the upper layers include vinyl and wear layers. In LVP, the wear layer plays a significant role in making the flooring strong against water threats, and thus includes wear layers that are up to 30mm in thickness.
Is vinyl or laminate better for the bathroom?
Although both vinyl and laminate flooring have their own benefits and downsides, vinyl flooring is better for any areas where there are high levels of moisture and heat, including a bathroom.
This is simply because vinyl flooring is more water resistant, and has better waterproof options than laminate floors. Although laminate floors are highly stain resistant, due to the aluminum oxide layer, they are also more susceptible to getting damaged when in contact with water.
As laminate floors are made with a wood composite called fiberboard, they absorb water and get warped or cracked in the process.
What do you put under vinyl flooring in a bathroom?
Under many types of vinyl flooring, an underlay or underlayment has to be put to make the flooring more stable, sound proof, resistant to wear, and to make it more comfortable. This layer of underlay is usually made of a thin material of rubber, foam, or fiber.
Although most vinyl floors readily lay on the ground, you might need an underlayment depending on what kind of vinyl flooring you have. If you either have glued down plank or lay-down plank flooring on your bathroom, you won't be needing an underlayment.
Do you have to remove the toilet to install vinyl plank flooring?
It is necessary that you remove the toilet before installing vinyl plank flooring. To do that, you'll first have to detach the toilet completely. Next place the vinyl flooring touching the mounting ring of the toilet before putting it back in place again.
You'll have to change both the mounting bolts of the toilet and the wax ring. The wax ring should be replaced with similar quality to make sure the seal is intact.
How to install floating vinyl plank flooring in a bathroom?
Step by step guide on how to install floating vinyl plank flooring in a bathroom:
Step 1: First, remove the vanity, toilet, and mirrors. Removing the toilet is mandatory before installing vinyl plank flooring.
Step 2: Get rid of the ceramic flooring. On a leveled floor of laminate, you can skip this step.
Step 3: Check if the floor is completely leveled. If needed, use a scraper to take the mastic off the floor.
Step 4: Using a belt sandal, make the floor seamless and clean it afterward using a vacuum cleaner.
Step 5: Use a spade bit to make holes on locations of water lines.
Step 6: Cut the vinyl planks according to layout measurements and place them. Start from a corner and install transition pieces later.
What is best for bathroom flooring?
Porcelain and ceramic tile flooring are considered to be the best option for bathroom flooring. Apart from being completely waterproof, these flooring materials are cheap and are available in a variety of style options.
Natural stone and vinyl are the next best options for bathroom flooring.
WPC, SPC, or LVT vinyl plank flooring is absolutely safe to be used on bathroom floors due to their waterproof characteristic.
They are affordable and can be cleaned easily, without damaging the floor as well. However, remember to install the vinyl floor right to make it last longer!
Frequently Asked Questions:
Can You Install Vinyl Plank Flooring on an Uneven Floor?
Does Vinyl Flooring Come in Rolls?
Does Vinyl Flooring Need to be Acclimated?
Can You Use a Vacuum on Vinyl Plank Flooring?