Laminate flooring has a wooden texture, even 80% of the material is wood. Probably, due to its wooden finish, you have assumed that it's possible to refinish and sand laminate flooring.
Therefore, it's understandable if you think about whether you can refinish and sand laminate flooring in your home like hardwood or not. 
Well, no worries! This article is going to help you find the answer and all the processes of restoring the laminate flooring surface. 
Can Laminate Floors Be Refinished And Sanded? 
The laminate floors can not be refinished and sanded like hardwood flooring. Previously, the stripping and re-coating process were used to refinish the laminate floors. But now, people are widely using resurfacing laminate floor method that are an alternative to the stripping and re-coating process.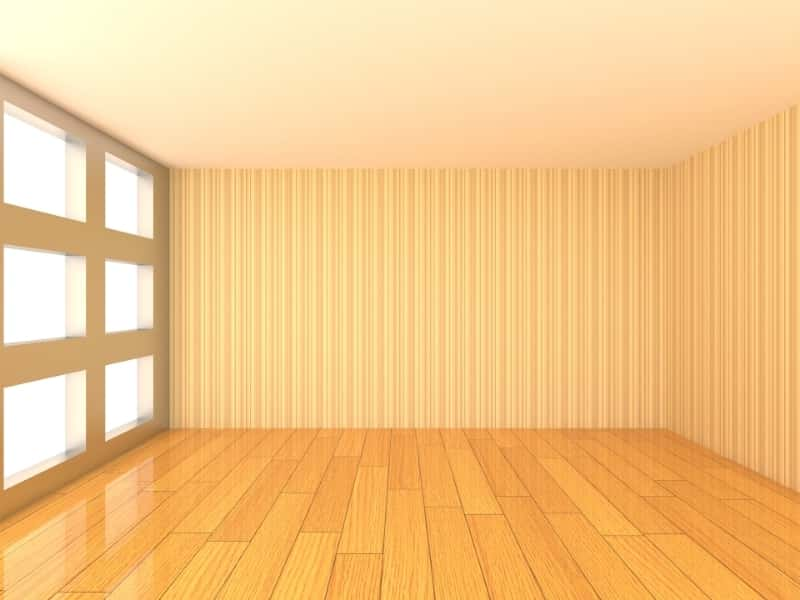 Although laminate flooring has a wooden texture, it's different from the traditional wooden flooring. Therefore, like traditional flooring, it can not be sanded and refinished. If it starts wearing out, the only solution is to replace the flooring planks. 
However, there is always a restoring process to finish the worn-out before replacing the planks. Earlier, the stripping and re-coating processes were the popular methods of refinishing the laminate floor.
Therefore, recently a more effective method has been invented and is being widely used by people. And the process is called resurfacing laminate floors. 
Resurfacing process doesn't take off old shine, instead, it re-coat and refinishes the laminate floor over the old factory shine. 
How Much Does It Cost To Refinish Laminate Floors?
The average cost to refinish laminate floors is $740. And the cost range from $320 to $1160, so you will see most of the homeowners are paying a refinishing cost between this range. 
The costing may vary depending on the laminate flooring's type and the size of the rooms that require refinishing. 
This cost is determined after checking the average refinishing cost of various professional floor refinishing companies. 
Also, you may find another refinishing price range between $300-$900, it's basically for (15×15) 225 square feet of room. And per square feet, the cost ranges from $1.50-$4.00. 
How To Refinish Laminate Wood Floors? 
Here, the refinishing method of laminate wood floor has been described for you in step-by-step guidelines. These steps are the simplest way of refinishing laminate flooring that you can do all by yourself. 
Prepare The Floor For Restoration 
Before you begin refinishing process, remove all the furniture and carpet from the room. And clean it thoroughly using soapy warm water.
Then use a rag and dry the room fully before any water can flow between the laminate planks. Also, scrub to take off any remaining wax on the floor. 
Apply Chemical Etcher 
Now that the floor is dry, read the instruction on the chemical etcher's container and apply chemical etcher onto the floor. Or else, use a 120-grit sanding screen floor buffer and run it onto the floor. And then, with a cloth wipe the laminate floor after molding and buffing. 
Recolor The Laminate Floor
After surface etching, it's the perfect time for recoloring the laminate floor. As recoloring should be done before the new finish and after surface etching.
Traditional wood stain can be used for this process. You can use a brush or rag to apply it and with a 2nd rag, brush off the excess. Remember, if you want to prevent streaks, wipe in the direction of texture. 
Apply Finish Coat 
Lastly, apply the finish coat. Apply the first layer as soon as the stain is dried. You can use a floor applicator to apply the coatings of finish as most of them are waterborne. Or else, you can use a painter's pad as an alternative to a floor applicator. 
But keep a paintbrush as your least preferred and last alternative to apply finish coating. Because paintbrush leaves streaks. 
Let Dry Fully 
After finishing first coating of finish, apply the second coat of finish. And it would be better if you can screen the again with a floor buffer(if have) before applying the second finish coating.
When you are done, let the coatings dry and give at least 2 days to cure before bringing back the furniture in the room.  
This process is also known as resurfacing laminate flooring method.
Can You Paint Or Stain Laminate Flooring?
You can paint or stain laminate flooring. When the laminate flooring planks are faded for sunburn, scratched by your pets or simply looking dull for overuse, the paint or stain laminate flooring method is used to refinish its color rather than replacing the planks. 
To start paint and stain the laminate floor, you will he be needing a good-quality sander, then a primer, and gel stain or latex paint to give the flooring a smooth looking finish. 
But do remember to repair and fill up any tracks, marks, or deep scratches. Then clean the flooring leaving no debris and apply primer before you paint or stain. Also, allow the primer to dry for at least one day. 
Painting or staining your Laminate flooring is considered as the simplest way because it's instant, effortless, and affordable. 
Can Laminate Flooring Be Restored?
Laminate flooring can be restored but for each type of scratches and dents, the restoring process is different. 
If your laminate flooring has minor dents and scratches, the best way of restoring it is, replenishing the scrapes and marks with a wax pencil. Until the scrapes are filled up, just keep rubbing the wax pencil over them. And at last use a soft cloth to wipe away leftover wax. 
For the chipped corners of your laminate planks, use a wood filler on the chipped areas. Apply the filler, dry and sand down, and then varnish. 
When there is peaking in the laminate planks, remove beading and trim the closest board making space for the planks to extend and fit together. 
And for gap restoring, fill the gaps using a colored sealant and then dry them. 
However, if there us any deep scratches on the laminate planks, you better replace the individual scratched planks. And it's the best solution. 
How Can I Make My Laminate Floors Look New Again? 
To help you make you're your laminate floors all shiny again, simple step-by-step guidelines have been explained.
Vacuum/Dust Mop The Floor 
The first step is vacuuming the floor to clean the floor completely. Vacuuming the floor is a more effective method of cleaning because it collects all the fine dust specks. His et, don't use a vacuum with a beater bar. 
Otherwise, you can use a mop for cleaning and rid of dust/dirt. Laminate is prone to surface destruction, therefore, don't use any abrasive mop to clean the floor. 
Use The Right Floor Cleaner 
You can both use a laminate floor cleansing solution such as Black Diamond Wood & Laminate Floor Cleaner, or can use a homemade cleaning solution to clean the flooring. 
To make your own homemade laminate floor cleaner, you will be needing an equal proportion of water, white vinegar, and alcohol. And then mix them together to make the cleanser. 
Remember not to mix too much water as it can ruin the floor. 
Spray The Cleaning Solution 
Now, spray your floor cleanser a little at a time and mop it instantly to dry before you spray again to another part. Spraying the cleaner is an effortless way to mop the whole room without walking over the wet floor. 
Wipe The Cleaner With A Microfiber Mop
Then wipe the floor with a clean microfiber mop to wipe away all cleansing residue and storing the shine. Wipe in the direction of the floor's texture in small sections. Make sure to wring the mop out every time before you reuse it again to wipe the floor. 
Allow The Laminate To Dry 
Now that you have cleaned your laminate flooring's surface, allow it to air dry fully. If you still find any dull areas, take a dry microfiber cloth, rub and buff the areas to restore the shine. 
How To Take Care For A Refinished Laminate Floor?
Some tips to take care of a refinished laminate floor have been provided for you. These tips are effective enough to maintain the refinished look. 
Use dust mop: Use a dust mop always to clean the floor and remove dust and dirt. 
Use wet cloth: Use a slightly wet cloth or mop to clean stuck stains. 
Wipe with microfiber cloth and water-vinegar solution: Wipe the floor with a microfiber mop using a mixture of water and vinegar. 
Dry the wet area immediately: Make 4 sections and mop thoroughly also, instantly pat the floor with a dry cloth so that cleaning residue doesn't stand on the floor. 
Air dry: Let it air dry fully. And lastly, apply paint or finish coating to coat any scratches. 
If you follow these tips every time you clean a refinished laminate floor, you can maintain the flooring for a long time. 
Read more, Can Mold Grow Under Laminate Flooring?
How Many Years Does Laminate Flooring Last?
Laminate flooring can last up to 15 to 25 years very easily. However, the lifespan of laminate flooring can both increase and decrease depending on the quality of laminate flooring planks and the maintenance method and products.
So, it comes down to your choice of planks and the methods to maintain the flooring's utility. Eventually;;y after a certain time you need to change it and dispose of the old laminate flooring.
What Is The Best Cleaner For Refinished Laminate Floors?
Here is a list of the best cleaner for refinished laminate floors. 
Bona Hard Surface Floor Cleaner
Black Diamond Stonework Laminate Floor Cleaner
Better Life Naturally Dirt-Destroying Floor Cleaner 
Bruce Floor Cleaner 
Quick Shine Multi-Surface Floor Finish 
Laminate flooring can't be refinished or sanded like hardwood but you can resurface the flooring to refinish it by following the proper resurfacing steps.
Frequently Asked Questions:
Why Do Laminate Floors Get So Dirty?
Will Acetone Damage Laminate Floor?
Will The Office Chair Scratch The Laminate Floor?
Will Paint Thinner Damage Laminate Flooring?
Why Does My Laminate Floor Feel Spongy?