If you're going through from acute back pain from sitting on your chair in front of the screen working and studying, you need to change your sitting position and chair to give your back a good posture and relaxing position.
Rocking chairs can be an amazing solution to your back problems.
Are rocking chairs good or bad for your back?
Rocking chairs are good for your back and lower back since your back, and hips stay in a relaxing and neutral position which increases blood circulation and oxygen flow into the brain. Moreover, a rocking chair is helpful for arthritis and reducing back pain.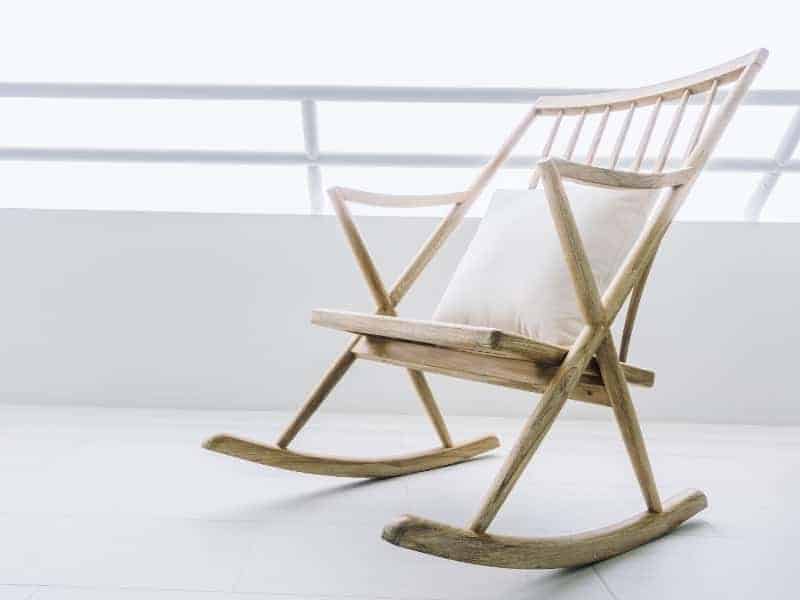 In fact, rocking chairs can be therapeutic for both your physical and mental health. Rocking constantly in a rocking chair will prevent the pain signals from entering the brain. As a result, your back problems will be much at ease.
The reason why your back pain is gone is that there is increased blood flow to your joints and the blood oxygen level is increased by a considerable amount.
When you align at a rocking chair, your legs are at a higher position than your heart and spine which gives you zero gravity benefits.
It allows your back and legs to rest freely and therapeutically helps in spinal decompression as well as reduces tension from your hips and back.
Furthermore, rocking on a rocking chair will relax your body muscles. It is also helpful for patients having dementia. Rocking chairs are not only helpful for your back but also can reduce depression and anxiety up to a certain level.
Are rocking chairs good for back pain?
Rocking chairs are effectively good for those who are enduring from acute back pain. In fact, doctors prescribe patients with back pain and other back troubles to rock on a rocking chair to get relief from back issues.
The most famous example of using a rocking chair to reduce back pain is given by President Kennedy after he was prescribed it by his specialist.
He used to exercise and relax on his rocking chair in his office and home to relax and get relieved from back pain. Moreover, he owned a huge number of rocking chairs of different designs and purposes to serve him comfort and ease.
He also used to take one wherever he traveled, including onboard the Air Force.
Are rocking chairs good for bad backs?
Rocking chairs act as medicine for people with bad backs. Relaxing on a rocking chair in your free time can help you reduce stress and also back pain.
Gradually, you can also overcome your bad back with regular rocking on a rocking chair as per your doctor's prescription.
Is a rocking chair good for lower back pain?
A rocking chair is also good for lower pain. The fact that you can rest your back, hip, and legs on a rocking chair and move back and forth releases the tension from your lower back.
There remains no stress and your lower back rests at a neutral position which results to be very beneficial for the lower back.
Are rocker gaming chairs good for your back?
Gamers often find issues with their backs due to constantly sitting on chairs in a bad posture. Rocker gaming chairs are proven to give comfort to gamers with almost a few to zero back problems.
Hence, doctors suggest you sit on a rocker gaming chair if you spend 24/7 gaming.
Are rocking chairs good for your posture?
Rocking chairs are notoriously good for your posture. You can attain a good posture by leaning on your back on the chair at a 60-85 degree angle. You can attain this posture effortlessly on a rocking chair.
Not to mention, the position of your knees, hips, arms, and legs also remain at perfect positions.
Are rocking chairs good for you?
For this tech-oriented world, rocking chairs are definitely something good for you. With technology occupying most of our lives, we have to spend most time sitting in front of a screen, be it work, study, or entertainment.
Starting from physical problems, for instance, arthritis, dementia, back compression, dysfunctional spinal cord, you can reduce all such problems by simply rocking on a rocking chair.
In the late 1900s, doctors discovered the benefits of using a rocking chair. Simple rocking back and forth on a rocking chair can not only bring your back at ease but also helps you reduce anxiety and depression.
Rocking back and forth helps you release the same hormones endorphins that are released when you move a baby on its sleeping cot to put her at ease. Thus, you can get rid of your back problems and mental problems with this magical chair.
Can a rocking chair hurt your back?
To be honest, rocking chairs are not meant to hurt your back. And typically, your back won't be hurt by using a rocking chair unless you fall from it while being careless.
Although rocking chairs are notorious for helping you with back problems, reckless moving back and forth on a rocking chair can hurt your back. If you're being careless while rocking and going too fast a sudden injury may occur.
For this reason, it is important to balance while you're rocking back and forth.
Moreover, spending too much time on rocking chairs can be bad for your back as well.
Hence, if you have real back problems, it's better to consult a doctor and get a prescription and routine on how to maintain your back in a rocking chair and how much time you must spend on it daily.
What does a rocking chair do for you? – Benefits of rocking back and forth
The benefits of a rocking chair are given below –
Reduces stress and anxiety:
Rocking back and forth on a rocking chair helps release endorphins and thus you become free of your stress and anxiety. It is a good way to get rid of all the worries and troubles of your life and relax to get back on track in no time.
After a hectic day, rocking back and forth on a rocking chair can be therapeutic to your mental health.
Helps with back problems:
You can get rid of back problems and arthritis by rocking on a rocking chair. A rocking chair happens to be very beneficial for your lower back.
The sitting position of a rocking chair helps your body attain the zero gravity position which keeps your back and hips at a neutral place. This ultimately helps you reduce your back problems.
Blood circulation:
Rocking on a rocking chair will keep your body fit and healthy with increased blood circulation.
The positioning of your back, hips, and legs on a rocking chair helps to circulate blood quicker to the joints and thus keep the blood flow proactively.
Increase blood oxygen level:
With an increased blood circulation rate, the oxygen level in your body is also increased through rocking back and forth on a rocking chair. It also prevents sending pain signals to the brain.
What type of back pain is reduced by rocking chairs?
Lower back problems can be reduced by rocking chairs. A study has found that this treatment increases the space between the spinal discs and thus, is helpful to reduce muscle pain known as EMG activity.
The treatment for lower back problems is to exert less pressure on the spinal cord and by leaning on a rocking chair the spinal disc relaxes and the space between them
is increased which allows the nerve to pass through the vertebral spaces without any hindrance to the brain and vice versa.
The zero gravity position on a rocking chair also helps to stretch your back and elongated spinal cord. All of it helps with reducing your lower back problems.
Is a rocking chair good for old age?
The rocking chair is a very good means of relaxation and medication to back problems for old age. Doctors prescribe old-aged people to rock on rocking chairs in order to remain calm and stress-free.
During old age, various physical problems arise including bad backs and oldies seem to be unable to perform physical exercise. For them, rocking chairs happen to be great medicine for back problems.
Not to mention, rocking back and forth on a rocking chair acts like anti-anxiety pills and antidepressants for old age people.
How to use a rocking chair to relieve back pain?
You can use a rocking chair in three different ways to relieve back pain. They are –
Keeping your both feet flat on the ground
Keep only the toes on the ground
Keep only the heels on the ground
After attaining any of the three positions, you can delicately go back and forth on your rocking chair. Always apply pressure on your feet, toes, and heels. Never try to move by applying pressure on your back. Continue this process for five minutes.
This is a basic exercise to relieve back pain through a rocking chair.
Are rocking chairs dangerous?
Typically, the inversion process is used on rocking chairs to treat issues with the back. However, inversion treatment can increase eye pressure and complications may arise if you have a retinal detachment.
Moreover, with reckless and excess rocking on a rocking chair you can go through a sudden head injury, weak bones, stroke, and spinal injury. Thus, even though rocking chairs are therapeutic and can reduce health problems they can also get dangerous.
Final Thoughts:
However, it is certified that rocking chairs can be an effective solution in reducing back problems and anxiety. Hence, you have to be careful while rocking on a rocking chair to receive its beneficial outcomes. Do take a prescription from a professional to get better results.
Frequently Asked Questions:
How Do You Stop a Rocking Chair from Squeaking?
How Much Space Does a Rocking Chair Need?
Why are Rocking Chairs so Expensive? How Much Does it Cost?
Why Do Rocking Chairs Make You Sleepy?
I am an architect with over 5 years of experience in the design and installation of interior and exterior design projects. I have also been a home improvement expert for many years, so I know how to improve your home's look and feel. I would love to help you build the perfect home for your family!
Read more about the author here.