Are you wondering whether you should buy a rocking chair in the nursery for your baby? Is your decision on buying a rocking chair is mingled with the tension regarding whether placing a rocking chair will be safe or unsafe for the baby?
Well, one thing that can be ensured by the usage of a rocking chair is that it will provide a calm, comfortable, and soothing feeling to both the mother and child.
Are rocking chairs good or bad for babies?
Rocking chairs are good for babies however, one must be careful to avoid unpleasant events. Moreover, rocking chairs are a great addition to the nursery as they provide support with the nursing process of the baby, with the sleeping process, and also help to maintain a balanced sleeping schedule.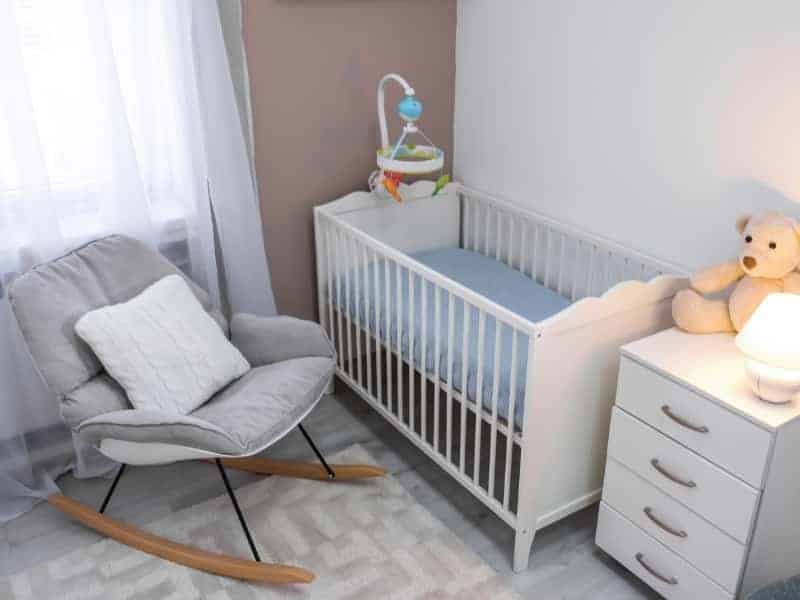 You can benefit from using a rocking chair for nursing, feeding, and creating a bonding time with your little one.
In addition, the usage of rocking chairs can aid in child development and will also help to create an association/condition for developing regular sleeping patterns.
Is a rocking chair good for newborns?
A rocking chair can keep your newborn happy and healthy, which concludes it to be good for the baby. Nothing can be compared to a rocking chair when it comes to rocking a baby when your little one cries. For the newborns, the rocking sensation calms them down.
In addition, newborns condition/associate the rhythmic pattern with calmness, and thus, they fall asleep very easily whenever they are rocked in a rocking chair.
Additionally, a rocking chair works as a great medium for creating/enhancing the mother-child bond. A rocking chair is also better for the newborn because a newborn can get a better latch while the mother is feeding the little one.
Do you need a rocking chair for nursing?
Nursing your baby can be hard but to have something to support you in that journey can be a blessing and that one thing is your trusty rocking chairs.
By putting a rocking chair in the nursery, one can have the mother-infant bonding and rocking chairs also help to create a convenient place for a mother to nurse her babies.
In addition, it provides the mothers enough support to comfortably hold their little ones in place in times of breastfeeding or bottle-feeding especially in the night times when babies wake up in irregular scheduled hours.
Moreover, some rocking chairs also provide side panels or pockets which offer storage so that milk bottles, bibs, storybooks can be stored and retrieved when needed especially in the late-night feeding hours. In short, you need a rocking chair for a pleasing nursing experience.
Are rocking chairs necessary for a nursery?
One can do without a rocking chair however, due to the functionality and the versatility of these rocking chairs, it is rather necessary for both the mother and child.
In addition, rocking chairs are an integral part of your nursery as they help with the sleeping process of your child. Infants do not have a fixed sleeping schedule and they also tend to wake up a lot during the night times.
Additionally, in these times, a baby likes the soothing repetitive motion which allows the baby to be relaxed. Especially, in the teething stages, the child becomes agitated and fussy, and therefore, rocking the baby in a rocking chair can help.
Moreover, while breastfeeding, a mother needs to be comfortable enough to feed her baby and, in that process, the structure of a rocking chair helps the mother to have the proper support.
A rocking chair will also be a great aid in giving back support for the mothers as before and after pregnancy, mothers tend to have back pain which can be severe.
Furthermore, a rocking chair is a necessity as it offers flexibility and a soothing feeling and also helps to create a balanced bedtime routine for your children.
How important is a rocking chair in a nursery? What are the benefits?
A rocking chair in a nursery is the perfect combination and a great help for all the mothers out there. It is an integral part of the nursery that gives comfort and relaxation while nursing for both the mother and baby.
Assist to Breastfeed Effectively:
Nothing can beat the effectiveness of a rocking chair when it comes to feeding your little one. The rocking chair's features help to offer a comfortable place to sit on and the gentle rocking motion helps the mother breastfeed her baby with more comfort.
In addition, a rocking chair not only gives the mother a calm and comfortable feeling but also will make the baby very calm so that the feeding process can be much easier.
Comfort to the Newborn:
The most common thing for your newborn to do is to cry and to amend that, you need to rock your child to sleep with a gentle motion that will provide comfort to your little one.
In addition, rocking chairs are perfect for rocking your baby to sleep and provide a calm, collected, and relaxed sound sleep for your baby.
Furthermore, rocking chairs can be a great source of relief for all the mothers as well cause constantly rocking the child back and forth can cause the mothers to be exhausted and tired.
Child Development:
Rocking chairs do not only work to soothe or to provide comfort to your baby, but it also assists in child development.
The gentle motion helps to balance or enhances the capacity to pay attention and assists in brain development.
Armrest and Footrest:
While nursing your baby, mothers have trouble with back pain and to get rid of the back pain, rocking chairs can come in handy by providing a footrest for the mother so that the baby can get a proper latch.
In addition, rocking chairs also come with padded armrests and these armrests can assist the mother to get a very convenient grip on the baby.
Are rocking chairs good for nursing or breastfeeding?
Rocking chairs are great for nursing or breastfeeding. With the help of a rocking chair, a mother gets the proper grip on the baby which helps the mother to be comfortable.
In addition, a good and comfortable position is a must for the mother to properly breastfeed the baby and for the baby to get a proper latch and a rocking chair provides that proper position.
Are rocking chairs safe for babies?
A rocking chair is a staple for the nursing room. Nothing delights a baby more than the gentle and soothing rocking motion that rocking chairs provide.
Rocking chairs are very much safe for the babies as it enhances the baby's sleep, gives comfort to the baby and also enables the baby to have a better latch.
However, one also needs to take necessary precautions as some minor to major accidents can happen. It is not wise to put your baby on the rocking chair alone as the inclined position can cause some problems in the air passage.
In addition, while playing, your baby's hands or toes may get stuck in the way and can cause serious damage.
Which rocking chair is safe to use for babies?
Rocking chairs without a doubt can cause comfort and flexibility and some safe-to-use rocking chairs are mentioned below that can offer convenience for the babies.
Dadada Weeble Rocking Chair
DaVinci Piper Recliner
Crate & Kids Bakersfield Rocking Chair
Tuba Swivel
Delta Children Emma Nursery Rocking Chair
Channel Rocking Chair
Ella Rocker
Storkcraft Premium Hoop
Delta Children Middleton Nursery Glider Swivel Rocker Chair
Is it ok to rock in a rocking chair while pregnant?
It is absolutely okay to rock in a rocking chair while you are pregnant. Pregnant women can really benefit from the gentle rocking motion as the gentle rocking motion can help with the circulation of blood.
In addition, one of the common problems of women in pregnancy is back pain and, in these times, a rocking chair can really give support for the back. This will help in relieving the pain and will offer comfort.
Additionally, rocking can also help in stimulating the blood pressure thus helping in toning up the muscles for pregnant mothers.
The slight rocking motion is also very much beneficial for pregnant mothers because it assists in the development of the nervous system and also it is good for the fetus.
Are rocking chairs comfortable?
Rocking chairs are comfortable. There are different varieties of rocking chairs that provide the most comfort one may need.
In addition, it also helps in making you feel relaxed and also assists in changing your mood or in relieving your stress.
Additionally, the gentle rocking or gliding motion can really help in releasing endorphins which will cause you to have a relaxing feeling.
Furthermore, some rocking chairs also come with padded or cushioned armrest which increases your comfort level and some rocking chairs also come with cushioned footrests which also helps to give back support.
Can fast rocking hurt a baby?
You should always rock your baby with a gentle and soothing rocking movement especially for the newborns who should be rocked very gently. Fast rocking can hurt you baby.
A baby must never be rocked with a fast-rocking motion as fast rocking can cause some serious damage to your little ones and can cause "shaken baby syndrome".
In addition, children in their infancy are very fragile and they need support especially for their head all the time and caregivers should not rock the baby alone in a rocking chair.
Final Thoughts:
Using a rocking chair is more effective than bad for the babies however, without proper precaution and supervision, unpleasant events may occur. Nevertheless, this doesn't limit the convenience, comfort, and effectiveness of rocking chairs for the little ones.
Frequently Asked Questions:
Can a Rocking Chair Fit in a Car?
Are Rocking Chairs Good or Bad for Your Back?
Can a Rocking Chair Rock on the Carpet?
Do Rocking Chairs Burn Calories?
I am an architect with over 5 years of experience in the design and installation of interior and exterior design projects. I have also been a home improvement expert for many years, so I know how to improve your home's look and feel. I would love to help you build the perfect home for your family!
Read more about the author here.