If you have already decided to invest in an ottoman bed, let us tell you that ottoman beds are great. They space the world's space in your room and can be easy to assemble.
Still, we would signal you a word of warning if you are planning to get it for your kid's room.
Are ottoman beds dangerous or safe?
Ottoman beds are convenient and safe for use for adults. However, such beds are not recommended to be used in children's bedrooms. Ottoman beds use the gas spring lifting mechanism with the aid of metal frames on the sides. If the support of the springs is not strong enough, the bed could collapse.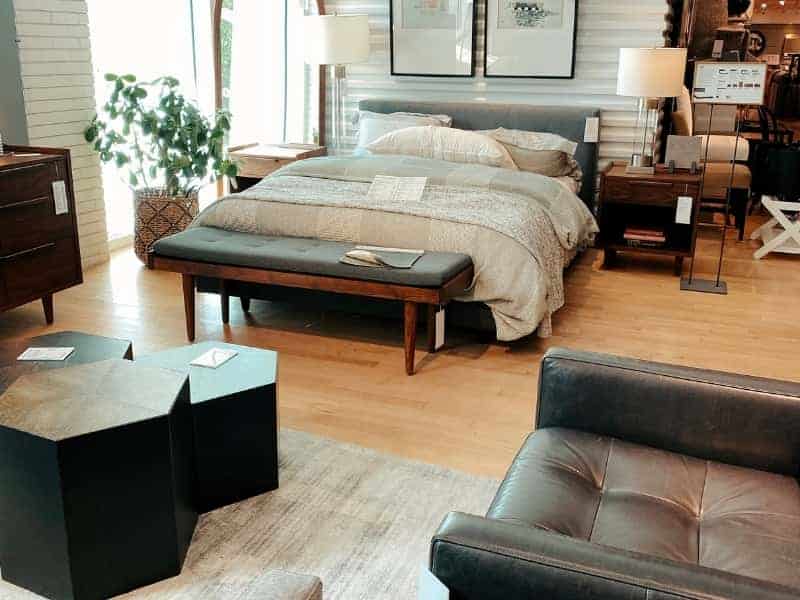 Ottoman beds are one of the best options for beds when it comes to storage space. Compared to any other platform style bed or divan style drawer system, an ottoman bed can be lifted to reveal a large capacity.
As for the safety, it would largely depend on the construction of the bed. With sturdy gas struts and a non-slipping base, an ottoman bed can be a great addition to save space. However, you'd want to keep such a bed away from children.
Are ottoman beds safe for your children?
Ottoman beds are not considered to be the safest option for children. Although many people have used it for several years, that too in their toddler and kid's room without any cause of worry, there have been some grave accidents as well.
The danger for children comes from the mechanism of an ottoman bed. An ottoman bed uses the gas lift mechanism, wherein the base of the bed which is under the mattress can be mounted up and kept up in the air.
Underneath the base of the bed, is a storage space that makes ottoman beds such a desirable one for small spaces like children's bedrooms.
However, you'll have to remember that children are always on the lookout for adventure. They love to play games like hide and seek.
Even for children, if they lift the ottoman mattress without the presence of an adult, there is a good risk that they might trap themselves inside the bed.
Moreover, many accidents have been reported where children entrapped a part of their body like the head, hand, or feet inside the bed base, while the lid closed on them. This caused serious injuries that needed immediate treatment.
This is why it is so important to invest in high quality ottoman beds only, so that your ottoman bed is strong enough. The weight of the base and the mattress falls on the gas springs. If these gas springs are not sturdy enough, the whole assembly might collapse untimely, causing injuries to even adults, let alone children.
Are ottoman beds heavy to lift?
Whether the ottoman bed will be heavy to lift will mainly depend on the mattress on the bed. Even with a lightweight mattress on top, ottoman beds do need strong and sturdy hands, along with some strength to lift.
With the metal frames and the gas springs on each side, an adult can easily hoist the bed with two hands. With a mattress on top, the total weight that you'll have to lift can be from 50 kilos to 80 kilos.
Another factor to keep in mind is that the heaviness of your ottoman bed when you try to lift it will also depend on the size of your bed.
King or Super King-sized beds that are up to 30 feet cube are much heavier to lift and might need assistance initially, a compared to single or twin bed.
The rule of thumb is, the heavier the mattress, and bigger the size of the bed, it would take more strength to lift the bed.
What to look for when buying an ottoman bed?
When it comes to ottoman beds, consumers who are willing to invest in one get fazed due to the complaints and stories about accidents that had occurred with this kind of hydaulic lifting bed.
Thus, it is imperative to know what you should look for when buying an ottoman bed so that you can invest in a sturdy construction that would last for years to come without chances of collapse. Here are a few points:
Quality gas struts:
The most crucial factor deciding the durability and safety of an ottoman bed are the gas springs that aid the lifting of the bed.
When buying an ottoman bed, make sure the gas struts are able to lift the weight of the mattress and have the appropriate capacity. There should be at least 2 screw joining points, and support at the center of the bed.
Additionally, also keep in mind that plastic struts are affordable but are not strong enough to hold large weights, hence you should avoid them.
Nonslip top base:
One of the issues that slip's buyer's mind is the top surface of the bed base. When you lift the ottoman bed, if the surface of the bed is made with a smooth, slippery material, the mattress is most likely to slip off and drop.
When looking for an ottoman bed, ask your retailer for a non-slipping bed base. Not only does this stop your mattress from sliding off, but it also prevents unnecessary damage to the bed.
Lift direction:
For this, you'll have to know where you want to place your bed and how much storing space you require.
If your bed is against a wall and you can have access to one side only, go for a size lift. For more storage and dual side access, make sure it is hinged at the head of the bed.
Overall construction and material:
For the overall construction, avoid any plastic or cardboard assembly. You may want to go for the solid wood base or steel base, along with joints on each corner.
A good build with quality materials is crucial for an ottoman bed. Otherwise, the ottoman may start creaking or squeaking within a short time of use.
There are few ottoman beds with bases that are medium board fiber coated, with attaching bolts and brackets to the frame, that supports the lifting greatly.
Ottoman beds pros and cons?
Pros:
What's good about ottoman beds is the vast amount of storage space that can be available just under the base. Any ottoman bed, even if they are for a single or twin bed offers more capacity storage when compared to any other conventional divan or stowing beds.
As you can store anything from spare bedding to towels to toys, such a bed makes your room look more spacious. Also, it keeps the room clutter-free!
Cons:
The major concern when it comes to ottoman beds and one of the downsides of this otherwise convenient bed, is the safety of it, especially for children. There have been reports of accidents with an ottoman bed.
Moreover, ottoman beds are heavy and can require considerable strength to lift up.
Do ottoman beds break easily?
Ottoman beds usually come in solid construction and do not break easily. However, if the weight on the bed base is more than it can take, the gas springs will be under a lot of tension when lifted. If the weight exceeds its capacity, there is a chance that it could snap.
Besides, it always comes back to the construction of the bed. If solid wood is used with premium metal support frames, your ottoman bed will last for years to come without any accidents.
It is also wise to keep in mind that plastic springs or bolts will break very easily, causing damage to both your bed and the mattress.
Are ottoman beds easy to assemble?
It is fairly easy to assemble an ottoman bed and can be done precisely if one follows the instruction manual. Generally, you'll have to start with assembling the headboard components first.
Once you have secured the headboard in place, you'll have to fix the side rails to the center points. Now you would want to put the headboard as well as the footboard together.
Next, as per instruction, install the lifting systems on the sides, carefully tightening all the nuts and bolts. Then, affix the base to the lifting frames. Put the mattress and adjust for fitting.
Are ottoman beds expensive?
When you browse and look into ottoman beds, you'll notice that ottoman beds are comparatively much more costly than other beds that offer storage spacing.
Due to their lifting mechanism, a cheaply constructed ottoman bed will result in accidents and breaking frames. This is why most ottoman beds are made with solid wood, high-quality gas springs an MDF veneered base.
For this reason, ottoman beds are more expensive than other storage beds.
Ottoman beds are the new trend among consumers looking to save some space. If you're someone who's on the lookout for answers to whether ottoman beds are safe, the answer is simple.
Ottoman beds are safe, as long as you buy a premium quality one and don't use it for your children's room!
Frequently Asked Questions:
Do Ottomans Have to Match Chair, Sofa & Couch?
Are Ottoman Coffee Tables Still in Style?
Do You Need a Gliding Ottoman?
How Much Weight Can an Ottoman Hold?
I am an architect with over 5 years of experience in the design and installation of interior and exterior design projects. I have also been a home improvement expert for many years, so I know how to improve your home's look and feel. I would love to help you build the perfect home for your family!
Read more about the author here.