Specifications:
1,897 Sq Ft
3-4 Beds
2.5 Baths
1-2 Stories
3 Cars
Oh, the charm of a classic farmhouse! It's like a warm hug from grandma on a chilly evening, isn't it? And who doesn't love grandma's hugs?
This one-story beauty has all the cozy feels, with enough modern flair to make even the trendiest city slicker swoon. Let's take a trip inside, shall we?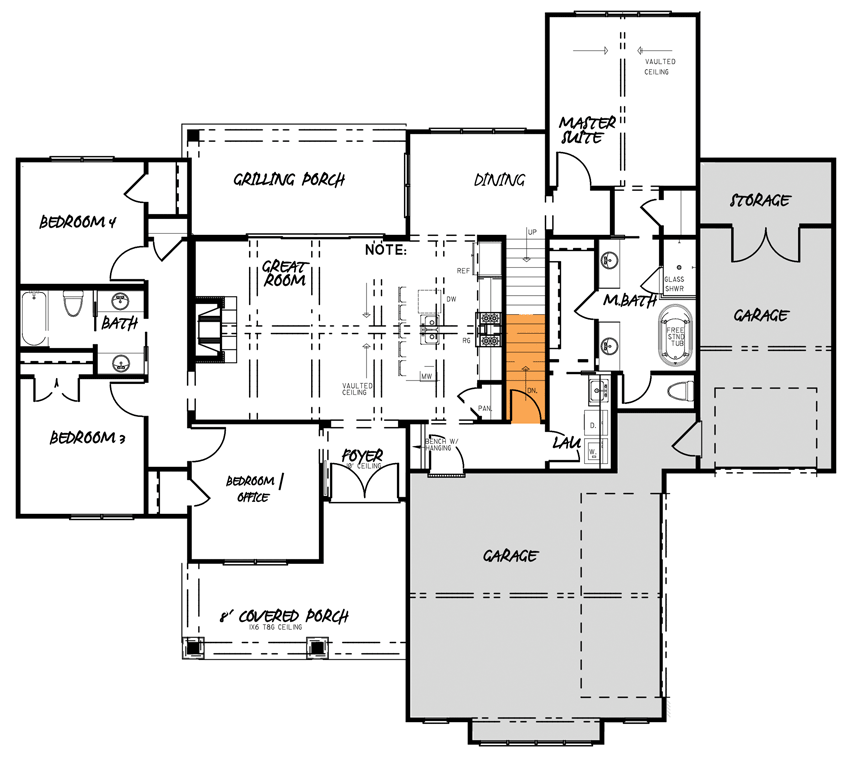 Remember how excited you get when you see a package waiting for you outside? Imagine that, but instead of a package, you have an 8'-deep covered porch and a pair of fancy French doors.
It's like the home is saying, "Welcome! Kick off your shoes, stay awhile, and hey, maybe we can enjoy a glass of lemonade together?"
Once you've stepped in, past the foyer, you'll find yourself in the heart of this home: the vaulted great room. Its exposed beams and stonework fireplace scream, "family gatherings here!"
Oh, and if you're looking for that indoor-outdoor flow for your summer BBQs, you're in luck! Sliding doors lead you straight to the grilling porch. It's as if the house knew you were bringing the world's best burger recipe with you.
Ah, the kitchen. The place where you try to recreate those YouTube recipes and end up ordering pizza (hey, we've all been there!). But with a kitchen like this? Pfft, order-in who?
Separated from the great room by a majestic island that can seat a party of five, it's perfect for impromptu wine nights or pancake breakfasts. Counter space galore and room for a hearty range?
Check. And a pantry? More like "PAN-try," because you'll be doing a victory dance every time you walk in. Plus, with a dining room bathing in light from windows on two sides, every meal feels like a special occasion.
Let's talk about the real MVP: the vaulted master bedroom. With a view of the property's rear, it's like waking up in a serene oasis every morning.
And the master bath? It's where luxury and comfort meet. Picture this: a double vanity for when you've bought just one too many skincare products, a free-standing tub for those "Calgon, take me away" moments, and a spacious glass shower that screams spa-day, every day.
Just when you thought this house plan couldn't get any better, there's a cherry on top: a 395 sq. ft. bonus room over the garage.
Perfect for that home gym you've been dreaming of, an art studio, or let's be real, a room dedicated to your online shopping habit (I'm not judging). And with a half bath included? It's practically begging to be the most popular hangout spot.
With its blend of classic charm and modern amenities, this one-story farmhouse plan is more than just a house; it's a home waiting to be filled with memories.
Whether you're a family of four or a solo dweller dreaming of space, this design has a spot for everyone (and maybe a few friendly ghosts from the 1800s, but they're chill). So, are you ready to move in? I've got my eye on that kitchen island!
Plan 70647MK