Specifications:
2,677 Sq Ft
4 Beds
2.5 Baths
1 Stories
2 Cars
Sit tight folks, because I'm about to take you on a thrilling, virtual tour of a dreamy, one-level country house plan, offering all the charm and comfort you could ever desire.
Welcome to "homely nirvana"!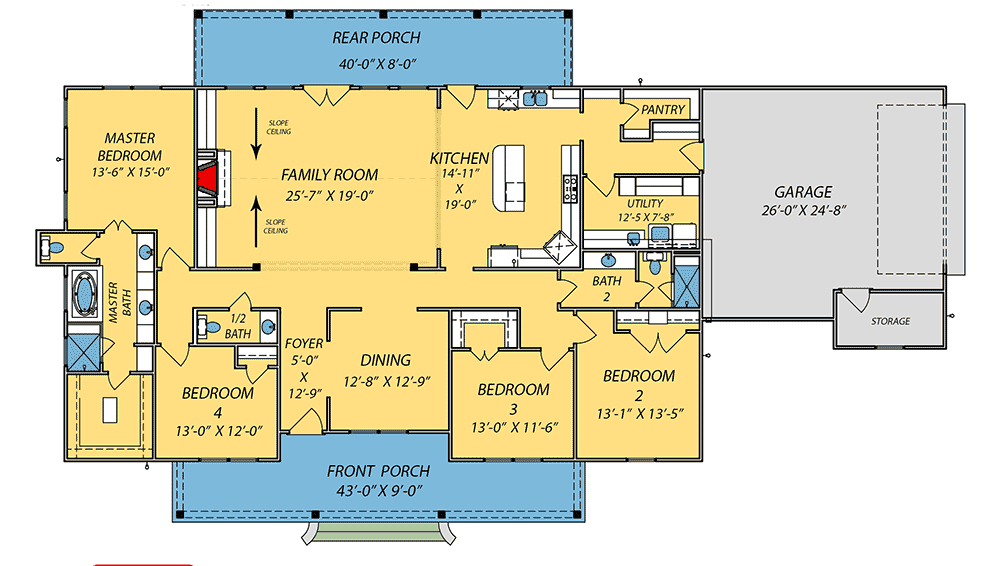 Whoever said size doesn't matter probably never walked into a sprawling, 2,677 square feet country house.
And with four bedrooms, 2.5 bathrooms, a kitchen straight out of a culinary fantasy, and room for two cars, it's the architectural equivalent of a bear hug – spacious, warm, and just the right amount of smothering.
As we kick things off, you'll be welcomed by a wide porch topped with a sturdy metal roof – perfect for those lazy Sunday mornings sipping hot cocoa or late-night conversations under the stars.
With its blend of rustic charm and modern aesthetic, it's like an outdoor red carpet inviting you to explore the indoor wonders.
Stepping through the front door, a 10′ high standard ceiling greets you, making the home feel spacious, yet cozy. But hold onto your hats, because things are about to get even better.
You stroll into the big family room and bam! A sloped ceiling! You didn't see that one coming, did you? It's like Mount Everest and your living room had a beautiful baby. I tell you, you'll feel like you're in a cathedral rather than a living room.
Now let's take a few steps back to the beautiful outdoors. Ever fantasized about lounging on a lazy afternoon, sipping lemonade while watching the kids play?
Well, this house brings that dream to life with a wide, covered back porch. It's so easy to reach, you could find it with your eyes closed.
Perfect for escaping the summer heat, it's like the house's own little oasis, minus the camels and sand.
Ah, now we get to the heart of the home – the kitchen. It's not just a kitchen, it's a cook's paradise. This culinary heaven has a walk-in pantry so large it could double as a small yoga studio.
You can't spell "paradise" without "pie", and with a large island and counter space for days, you'll have plenty of room to bake to your heart's content.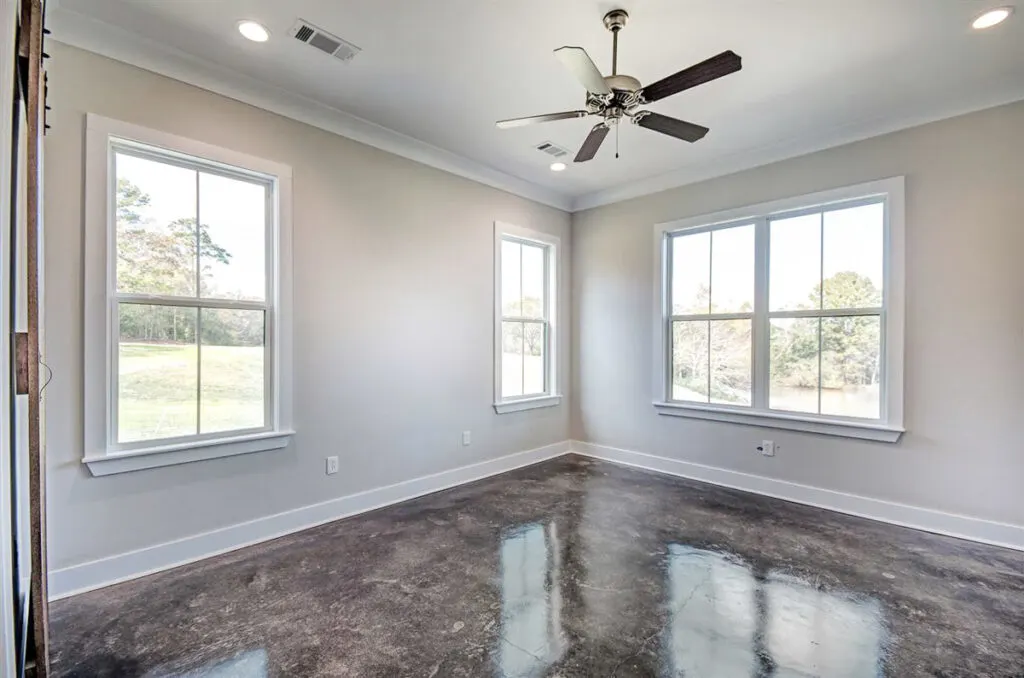 Now, let's talk about sleeping arrangements, because after all that cooking, you're going to need a rest. The house follows a divide and conquer strategy with bedrooms split between two wings.
Whether you have boisterous kids, snoring grandpa, or a nocturnal teenager, everyone gets their privacy and a good night's sleep.
Last but certainly not least, the master suite. It's more than just a bedroom; it's a tranquil haven. The cherry on top? A walk-in closet complete with a built-in chest of drawers.
It's like Narnia, but instead of a snowy landscape and a faun, you'll find your favourite pair of jeans and that shirt you thought you'd lost.
So, to sum it all up, this one-level country house plan has all the style and comfort you could ever dream of.
Rustic charm meets modern living, with enough space for everyone to stretch out and enough character to make you feel right at home. So pack your bags and get ready to move – your dream home awaits!