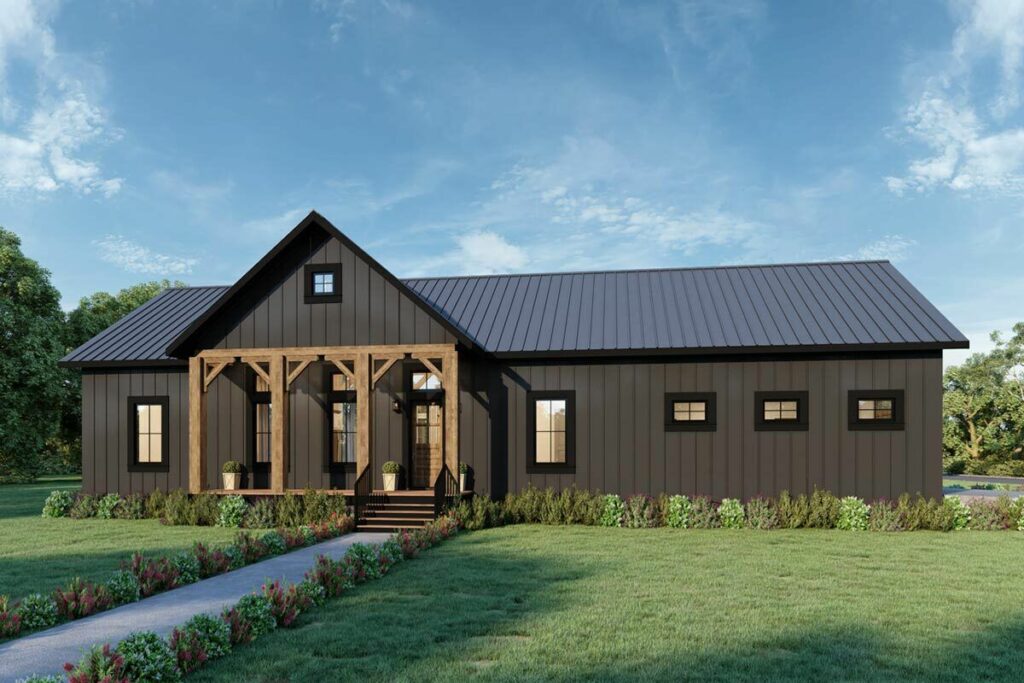 Specifications:
1,620 Sq Ft
3 Beds
2 Baths
1 Stories
2 Cars
Ah, home sweet home! But not just any home; I'm talking about the kind of dwelling that makes you want to kick off your shoes, sprawl out on the couch, and wonder why life isn't always as good as it feels in that moment of pure domestic bliss.
Enter the 1,620 square foot one-story charmer that seems to know exactly what you're looking for – even before you do.
Let's cut right to the chase: the phrase "no wasted space" is music to my ears. In a world where you can feel cramped in your own skin, a house that promises not to squander an inch of room is like a deep breath of fresh country air.
And that's precisely what this New American farmhouse plan offers, wrapped in a package that's as snug as a bug in a rug (if the bug were driving a tractor, that is).
First off, the garage. It's a 720 square foot beauty that sits to the side like a trusty steed, ready to gallop into action or rest easy after a long day of… well, garage-y stuff.
It's for two cars, but let's be real – half of it's probably going to be your impromptu workshop or the family's unofficial storage annex. That's okay; we embrace the chaos.
The magic really starts when you swing open the doors. I mean, have you seen these doors? They're 36" of pure, unadulterated accessibility.
Wheelchairs roll through with ease, sure, but so do overstuffed couches, fridges, and maybe that weirdly large piece of driftwood art you decided was essential for the foyer.
Speaking of foyers, let's mosey on into the great room, where "open and spacious" is an understatement. This is the room that swallows sofas and loveseats whole, and still echoes when you call out for the dog.
The L-shaped kitchen is a stone's throw away, because let's face it, you're going to want snacks, and this kitchen is the kind of place where snacks abound.
That island isn't just a kitchen feature; it's a cornucopia of culinary potential with seating for the audience of your cooking show.
Then there's the walk-in pantry, tucked into the corner like a pantry ninja, all stealthy with its storage capabilities. You might lose yourself for hours organizing your canned goods and cereal boxes – it's that exhilarating.
But let's get personal for a second – the master bedroom. It's not just a room; it's a statement. With a 12-foot coffered ceiling, it's practically shouting "royalty sleeps here!"
And the walk-in closet? You could host a small soiree in it. The four-fixture bath is the kind where you can forget you're just in there to brush your teeth – it's that darn inviting.
Across the way, we've got the sibling rivalry of bedrooms, separated by a shared bath. It's the ideal setup for your kiddos or guests, ensuring that everyone has just enough privacy without feeling too isolated. Perfect for midnight gossip sessions or, you know, actually getting some sleep.
Let's not forget the laundry room. This isn't just a pit stop on the way from the garage; it's a bona fide mudroom with a sink, shelves, and a closet. If laundry rooms had a VIP list, this one would be on it. It's the room that whispers, "Go ahead, get muddy," because cleanup is a breeze.
Now, imagine a porch. Got it? Now make it 6 feet deep and slap it on the front of this house. It's the kind of porch where lemonade was invented, where rocking chairs find their true calling.
But why stop at one? There's an 8-foot-deep covered porch on the rear too, just in case the front porch felt lonely.
So there you have it. A 1,620 square foot slice of heaven with enough porches to declare yourself the monarch of relaxation, a garage that could double as a dance hall, and a home layout that flows like a lazy river through your perfect little country kingdom.
It's the house that says, "Welcome home, kick back, and stay awhile," and I, for one, am all too happy to oblige.