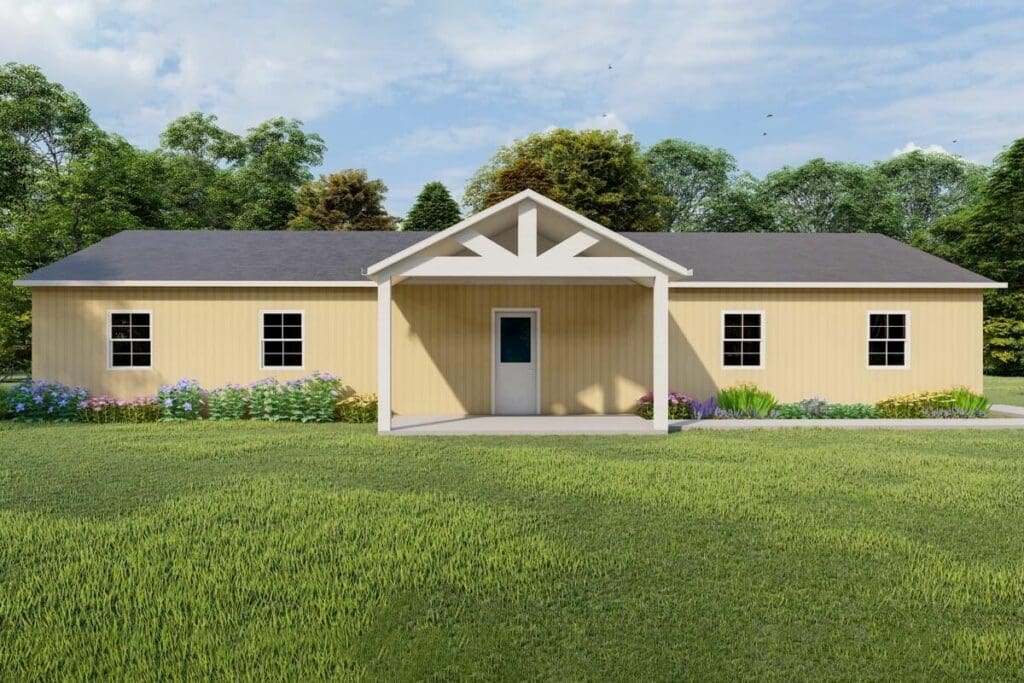 Specifications:
1,953 Sq Ft
2 – 3 Beds
1.5 Baths
1 Stories
When it comes to house hunting or dreaming up the perfect abode, let's face it, we've all scrolled through pages of palatial estates and wondered, "Do I really need a ballroom?"
Spoiler alert: unless you're planning to host a royal gala, probably not. But what about a space that combines the charm of a country barn with the sleekness of modern design, all wrapped up in a cozy package that doesn't echo every time you drop a pin?
Enter the barndominium-style one-story house plan that's just under 2,000 square feet—big enough to swing your cat, host a dinner party, and still find a quiet corner for your morning coffee.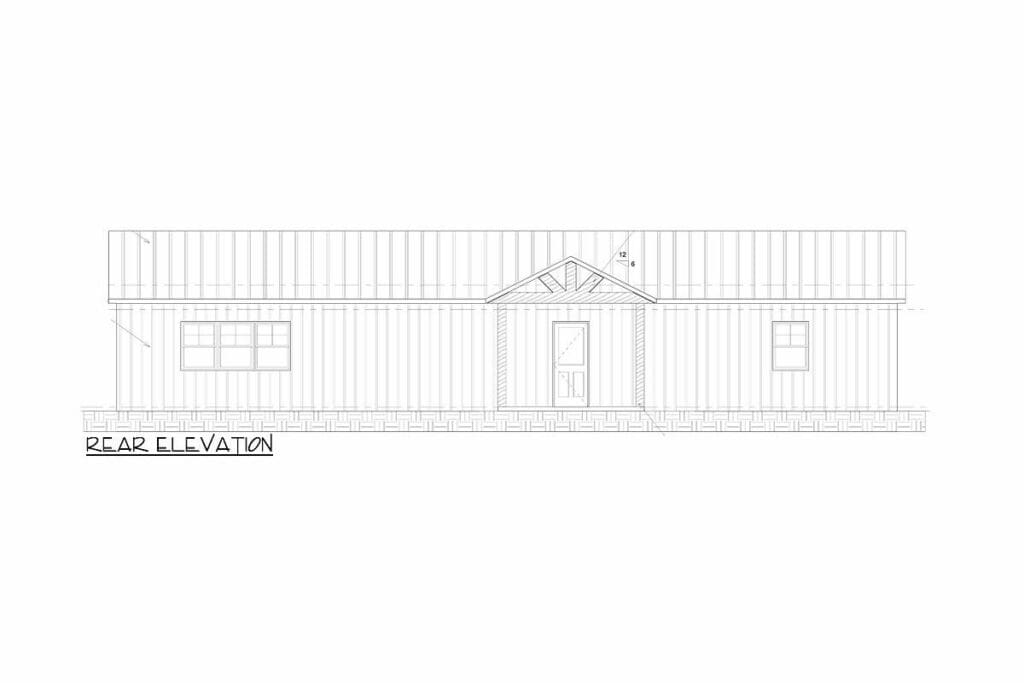 Now, let's mosey on through this 1,953 square foot slice of heaven that proves size isn't everything. With 2-3 bedrooms and 1.5 baths, it's like Goldilocks's dream come true—not too big, not too small, just right.
And it's all on one story, so you can forget about puffing up and down the stairs every time you forget your glasses on the nightstand.
The heart of this home is undoubtedly the open concept living area with its vaulted ceiling that reaches for the sky, giving the clouds a run for their money.
It's spacious enough to do your morning yoga without knocking over a lamp, yet still feels cozy enough for snuggle-up movie nights.
The kitchen, oh the kitchen, with its generous island, is where you'll probably find your guests hovering, wine glass in hand, as you put the finishing touches on your famous lasagna.
It's the kind of space where you can chat about your day without missing a beat as you chop, stir, and sauté.
Flowing right from the culinary hub is the living room, a place that invites you to kick off your shoes, curl up with a good book, or binge-watch the latest series everyone's been talking about.
The dining room, just a hop, skip, and a jump from the kitchen island, means you can go from stove to table in ten steps flat—perfect for those of us who believe that every second counts when you're serving up a hot dish.
Now, let's tiptoe into the private quarters. The master bedroom is more than just a place to crash—it's a sanctuary.
With a walk-in closet that could host a small soiree and an en-suite bathroom that lets you do your morning routine without tripping over someone else's toothbrush, it's the kind of retreat that makes Mondays feel less Monday-ish.
The second bedroom is nothing to sneeze at either, with ample space for a queen bed or two cheeky twins. And then there's the flex room.
Oh, the possibilities! Home office? Check. Library? Why not. Guest room for the in-laws? If you must. It's the Swiss Army knife of rooms, ready to morph into whatever you need it to be.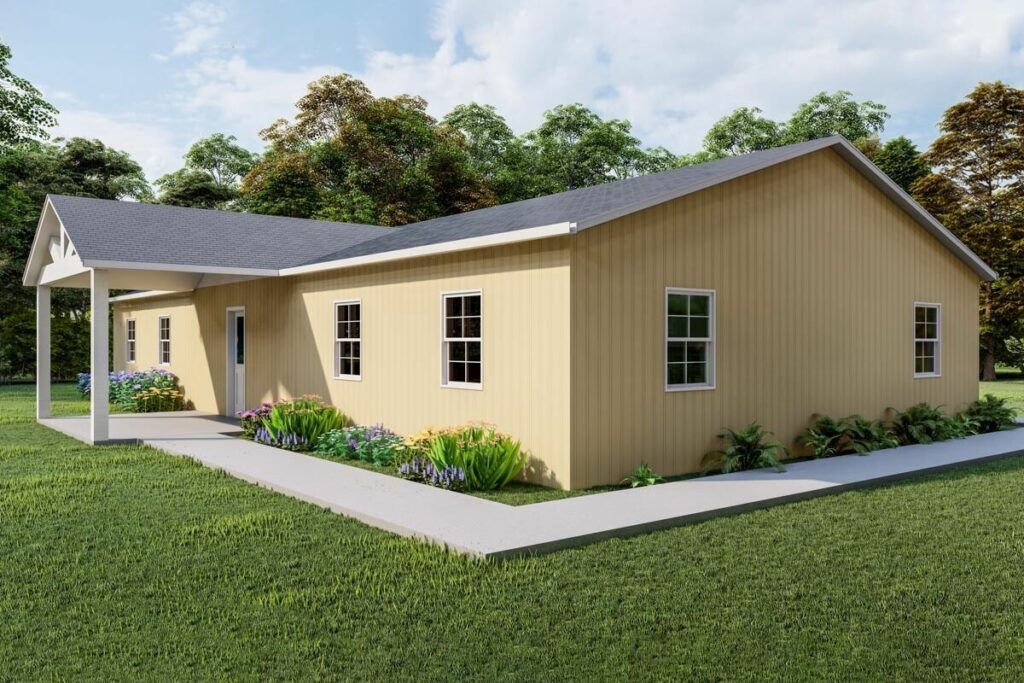 But let's not forget the 1.5 baths. The half bath is perfect for guests, saving them a trek through your personal space and keeping your rubber ducky collection your little secret.
The full bath, well, that's your spa zone. Whether you're a shower person or a bubble bath enthusiast, it's got you covered.
This barndominium is more than just a house; it's a lifestyle. It's for the folks who want the charm of a country retreat but aren't about to saddle up and herd cattle at dawn.
It's for those who appreciate the sleek lines and airy feel of modern design but want to feel warm and fuzzy in their living space. It's a home that says, "Yeah, I like the rustic look, but I also like my Wi-Fi and espresso machine, thank you very much."
Imagine the parties you could throw with a space like this. The kitchen island becomes the command center for appetizers, the living room buzzes with laughter and storytelling, and the dining room echoes with the clink of glasses as you toast to good friends and good food.
And when the night winds down, you retreat to your master bedroom, where the only sounds are the soft whispers of the night and the distant hoot of an owl.
In a world where homes often feel too cramped or unnecessarily cavernous, this barndominium-style house plan strikes a beautiful balance.
It's a canvas for your life, whether you're a budding entrepreneur, a family on the grow, or empty-nesters looking for a place that feels just right. It's a home that adapts to you, not the other way around.
So, if you're in the market for a place that's as flexible as your yoga instructor and as charming as your favorite rom-com, this might just be the blueprint for your future happiness. After all, home is where the heart is, and this one's got heart in spades.