Specifications:
2,828 Sq Ft
3 Beds
2.5 Baths
1 Stories
3 Cars
As I gaze upon this dazzling, mid-century modern house plan, I can't help but let out a sigh of nostalgia for those glory days of avocado-colored appliances and shag carpets.
Don't worry, though, there's not a speck of avocado or shag in sight.
Instead, we're greeted with a sleek, modern-day rendition of mid-century marvel, complete with a courtyard straight out of your sun-soaked daydreams.
Let's dive in!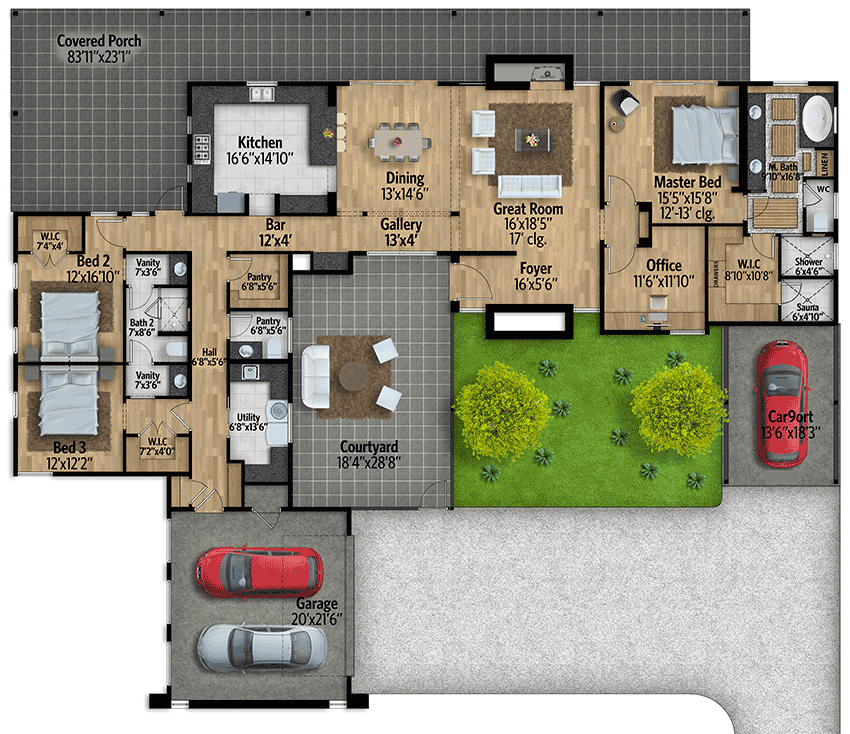 Picture this: It's a bright Sunday morning. The birds are singing, and the world is waking up. As the smell of fresh coffee wafts through the air, you stroll out of your spacious 2,828 square foot home, bathed in the soft glow of the morning sun.
You stretch lazily, a satisfied grin on your face. Why? Because you're living the mid-century modern dream, baby! And what's not to love?
Your house, my friend, isn't just a dwelling—it's a statement, a testament to the glamour and finesse of mid-century design. Let's explore this time-traveling beauty, shall we?
The first thing that catches the eye is the elegantly austere exterior, all clean lines and understated elegance. It's the kind of house that would make even the most stoic architecture buffs giddy with excitement.
But the real magic lies within, where wide, open spaces present the perfect stage for family gatherings or a swinging cocktail party. Trust me, your guests will be so dazzled by the sight lines that they might even forget to compliment your homemade guacamole.
Now, if you're a fan of the great outdoors – but not so much a fan of sunburn – you're in luck. This home features a huge covered patio wrapping around the back. Here you can sit in the shade, comfortably cradling your iced tea while the rest of the world sweats it out.
Should you feel the urge to bask in the sun, your private courtyard, surrounded by a sturdy privacy wall, awaits. You can soak up that vitamin D without worrying about nosy neighbors, unless you've trained your poodle to spy on you, of course.
Moving along, we come to the sleeping quarters. Imagine this, a master bedroom that doesn't just whisper 'luxury', it belts it out like it's auditioning for the opera!
Nestled on the right side of the home, this is your sanctuary, complete with an adjoining home office because, let's face it, we've all got to answer emails at odd hours.
On the opposite side, your family, guests, or the occasional long-lost cousin twice removed, are treated to two comfortably roomy bedrooms.
They're connected by a bathroom so stylish, it'll make brushing teeth feel like a glamorous affair. If only I'd had this incentive as a child, my dental bills would be a lot less terrifying.
But wait, there's more! The house comes with a two-car garage and a one-car carport. That's right, there's space for your SUV, your spouse's cherished vintage Beetle, and the shiny new convertible you've been eyeing as your midlife crisis purchase.
In conclusion, this mid-century modern house plan with a courtyard isn't just a space to live, it's a lifestyle, an opportunity to savor the classic charm of yesteryears in a thoroughly modern setting.
This house is like a well-mixed martini: a dash of nostalgia, a generous pour of modern comfort, all garnished with the glitzy glamour of mid-century design.
So if you fancy yourself a Don Draper or a Peggy Olson, or if you just appreciate the timeless appeal of clean lines and spacious living, this house plan is your ticket to architectural nirvana. After all, who says you can't live in the past and the present at the same time?
Plan 430010LY